The name Vadodara, brings symphony to my ears. Having spent most of my schooling years and university days, it is extremely special as I call it my hometown. It is equally special as I have lived on its street food after school and in between lectures. Having recently been there, I reminisced the gastronomical delight of relishing the street food and re-lived my foodie days. It was only fair to do a dedicated blogpost on Must try street food in Vadodara, to pay tribute to my hometown! 
Whether it is breakfast, brunch, lunch or dinner, the streets of Vadodara offer a wide variety of tasty, filling and healthy (and sometimes unhealthy) choices. All you need is to be a perennially hungry or have the appetite to eat without hunger. So here goes the list.
Pro Tip: These areas so popular in themselves that I really do not need to give an address. Just input in google and you are good to go 🙂
Mahakali Sev Usal
This had to feature as the number one spot of must try street food in Vadodara. Sev meaning thin gram flour fries and usal meaning boiled green peas in a liquid curry is a breakfast favorite. Sev Usal is a healthy street food, thanks to the copious amounts of proteins in the Usal. It's signature taste, I believe comes from the spring onions. It is served with various condiments and you can make it as sour, spicy depending upon your tastebuds. Majorly three condiments are served – lemon juice, red chilli oil (locally called tari) and green chilli chutney. There is another plateful of Sev and spring onion, just in case you don't find the one in the plate enough.  They serve more than 25 varieties of Sev Usal but their classic Butter Sev Usal is the best. The entire dish is served with served with Bread bun.
Hats off to the two brothers who started serving this lip smacking dish on the side of the road, 25 years ago and are still going strong with a proper shop.
Vishal Sandwich
The humble sandwich is the star of this outlet and especially Samosa Sandwich which is the superstar. Samosa are spicy potatoes stuffed in flour batter and fried in triangular shapes. As a dish in itself it can make anyone crave for this fried goodness. Imagine the Samosa in turn is stuffed between a pair of bread cut into six edible pieces topped with huge quantities of cheese and potato fries on the side. Years ago there used to be a huge queue to get their hands on this sandwich and would wait for piping hot samosas to cool down a bit before stuffing into the bread.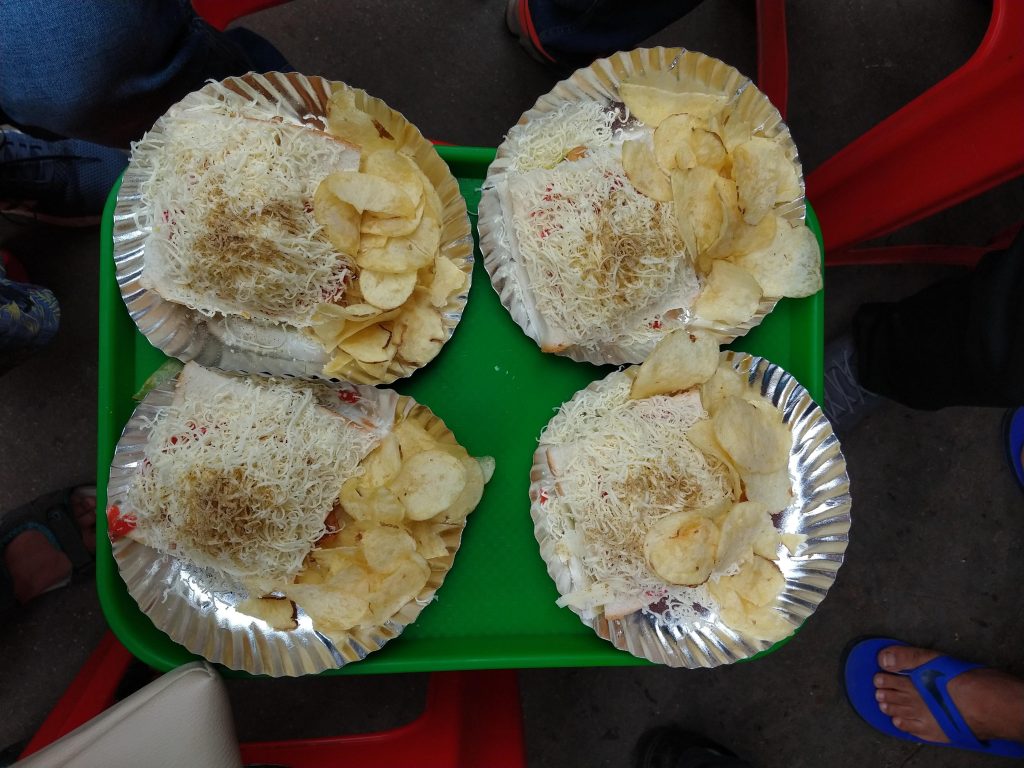 Tasty Wada Pav
Wada Pav is a dish, Vadodara borrowed from Mumbai. It is a favorite street food comprising of mashed potatoes and various spices all enveloped in a flour batter and fried, this snack is served piping hot and between a pav (bread bun). Tasty Wada Pav makes it even more tasty by adding 2 types of chutney on the side of bun. There are many outlets now in Vadodara and Wada Pav can be eaten during any time of the day. If you cannot make it to Mumbai, well this is certainly a must try street food in Vadodara itself.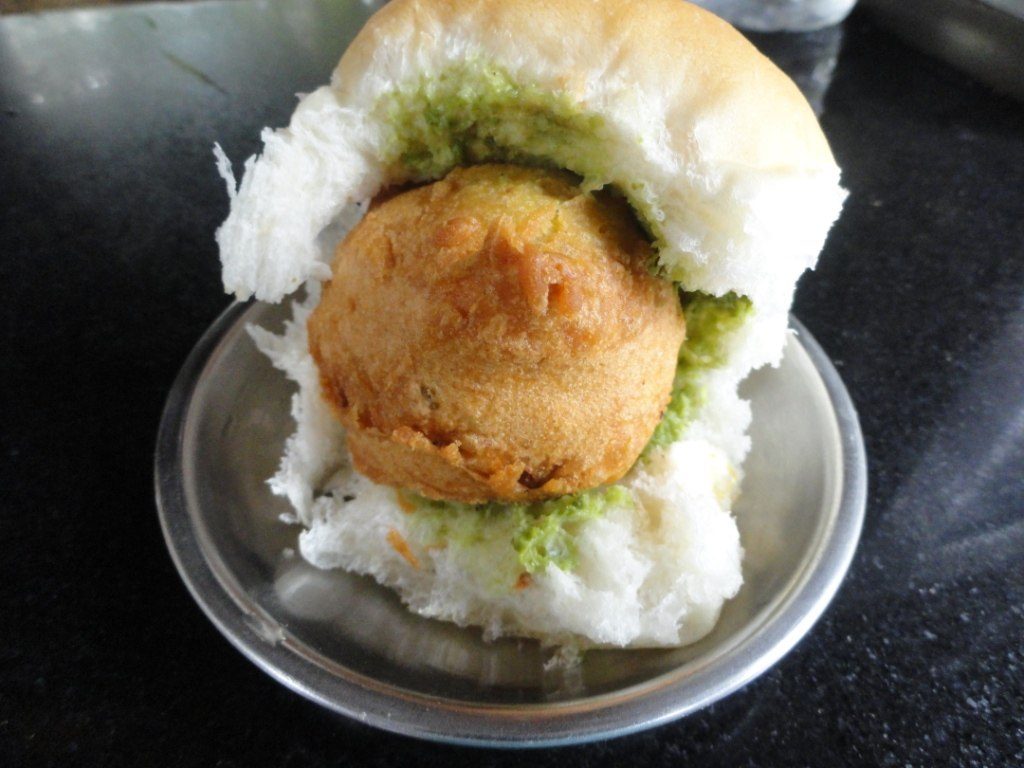 Pyarelal ki Kachori
I did not know Kachoris can be had just as it is as Pyarelal spoiled me with filling it with bhel and chutneys! Kachoris are spicy snacks made from flour into a round ball and filled with a delicious stuffing. The stuffing includes Bhel – puffed rice mixed together with tamarind chutney, chilly garlic chutney, coriander chutney, sev, onion, tomatoes, etc. It is very popular in Vadodara, especially for shoppers in old city area (Mangal Bazaar). It gives a major respite after carrying all those shopping bags, I tell you!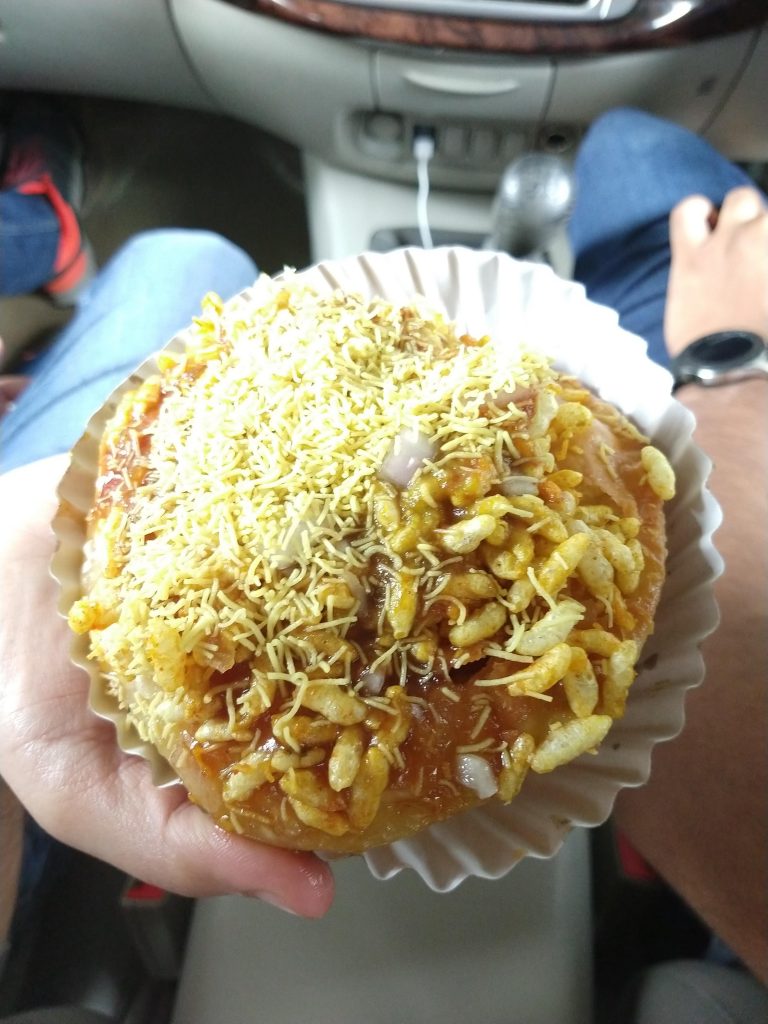 Canara Coffee House
Canara coffee house is synonymous to Poona Missal and Hot Filter Coffee. An age old favorite, earlier if you went in a group, having an entire table to yourself was not guaranteed and you were more likely to share it with strangers. And people enjoyed that.
Poona Missal is a popular and healthy breakfast from the state of Maharashtra and the same legacy was started in Vadodara to offer a bit of Marathi cuisine to Gujarat. It comprises of boiled sprouts friend in Indian spices and made into a curry like consistency. This curry is mixed with Farsan (Indian fried snacks), curd and poha (puffed rice). You can ask for an extra spicy curry if you have the appetite. Photo credit: Crazy Wanderer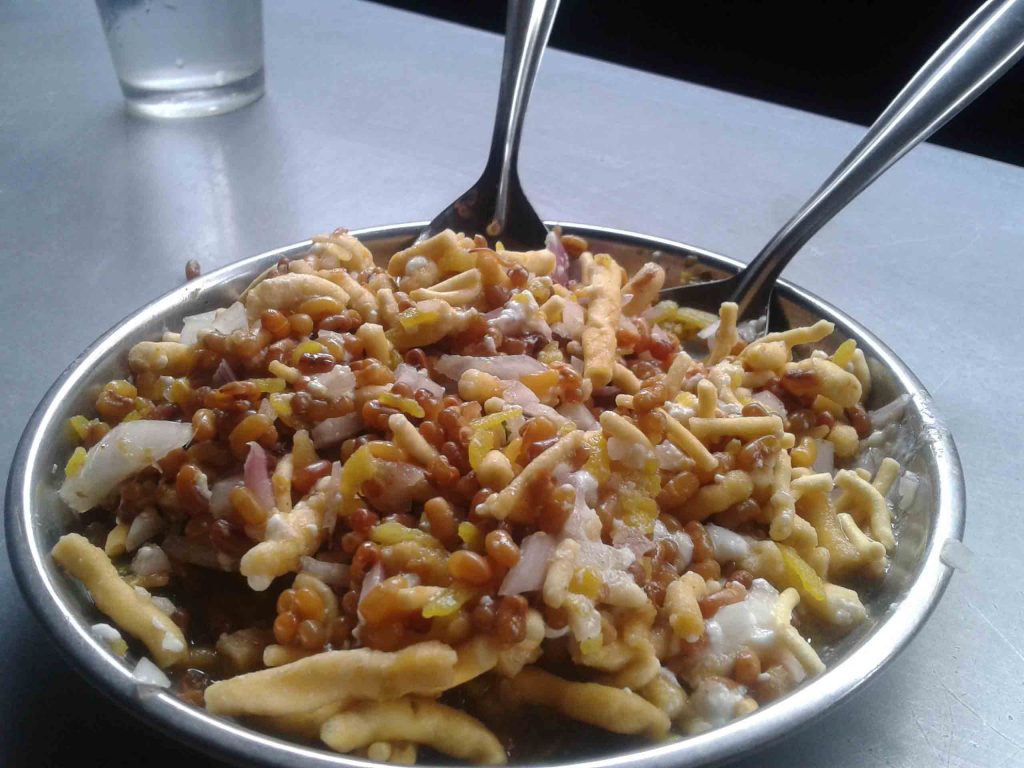 Nylon Pav Bhaji
Pav Bhaji is another Mumbai dish which is a gift to most of India. Pav is the bread bun served with bhaji a spicy combination of various vegetables boiled and made into a thick curry. With oodles of butter in the Pav and Bhaji, Nylon Pav Bhaji is a favorite lunch or dinner dish for localites.
Sai Cheese Pani Puri
As if the favorite street food – Pani Puri was not enough to make one hungry, Sai took it a notch further and added cheese to it. Popularly known as Puchka in Kolkata, Gol Gappe in Delhi, Pakodi in Ahmedabad and Pani Puri is rest of India, it can make any woman go weak in her knees with the mention of it. Fried flour balls are stuffed with a combination of spiced mashed potatoes and chana (chickpeas) and then bathed with coriander-mint spiced water. Put the whole ball in your mouth without breaking it and feel the rush of water gushing from the balls into your mouth while you chew into the potato goodness. Generally the server serves one by one at your speed and generally 6-8 are served per serving.
So this goodness is topped by cheese and it absolutely delicious. I have been having cheese pani puri for over 10 years now and I am glad that the taste has not changed, only the location has. This is a must try street food in Vadodara for sure.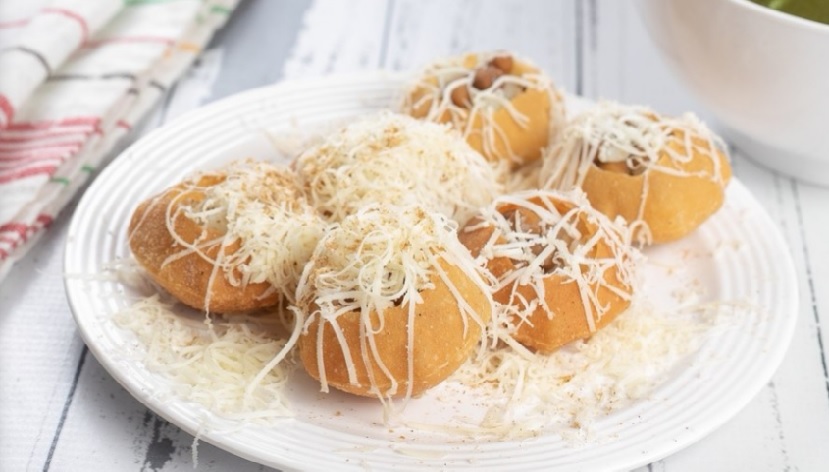 Jalaram lassi
Vadodara is a hot city and the owners of Jalaram have made it a point to keep your cool by serving thick buttermilk – plain and sweet. The sweeter version is called lassi and is more popular in northern states of India. Topped with dry fruits, it will definitely help you beat the heat and stay hydrated in delicious style. They also serve Falooda.
Khichu
Khichu or locally known as 'Papadi no lot' is favorite household snack with tea. Rice flour is boiled and made into a thick batter like consistency topped with cumin, oil and spiced powder to make it taste even more appealing. I really do not have a recommendation to go to, as there are many places I love where it is served as well as the one my neighbour makes in her house!  But there is a lady who serves Khichu in Nava Bazaar street which is home made and it is so delicious. This must try street food in Vadodara is a specialty in itself.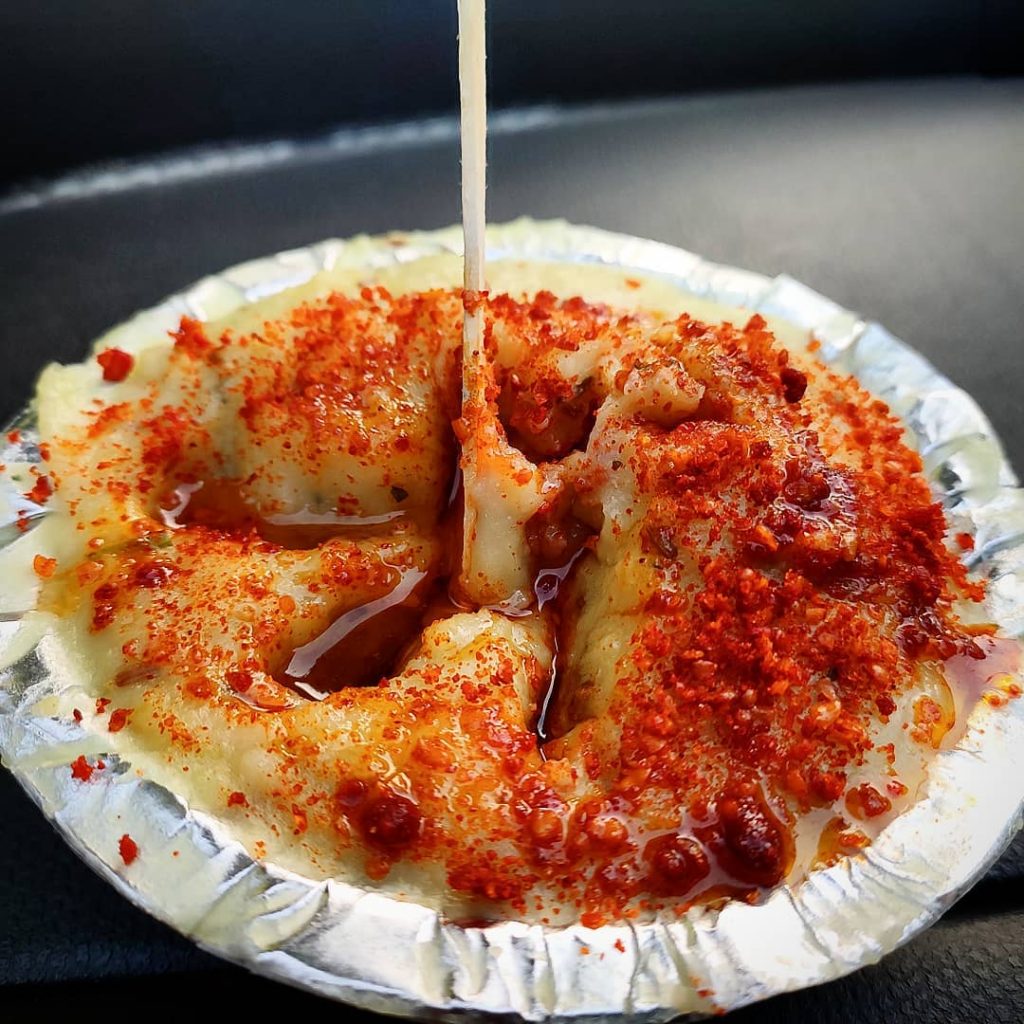 Manmohan Samosa and Dal wada
Vishal may be popular for his samosa sandwich, but Manmohan is popular for the samosas. The centre of a huge samosa is cut and stuffed with tamarind chutney, chilli chutney and raw onions. Have them piping hot on the roadside and have a hearty breakfast.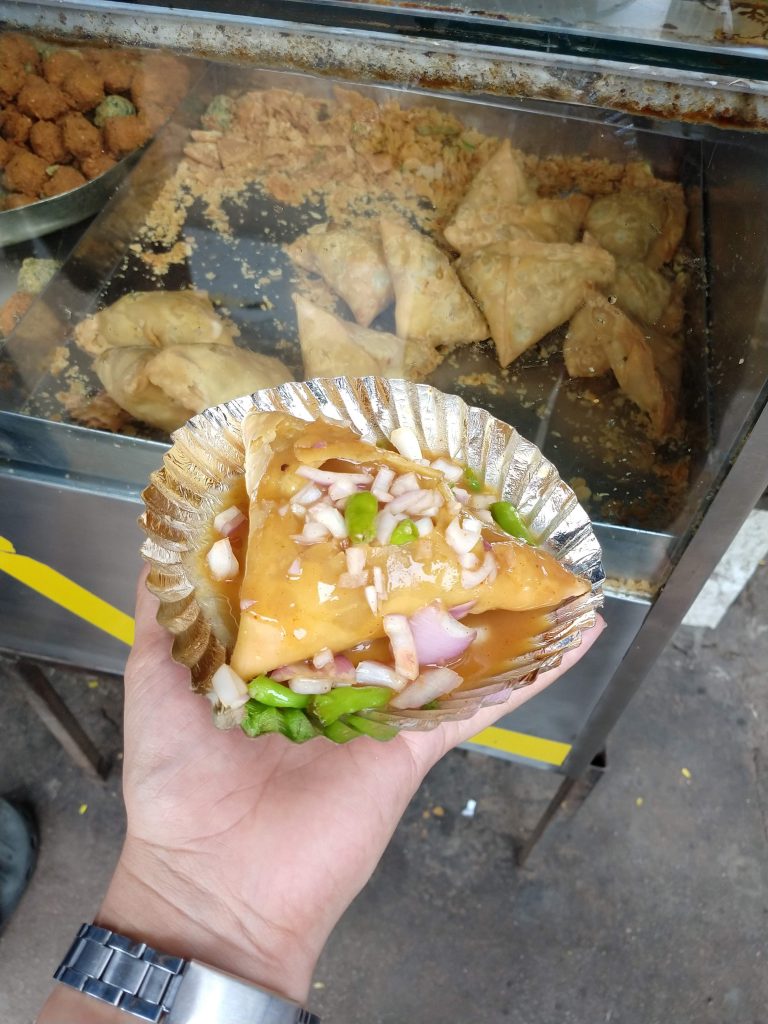 Mr Puff's Puff
Mr Puff is synonymous to Gujarat and its journey was started in Vadodara. Puff is a tea time snack or in the case of students post school snack which is made from spiced potatoes and stuffed in puff pastry and baked to golden goodness and yumminess. Mr Puff serves over 50 varieties wherein the stuffing ranges from corn, spinach, chinese, as well as eggs.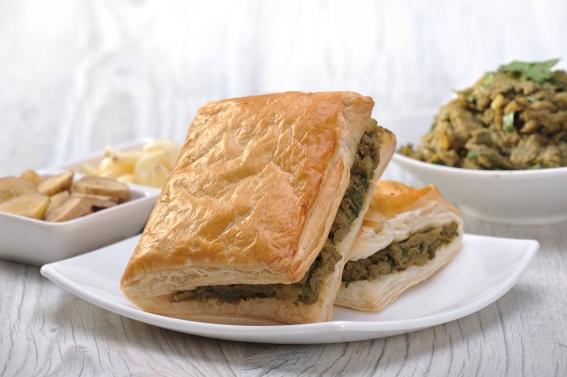 Neelkanth Juice
Talking about beating the heat with liquid, why should the humble fresh fruits be behind? Vadodara had many outlets serving freshly squeezed juices. The seasonal fruit juices are always available at Neelkanth juice centre. You will not be surprised to see business meetings happening over a glass of orange juice or a family spending some quality time over a pomegranate juice.
Rajasthan Kulfi as must try street food in vadodara
Very few things can come close to the rich, delicious creamy coolness of a Kulfi. Kulfi (milk ice cream on a stick) is a favourite dessert and was made popular by Rajasthan kulfi house. My favorite flavour is anjeer (fig) but if you want to have the best of all worlds, order the  mix flavour and they will give 5 of their best flavours on a plate.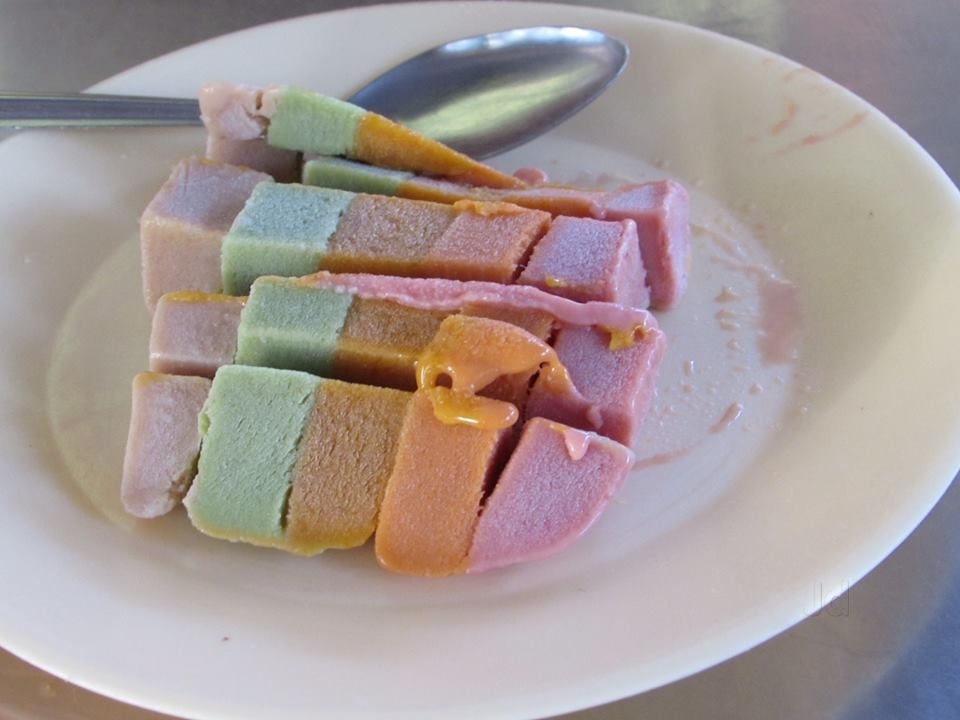 Marutinandan soda
After having all of this food, a soda is probably a necessity! Marutinanadan is a popular choice of having plain or flavored soda and is a hangout point for youngsters as well as family post dinner. A lot of trips are planned here, not sure about the authenticity of them working out though!
Raju Omelette 
I thought it was only fair to include at least one egg dish out of the all the veg options above. Gujarat consists of major vegetarian community and consumes very less egg or any form of non vegetarian cuisine. However, Raju omelette has been a popular choice of eggetarian for years and the range of egg dishes are many.
Note: Notice how so many varieties of snacks are made out of potatoes and yet they look and taste so different!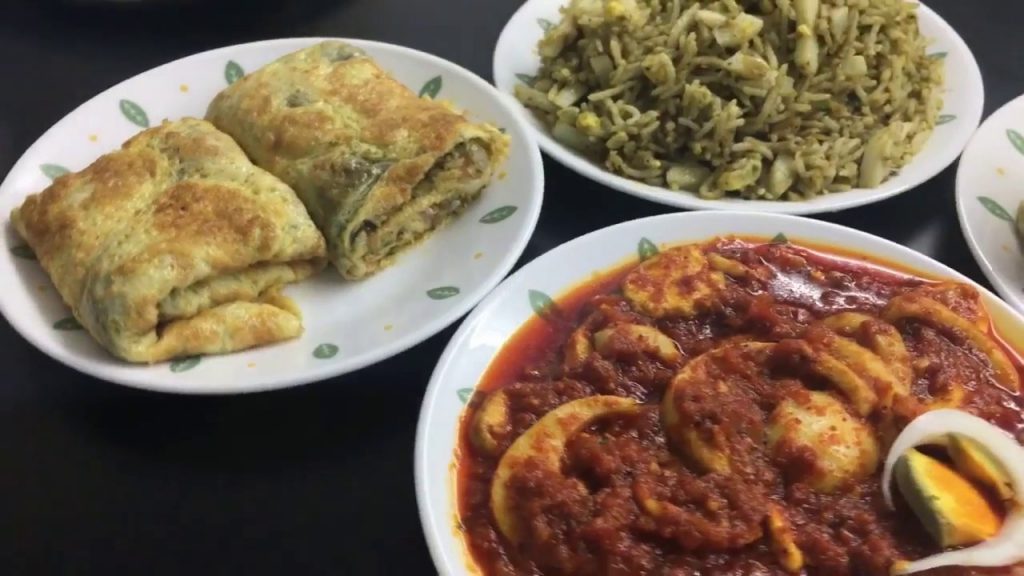 Sustainable tips:
Since all of these are street food, the food is served in disposal cutlery – some of them plastic some not. Encourage them to use non plastic paper plates wherever possible. Carry a reusable spoon so you only throw out the plates.

Dispose the plates in the designated area.
Have you tried any of these dishes yet? Which one is your favorite? And if you haven't tried these yet, I strongly encourage you to visit Vadodara soon.
Also Read: Weekend Destinations from Ahmedabad
Like the post? Pin it!