The only thing which came to my mind, while planning a trip to Kumaon, Uttarakhand in India was Jim Corbett's book "Man-eaters of Kumaon" and how I had enlivened his descriptions of the Indian jungles. His recreations of flora, fauna and the tiger hunts still itched to my mind, I kept envisioning Kumaon through his words – dense, sacred and full of surprises. Nestled in the shadow of Nanda Devi Range, Kumaon is a bounty of nature and an adobe to many species of birds. Having seen only the Arid region and wetland birds, mountain species is what we really looked forward to. We planned a trip to Uttarakhand, to enjoy the hills and nature. Our Kumaon trip was divided in 2 parts: Relax and unwind with nature in Nainital/Pangot and experience the adrenaline rush in the Jim Corbett National Park while chasing the tigers.
Nainital and Pangot in Kumaon
We started from New Delhi at 8am to reach Nainital at 5pm. We chose a hotel which was close to nature, a heritage property which encourages biodiversity. Tranquil and away from the hustle bustle of typical hill station, the property was a perfect perch for unwinding from city life. We toiled around the Mall road for a quick dinner that day and called it an early night.
We were woken up with the songs of variety of birds which we had not heard before. Excited, we mounted the lens on the camera and rushed towards the backyard of the property. After what we saw and captured in our camera for the next 2 hours was a celebration of winged creatures.
Verditer Flycatcher in Kumaon
The Verditer Flycatcher felt at home with our presence and happily posed for us. They were omnipresent calling to each other and having a frequent fight amongst themselves for a morsel of fly.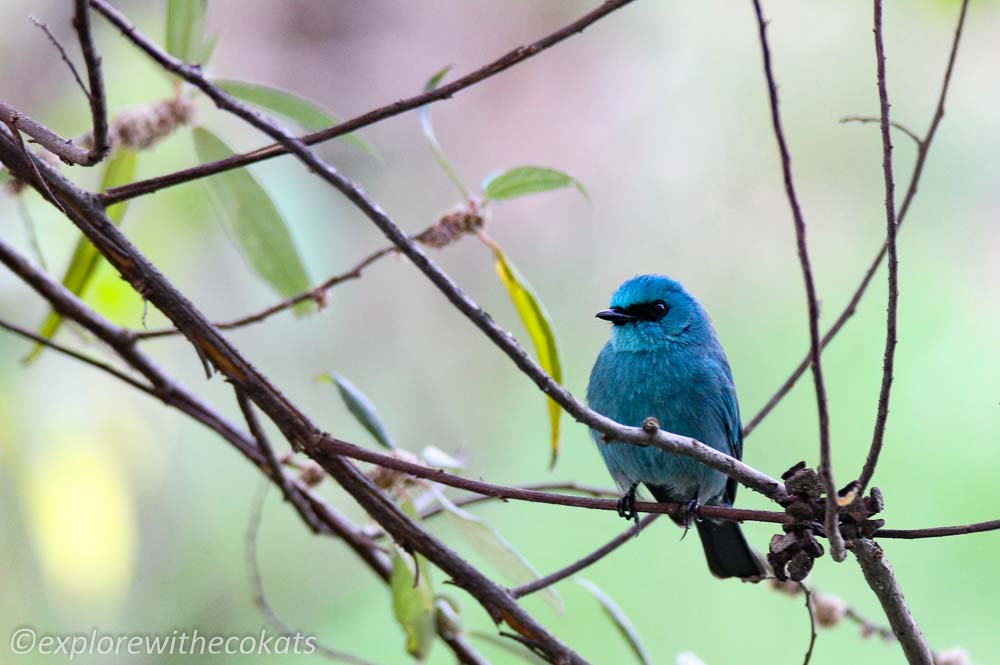 Blue whistling thrush
A blue whistling thrush played hide and seek outside our accommodation whistling to glory while the morning sun shone bright and glistened on his blue feathers. He slowly glided into the nearby shrubs, probably because he did not like the shutter sound of my camera.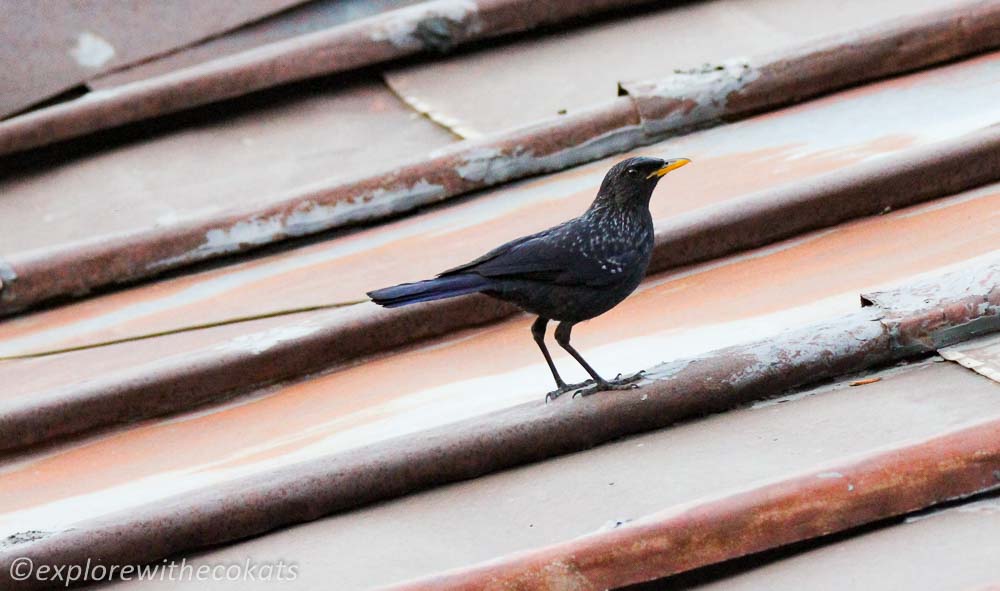 Kalij Pheasant – The exotic species of Kumaon
A discussion about the interest in birdwatching with the hotel owner lead him to inform us that he has been observing Pheasants in his property. He was quick to ask the bell boy if he spotted any previous evening. We were hopeful to capture. Just while walking towards the backyard, we saw a black silhouette crossing the parapet between 2 properties. It only took us seconds to identify it but the red eyed bird known as Kalij Pheasant had crossed the boundary wall to other side.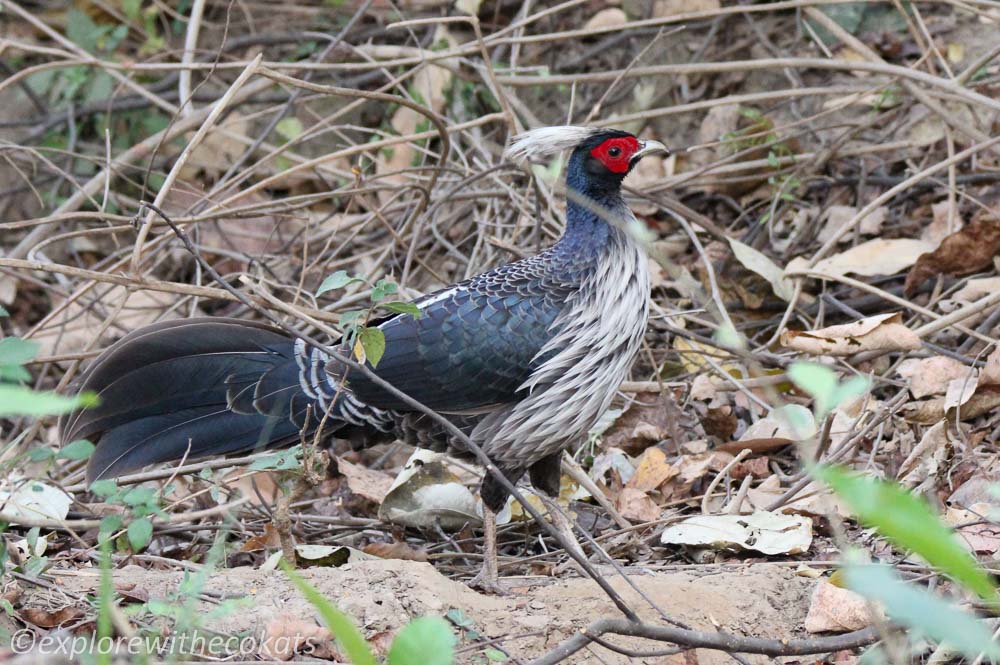 It was around 8am and we started noticing a lot of birds flying towards the water bath in the backyard. Without wasting any time, we headed straight there, just in time to catch the glance of Common Rosefinch. By the time i could focus my lens, he melted away in the bushes behind. We then patiently waited for a flutter of sound near the bath.
Blue Winged Siva
Soon enough a pair of Blue winged Siva descended on the marble bath. Their playfulness was so oblivious to our presence and they enjoyed their romantic bath together which lasted for a short time.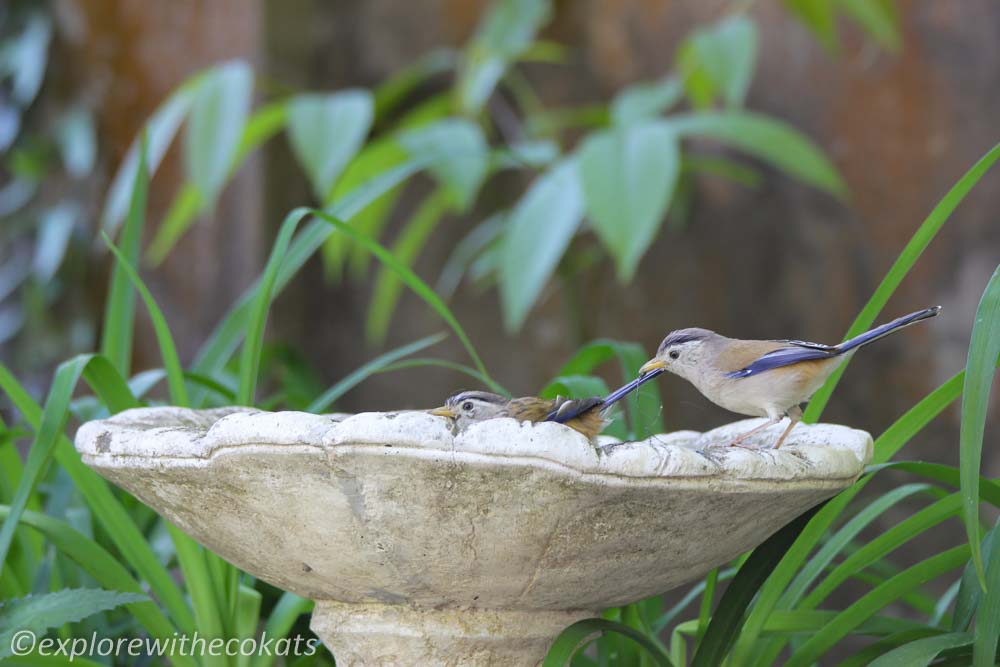 Black Chinned Babbler
Two spectacled biscuit coloured birds now touched down on the water bath. They were playful but not comfortable to share the bath with the Indian Black lored tit. The male made sure they did not want the Black Lored Tit there and shooed him away to have a private bath with the lady.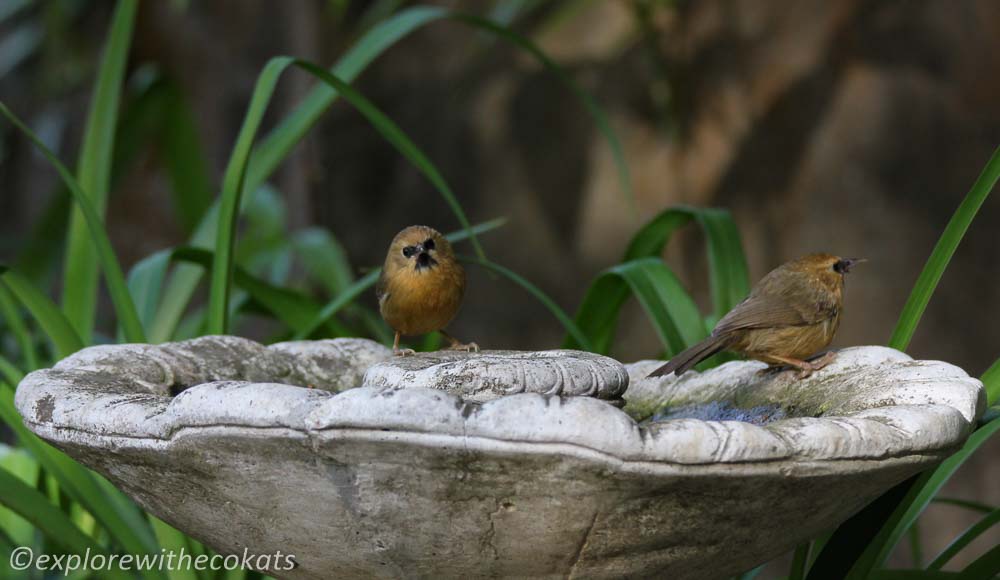 2 hours of photography demanded food! After a hearty breakfast, we headed towards the bird's haven – Pangot.  Pangot is a small village tucked away in the Kumaon hills, which echoes with the songs of colourful birds. Only 15 kilometres away from Nainital, it has recorded over 500 species of birds and is considered among the finest birding areas in India. Now you know why I called it India's version of Birds of Paradise?
Kumaon being so rich in biodiversity is home to not only birds and animals but honeybees also thrive in this area. We saw huge trees with honeycombs and locals selling honey on the roadside. Read about the Bee keepers in Kumaon here.
Our drive from Nainital towards Pangot, made us cross mixed forests dominated by oak, pine and rhododendrons. The entire landscape is characterized by dense vegetation with numerous perennial creeks and streams that crisscross the area. No wonder it has been home to birds for over many years. Pangot is an ideal place for birds that migrate from Corbett upward to beat the heat in the summer and downward to avoid the cold weather in the Himalayas. The Rhododendrons make up for an amazing view and ideal nest for the birds. You can read about my trekking experience for Rhododendrons here.
Black headed Jay
A small movement in nearby bushes made us strain our eyes and neck to see who was hiding behind the branches. A blue mirage is all that we saw. Noiseless we stood there for the shy blue bird to come out. In sometime there were not one but three black headed jay on the tree. There seemed to be 2 males and 1 female as the males were doing a display pattern to woo the lady.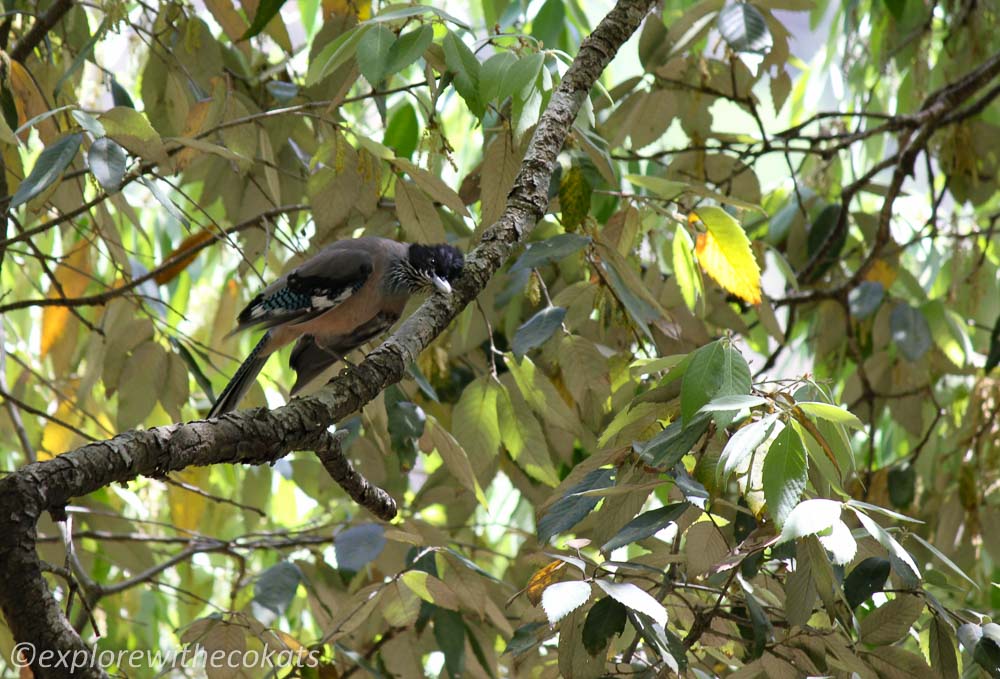 Rufous Sibia – one of the common birds in Kumaon
There was a flutter in between the bright red rhododendrons. A rust coloured bird flew by. On landing couple of branches away on an old oak tree, it posed for us. Slender buffy-rufous coloured bird called Rufous Sibia, grew comfortable and flew to the parapet near the road and even posed for us.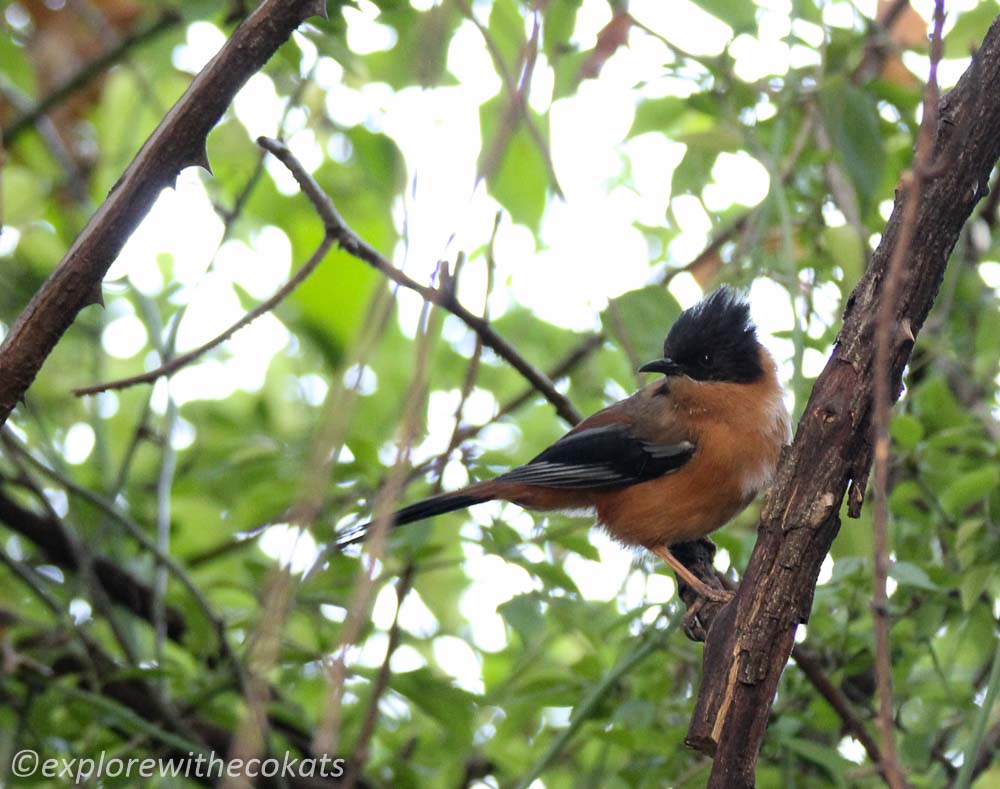 Grey winged Blackbird
Our car crossed a black bird sitting on the road who seemed to be scavenging. We halted and walked back to the spot to find him still doing the same. On closer look we saw that he was actually clearing the fallen leaves and making the area clean. Probably a fan of Swachh Bharat Abhiyan! We saw the female counterpart doing the same a couple of meters above the cliff. We have no idea why they were doing what they were doing.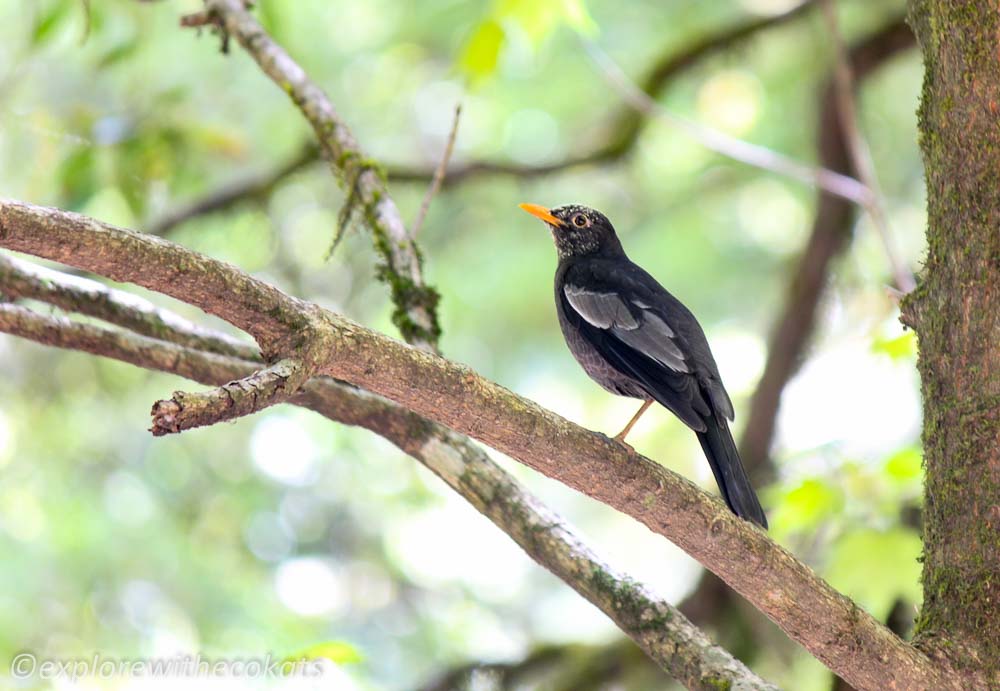 Since we did not want to stay in Pangot, we never really researched for a day guide who could show us the birds around. We just walked through the valleys of forests and stopped if we heard a bird call or flutter of wings or just about any movement in the trees.
However the couple of hours spent here were nothing less than a turbo charge for us which left us wanting for more and plan a dedicated trip to Pangot and Sattal with a guide.
Sustainable tips for birdwatching in Kumaon
Wear camouflage colours which will easily blend with the surrounding – green and brown shades work the best around the trees.

Do not make noises when you spot a bird, it may get distracted and fly.

Do not wear perfumes or body spray when you go for birdwatching.

Try to avoid bird call apps to attract birds or make them look your way for a good photo. It is just unethical.

Do not dispose wet waste or plastic in the jungle valleys.
If you liked this blog you would love to read The Wildlife Blog Collection which is a compilation of 70 short stories celebrating some of the most memorable, entrancing and exciting wildlife moments as told by top nature writers from across the globe. From the discovery of a clouded leopard in Borneo's degraded rainforests, to an audience with an African crowned eagle and its unlucky prey in Kenya, to the unexpected wildlife of England after dark, there are incredible moments to uncover. You can secure your copy today here.
Disclaimer: This post contains affiliate links. It means it adds no extra cost to you if you book through the link but I get a referral bonus which helps me earn a little to keep this website up and running.