Pondicherry now officially known as Puducherry, is obviously on the list of 'to visit' places in India, among all avid travelers, thanks to the hype. The taglines like 'Little France in India', 'Living in the European era' almost make headlines. All this makes one excited about what to expect and what should be the perfect itinerary for this East Coast Union Territory in India.
I had the chance to visit Pondicherry for work 2 weeks back and i got really excited to be visiting this union territory. I read a couple of blog posts and how they talked about the 'White Town or French Quarter' and the amazing instagram pictures against yellow backgrounds of various buildings and cafes. There were itineraries listing 2 days to 2 weeks, and it just made Pondicherry even more appealing for me.. Till I actually landed there.
I chose to stay in a homestay like i always do which was near the town centre – about 800 meters (10 min walking distance). I like being close still far away from the centre. I got into town late evening and after freshening up, I started for dinner at 8:45pm and zeroed down on the most popular cafe – Villa Shanti for food. I was assured that Pondicherry is safe and I assumed that being such a popular tourist beach town, it would have the typical vibe. Google maps took me into alleys that were so deserted that, it did not even have street lights and the road reeked of sewage!
It took me 30 minutes to reach Villa Shanti, which obviously had amazing ambience and yummy food. But I was frightened to walk back in those dark alleys so I prayed to Ola and Uber gods for their presence and voila.. Ola was present. I was happy and feeling safe and thought to book it once the bill payment is settled and to my horror, no cabs were available by then and i had to walk (read run) in those darker alleys back to the homestay.
Conclusion #1: Pondicherry is still old school, lacking modern sewage system. The grey water still flows in open gutters on the side of roads.
Day 1:
Rocky Beach
After the sound sleep, i woke up early and thought, i should give Pondicherry one more chance. Beach is always a good plan, only that Pondicherry doesn't technically have a beach. The town had a sand beach till later 80s which caused extreme erosion and hence was converted to a rock beach along a promenade. Sunrises never go wrong, so i decided to catch one at the Promenade. I hired a 2-wheeler from the homestay and drove through the sewage stinking open gutters and reached the rocky beach just in time to catch this glimpse.
Pure happiness!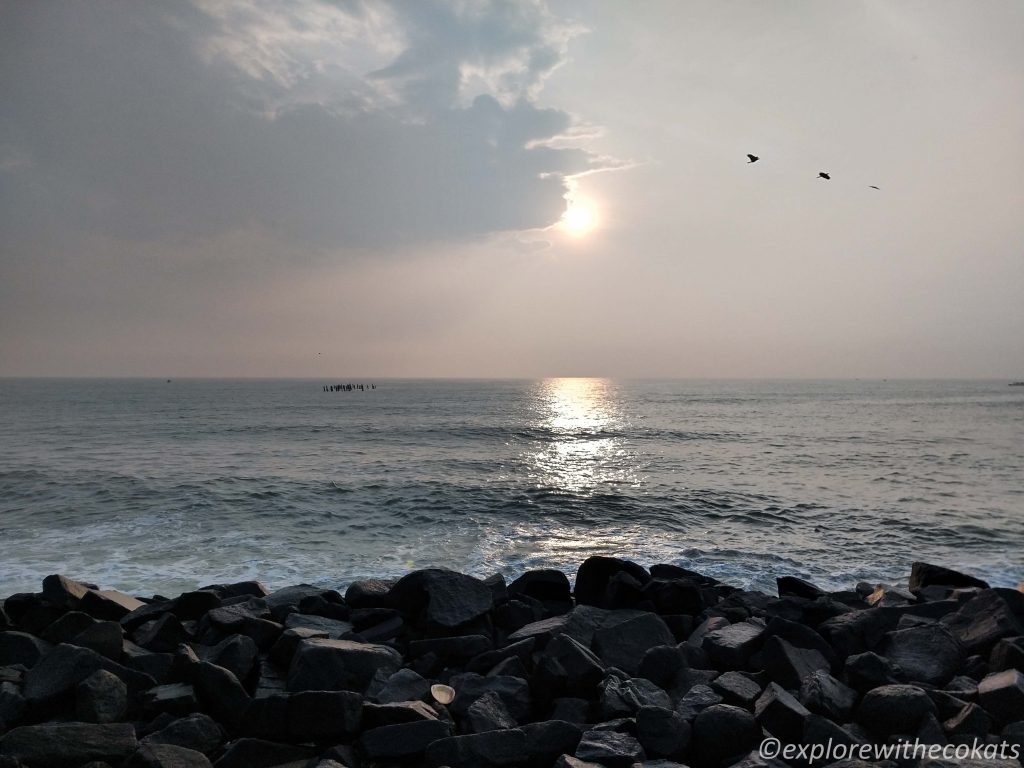 French Quarter
Next was the popular French quarter. I was way early in the day, which meant i would get ample tourist-free photo opportunities of the alleys. With French street names like Rue Dumas, Rue Romain Rolland, Rue Suffren, Rue La Bourdonnais, Rue Surcouf, etc, the French buildings definitely had the vibe of being in Europe but you would certainly get a stare by the vegetable vendor or a local if you are wearing even a knee length dress. Nevertheless the buildings looked lovely.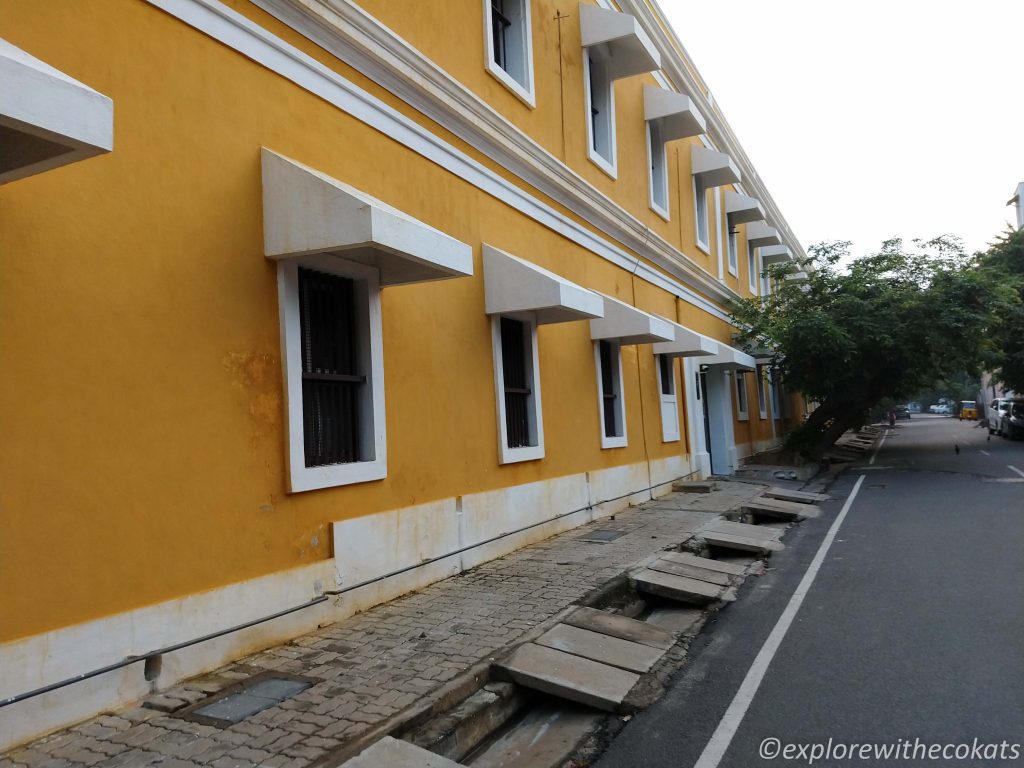 Conclusion #2: Pondicherry locals are conservative
I had work after that so let's just push to
Day 2:
Sri Aurobindo Ashram
Sri Aurobindo Ashram is an extremely clean and peaceful place. It is great place to meditate, but respect the instructions and do not meditate near the samadhi. You have to remove your shoes on the opposite side of the road to the Ashram, switch off your phone and put it your bag (yes, a person standing on the gate will check) and walk past colorful flower gardens upto the Samadhi.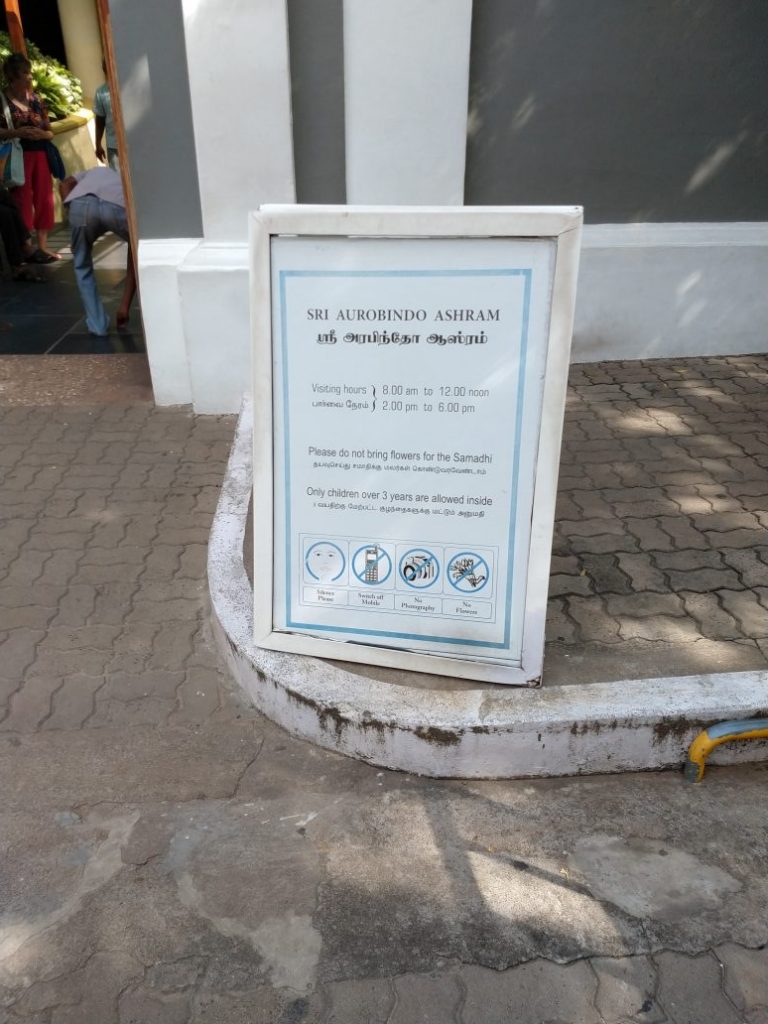 Relax and feel the calmness in the campus, before you move to the bookstore.
In case you want to but other items like incense sticks, body oils, soaps and clothes, an adjacent street behind the ashram, will take you to another store where you can but this.
Old port pier
Most tourists want to go to Serenity Beach or Paradise Beach for well, Beach please! But you still get a small hint of sand and the charm of a pier if you walk from Gandhi statue towards the new lighthouse on the promenade. Just keep walking till you come to the pier. With almost no tourists in sight, it is one of the most beautiful sights in Pondicherry. Watch the fishermen boats go by, or just listen to the waves crash on the rocks or get amused by the crows flying right across your hair, basically just chill.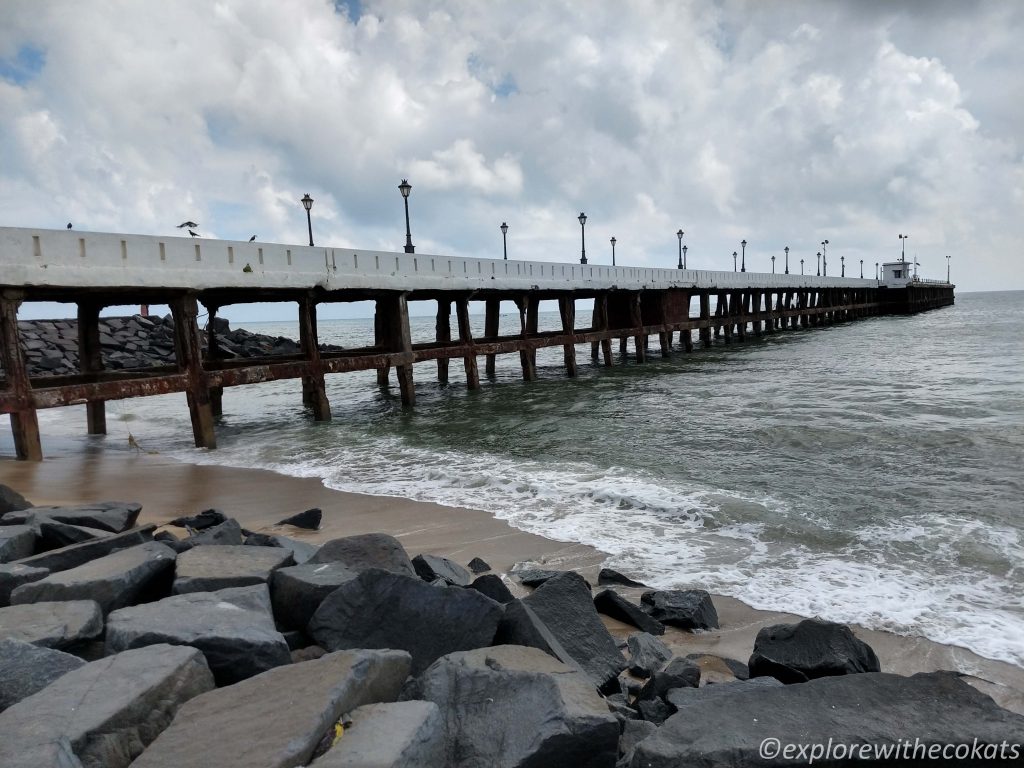 Conclusion #3 Old pier is pretty much tourist free and must visit while in Pondicherry.
Churches
The churches add charm to the French town of Pondicherry. There are several that you can visit within a 2-3km radius and i suggest you should visit atleast the Basilica of the Sacred Heart of Jesus and Immaculate Conception Cathedral.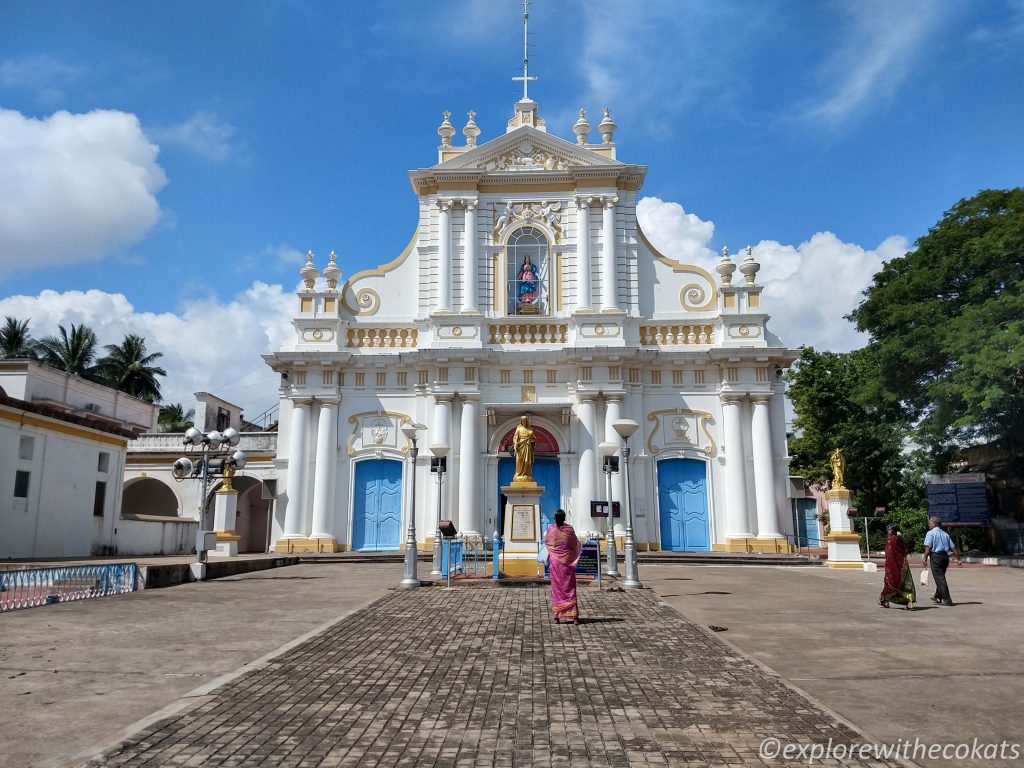 Shopping
I had heard Pondicherry had quite a range of natural and herbal products which were cheap. I had very less time but i quickly glanced through Casa Blanca and Kalki for clothes and home products. For more detailed shopping guide, check here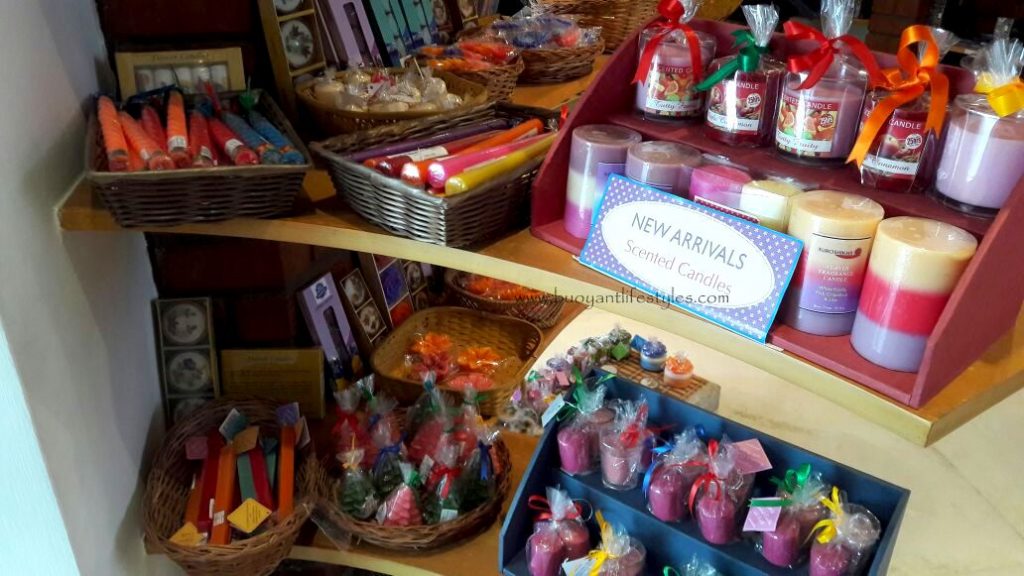 Cafe hopping
This, personally was the biggest highlight for me. I love food and the array of baked french goodies, both savoury and sweet can make one travel to Pondicherry for sure. Pondicherry is a definitely place for feasting in the fancy boutique hotels, artsy cafes, lovely bistros and elegant restaurants some in the small alleys, some sea facing but all beautiful.
Cafe Des Arts is an amazing place for French classics

Baker Street is popular for mushroom quiches and butter croissants and other pastries. (Pro tip: It opens at 7am so ideal for an early breakfast)

La Villa has healthy array of starters and their classy desserts are yum!

Cafe Xtasy have the most delicious wood fired pizzas

Villa Shanti has lovely Italian cuisine. Look out for their 'Meal of the day' and just order that!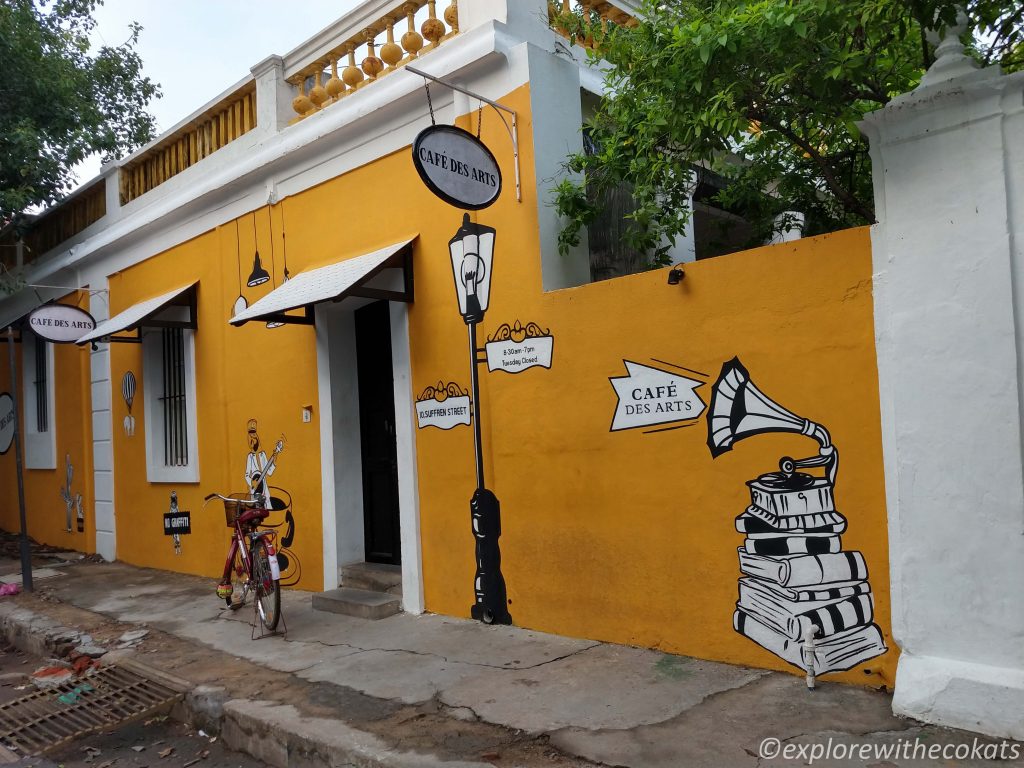 Stay in Pondicherry
I stayed ia a homestay for a night and a boutique hotel for another. Both the experiences are good. Will highly recommend both. They both had the option to rent 2-wheelers to go around the town at a cost Rs. 350 per day.
Homestay: The House of Blue Mangoes . Had a lovely courtyard with arm chairs to relax. A kitchen where you can cook and a Water purifier to refill water. There are 4 rooms which are far from each other and you have the feeling of being the only one in the house. House rules: No shoes inside the house. They give you flip flops at the entrance.
Pros: Clean, good toiletries, hot water, good wifi
Cons: Small room with spider webs and less charging points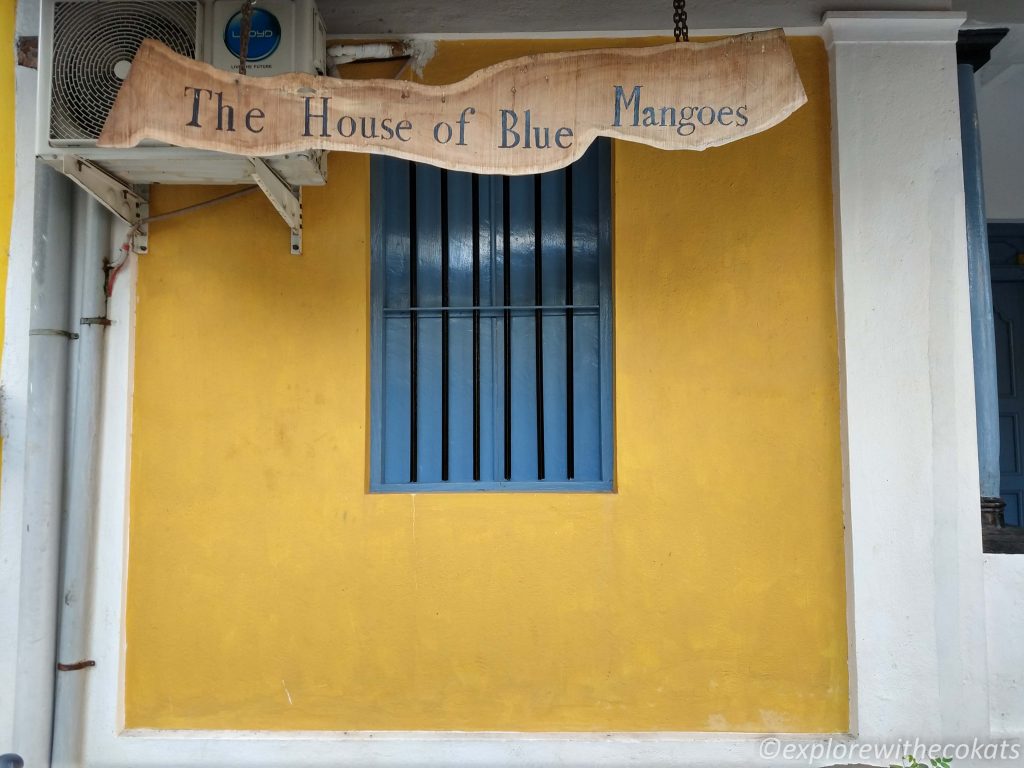 Boutique hotel: La Closerie – Bay of Bengal . A hotel, walking distance to the rocky beach and all the classy eating places as well as to the old pier. It has 7 boutique rooms and a small pool in the courtyard. Breakfast is basic but good. Lovely property to stay a night or two.
Pros: loads of open spaces to relax and read a book, pool, wifi
Cons: Only soap provided in toiletries. Breakfast can be better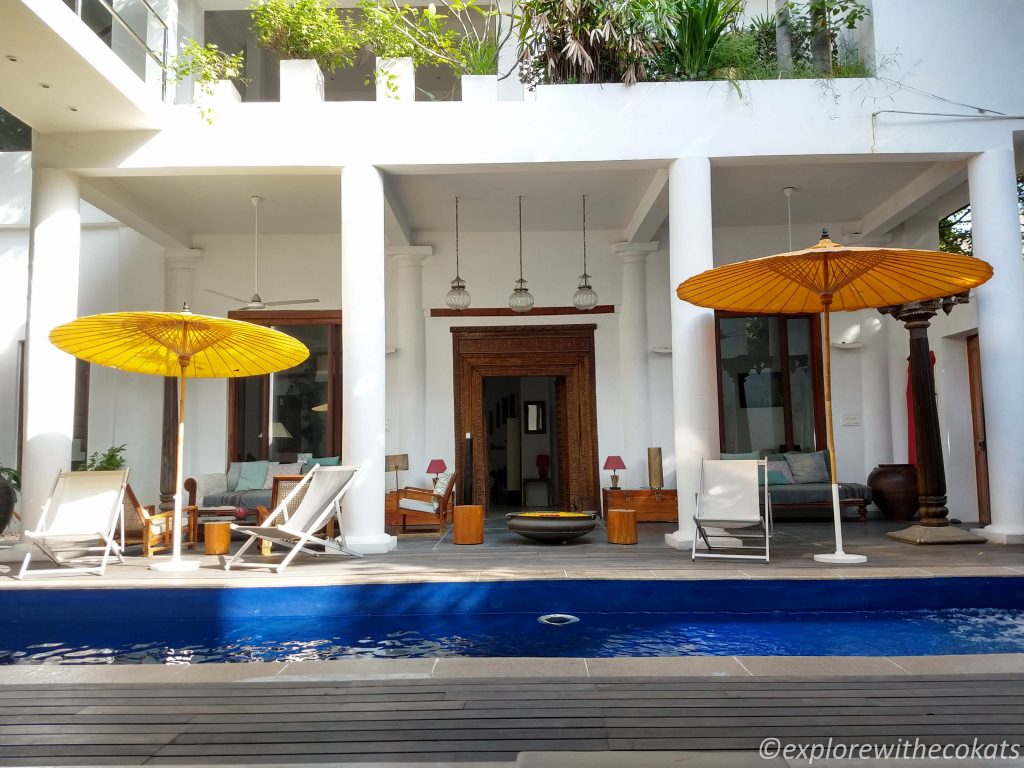 My verdict and overall conclusion for Pondicherry:
The Good: Pondicherry does

not have a list of 'things to do and see'. It is a place to relax, catch up on reading and feasting. So choose carefully.

The Bad: There is no nightlife like Goa. You can party in your own room.
The Ugly: It is a dirty town with open gutters. There is litter, literally everywhere and the tourists as well as local authorities are to blame. 
I would personally not spend money to go all the way to Pondicherry but would rather go to Vizag which has everything a tourist want from an amazing weekend in a beach town. 
Sustainable tips:
Do not litter the already dirty town. Throw waste in the bins.

Respect the space in church and ashram. Switch off your mobile and do not talk.

It is a quite and conservative town. So keep the volume on your speakers low and dress appropriately.

Respect the privacy of neighbours where you are staying and while clicking photos – they are someone's home afterall.