If you are an Indian and you hear Tulips, the first thing that will invariably come to your mind is Amitabh Bachhan and Rekha singing 'Dekha to yeh khwab..' from the movie Silsila. Ofcourse that song was filmed in Keukenhof gardens, Netherlands. As if 2 big bollywood superstars were not enough to inspire you here is Keukenhof Tulip Garden Guide, tips and photos.
Do you love being in nature, love photographing manicured gardens, enjoy bright coloured flowers? Then Keukenhof is the place for you. With coverage of over 80 acres, Keukenhof is probably one of the largest outdoor gardens in the world.  The garden draws about 800,000 visitors during the 8 weeks it's open every year. It is located in Lisse, which is a small town about 40km from Amsterdam and 60km from Rotterdam. Lisse is famous not only for Keukenhof but for the tulips farms and cycling around them. Don't get mistaken as there are many other flowers in the garden. This was my very first cherry blossom tree <3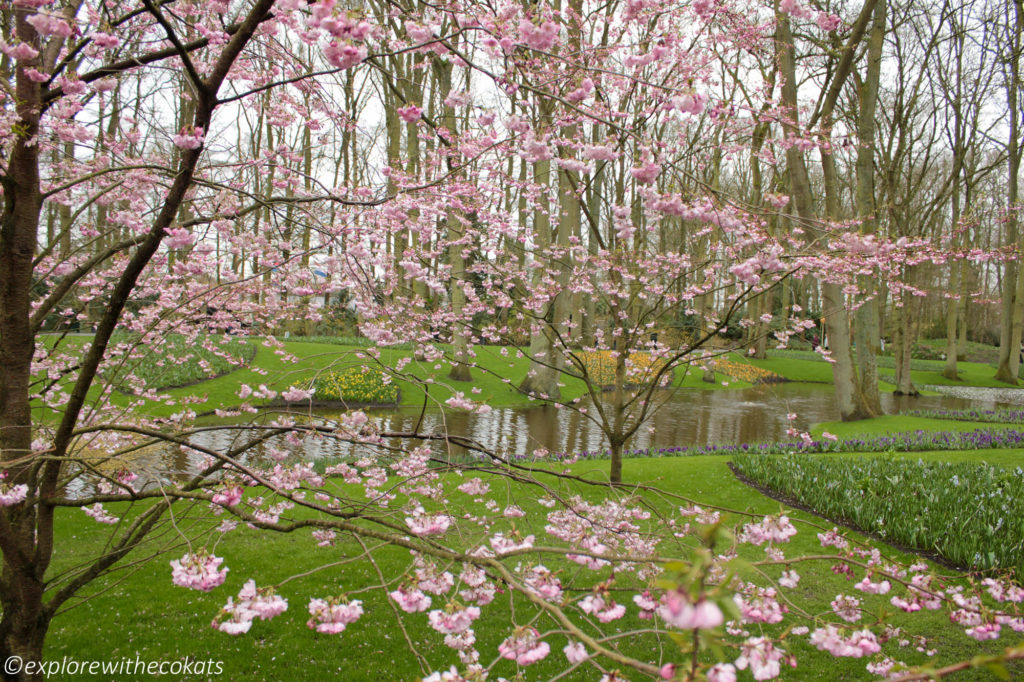 My short course post graduation in Rotterdam ended right around the beginning of spring which meant tulips had just started blooming and my husband joined me for a Europe tour. Before we headed to Paris, we visited Keukenhof in April (first week) 2015.
How to reach Keukenhof Tulip Garden – Guide
It totally depends from where you will be traveling. However trains and buses are easily available to reach Keukenhof. If you are in Amsterdam, probability of your hostel/hostel having the tickets with them is quite high. You can ofcourse book them online but there was a problem with our card accepting the payment so we chose to buy them in person.On inquiry at the front desk of our hotel we got our combo ticket – bus + garden entrance at €23,50.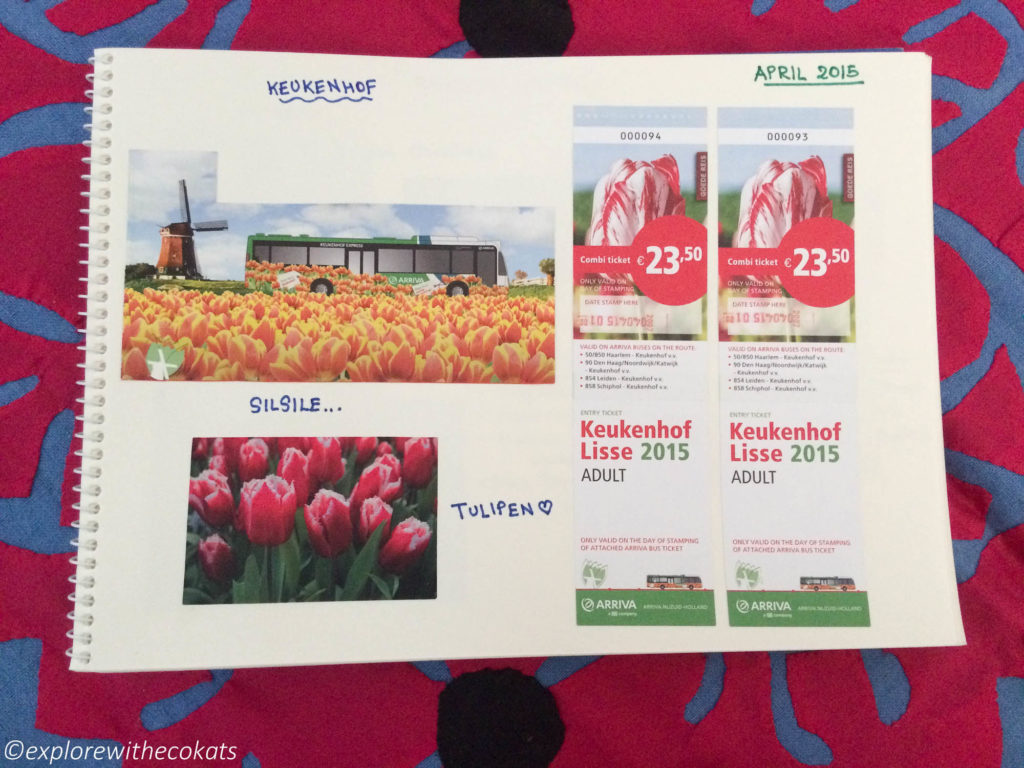 The Keukenhof express bus left from Schiphol airport from the bus station in front of the airport. The bus is easy to find when you walk outside from Schiphol Plaza. The bus leaves every 15 minutes to the Keukenhof (entrance) and takes around 35 minutes to get from Schiphol to the Keukenhof. Here's a guide map.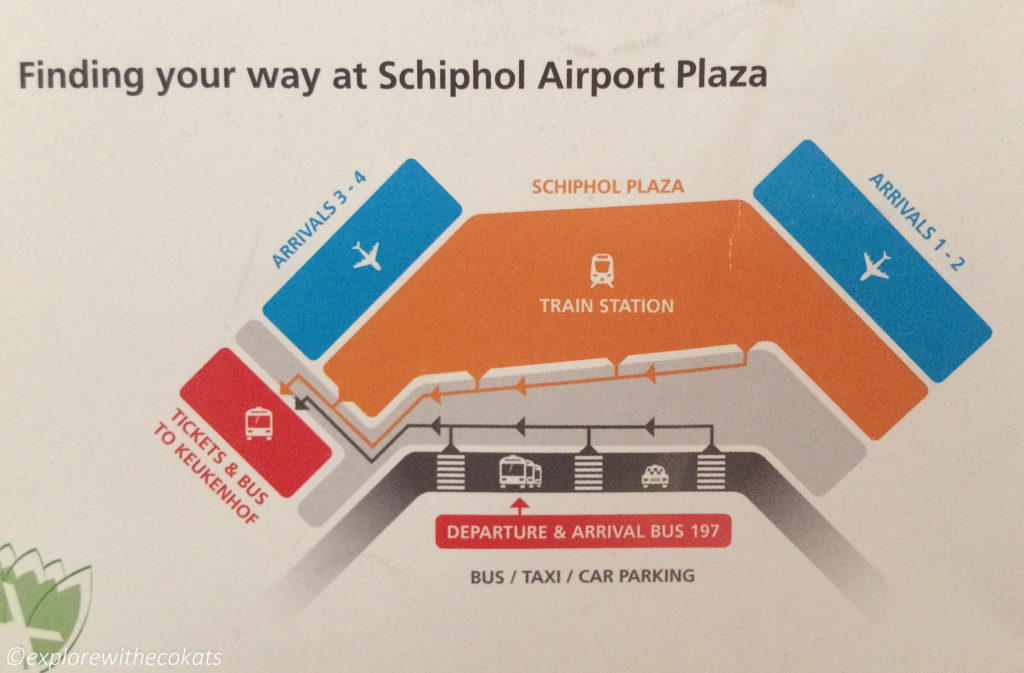 Once at the entrance, get a map of the Keukenhof garden which will have directions, exhibition details, food stalls, etc. you will be thankful for picking this up. And then start walking.. walking.. and walking… However there is much more to just tulips. Know more here:
Walk in one of the many exhibition halls to know the origin of Tulips.
Or learn some flower arrangement or decoration.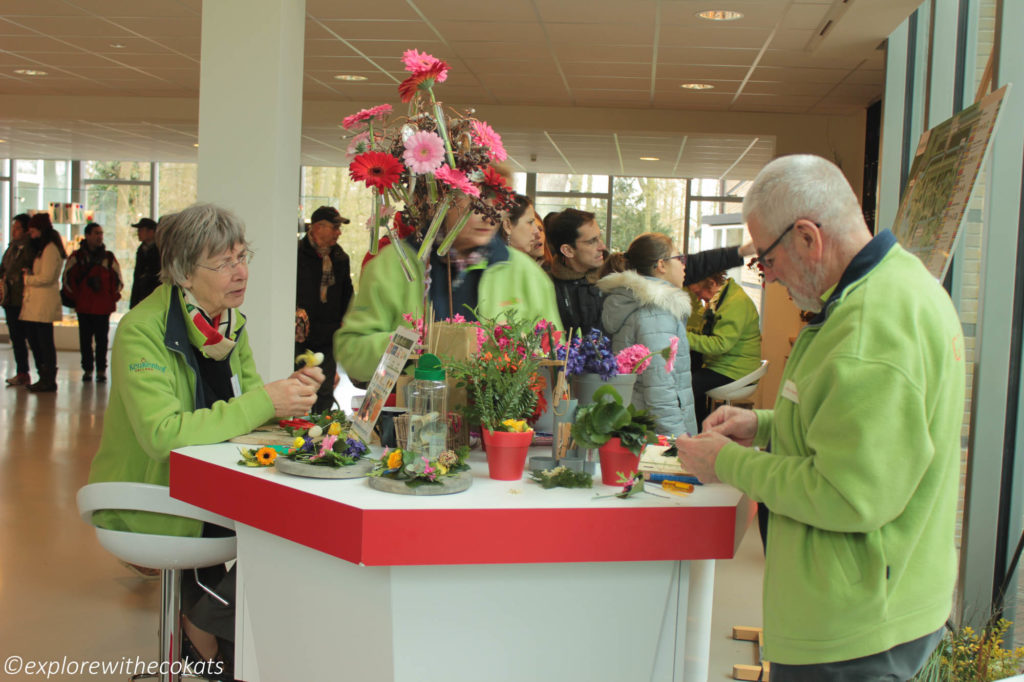 Some souvenir shopping, perhaps?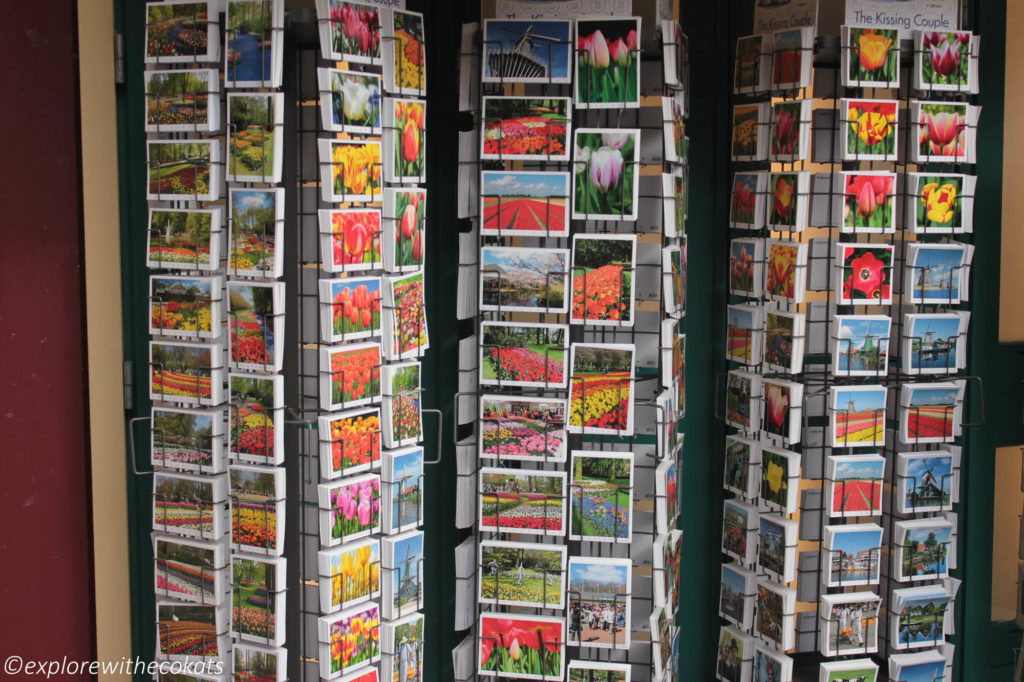 Or satiate the foodie in you with crepe or stroopwaffles. Oh you fail to amaze me Keukenhof!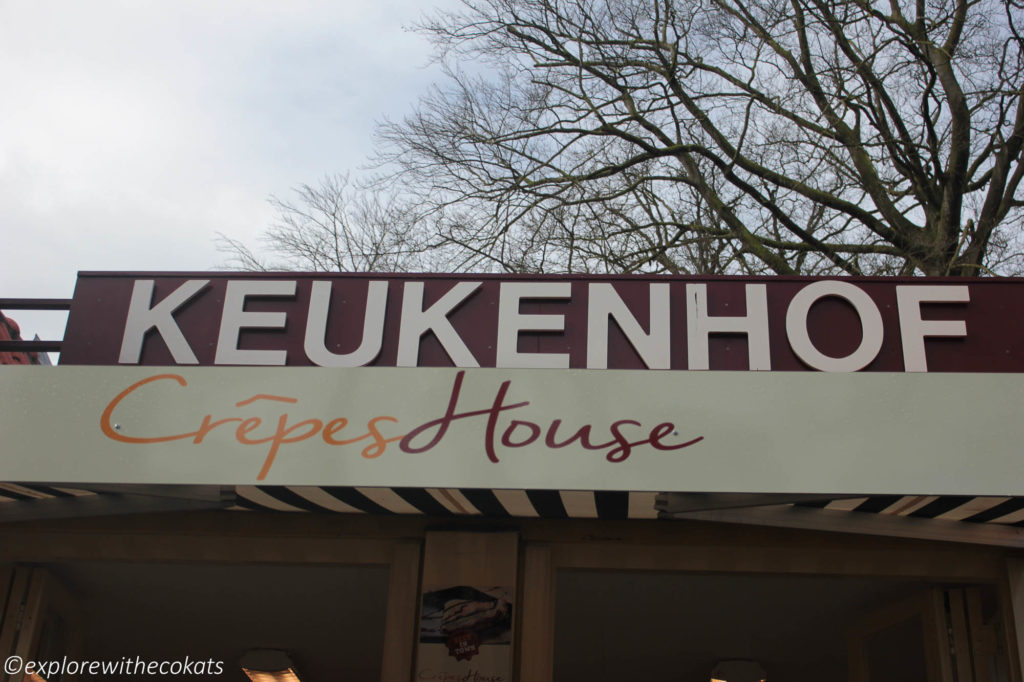 Enjoy watching the local dance in the sun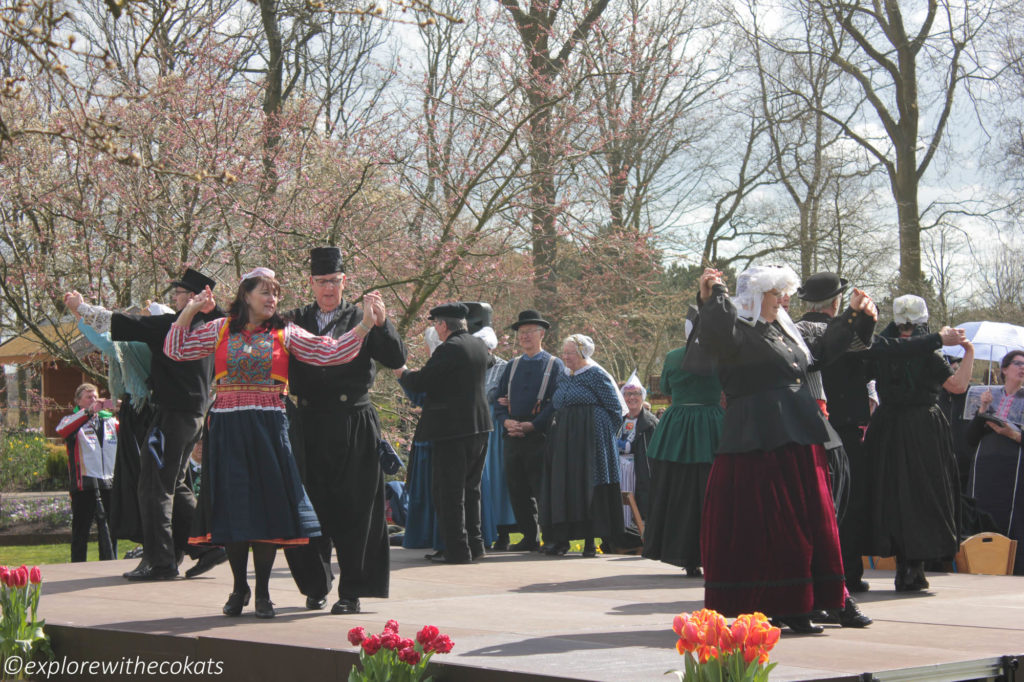 Photograph beautiful women dressed up like tulips and still rocking at it.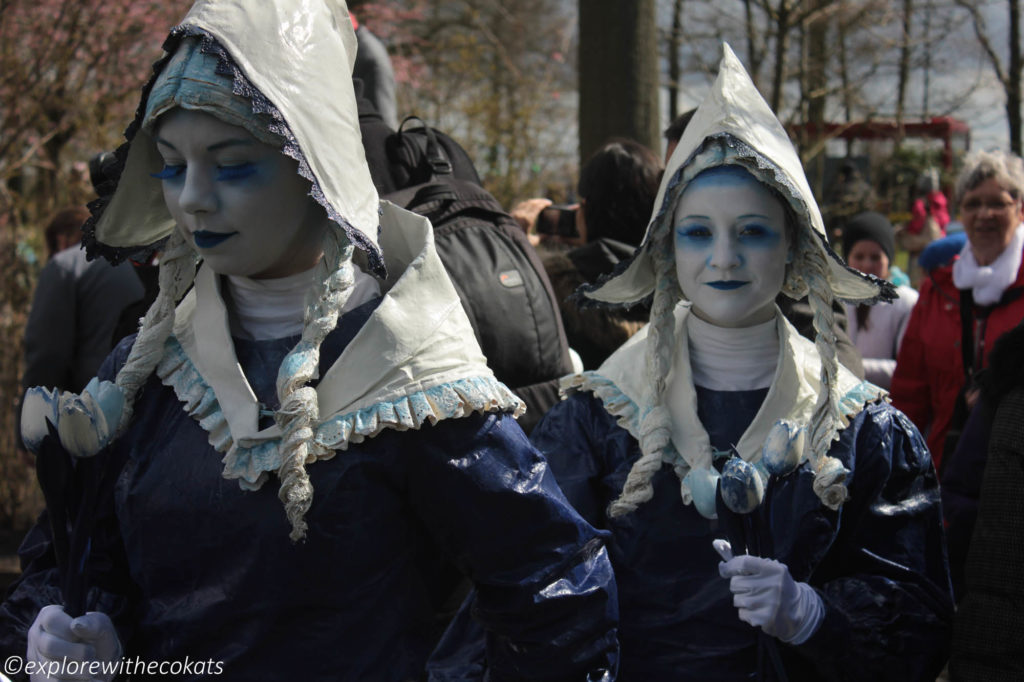 Keukenhof tulip gardens guide for sustainable visit
Respect the flowers. Don't go too close to them for a selfie which will damage their shoots or step in the soil which will damage their roots
Respect the fact that people do not want to hear music. Keep the music volume low or use the headphones if you must.
Throw garbage in dedicated bins
There are barn animals in a small barn – do not feed them. We saw a lot of people doing it.
Respectfully ask for permission to click photograph with a dancer or a locally dressed lady.
Use the extremely efficient public bus to reach the garden and to reduce the carbon footprints.