Rotterdam is the second largest city in The Netherlands and Europe's biggest port, is not really on the list of tourists visiting the country. Being a business hub and home to Erasmus University, it is certainly emerging as the hotspot of sustainable future with its architectural marvels, innovative housing designs and water and urban management initiatives. The city was destroyed in World War II, which now enjoys being one of the most modern cities with cosmopolitan culture of people from 170 nationalities.
If you are an architect, a student or just a tourist these are the must visit places in Rotterdam.
1) The Markthal (Market Hall)
The Market Hall in Rotterdam is a sustainable combination of market selling food, restaurants, apartments, parking, public transportation, all integrated to enhance the synergistic possibilities of the different functions all under one roof, literally. It also has the world's largest art work on the ceiling. Its bright colours cover an area of 11,000 m2, resulting in this creation now being known as Rotterdam's very own Sistine Chapel. The CNN quoted Markthal to be 10 best eye popping buildings to see in 2014.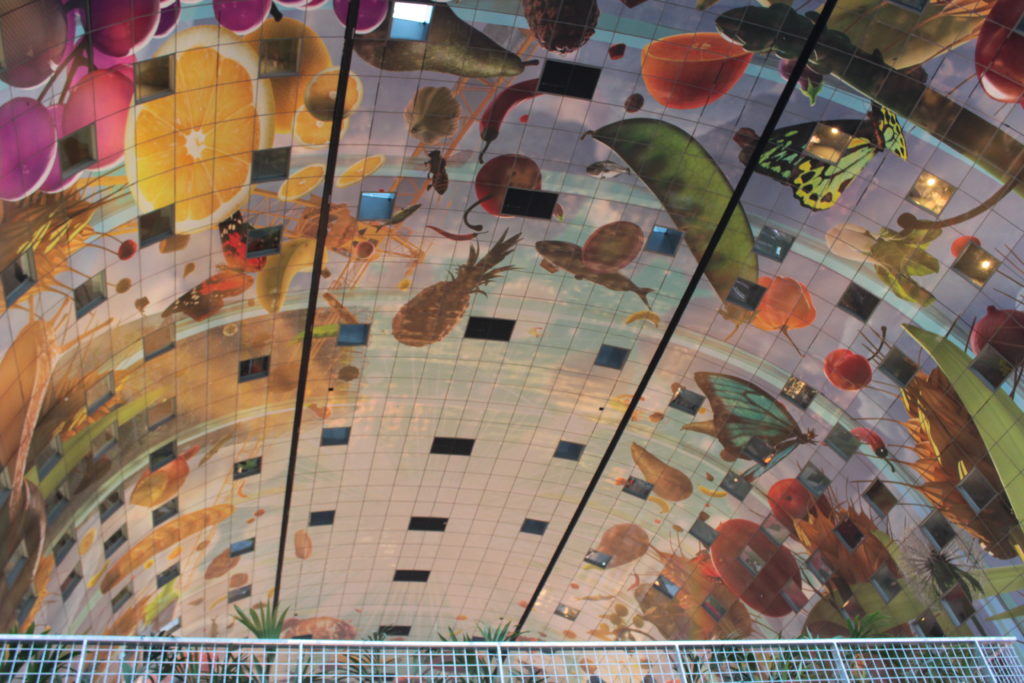 2) The Dakpark in Rotterdam
Dakpark is a public garden on the roof of a shopping centre which supports businesses, restaurant and parking space. With ample biodiversity on the top like indigenous trees, the park is accessed by a wide stairway, with a waterfall in the middle. The local community also attends to a compost plant in the vicinity of park.
3) Floating pavilions
Architects have developed floating houses to help maximize living space in Rotterdam, which has vast areas of water. They believe floating farms may be a way for the cities of the future to feed their growing populations and reduce pressure on land. This floating Pavilion in Rijnhaven area is used to host events.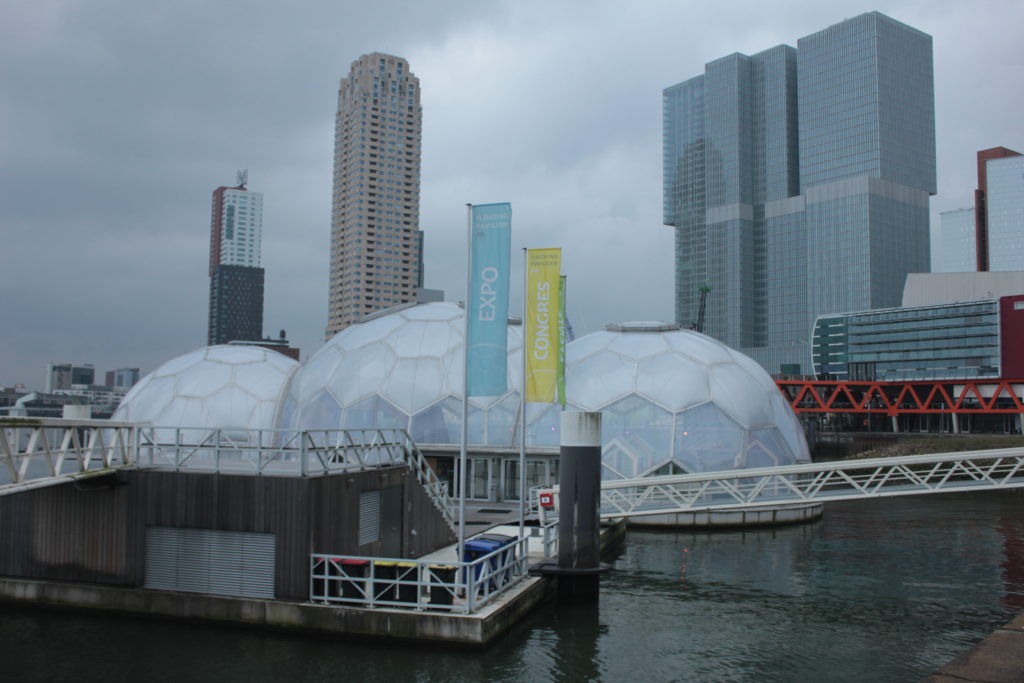 4) Erasmus bridge
The Erasmus Bridge (Erasmusbrug) is a combined cable-stayed and bascule bridge in the centre of Rotterdam, connecting the northern and southern parts of the city. The bridge is also known as 'The Swan or Zwan'.
It is an architectural marvel and can be visited by going on a run over it, taking a tram, a car or water bus under it. If this does not give you a feeling to appreciate its beauty, have a meal or two in the restaurants nearby overlooking the bridge.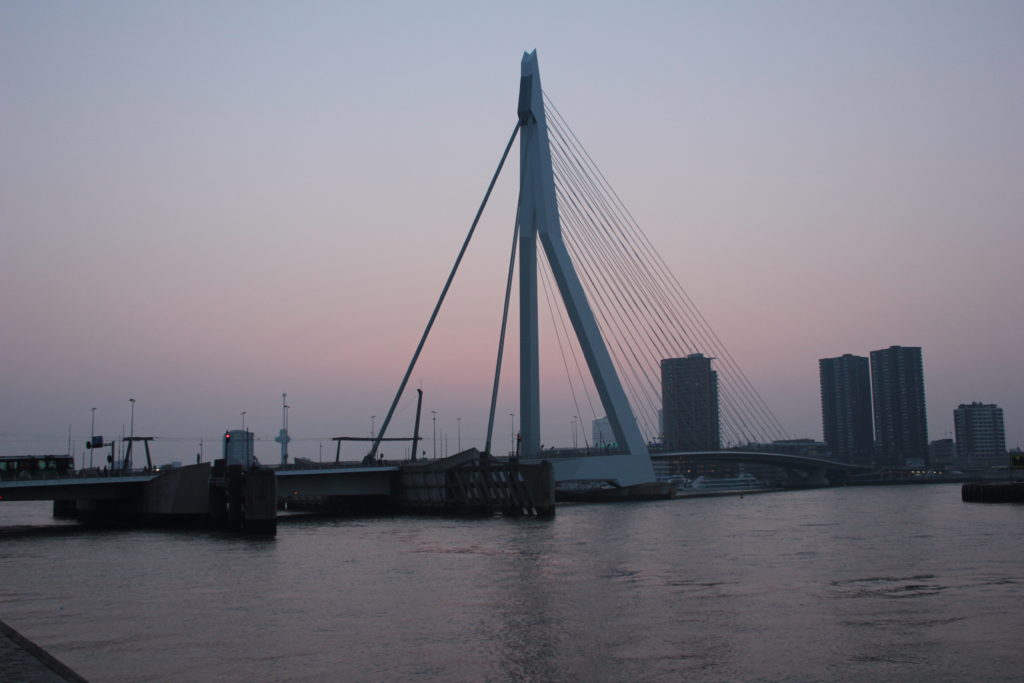 5) Cube houses of Rotterdam
Cube houses are a set of innovative houses based on the concept of "living as an urban roof". It is high density housing with sufficient space on the ground level, since its main purpose is to optimize the space inside. Each house is tilted 45 degrees, and rested it upon a hexagon-shaped column that contains entrance and stairway. The architect wanted to represent a village within a city, where each house represents a tree, and all the houses together, a forest.
Living in the cube house requires quite a bit of imagination and adaptability of residents as they must be creative enough to place furniture in this house. You can experience staying in these houses by spending a few euros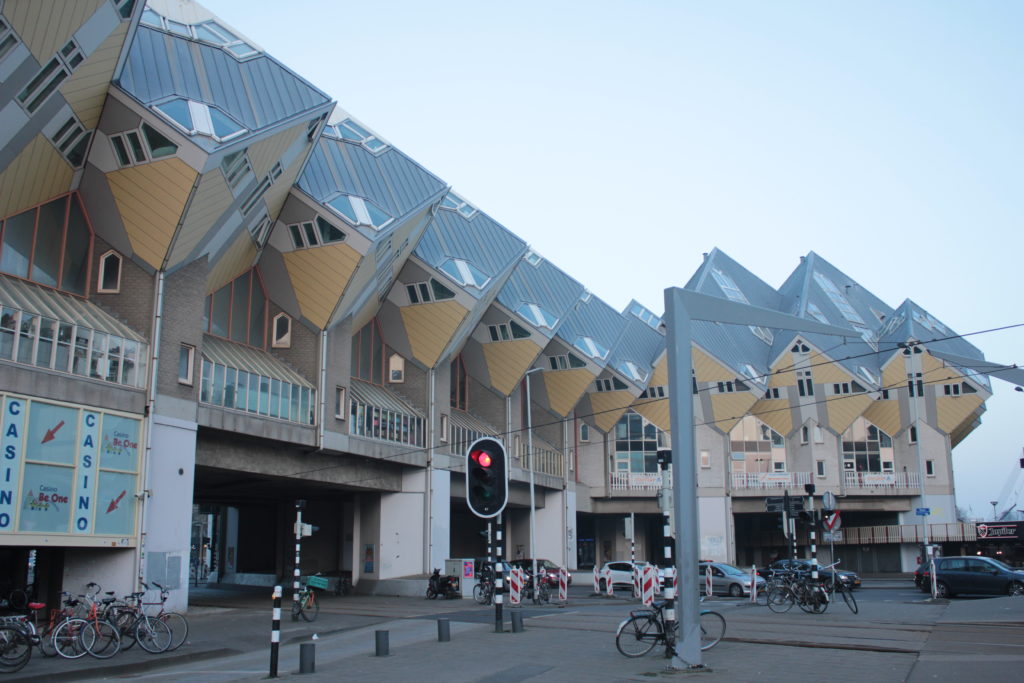 Want to know about sustainable hotspots in Amsterdam? Check here.