Having spent the early sun hours at Lord Jagannath temple in Puri, considered as one of the cardinal pilgrimage sites for Hindus i asked my taxi driver if a quick sun salutation to Konark Sun temple was possible before i catch a flight back home.  After calculating the time he nodded with affirmation.
He drives me along the coast to reach the Konark – the magnificent sun temple which is the epitome of orissan architecture and the state's sculptural finesse . Built in 13th century by the king Narasimhadeva, it derives its name from the presiding deity Konarka meaning orka – the sun and kona – corner. It was dedicated to the sun god Surya. Konark Sun Temple is also one of the UNESCO World Heritage Site.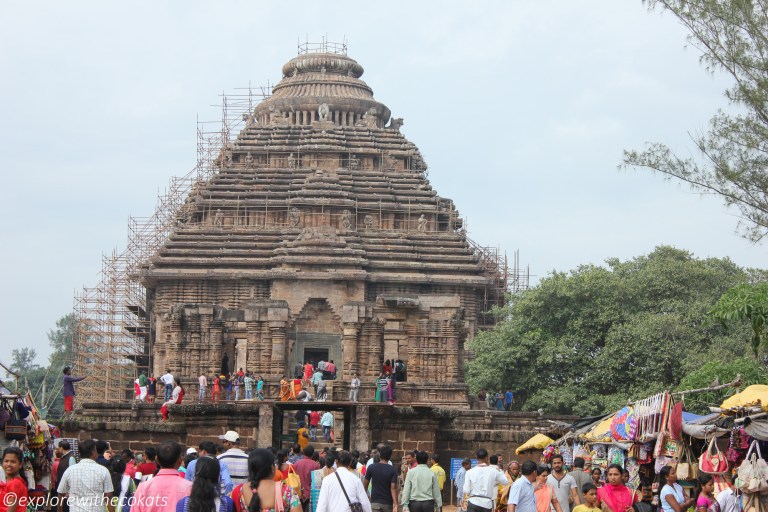 I make my way to the entrance after going past rows of shops selling souvenirs, hats and accessories made from shells.  I get the first glace amidst the selfie taking tourists – a portion of temple covered with bamboo sticks for restoration work.  While thinking how my photos would turn out with those bamboos everywhere i suddenly get a overwhelming number of guides asking me to hire them. They go to the length by saying you will not understand anything if you don't take a guide along with you.  I recall my guide experience at Angkor Wat, and decided not to hire one and figure out myself.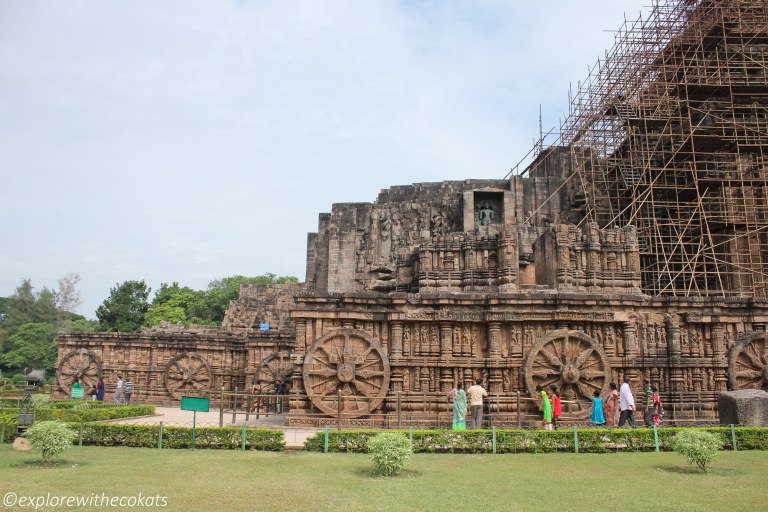 After crossing the porch, I came across the main section of sun temple which was planned to look like a massive chariot with 12 pairs of ornamented wheels. These wheels signify 12 months of a year. On a closer look of these wheels, they are lavishly crafted with incredible details of deities, birds, sculptures, motifs from everyday life. The fact that it has stood for over 7 centuries is the testament of the amazing engineering and artistry of the by gone era.
How to reach Konark sun temple?
By air: Bhubaneswar city is the closest with airport about 64 km away.
By train: The railway stations nearest to Konark are located in Puri and Bhubaneswar. These stations are linked with almost all the major destinations in India by train.
By road: The National and State Highways link Konark with Puri and Bhubaneswar. Hiring a taxi is the best way of travel between Puri and Konark. There are good number of transport buses as well as private coaches plying from both the cities.
Entry fees:
For Indians: Rs. 30 and for foreigners: Rs. 500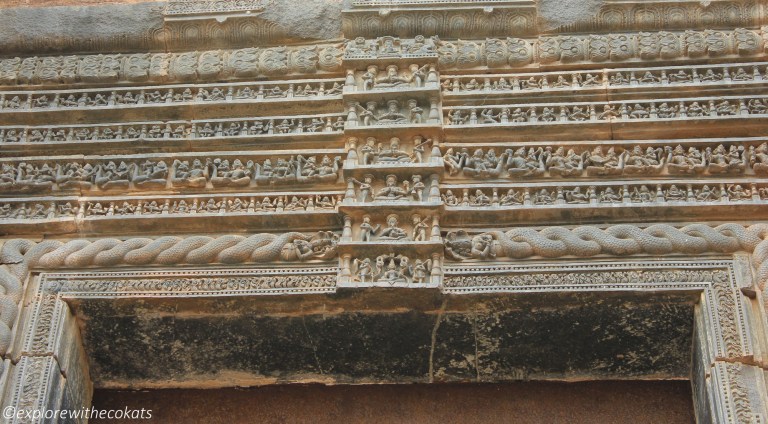 Timing: 6am to 8pm
Where to stay: Since Konark and Puri are close to each other and can be covered within a day trip from Bhubaneswar, it is ideal to stay to be in the city. I stayed in Ginger Hotel.
Sustainable travel tips for Konark Sun temple
Being an ancient world heritage site which is already dwindling with age, respect the structures by not sitting on them. Sit outside the temple in the garden.
Do not harm the structures by carving or writing on it
Do not enter places which are closed off, there's a reason why they are closed.
Throw your garbage in the dustbins located at the entrance of each temple.
Disclaimer: This article includes affiliate links. It means it adds no extra cost to you if you book through the link but I get a referral bonus which helps me earn a little to keep this website up and running.