On my recent work visit to Visakhapatnam, I did not know what to expect. I generally google things to do, must eat, must visit places whenever i travel to new cities, but I did not have the time and i thought I'll figure it out later. And i regretted not reading must visit places in Visakhapatnam the moment I landed at the airport.
On the ride from airport to the hotel, I kept thinking, Visakhapatnam is supposed to be a port city and have beaches and all i could see was mountains surrounding it. This intrigued me and I mentally tried to arrange my work schedule so i could spend some time in visiting a couple of places. The list of 5 Must Visit places in Visakhapatnam is derived after discussing with locals, instagrammers and reading a few blogs. These 5 places according to me should not be missed while you are in the ''The Jewel of the East Coast India".
Vishakhapatnam, also known as Vizag is a port city having headquarters of Eastern Naval Command on the coast of Bay of Bengal and surrounded on three sides by the overlapping mountain ranges. It has the country's oldest and one of the largest shipyards, and the only natural harbour on the East Coast. Do not get fooled thinking it only has a port. The must visit places in Visakhapatnam include mountain ranges, valleys, naturally formed caves, temples, beaches, museums and even Buddhist pilgrimage sites.  Today, Visakhapatnam lives an image of an educational hub, industrial city, an accomplished naval port and seventh cleanest city in India (Swachh Sarvekshan ranking, 2018).
So whether you stay for 1 day or 4, these are the 5 must visit places in Visakhapatnam.
1. Submarine Museum
If you have seen the movie, Ghazi Attack, you can relate to this museum so much and feel super proud about it. An actual submarine which was used in the Indo-Pakistan war of 1971 is now converted into the museum. The museum consists of pictures artifacts and exhibition of original machinery that depict the life of warriors.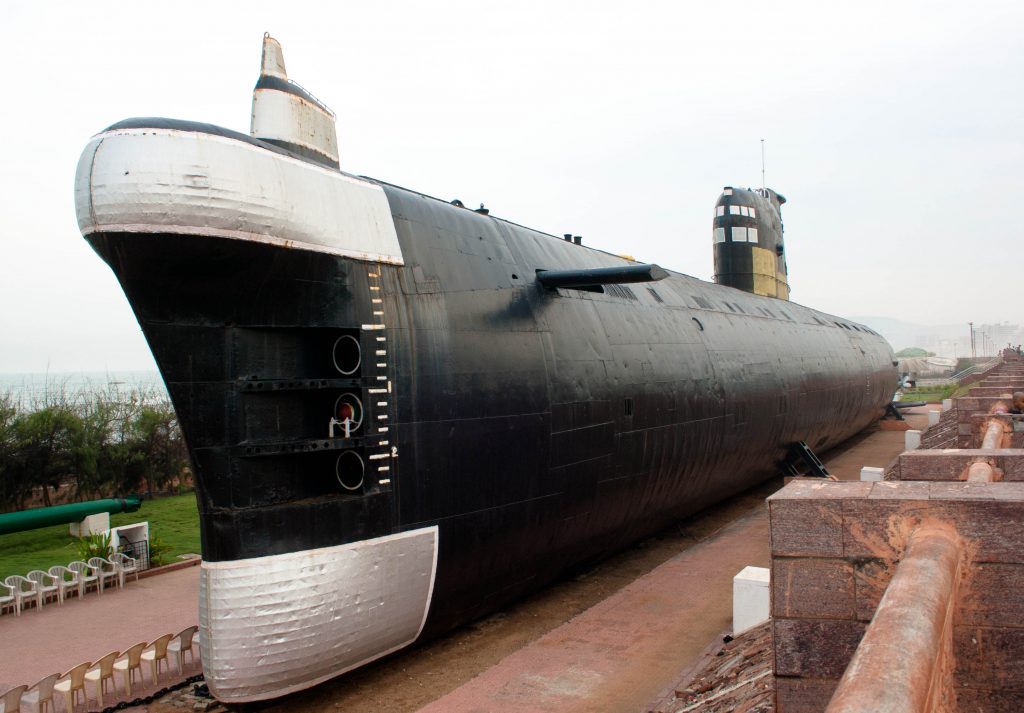 Kursura submarine was commissioned in 1969 and served the nation for over 30 years, where it played a key role in patrol missions. The submarine also participated in naval exercises with other nations and made many goodwill visits to other countries. After decommissioning, it was towed to RK Beach in Visakhapatnam and was established as a museum ship, which is the first submarine museum in South Asia. Towing the submarine 600 metres to its final location took 18 months and cost approximately Rs. 6 crores (60 million).
I swelled with pride looking at the mammoth size of the submarine, the engineering functions and the space utilization with which it served for three decades. And that is why the submarine is of the must visit places in Visakhapatnam.
Tip: The museum is open till 9pm so you plan to visit it at the end of the day.
Entry fees: Rs. 30 per adult
Camera fees: Rs. 50 per camera
2. Aircraft Museum
On the road opposite of the submarine museum is the Aircraft TU-142M museum which was commissioned in the year 2017. After 29 years of service the TU-142M aircraft of Indian Navy was decommissioned and converted into a museum.
You can enter the actual aircraft, but before that there is an interpretation centre developed wherein various equipment and parts of aircraft are displayed inside an exhibition hall. Equipments like sonobuoys, propeller, engine, survival kit, anti submarine missile, data recorder etc are displayed with all details. The design of the aircraft was inspired from the bird 'Albatross' by a Russian designer Tupolev. It is the world's heaviest and fastest flying turboprop aircraft.
After visiting the exhibition hall you will enter into the aircraft. Photography is not allowed inside the aircraft. After seeing various equipment inside the plane you can come out of the aircraft from its front door to then take a photo of the aircraft. You need skills and wide frame lens to photograph it in one frame!
Entry fees: Rs. 60 per adult (includes an audio guide in various Indian languages)
Camera fees: Included in entry fees. Photography prohibited inside the aircraft.
3. Kailasagiri
All the local residents told me to visit Kailasagiri as it is one of the must visit destinations in Visakhapatnam. Located in the heart of the city, it is perched at a height of 560 feet and offers spectacular views of the city and the east coast. You can take a rope way to reach the hilltop.
Considered to be well-known attraction due to the huge idols of Shiva and Parvathi, this is a well known picnic spot amongst the locals and tourists alike which offers plenty of beautiful viewpoints like Shiva Parvathi Statue, Shanku Chakra Naama, Floral Clock,Jungle Trails, Food Courts, 7 Wonders of Vizag, Shiva Temple, Titanic View Point, etc. You can also hop into the toy train operating at the park which takes a circular tour of this garden at the hilltop.
Go there for the views of Rushikonda Beach!
Entry fees: Rs. 5 per adult (parking fees for vehicle/car/bus extra)
Ropeway fees: Rs. 90 per adult (round trip)
Toy car fees: Rs. 150 per adult
4. Bheemili Beach
Bheemunipatnam (popularly known as Bheemili)  is one of the longest beaches in the country. Unlike RK beach or Rushikonda beach, there are less tourists here which according to me are brownie points.
Located about 25 kms from Visakhapatnam, Bheemili beach has its own character. Driving from Visakhapatnam to Bheemili is amazing as you can see the coast on your right side for most times and mountains straight ahead in front of you. The Beemili beach is said to be safe for swimming as compared to RK or Rushikonda, but I'd not recommend because i found it to be a bit dirty, thanks to a village settlement nearby.
There is a major Dutch settlement of the the 17th century near the beach.The town also contains one of the oldest Christian cemeteries on the coast.
Have more time on hand? You may plan a trip to Araku valley and Borra Caves. Read about Beach camping here.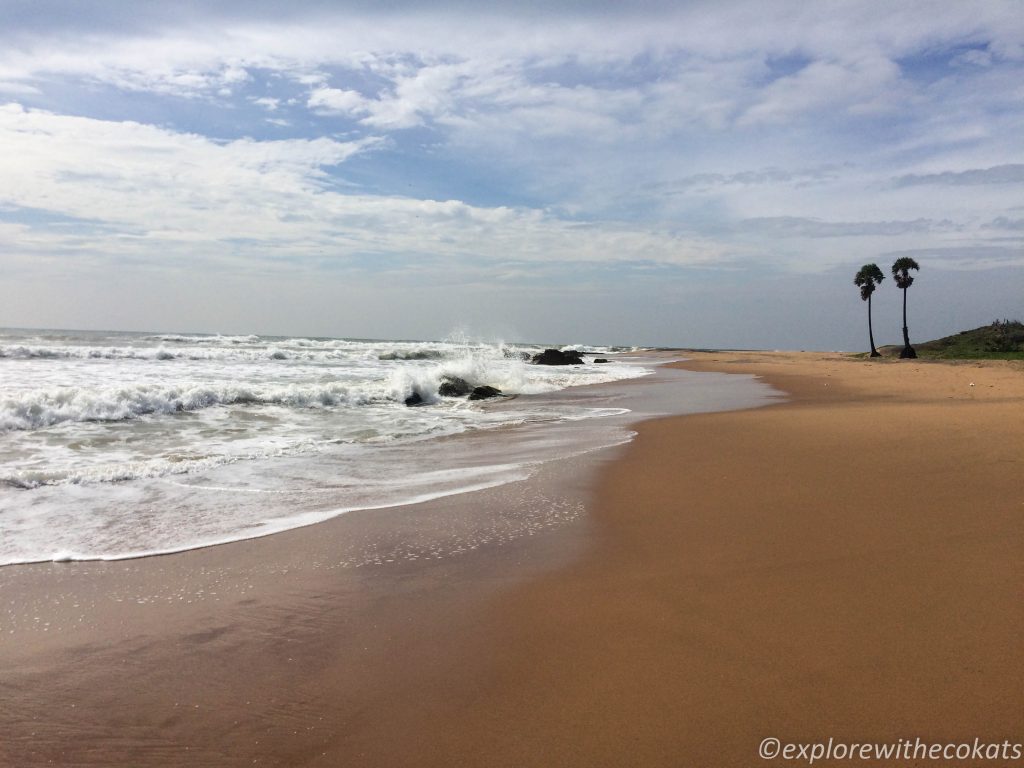 5. Dolphin's Nose
A fascinating viewpoint offering gorgeous views of the city as well as of the coastline, the Dolphin's Nose happens to be one of the must visit places in Visakhapatnam. Named after the large rock viewpoint that resembles the shape of a dolphin's nose, there is also a lighthouse which is one of the sought after attractions.
I did not have the time to go all the way, it is about 10kms from the city, but clicked it from RK beach, so yes it is visible from far.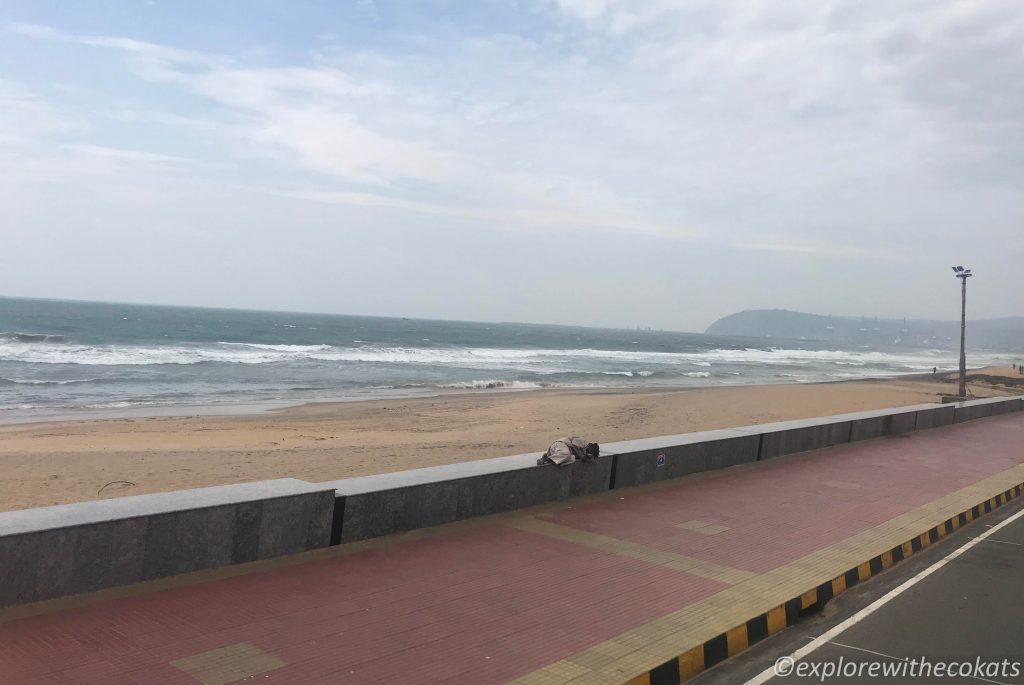 Sustainable tips for Must Visit places in Visakhapatnam
Do not use single use or disposable plastic. Even if you do, do not litter it on beach or any tourist area.
Respect the places which prohibits photography. There is a reason for it.
Do not write on equipment or machinery in museums.