After spending 2 days birding in Kumaon area (mainly Pangot and Nainital), we started our journey towards Ramnagar to try our luck of spotting a tiger in the Jim Corbett National Park. As we started our descend from the cold mountains towards the plains, the air became warmer and roads straighter which meant one thing – we were close to the jungles of Corbett. 
It took time to sink in. I am trying to fulfill my dream of catching a glimpse of the big cat in the wild. Yes migratory birds are exciting, yes spotting a 10 feet reptile is unnerving but spotting a lion, tiger or leopard in the thick jungles of India is an experience beyond words. Being a wildlife enthusiast for more than 12 years and having visited 4 tiger reserves in India, I did not have any luck yet of spotting the Royal Bengal Tiger in the wild.
After checking into our hotel and a lazy lunch, we were ready for our afternoon safari in Jhirna zone. We had to choose this zone as it was the only one available out of the 4 other prime zones in Jim Corbett National Park. As soon as we entered the primary gate, our guide gave us information about the National Park – the abundance of flora and fauna found here and the general do's and don'ts of a jungle. The sun was taking a beating on us and we tucked ourselves further into a layer of hat and scarf while we listened to him about spotting a tigress and her two cubs, 2 days backs. Tigers are known to be ferocious in the company of their cubs so they move little and go out only to hunt so that the cubs are protected.
We were now at the entry gate of Jhirna zone. Couple of other gypsies waited as their drivers and guides got the permits and identities approved on the gate with the forest officials. As we waited for our driver to return, we started noticing the jungle signs. A group of langurs playfully jumped on the trees above us while a white throated kingfisher called out in the distance. Nearby a family of Indian thick Knee (Stone Curlew) went about their business.
We heard some commotion from the forest office when one of our neighbouring gypsies left. Our allotted guide for the gypsy had not turned up so our driver had to play a guide himself. Inside the gate the guide pointed to an expanse of grassland and said this is where the tigress was spotted the day before yesterday. The gypsy which had left 5 minutes before us was parked on the side of the road. Before we could ask, all of them at once said that they just saw a tigress and her two cubs crossing the road and disappearing into the grasslands. We were disappointed with our bad luck caused due to the initial delay of 5 minutes but we decided to wait here as the guide suspected that she may come out from the other side. 20 minutes on and there was no sign of the tigress. Since it was our first safari our guide suggested we move on. The next halt was near a river and a herd of elephants were seen coming towards the riverbed. A red headed vulture in the distance was feasting on a langur carcass while we moved forward to get better shots of the elephant herd.
Further on, more riverbeds came and went but there was no sign of the tiger. We felt a certain rawness and a deep silence while we captured an Indian Grey Hornbill feeding his partner inside a tree trunk. Female hornbills stay inside the bark of the trees to incubate the eggs while the male takes the responsibility of feeding the female.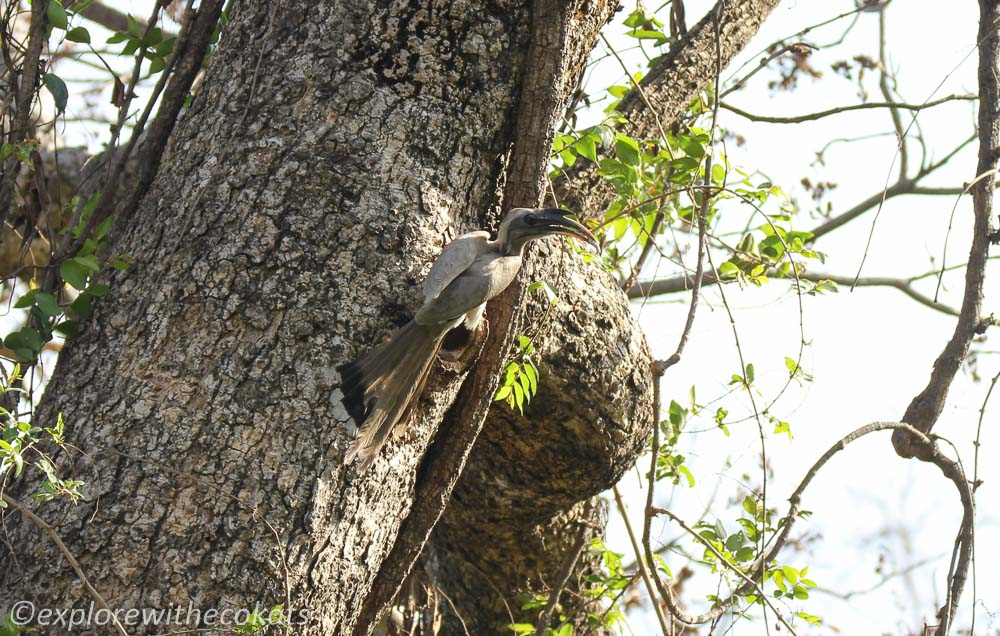 Our safari lasted for 3 hours in the thick jungles of Jhirna zone with some trees almost 200 years old. Dominated by valleys and low hills, the region is unbelievably lush and green and we were overjoyed to be spending our time in the oldest jungles of India. We were mesmerized with the tranquillity, clean air, silence and solitude as we headed back to our gate. We waited again at the same grassland to try our luck with the tigress and two cubs. Some gypsies never went inside the jungle as some tourists insisted on waiting there to see the tiger. I pitied them for missing out on an amazing experience of raw jungles which is so necessary when you are away from the urban concrete jungle! No sign of the tigress except some elephants.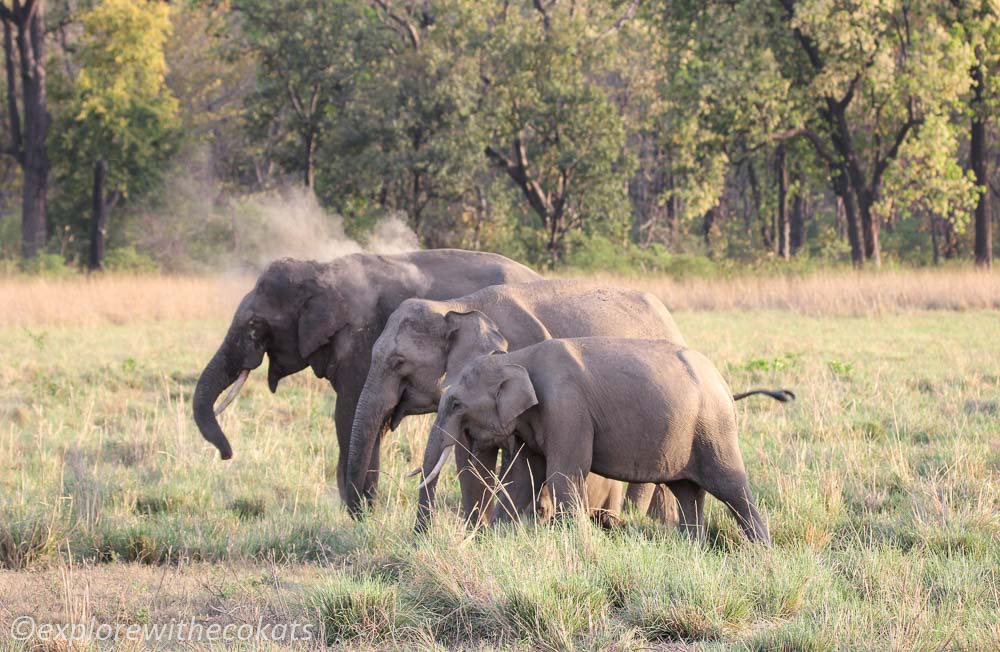 The next day we were even more pumped and excited and reached the gate early. Ours was the first vehicle to enter the same zone – Jhirna of the Jim Corbett National Park. It was still dark as we crossed the grassland in hope of a glance of the tigress. There were no other gypsies until this point in time. There was however a light fog and we could see the silhouettes of trees emerging from the dark. A black shouldered kite was in a deep focus mode trying to find an early breakfast.
We went through the same route as yesterday and crossed the riverbed when we come across a juvenile Steppe Eagle. I clicked almost 50 shots and he just kept posing happily. 50 more from another angle and my forearms start paining with the weight of my 150-600mm lens!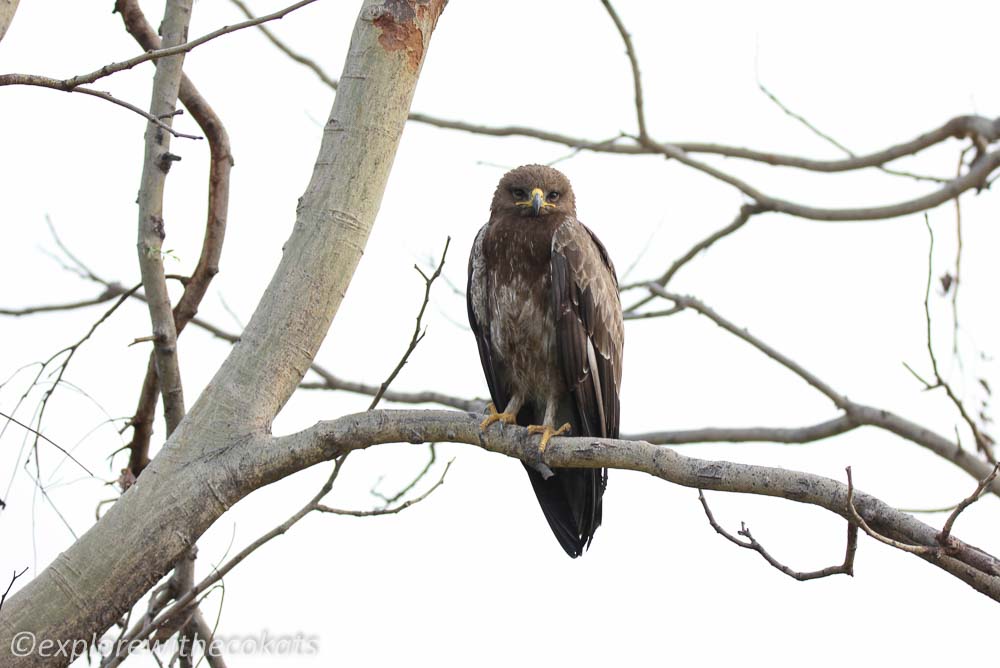 We reached the spot where we spotted the elephant herd yesterday and there were a couple of gypsies(safari vehicles) gathered there. Intrigued we asked if they saw anything and the guide from another gypsy said he had heard alarm calls of langurs and spotted deer. We see a couple of spotted deers running out of the thick jungle in between the meandering river. This confirmed the fact that the tiger is probably on a hunt in the early hours of the morning. We patiently wait for a flutter of sound or some commotion for next 30 minutes. The spotted deers are now in a herd and happily drinking the river water. "Looks like the tiger has moved away or is resting after the kill. He may or may not come out" says our guide as I focus to capture a Chestnut headed bee-eater in the nearby bushes.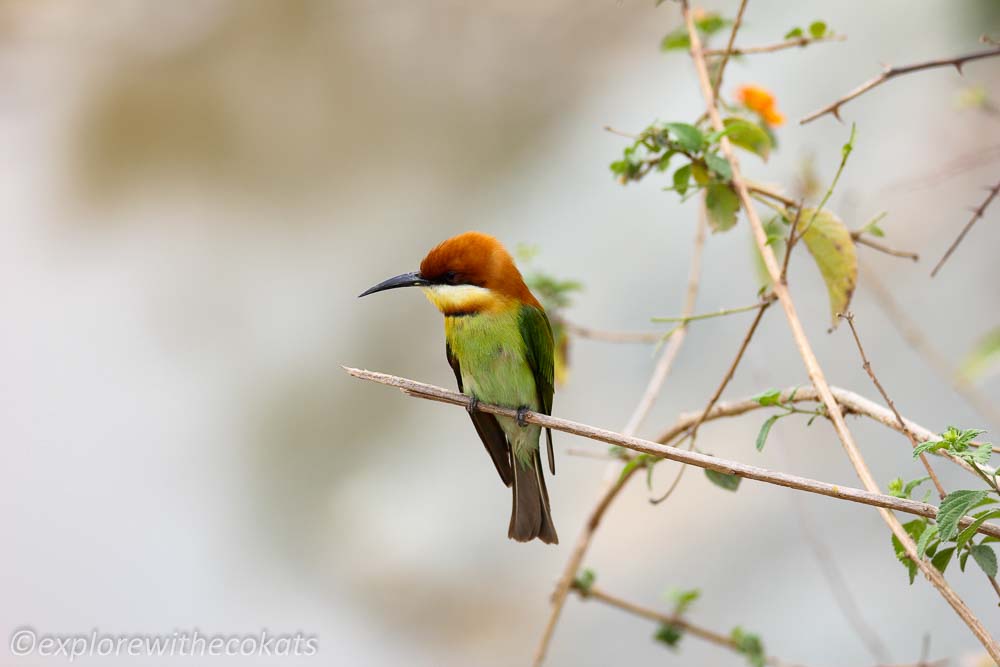 Moving on, we notice it is day break and the sunlight is not up. That's not a good sign as it is cloudy. Overcast skies means less heat which means less chances of animals coming to the waterhole/river for quenching their thirst. We move ahead as a spotted dove lands near our vehicle.
This was slowly turning out to be a birding trip as there were so many varieties of birds that we were able to capture. Our guide pointed out to a riverbed saying he can see a silhouette of a bird. We craned our necks and cranked up the zoom on camera and binoculars. A small debate broke out whether it was a Bonelli's Eagle or a Booted Eagle. The bird guides and books came out and the debate was put to rest concluding that he is infact a Booted Eagle.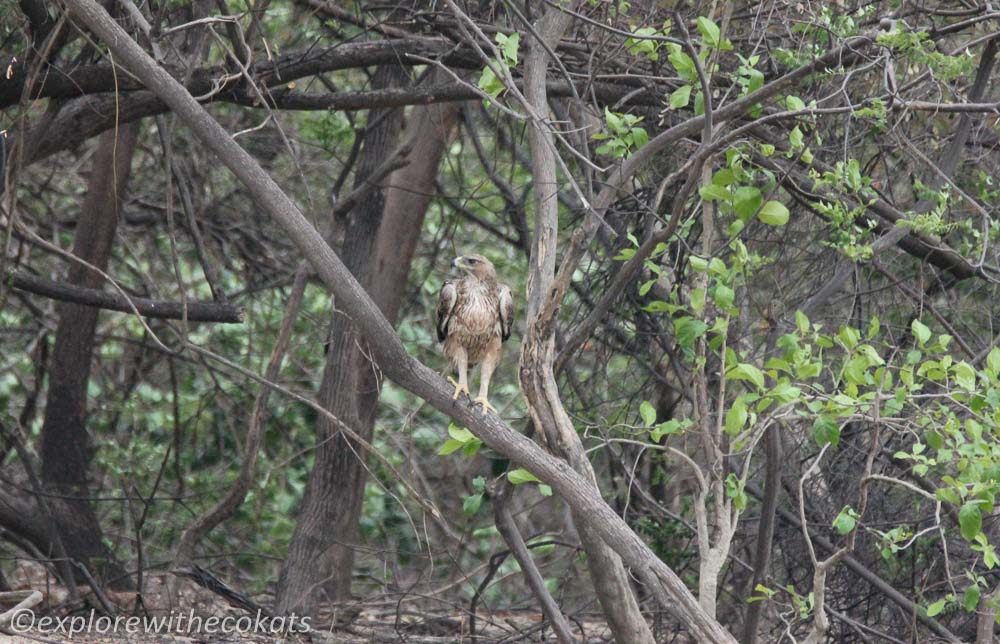 While I tried to adjust my camera's ISO so as to have less noise in the picture, a movement happened behind us. A golden jackal was devouring his early morning kill of spotted deer. The shutters started going as it was only the one leg that remained to be finished! I must have clicked at least 200 shots of this jackal – eating a meal, crossing the road, drinking water from the river, pooping and then resting, all in this sequence. What a find that was!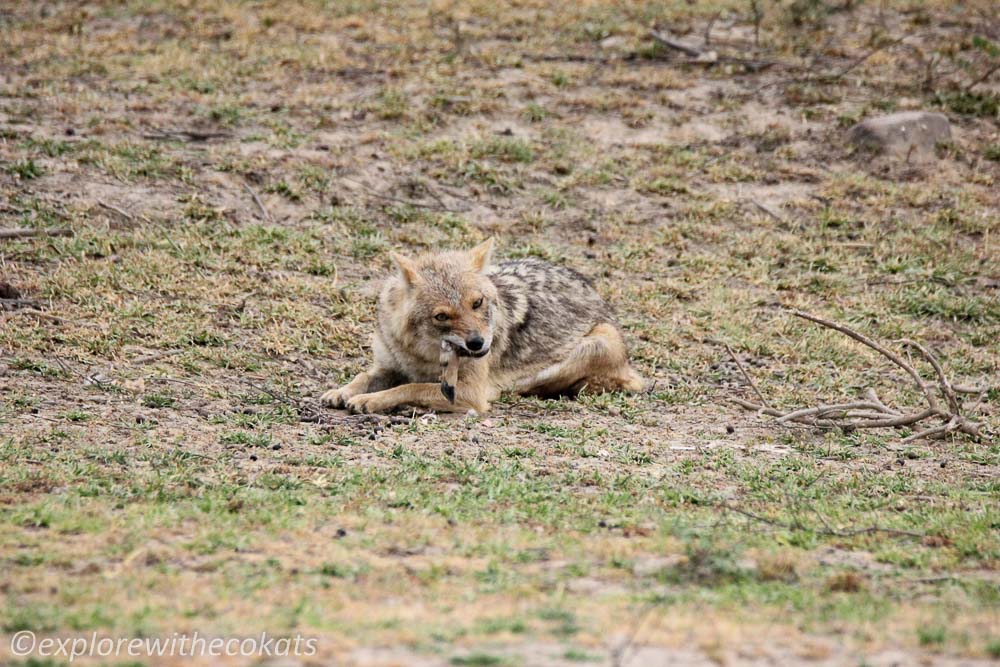 It was time to exit the gate. On the way back we asked the gypsies and it was confirmed that there was no sighting during the morning safari this morning. We were still hopeful to find the Royal Bengal Tiger of the Jim Corbett National Park in the afternoon safari! It was going to be a different zone and we were excited once again. Fingers were crossed so that it doesn't rain during the afternoon safari. It did rain but before our safari and made the forest look even more beautiful. 
With a light jacket to fight the chill from the rain in an open gypsy, we started our third and last safari in Bijrani zone. A vast expanse of jumbled green vines engulfing ancient trees, freshly washed by rain, it was nothing short of magical to be witnessing this beautiful forest. Bijrani was something else, so much different than Jhirna. It was hard to believe how vegetation can be so different few kilometers apart. We were wide-eyed, right from the beginning to take in the spectacular view and to spot a tiger. 
The Jim Corbett National Park was too quiet for comfort. May be all the animals were enjoying a post rain siesta. We drove from one water hole to another which are frequented by tigers but there was no sign. We crossed past a gypsy and again they showed their pictures of a tigress and three cubs on the road, crossing it, just 10 minutes back. This had to stop! A loud alarm call by the langur signaled the tiger was in the vicinity. We drove towards where the sound was coming from and then shut our engines. It was probably an instant kill. We were being showered for our patience as the teak trees were shedding their flowers. A fragrant yellow pathway was created as we patiently waited again for a flutter of sound or commotion. Nothing happened. And we moved on.
On a parallel road inside a much thicker canopy, a gypsy waited. They too had heard the langur calls and were quite certain that the tiger would move further into his territory after the kill. We decided to shut our vehicles engines and wait. We did not want to lose this golden opportunity. 30 minutes into the wait, a lot of gypsies came and stopped near us. Some lost patience and left but some waited longer. It started becoming dark and eerie silence was playing on our mind. 60 minutes into the wait, we hear the commotion and alarm calls of langurs from the tree. This signalled that the tiger had woken up. The langurs kept looking towards the ground and jumped from one branch to another which meant the tiger was probably moving. The bushes crowded us and were too thick to see anything on the ground when we heard a rustle not more than 20 meters to our left. "The tiger is moving his tail" – says our guide. His paws are so well cushioned that only the tail can make such a noise.
2 more gypsies join the race. Now there are over 7 gypsies on either side of the road and the guide knows for sure that the tiger will cross the road. My guide even tells me the expected place from where he will cross so I should focus my camera and be ready. Trying to spot a tiger in the thick jungle is a patience game and one must keep absolute silence to hear the tiger's movements and not scare it away in some other direction. Just when we thought the tiger will come on to the road any minute, a baby starts crying in the neighbouring gypsy and there is one more gypsy that starts its engine wanting to go forward. This leads to commotion. We have to let them go and their engines grumble, a gypsy from the front flashes it's headlight, signalling not to. This is too much commotion to deal with and all of a sudden all gypsies start moving in the opposite direction because one guide had spotted a tigress. We drive into the rat race and see a fleeting silhouette of the tigress. She probably got pissed off with the human noises and climbed the hill with her cubs instead of crossing the road into the ravine. 90 minutes of wait, 5 second of tiger flash, one silly mistake by the neighbouring gypsy. We were speechless. The adrenaline rush made us quiet. We were not sure if we should be happy to have spotted a tiger finally (but could not photograph) or sad that the wait ended like this?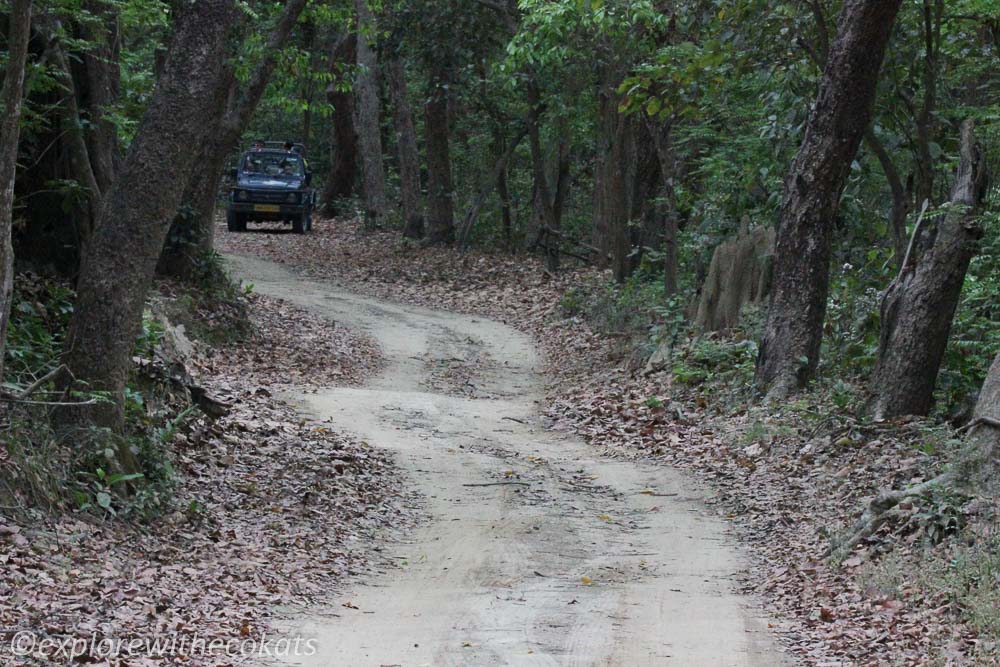 Was it worth it?
Now after 2 months of the trip, when i think about it, yes it was. 
Would we have patiently sat down and meditated in the middle of a forest for 90 minutes otherwise? No! 
Would we have experienced the raw jungle and the eerie silence otherwise? No! 
Would we go back to experience these 5 seconds again? Yes, of course! 🙂
General and Sustainable tips for visiting Jim Corbett National Park:
Please do not consider taking kids below 6 years of age into sanctuaries/national parks. They can get impatient and cranky in a small vehicle for 3 hours of safari and that can ruin the experience for other wildlife enthusiasts. Please treat jungles as jungles and not zoos!

Try to be patient. The guides and drivers in the national park are far more experienced and know their work well. Do not push them to make silly mistakes. 

Hold that pee! You do it in a movie theatre you can as well in a jungle.

Do not make noise! How difficult it is for you to not speak for 3 hours? Will you be dead if you don't?

Do not wear perfume or body spray in the jungle.

You can carry water and food (only vegetarian food) but do not dispose plastic or leftover food in the jungle. Keep it in your bag or vehicle and dispose safely once you return to the hotel.

Do not feed anything to wild animals.

Try not to point out at birds. There have been instances where raptors take notice of pointing towards small, weak exotic birds and hunt them down.

Always respect the vehicle driver and your jungle guide. If you do not spot a wild animal do not blame them, remember you're in a jungle and not a zoo to have surety of spotting animals.
Like this post? Pin it!