"You should have trained more", squealed my calf muscles not even half way through the trek. I couldn't agree more, but i tried to find a solution to finish this fast, or turn back; at the same time secretly cursing the friend who convinced me to join this trip. I looked ahead to identify any familiar faces who started out with me but there was nobody in picture. Triund Rhododendron trek was not going to be easy, I assured myself.
I tried to motor myself, looking at the glistening snow capped mountain; after all i was going to see and feel the snow first time in my life. A little more ahead and I saw some bright and luscious red flowers. They became more common with thicker canopy, giving a much required respite from the harsh spring sunlight.
I overheard a tour guide explain to a bunch of students about these flowers and how important they are to the state cuisine. He made a student taste the flower petal, exclaiming that in Kangra and Kinnaur valleys of Himachal Pradesh, their red juice is quite popular and its pickle is considered a delicacy. Intrigued about these flowers, I pressed my ear hard to know its name. With no internet in my phone I had no other option to either wait to get back to town to know about this red flower or go upfront and ask the guide while shamelessly claiming that I overheard him.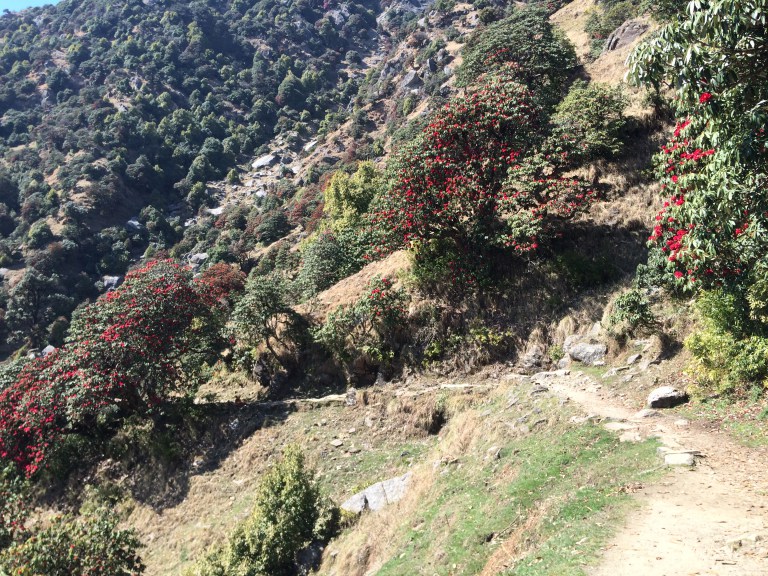 I couldn't contain my excitement as the sight of these flowers along the trek helped me forget my calf muscles and I gave in to find out more. "Burass" he said in his heavy pahadi tone. Great, so I had the pictures and the name.. the only problem was that they disappeared during the last 2 kilometers of the trek making it one of the most difficult moments. Well, the snow helped a bit but made me slip in my sports shoes.. so much for the snow excitement!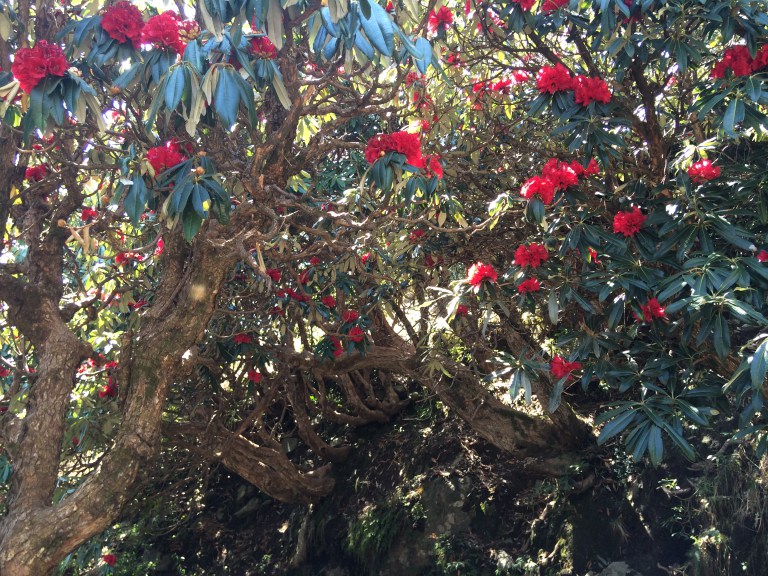 I was climbing Triund in the Indian state of Himalayas. Triund, known as the crown jewel, is situated 18 km away from Dharamshala in Indian state of Himachal Pradesh. It is one of the popular destinations for the breathtaking views of Kangra valley during the trek and Dhauladhar Mountains from its top.
With a well laid path passing through rhododendron, oak and deodar, this easy 9 km trek is easy to complete within a day.
Reaching triund: The major transportation hub is Dharamshala which is well connected via air and bus. If you are coming by train best is to get down at Pathakot and hire a cab till Mcleodganj.
From the main square of McLeodganj, take a cab or walk for 3km to reach Dharamkot. The trail starts from Dharamkot primary school so as to reach the Gallu Devi Temple which is the main starting point for Triund trek.
Best time for Triund Rhododendron trek: Mid March to End of April
Difficulty level of Triund rhododendron trek: Easy to Moderate
Time taken: About 5 hours one way
Food: Best to carry food. Couple of tea shops available which sell tea, biscuits and maggi noodles
Accommodation for Triund rhododendron trek: Camping in tent is possible (however there are no toilets on top)
Once I came back home, I learnt that Rhododendron treks have actually gained a lot of popularity in the last few years amongst the Indian travellers. Triund Rhododendron trek is yet to catch up but I am sure it will appear in the circuit soon. Not only does it offer the better of two seasons – winter and spring, it certainly elevates the notch for trekking making it an extremely beautiful and relaxing trek. Imagine walking over a flower bed with views of snow capped mountains ahead of you and a valley behind you!
For those of you trying to understand what is Rhododendron and how does it make trekking relaxing – it is the national flower of Nepal and state flower of Himachal Pradesh. It appears as ornamental shrub or tree, with large clusters of bell-shaped flowers and typically large evergreen leaves majorly found in Indian Himalayan Mountains. It grows around the forest trails of Himachal Pradesh, Uttarakhand and Sikkim. Thanks to them, the already existing trekking routes are gaining popularity during the months of March-April thanks to these flower blooms.
Other rhododendron treks to consider in India for months of March-April:
• Brahmatal, Uttarakhand: Here the scarlet rhododendrons bloom in the lower sections and pink ones take over the upper sections.
• Sandakphu and Phalut, Sikkim: With the views of four tallest mountains in the world, the trail leading to top has pink Rhododendron flowers making it one of the most beautiful treks.
• Deoriatal – Chandrashila, Uttarakhand: Get rewarded for an easy trek in shades of crimson, magenta and bright pink.
• Barsey Rhododendron Sanctuary, Sikkim
• Chopta-Tungnath, Uttarakhand
• And many many more..
Read about my waste volunteering during the Triund trek here