Volunteering for a cause has always been sought after. With the rising awareness of hygiene, waste management initiatives have picked up really well in the last couple of years. NGO's, schools and industries are coming forward to volunteer together for a good cause. A similar cause has been started by an NGO called Waste Warriors in Mcleodganj, Himachal Pradesh. Volunteering at Triund entails hiking for 9km to reach the hilltop by participating in waste collection along the entire trail. With a couple of my friends I completed this task and had the ultimate sense of achievement.
Triund is situated in the lap of Dhauladhar mountain range is a very popular trekking spot which attracts a lot of tourists. In the month of March we took a train from Ahmedabad to Pathankot and a car from Pathankot to Mcleodganj reaching there on Sunday night. We would start our exciting waste collection at Triund journey on Monday morning.
Volunteering at Triund – The beginning
The NGO staff greeted us and gave an overview about the task ahead. They gave us waste collection sticks, bags and gloves as safety measure. We were instructed that Triund trek involves gradual to steep ascents of 9 km, which amateurs like us could cover in about 5-6 hours one way. We started from Mcleaodganj, breaking at Galu for Maggi and Chai.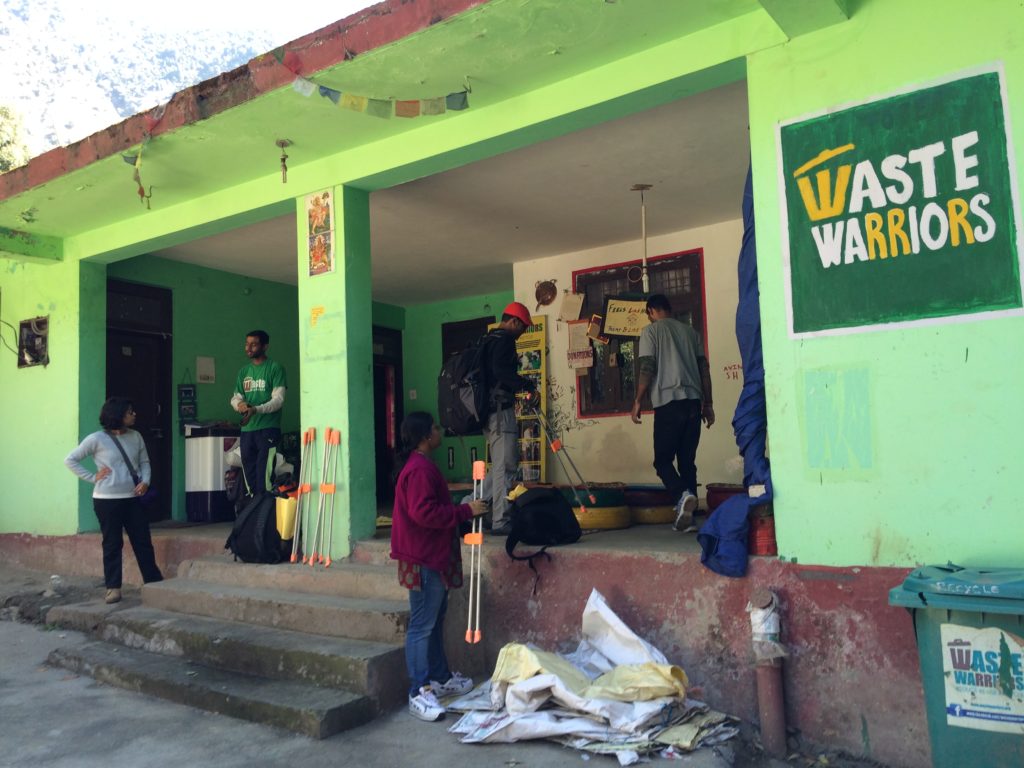 Starting the trek
We started the trek looking for PET bottles of water & juice, tetra packs, biscuit & chocolate wrappers or any such potential recyclable or non recyclable waste. it was our task to pick it with the stick and put it in the collection bags. Thanks to the sticks, the task involved very less bending on the steep slope.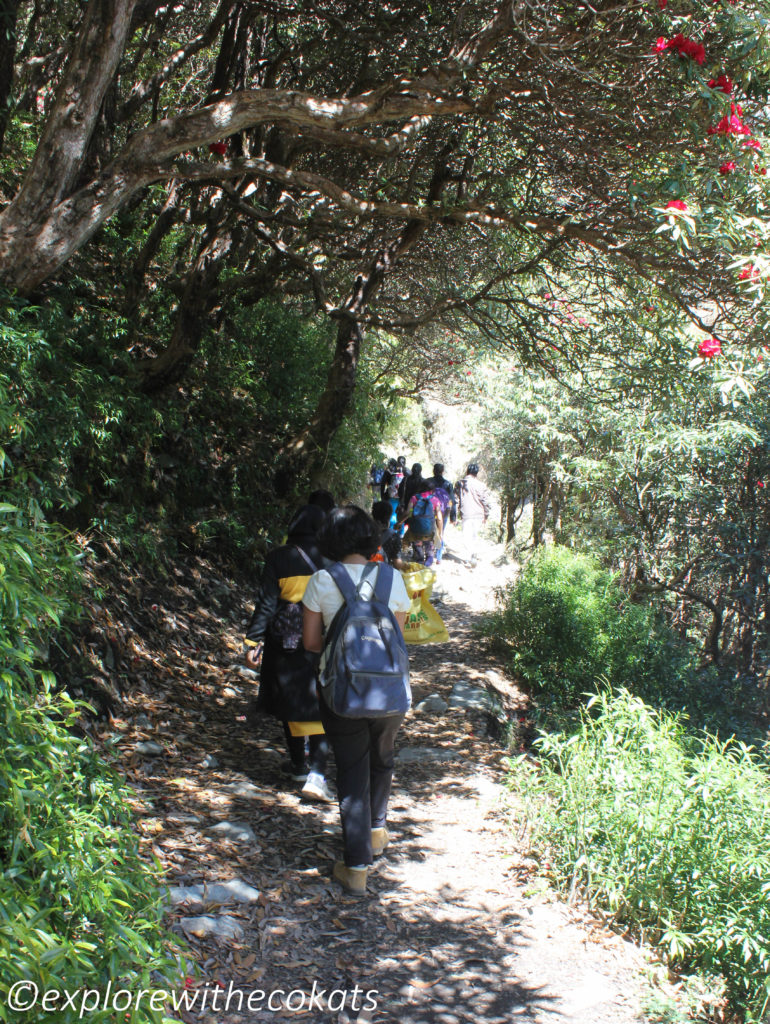 Taking a break from volunteering at Triund
We could not resist taking a break to appreciate the beautiful pathway through forests of oak, deodar and rhododendron.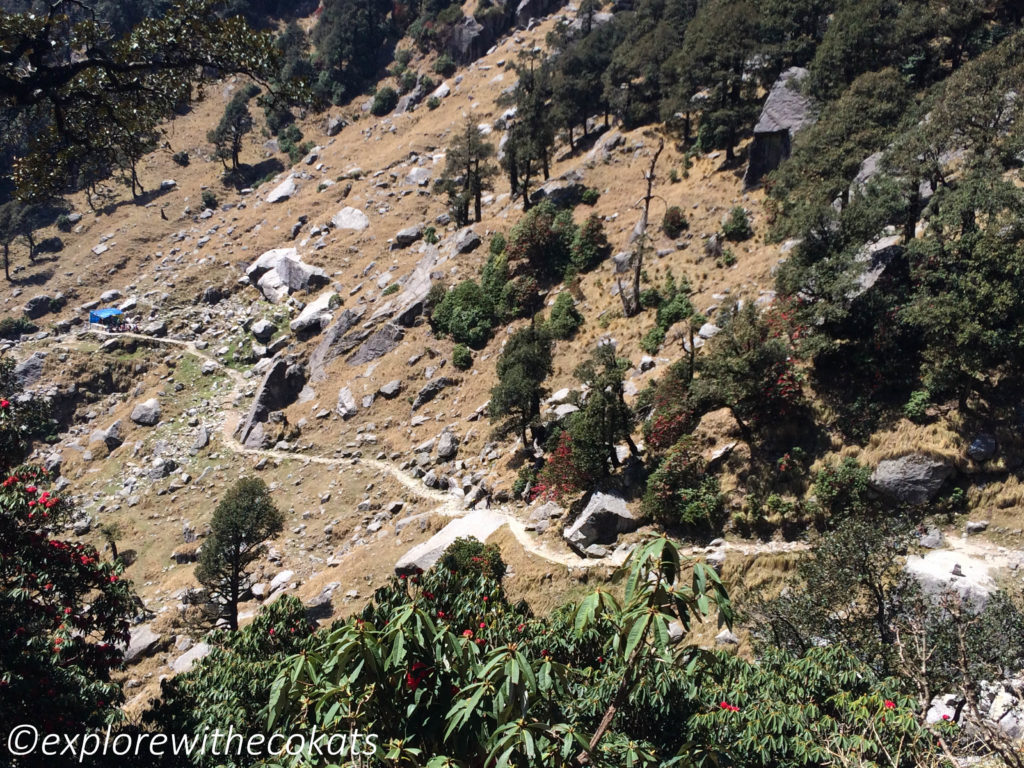 Glares and Stares during Volunteering at Triund
We got the glares and stares thanks to our sticks and waste bags. Some people even asked why we were doing it, some laughed at us, while some encouraged us for doing fabulous work, some looked at us and dared not to throw the bottle they were holding, just yet. We finally reach the mid way of our trek – the Magic View chai shop. After emptying some of our bags here we headed straight up.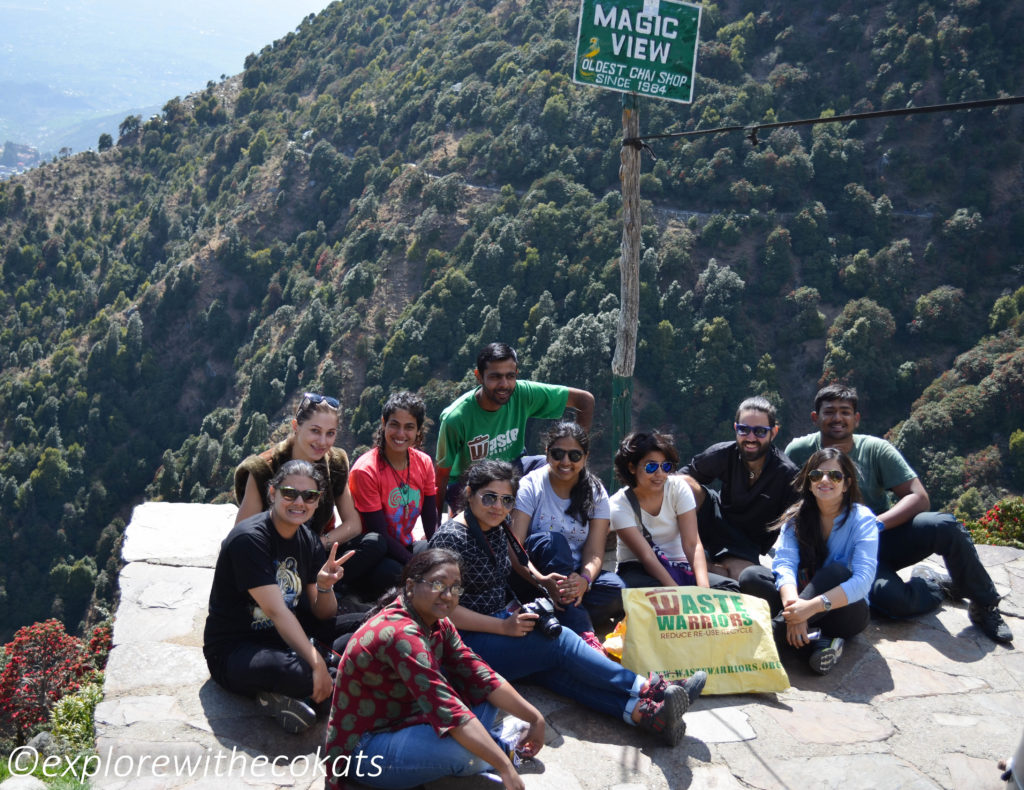 The last Mile
It started getting cold and we knew we were close to the top of triund. Our bags kept getting heavier and the snow kept us motivated to keep going. We met few trekkers who had started their descend, who informed us that the view is fabulous and we should hurry up before sundown. Hurry we did!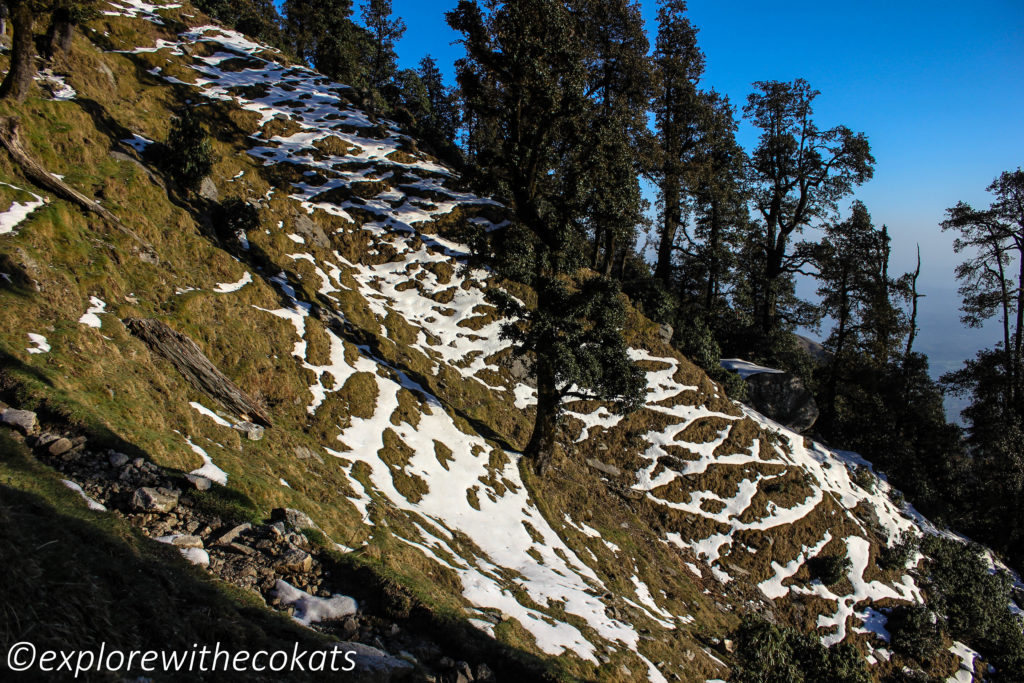 Reaching the top of Triund
What a fabulous view it was and trekking all the way up the hill was worth every wrapper we picked up! The sun was setting and we retired into the forest guesthouse for a much deserved rest.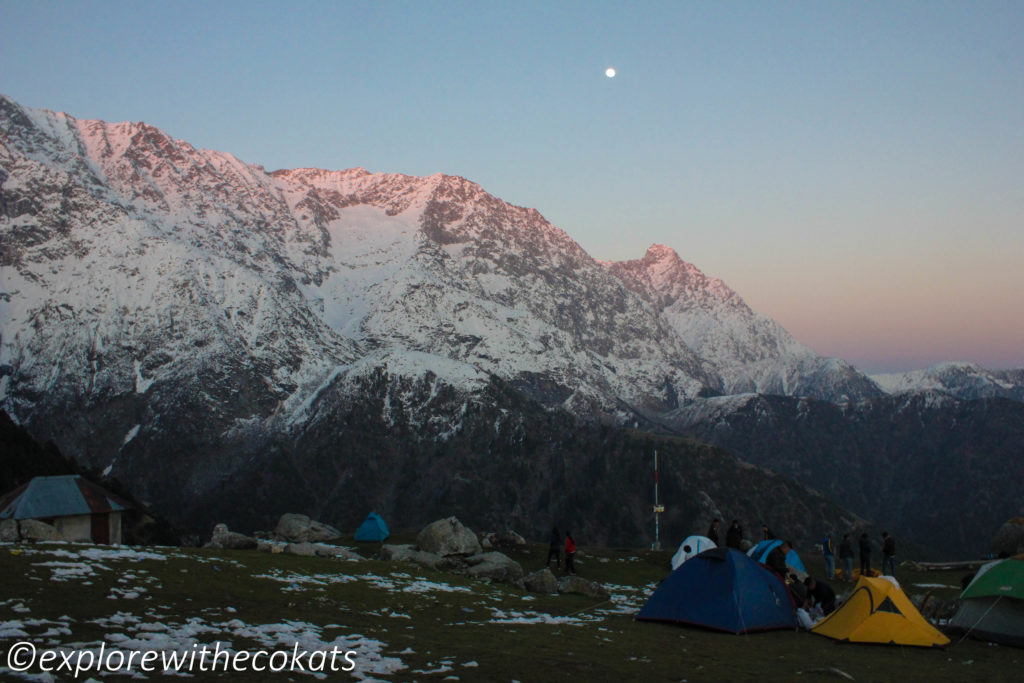 Volunteering at Triund : Day 2
The next day we collected waste over the hill and deposited at a common point. Over 30 beer and liquor bottles, even more PeT bottles & tetrapacks, half burned cardboard boxes of pizza, eggshells, etc. were some of the waste we collected.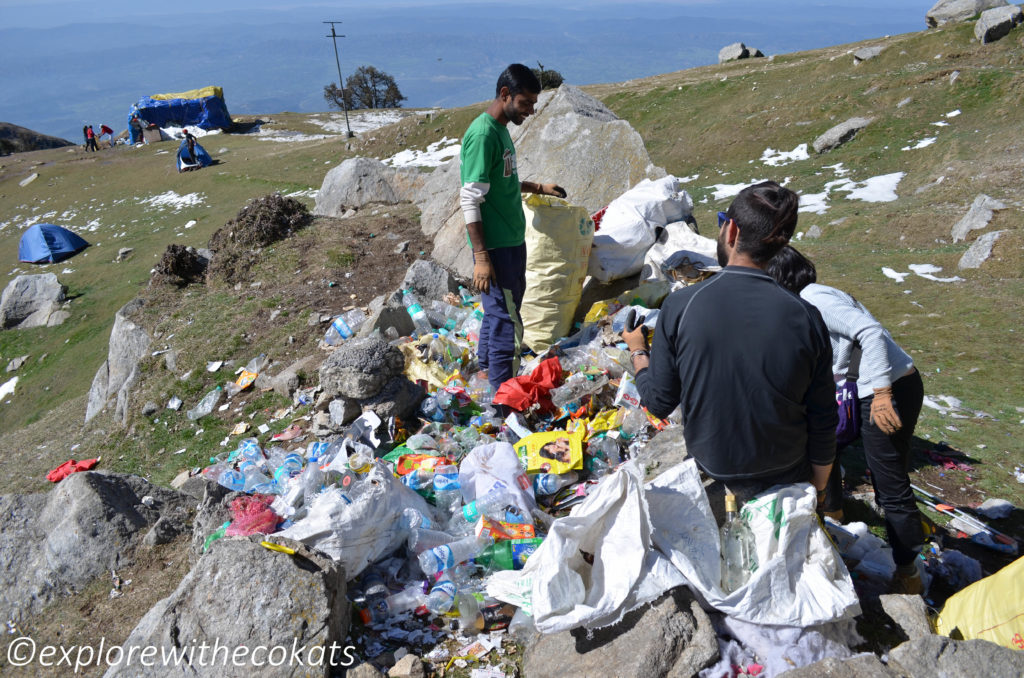 After segregating the waste into recyclable and non-recyclable we started putting them in bags which would later on be taken away by mules. Our guide and staff from Waste Warriors informed us that there are no recycling units in the nearby area in Himachal Pradesh and all the organic waste generated just sits and rots on the hills while the recyclables are separately collected to be sent to Punjab. With that talk our work for the week was done and we were ready to conquer the Triund waste hill by clicking this photo.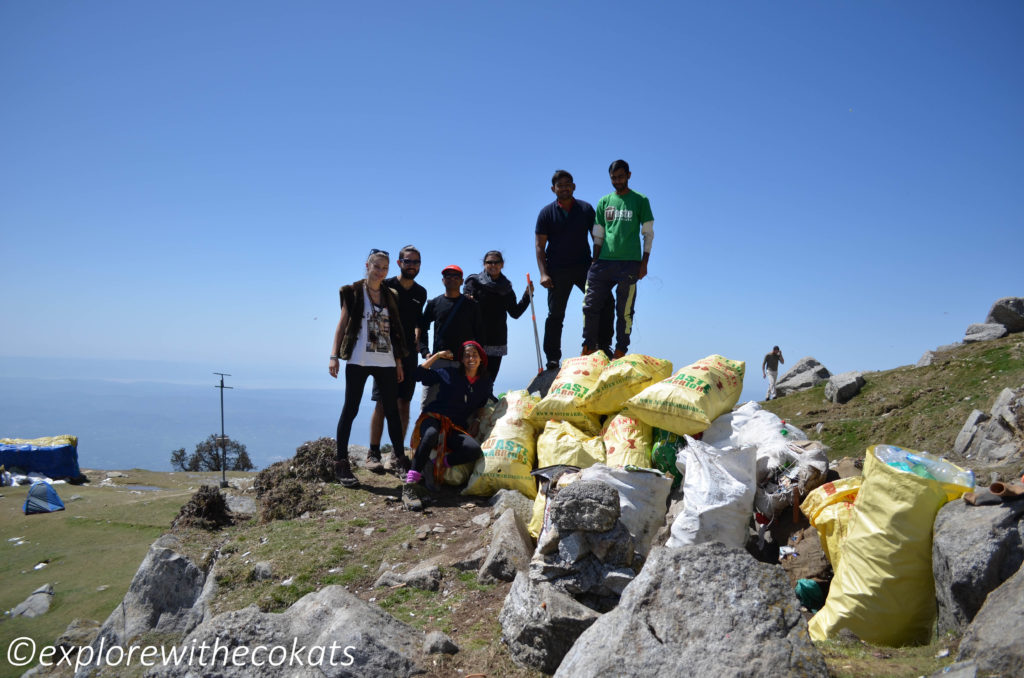 Tips for Sustainable Trek:
1) Carry a bag to store the wrappers and plastic packets. Ideally dispose it in waste bins after reaching back to Mcleodganj
2) Dispose PeT bottles at waste bins provided at every few meters or at the 2 chai shops on the way.
3) Do not throw leftover food in the waste bins as the putrefying odor attracts monkeys. In order to eat that food, they topple the bins and spread the contents.
4) Take food only in the quantity that you will consume.
5) Avoid liquor – it harms your health while trekking and the bottle waste has to be taken by mules all the way back.