The Manali – Leh road trip is an endless story. With roads that open up for only a few months a year, these 479 km will scare you, shock you, test you physically & mentally and in the end leave you spellbound. You have to experience this epic road journey to believe, YOU EXIST.
I have traveled quite a lot – from jungles to palaces, from forts to beaches from biodiversity hotspots to exotic foreign locales but I never experienced the pain of leaving a place and literally having a hangover for days together after vacation. I actually had to google and speak to former Ladakh travelers if they had experienced something like this and thanks to them I knew I was pretty normal having such feelings and thoughts.
As Neelima Vallangi quotes "Ladakh needs no introduction and words fall short to explain the grandeur of stark desolateness. Who would've thought something so minimal could be so imposing. For the seasoned traveler this is one road journey that cannot be missed and for the newbie, this is going to get him/her hooked, for life – beware!"
Hold on tight as I take you on the Mecca of road trip: the 479km long Manali – Leh road trip through a photo story.
1) Manali
A popular tourist destination on the banks of river Beas overlooking the Pir Panjal mountain range of Himalayas, Manali is famous as a summer getaway as for adventure sports. Most trips to Leh (Ladakh) begin from Manali, whether you are on bike or car.
Notice the typical high altitude biodiversity – cold weather, high coniferous trees and griffon vultures. The greenness and the fresh air will engulf your senses and you will crane your neck to capture the best of Manali world – the river, waterfalls, valleys, apple orchards and what not.
2) Rohtang La on the Manali – Leh road trip
Situated 53 kms from Manali, Rohtang La is about 3 hours drive and the first milestone on the Manali – Leh road trip. La means Pass. It is a connecting point for Kullu, Lahaul and Spiti Valleys. Rohtang has always been a wild fantasy for tourists who come to Manali. Reason? 'Rohtang' in Ladakhi language means "pile of corpses".
The pass got its infamous name due to numerous people dying in bad weather trying to cross the pass in yesteryears. for the same reason, the pass is closed for 6 months in winters and open only from May to November. The open months do not guarantee against landslides which are also responsible for many deaths. These landslides result in prolonged traffic jams, lasting upto 12 hours! The pass is so dangerous that the Government of India is building an 8.8km tunnel as an alternative.
3) Jispa on the Manali – Leh road trip
As soon as one crosses Rohtang and ascends further, you will start noticing the change in biodiversity with short shrubs at sparse distances. Jispa is generally the first night stop on the Manali – Leh road trip and is 153 kms from Manali. Nestled on the banks of Chandrabhaga river, the few hotels situated in the area offer unparalleled views of the Pir Panjal range.
It is safe to picnic near the river banks. But one should not stress so much as one is not used to the height and the next day is a long one. Do remember not to dispose plastic at the river bank as there is no municipality here and the bottles would rot there forever!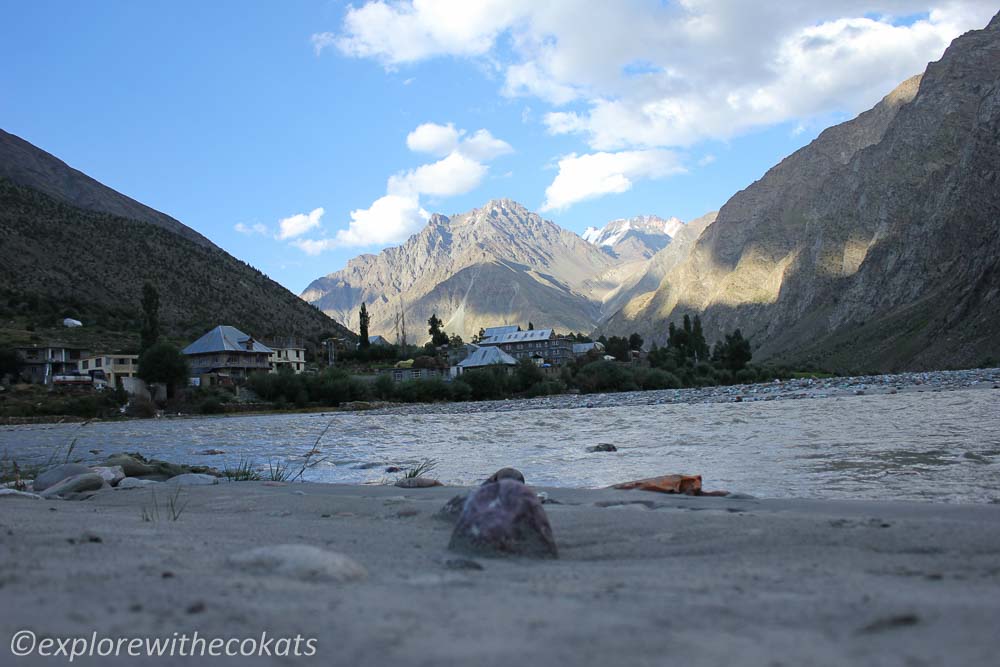 4) Baralach La
This is the first pass on second day and there are 2 more days to go. Baralach Pass connect Lahual to Ladakh district and is 192 kms away from Manali. It will be super windy but the stack of stones would a good spot for photography!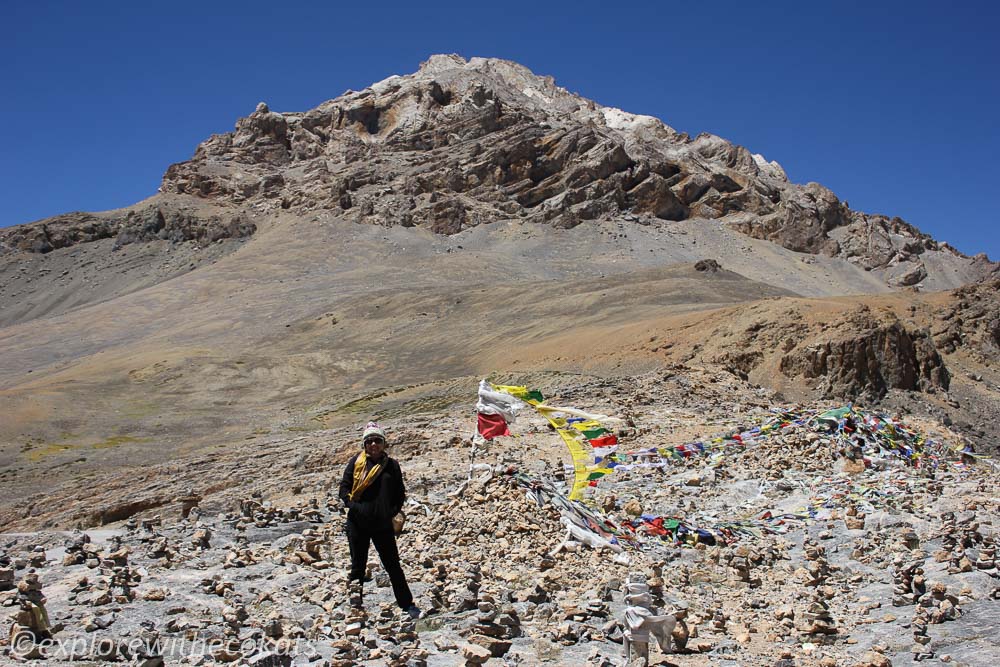 5) Sarchu on the Manali – Leh road trip
Descending from the heights of Baralach pass, you will cross the amazing place called Sarchu. There are many campsites in the area and some tourists spend their night here instead of Jispa. However, acclimatizing for this height on the first night stay on Manali – Leh road trip may not be a good idea. This valley experiences freezing temperatures even in summers.
Sarchu has one of the most fascinating formations of rocks in the mountains. It is also the last village in Himachal Pradesh before one crosses over to the state of Jammu & Kashmir.
6) Lachang La
Pass number two of the day is 277 kms from Manali. As the height increases, there is possibility that you may experience headache or dizziness and the strong, cold winds may not spare you.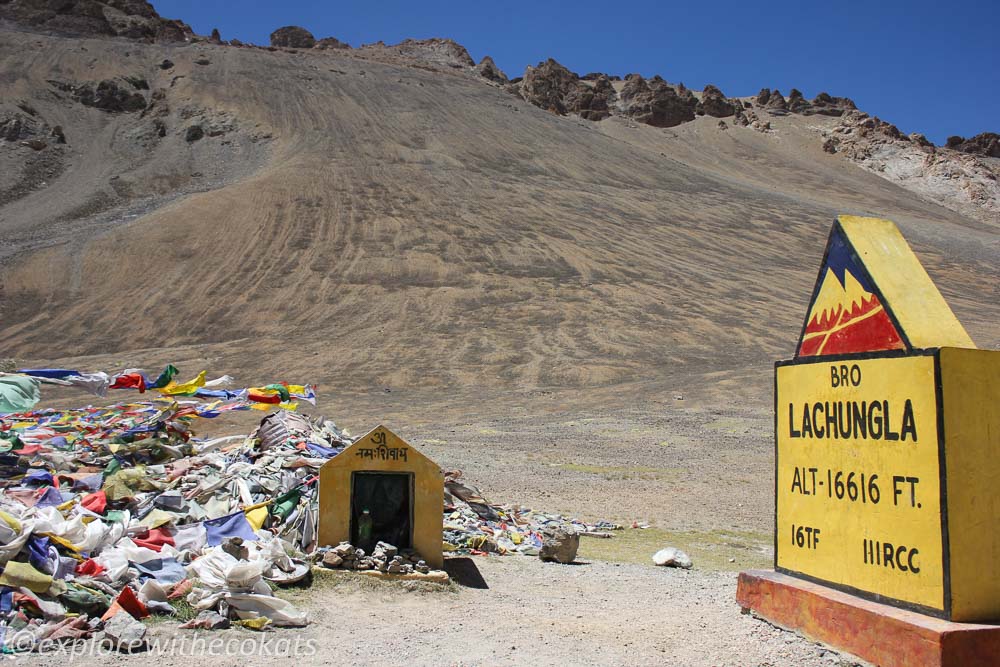 7) More plains on the Manali – Leh road trip
As your body starts acclimatizing to the high passes and then valley roads, you come across the More Plains that lie between Pang village and the second highest pass Tanglang La. This one is abig surprise and makes you wonder if you really have been in the mountains all day. The More Plains expand as flat and as far as your eyes can see with mountains on the side. This 50 km ride will give you the most stunning views and you wouldn't want that road to ever end.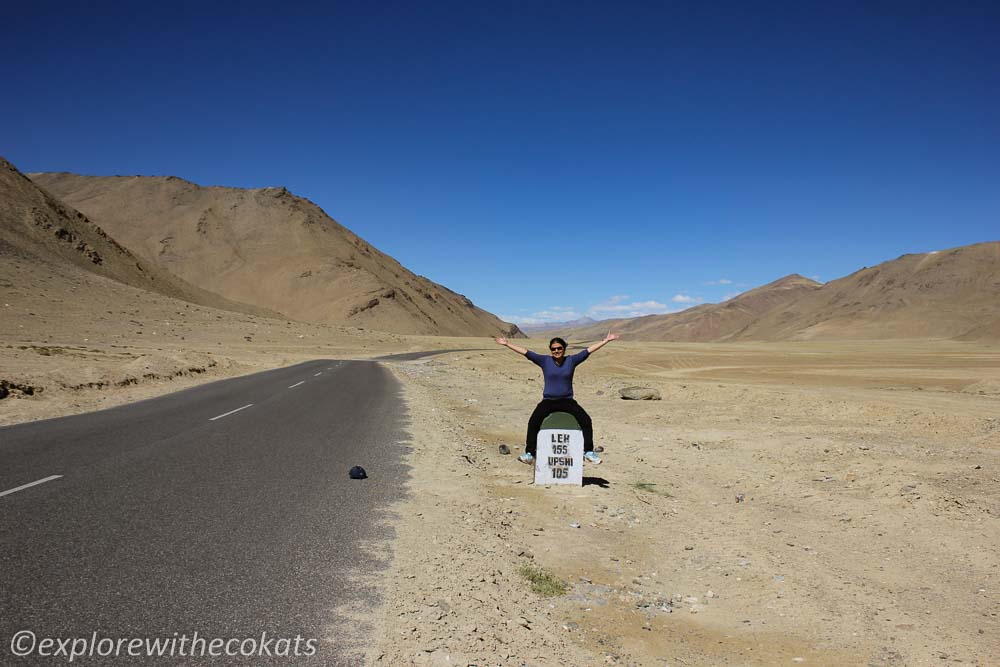 8) Taglang La
This is the highest point on the Manali – Leh road trip. Like all other passes, it is a fascinating place with amazing backdrops and dramatic landscapes resonating through the prayer flags. It is known for being the second highest mountain located in Zanskar range and comes with warnings. You may feel out of breath here as your body has undergone tremendous altitudes and cold during a single day. but hang in there as the destination is about to come!
9) Leh
Leh is the final destination of the 2 days epic Manali – Leh road trip. Dotted with whitewashed houses amongst the rustic mountains, houses, Leh has many stupas and the dominating palace and fort. It is the capital of Ladakh and is one of most beautiful and fascinating tourist destinations of India. The scenic grandeur and the mystical aura of the cold desert leads to one of the most enchanting landscapes.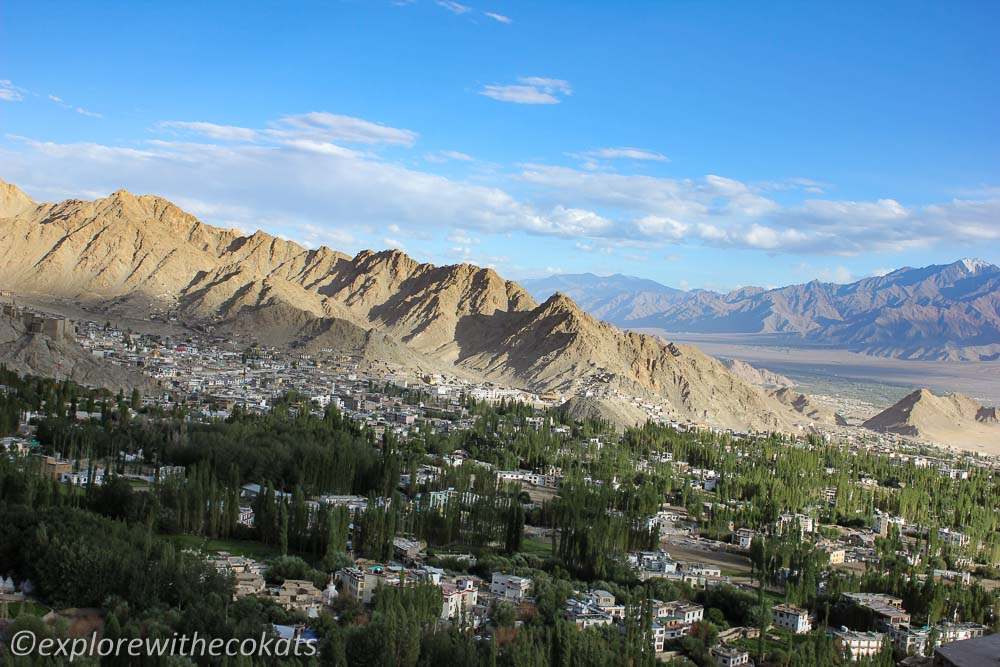 Travel tips for Manali – Leh road trip:
The Manali – leh road trip is no joke when it comes to high altitudes. One has to be prepared for Acute Mountain Sickness as it can kick in anytime. to avoid the same, drink loads of fluids and eat energy and protein rich diet.

The facilities for rest stops and food is negligible on the highway. So it is best to carry food with you and use restrooms near the villages.

The road conditions change every season and every year. It is best to check the same and then plan your trip.

In places where you have to cross rivulets with gushing waters, start your day early and try to cross the stream as the water force increases with rise in temperature during the day.

Traveling during the night is not advisable.

During tourist season, the accommodations are full, so it is best to book early if you are travelling alone.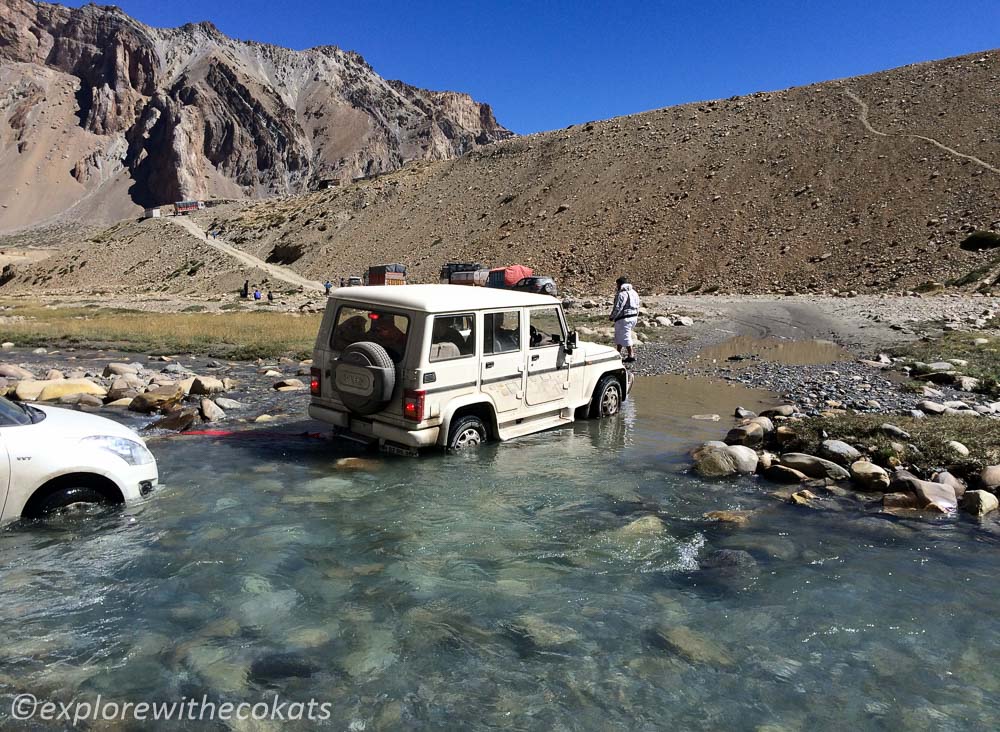 Sustainable tips for Manali – Leh road trip:
Do not crib for flush toilets in villages. They are not available at such an altitude and you have to make do with native pit toilets.

Try to fill your refillable bottle after a night stop at your hotel/camp. The PET bottles are creating a huge garbage dump and there are no recycling facilities in this region. 

Do not dispose food or plastic waste anywhere in the region.

Try to support the local community by choosing to stay in a homestay.

If you want to buy souvenirs, local souvenirs such as Leh berry (Seabuckthorn) juice and Shawls made from yak wool are quite popular. Check which local flower is helping the Himachal village to earn money.