Paris is on everyone's wish list for many reasons. No wonder it is one of the cities to get maximum tourists per year. However it can get a bit overwhelming to travel and explore like to figure out the metro routes, where to eat and basically how to plan your time there, so as to cover all the major points of the city. Based on my visit couple of years back, here is the Ultimate Paris Highlights for first time visitors.
City Transport
First things first which baffle most people is the airport transfer. With so many options to choose from, it is confusing which mode is fastest and cheapest. While taxi/prepaid cab is the fastest bet, it may not be the cheapest. Here are the possible options.
Train
There are RER trains, which is a cheap way to travel from the airport to the center of Paris – Gare du Nord station. The RER train has about 9 stops and takes about 35-40 minutes and costs about €19.5. The two train stations at CDG are Aeroport Charles de Gaulle 1 and Aeroport Charles de Gaulle 2 – TGV.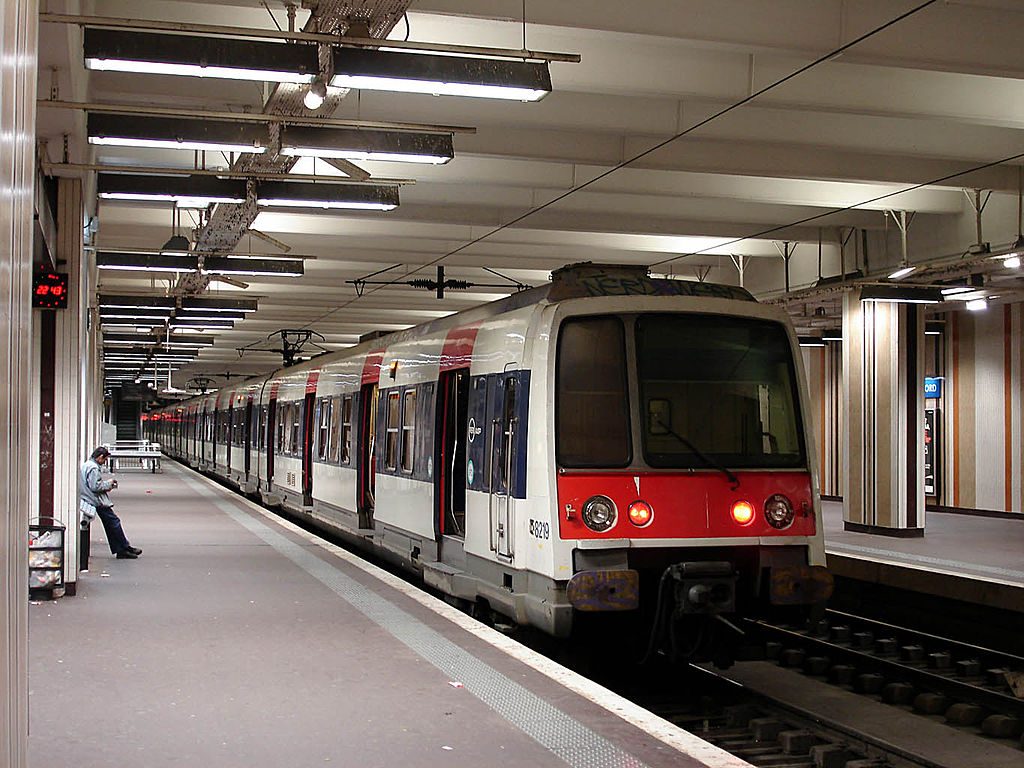 Bus
Other method of transportation is shuttle bus. Roissybus leaves from Terminals 1, 2 or 3 to central Paris. The price is about €12 and take over an hour to reach. Another option is Le Bus Direct and costs about costs €17 and also leaves at Terminals 1, 2 or 3. Takes about an hour to reach Gare du Nord.
Tip: Get yourself a Paris map and also metro map and familiarize yourself
Once you reach Gare du Nord take a bus, metro or taxi to your hotel. If you take an onward RER train to your next stop, you can use the same ticket. However if you get out of the station, you will have to buy another ticket.
You will probably reach Paris in late morning so time to check into a hotel, freshen up and have lunch.
Getting around the city: Metro
The Metro is one of the Paris highlights for public transport because it is cheap, efficient and saves time. If you decide to travel around by Metro, invest in a good Metro map and familiarize yourself with the metro line/color, your starting station and destination and the direction you want to go.
You can buy tickets at metro stations at automated machines, or from the information kiosks. One-time use tickets currently cost 1.90€. There are many options for daily and weekly passes for tourists. As a general rule, the zone 1-3 card will be adequate to cover most of the touristy areas of Paris. But if you plan to add Disneyland and Chateau de Versailles then you should buy a card for zone 1-5. Zone 1-5 card also includes travel to and from Roissy-Charles de Gaulle and/or Orly airport. For more updated information see the official website.
No. of days

Zone details

Adult prices

Children prices (Age 4-11)

1 day pass

1-3

€13.20

€6.60

1-5

€27.80

€13.90

2 day pass

1-3

€21.50

€10.80

1-5

€42.20

€21.10

3 day pass

1-3

€29.40

€14.70

1-5

€59.20

€29.60

5 day pass

1-3

€42.20

€21.10

1-5

€72.40

€36.20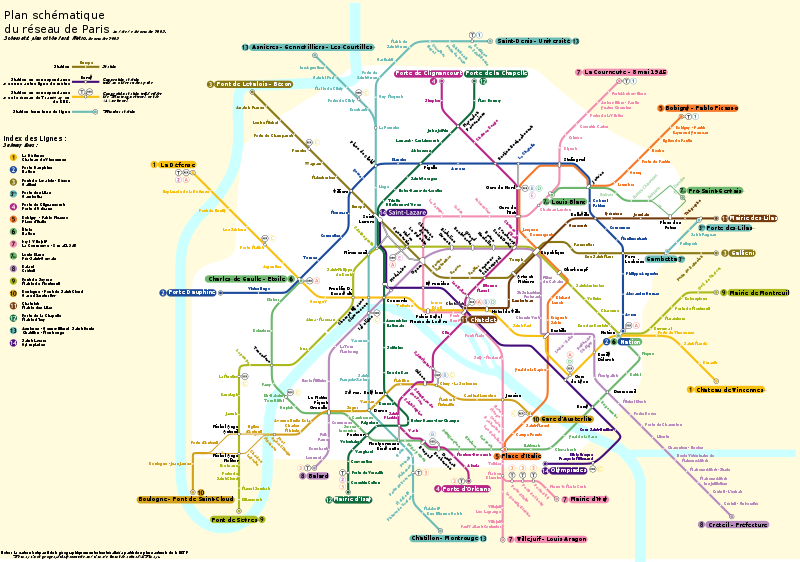 Day 1 of Paris Highlights
Late Afternoon at Eiffel tower
It only makes sense to start here as it is one of the biggest attractions in the world. And hence it comes with a huge waiting line! Consider atleast 1.5 hours wait in the line to grab a ticket. However you can chuck the line and purchase a ticket online . There are 3 levels so it is ideal to buy the ticket for top level (Summit) and you can go to all 3 of them. The entry fees is 25.5€ per person.
Do wait for Eiffel tower to lit up coz that's when it looks most beautiful. And every hour for 5 min it twinkles. Hang around the garden for the same as this is the moment you will cherish forever about Paris.
Tip: If you're taking the Metro, get out at the Trocadéro stop. It's quite a walk from there meandering through souvenir shops but nevertheless worth it.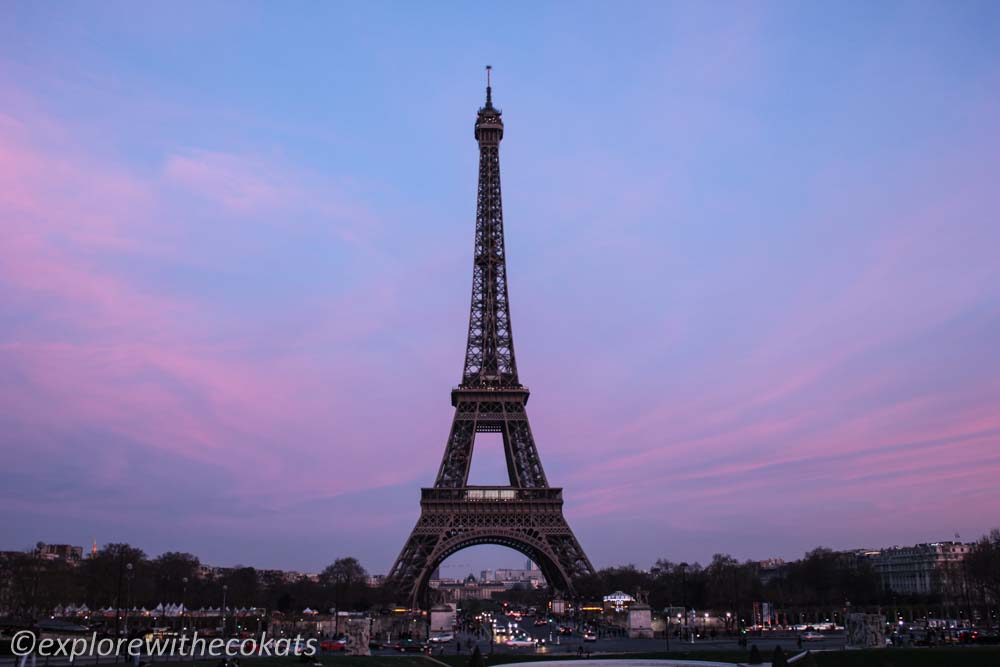 Late evening at Siene river
You can opt for the Siene river cruise in evening or night. The one hour boat ride takes you across all the popular Paris monuments which are lit up at night. Pass under the romantic bridges and get mesmerized by shining glory of Eiffel Tower, Les Invalides, and Musée d'Orsay. These river cruises start from Port de la Bourdonnais (at the foot of the Eiffel Tower) and you can choose from various packages with varying amounts; whichever suits your budget. If have more days in your hand, you can opt for a day tour too, which includes breakfast/lunch.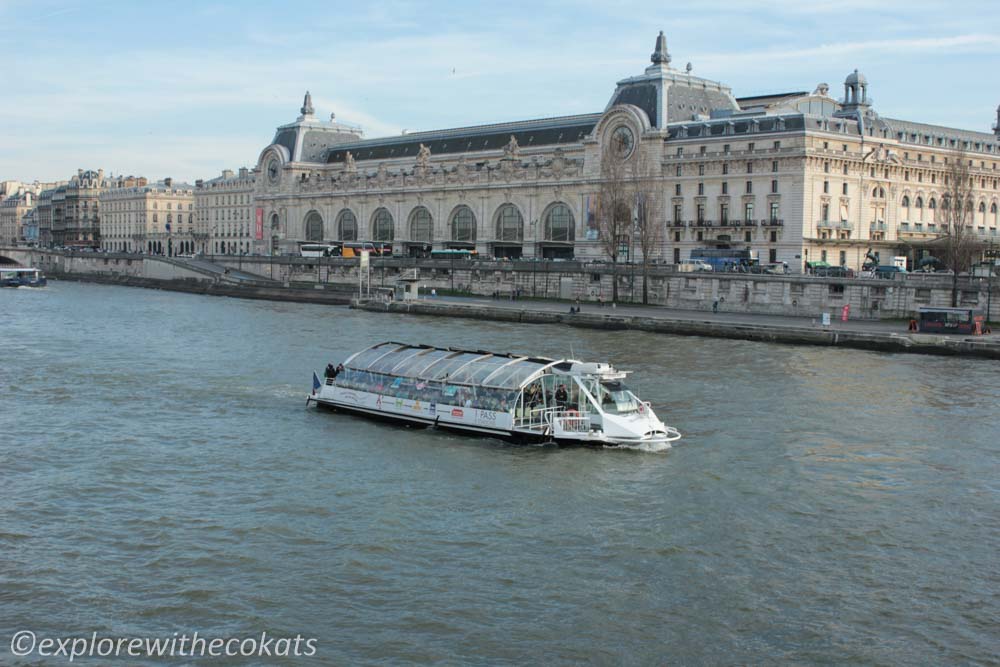 Day 2 of Paris highlights
Morning at Louvre museum
The Louvre is one of the most famous museums and the largest art museum in the world so it is impossible to see it all in one day in the world. It is home to priceless works of art, including the famous Mona Lisa. Entry costs 17€ and is crowded all across the year. The best entrance is the Porte des Lions, in the southwestern wing. This is not as busy as the entrance through the pyramid, but in case you want to skip the queues it is recommended to buy tickets online pass.
It is highly recommend to see the Louvre website before you go there so you can go to the right section and not wander aimlessly. Louvre is so big that you can spend 6 months and still not complete seeing it fully. Pick up a map. Must see in Louvre:
The Mona Lisa (and selfie taking people)

The painting on wall opposite of Mona Lisa

Venus de Milo

Winged Victory

The giant glass pyramid outside

The largest display of Egyptian antiques outside of Cairo

The Islamic art section
Tips:
Louvre will need 3 hours for a visit (without waiting)

Audio guide is available at an extra cost

Most museums on Sundays are free and there are days with discounts available. Keep checking the website for info.

There are restaurants, cafes and shopping mall in the Louvre in case you get bored with exhibits and arts.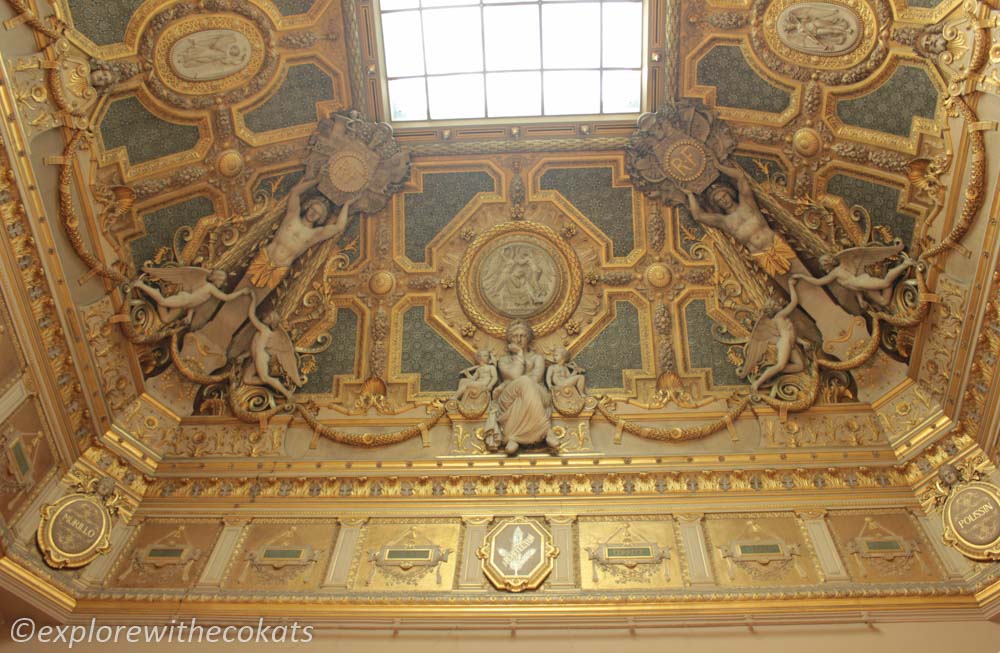 Afternoon at Love lock bridge and Arc de Triomphe
Pont des arts also popularly known as the Love Lock bridge is about 500 m from Louvre pyramid. Whether you lock your love in a metal lock or not, this place is a must watch. The sheer shapes, messages and dates on the locks will keep you busy.
Then walk to Arc de Triomphe.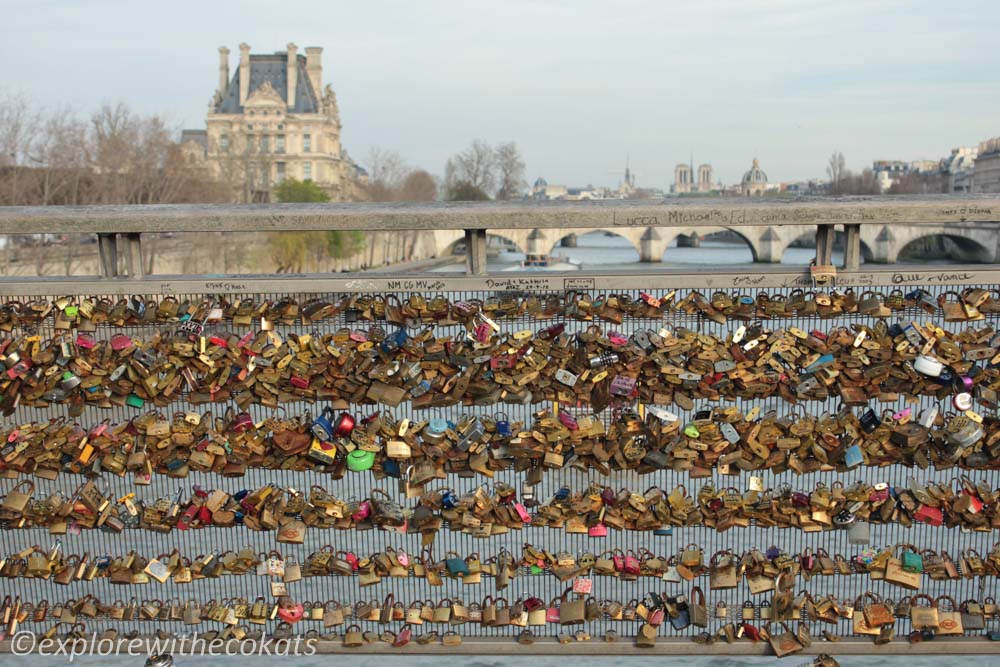 Evening at Champs Elysees and Arc de Triomphe
As popular as Champs-Elysees street is for its high fashion stores, the historic Arc de Triomphe dominates the view. There is a tomb of the Unknown Soldier buried at the base of the arch where there will be a candle burning always. Get amazed with the sculptures on the walls. If you are interested, there is a viewpoint from the top of Arc De triomphe which gives a good view of the city. Tickets are available to go to the tops either by stairs or elevator.
Walk on the famous Champs Elysees street. Buy a designer wear if you fancy them! It's apparently the most expensive street.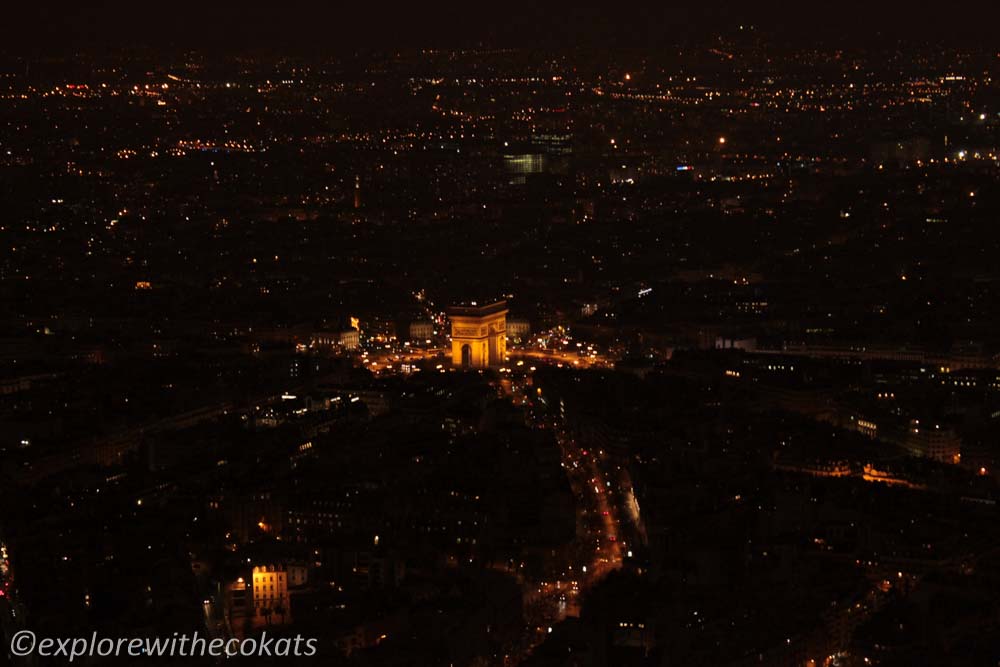 Day 3 of Paris Highlights
Start the Morning with Montmartre
A little neighborhood perched high on the highest northern hill in Paris is one of the romantic parts of the city. It is the Bohemian neighborhood in Paris. The neighborhood has cobbled streets, pretty cafes and artists all over the place. This was the home of many famous artists over the years.
Check out the popular, Sacré-Cœur Basilica located on the hill which is the highest point of the city. Do try the Nutella crepes here!. There's a toy train which runs son the hills in case you want some adventure. Once you have finished visiting the Sacré-Cœur walk around the corner to the Place du Tertre. This is a great spot to sit in any of the many cafes and watch the world pass by. It is also a fabulous way to take in the artists at work in the square.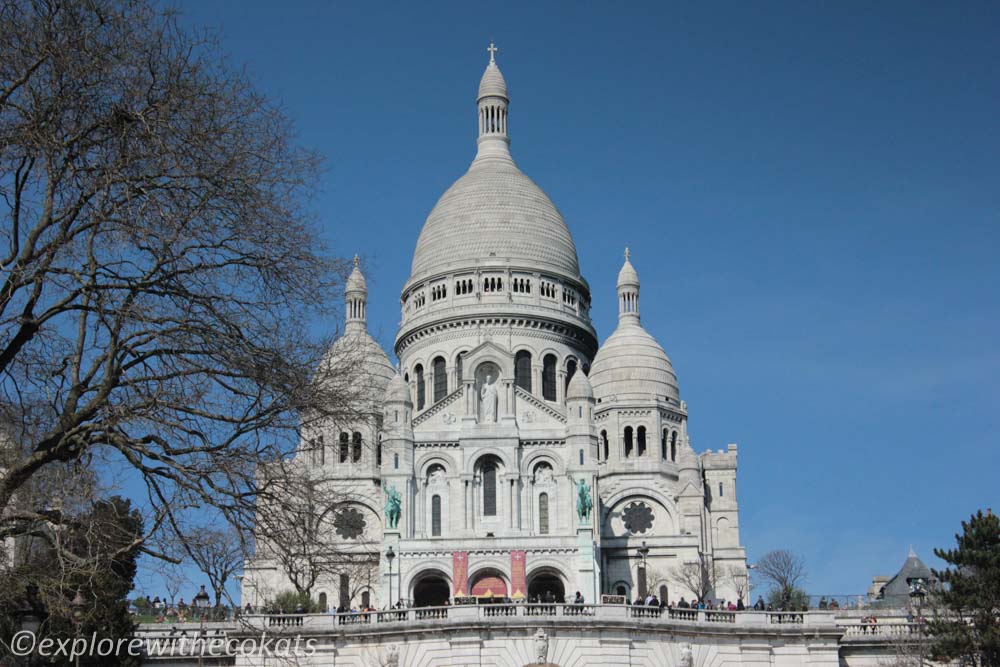 Walk down the hill via Rue Lepic, which is one of the most picturesque streets in Montmartre. At the bottom of Rue Lepic you will find the Moulin Rouge which is more than a 100 years old and is said to have invented French Cancan.
Afternoon
After exploring the small hill neighbourhood, head over to Palais-Royal followed by Musee D Orsay. 
Evening at Notre Dame
If there is one church you must visit in Paris, it has to be Notre-Dame. It is the most famous cathedrals in the world as it showcases beautiful French-Gothic architecture. The glass paintings on the walls are stunning. You will not miss the piercing glances of Gargoyles so click a photo or two!
View Similar post: Top free things to do in Berlin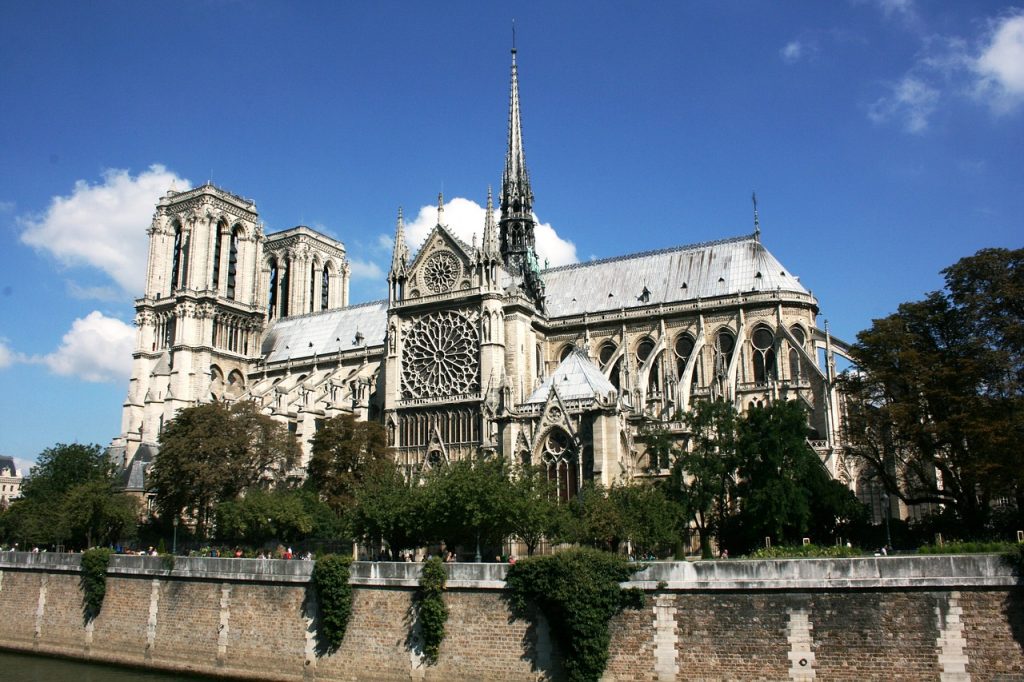 Paris Highlights: Souvenirs to take back home
Souvenirs are as important as traveling to a destination. And coming back empty handed from Paris is strict no-no. Other the cliched Eiffel tower key-chains there are some souvenirs you must definitely consider to bring home for family and friends. For a more detailed list, click here.
Chocolates: Move over Swiss chocolates and taste the chocolaty heaven in Paris! Though there are many manufacturers in town, the oldest chocolatier is one of the Paris highlights. A la Mère de Famille

 was established in 1761 and stocks all the classic French favorites in wonderful period packaging. A visit to this place is must for souvenir shopping.

Macarons: This is the best gift of Paris to the bakers in the world. Before the Indian cafes started offering Macarons, it was one of the best Paris Highlights. Available in man flavours, a box of crusty delights is must. They last for couple of days but if you think difficult to carry, buy a box from the airport. My favorite go to brand is La Durée.

Honey: Over the last few years, good samaritans have taken up the job of saving the declining population of honeybees. They have installed beehives on the roofs of many city buildings like Ecole Militaire and Musée d'Orsay. The honey is called Le Miel de Paris

 and can be bought from museum shops and popular departmental stores.

Cheese: There are approximately  400 different types of cheese produced in France. Cheese is the seasonal product and there is an optimal time to buy it as well as eat it. The kind of cheese to be eaten varies with the kind of dish/beverage you are having. There are many shops where you can buy cheese from (even taste before buying). You can buy breads like baguette while you are shopping cheese to go with it.

Wine/Champagne: Champagne, the alcoholic beverage synonymous to celebrations, can only be named Champagne if it comes from the Champagne Region in France.
Sustainable tips:
Paris has extremely efficient public transport – metro and bus, which is cheap too. It is best to stick to it.

Walking tours like in all other major European cities are present in Paris and are equally amazing – they tell you the history and walk you through popular places. All this for a small tip! Check online for the one that suits you the best.

Paris is popular for its French cuisine so it makes sense to indulge in local food.

The roads and metro stations are littered at times, mostly by the tourists. Find a trash bin to dispose your stuff.

Respect the churches, monuments and sculptures by not sitting on them for photo opportunity or having a picnic.