How do you show off if you have really been to a country other than posting pictures on social media? Souvenirs! I love love love to bring something home that reminds me of the country. I generally pick up something which is useful to me and not just which stays in the showcase. In Vietnam there is no dearth of beautiful handicrafts and traditional things that you can bring back home as souvenirs. Buying Souvenirs from Vietnam is a cultural experience. So let me try answering some of the common questions.
What is the best souvenir from Vietnam?
Are souvenirs from Vietnam, affordable?
What represents the country most?
I present the 10 best and affordable souvenirs from Vietnam that are a must buy and which will remind you of your time spent in this beautiful country.
Vietnamese coffee (the best souvenir from Vietnam)
Coffee had to feature as number one on my list, given my eternal love for it! After having Vietnamese coffee in Vietnam, I could fly back just to have a cup of it. Yes, coffee in Vietnam, lives up to its expectations and delivers a punch of being one of the best in world. That is why it is featured not only my list but many other lists of affordable souvenirs from Vietnam.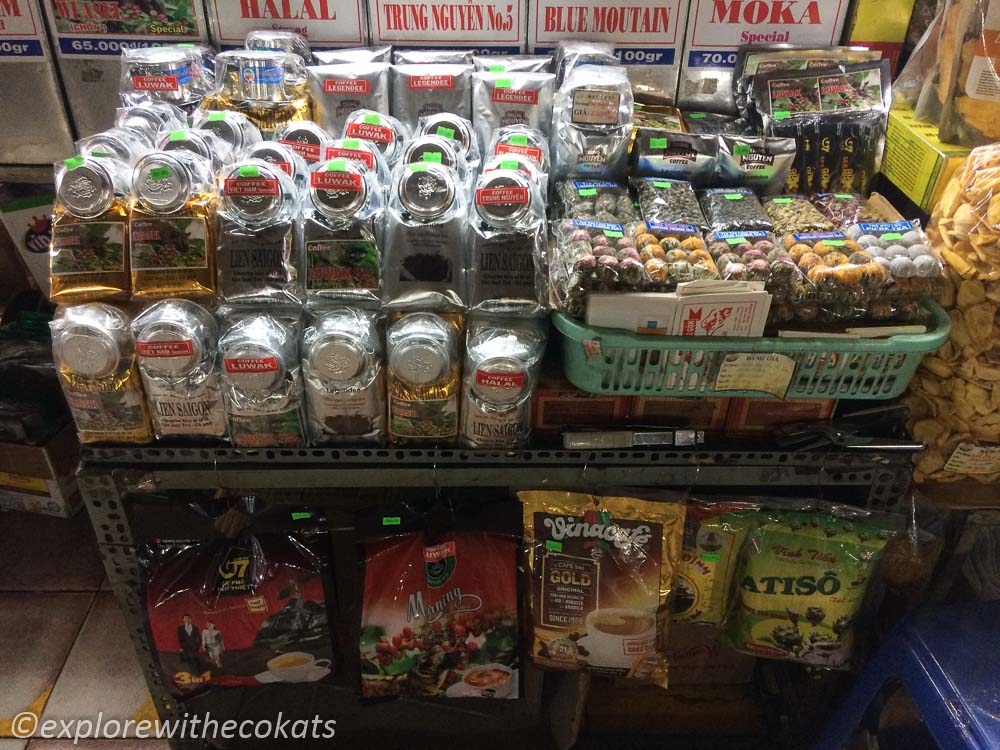 Made with signature dark roasted Robusta beans, the strong and bold flavor of the coffee is euphorically balanced when mixed with condensed milk, creating an amazing flavor. Dark roast coffee beans are slowly strained through a traditional Vietnamese coffee press and then mixed with condensed milk or coconut cream or a whipped egg, all intensely flavored for a completely refreshing sip. You may consider picking the coffee press called cà phê phin as souvenir along with coffee.
If brewing coffee is not your thing, there is an option to purchase 2-in-1 or 3-in-1 coffee packets available in markets. These packets have the same flavor and will definitely transport you to Vietnam. Just like i do, every afternoon on my office desk! Thank you Amazon gods!
Cost range: 1,60,000 VND for 3-in-1 packets of 50 sachets
       70,000 – 2,00,000 VND per kilo for fresh grind
Conical Hats
Known as Nón lá in Vietnamese, conical hats are one of the most popular souvenirs from Vietnam as well as an iconic cultural symbol for the local people thanks to its utility dating back to yesteryears. It is a circular cone hat made out of bamboo which is worn by the locals all year round, to protect them from the sun as well as rain. Being an all season accessory it is durable and light. It comes with a colorful chin strap so that the hat doesn't fall off when you bend or fly away in wind.
It comes in 3 sizes so you can carefully choose which one is comfortable to you. However packing them in a suitcase without damaging is it a bit challenging. It is best to carry it in hand or pick a conical hat keychain souvenir and get the best of both souvenirs!
Cost range: 1,00,000 VND onwards depending upon the product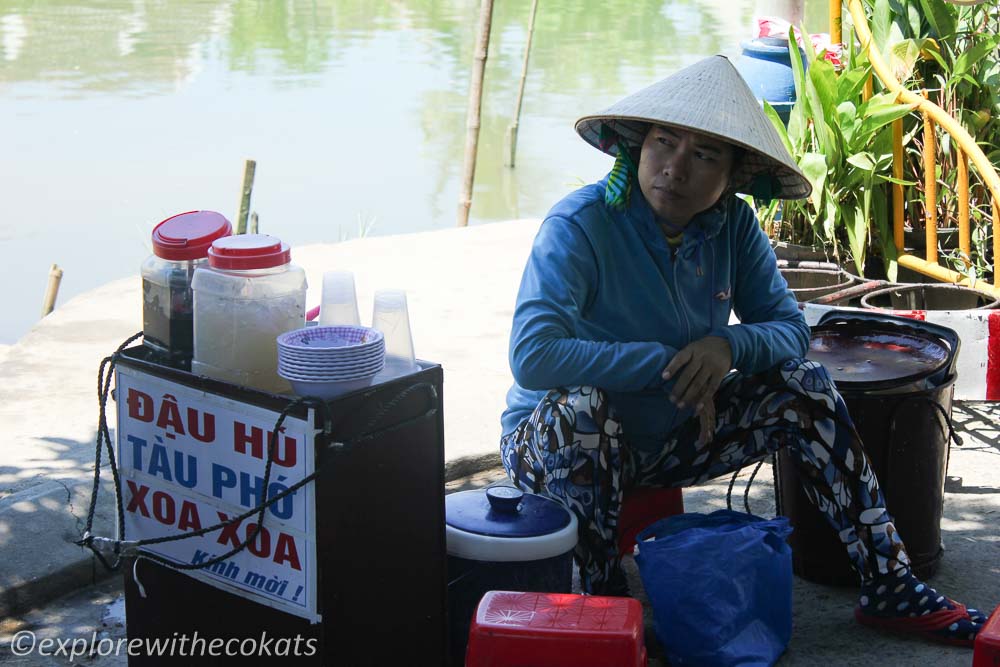 Fruit printed clothes
While printed elephant clothes are popular and omnipresent in entire South Asia, Vietnam has an obsession with fruit printed clothes. Unisex shirts, pants and shorts are sold in most markets of all cities in Vietnam. They are particularly popular in Hoi An. The choices in fruit range from banana (this is the most popular choice), pineapple, watermelon and mixed fruit patterns. Women have the choice of a maxi dress in their favorite fruit while men can custom make caps too. Kids wear is also available in these prints.
These prints are available as running cloth in various type of fabrics – cotton, silk, etc. Since getting a tailor made outfit within 24 hours is in fashion in Hanoi and Hoi An, you can buy a fabric and get a custom made dress within a day. This is definitely one of the most unique and fun souvenirs from Vietnam to buy for family and friends.
Cost range: 80,000 – 1,50,000 VND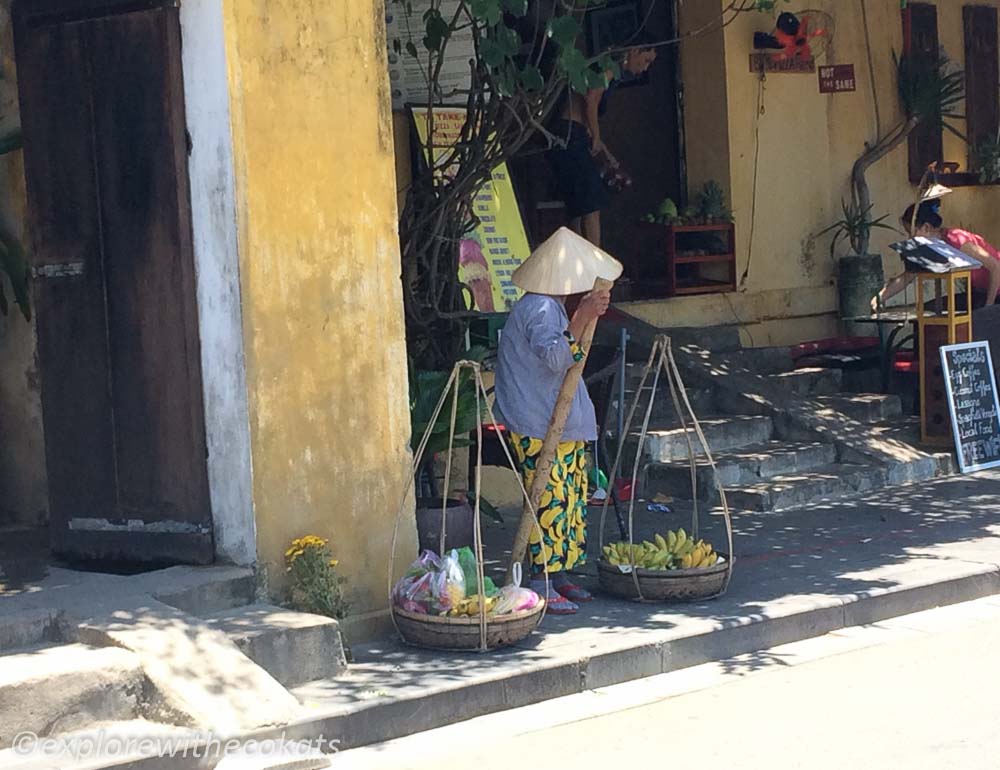 Lacquerware
Lacquerware is an art which has links to French influence from yesteryears. The intensively intricate art uses resin from son tree. Paintings, jewellery, home art and kitchenware is made in many designs, patterns and colours by local craftsmen. It is said that it takes about 20 stages to produce lacquerware products. Recently, egg shells and nacre (mother-of-pearl), are being used along with resin to prepare lacquerware products.
There are live demonstrations showcasing how these products are crafted and there are dedicated galleries which showcase this art collection. Lacquerware is an amazing art and taking home one of the products is the best souvenirs from Vietnam though it may not be really affordable for all.
Cost range: 2,00,000 – 5,00,000 VND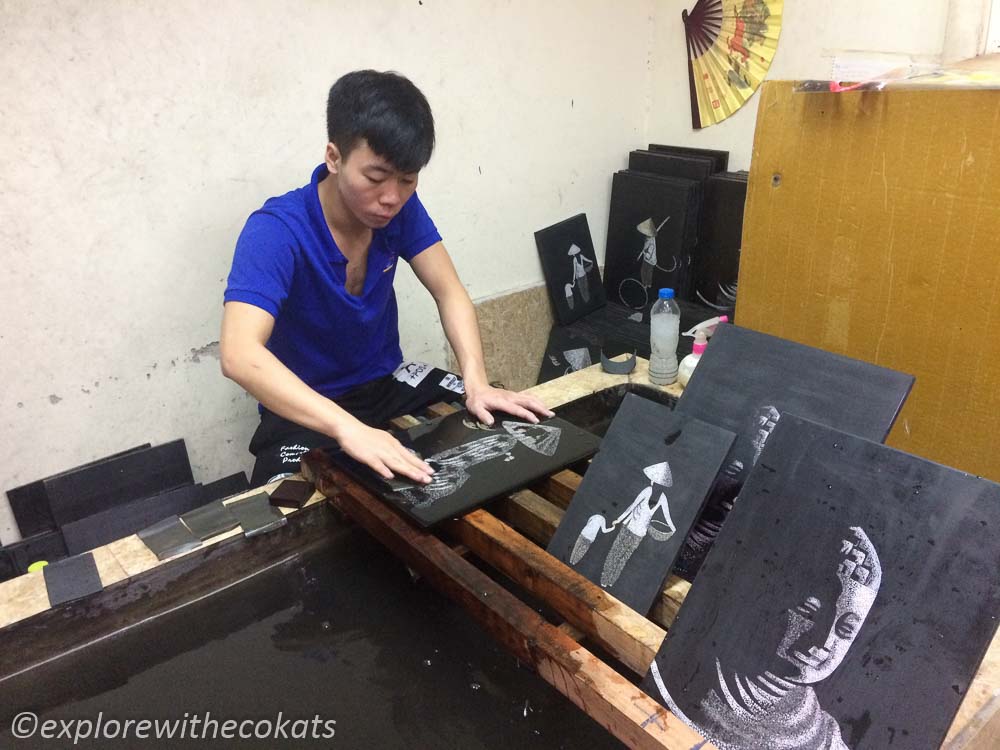 Bamboo and Coconut Products
These products top the sustainable gifts department which are not only affordable but unique souvenirs from Vietnam. Kitchenware items easily available are spoons, chopsticks, bowls, and straws made from bamboo. Colourful bowls made out of the coconut shells look great too and look elegant for serving food items.
Don't be fooled in big markets as sometimes these coconut bowls are fake and are made of plastic instead of coconut shells. Image source: Ha Thai Bamboo Lacquer
Ao Dai
The áo dài is a Vietnamese national garment, traditionally worn by both sexes but now most commonly worn by women. Áo translates as shirt Dài means long. It is a tight-fitting silk tunic worn over trousers just like a kurta in India but longer. The fabrics now range in cotton, linen and polyester. Ao Dai is available is all major markets and can be custom made by choosing a fabric and getting it stitched to take back home.
Cost range: 5,00,000 – 10,00,000 VND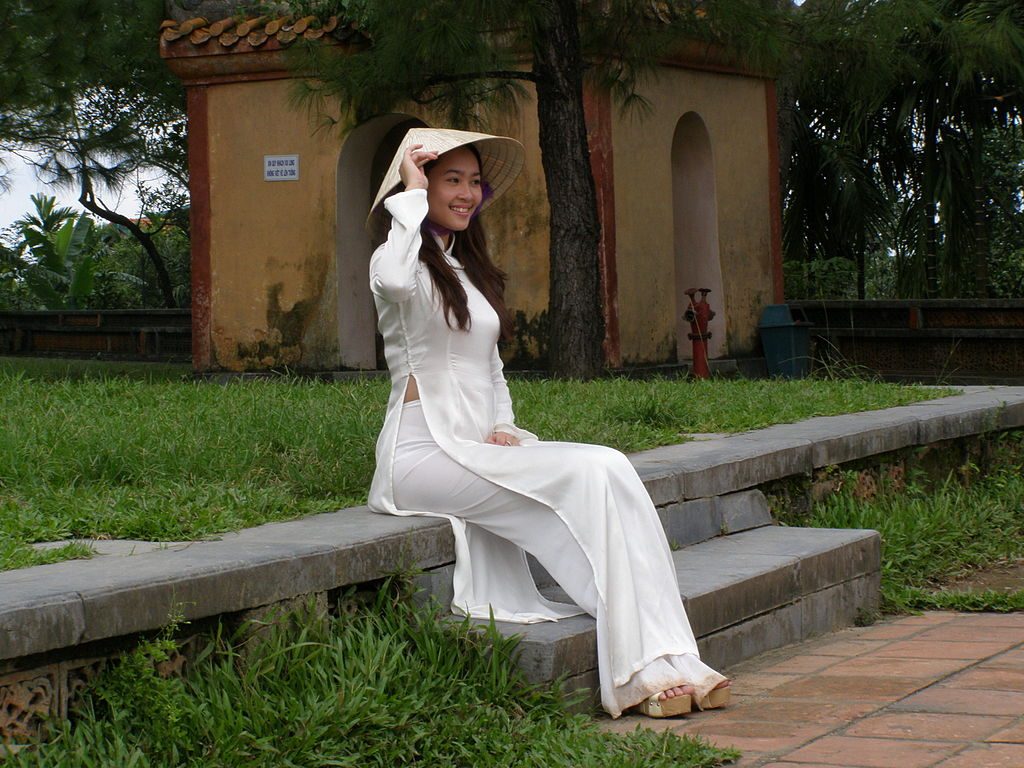 Lanterns
If you've been to Hoi An , you know it is synonymous to colorful lanterns illuminating along the streets. These traditional lanterns are made in silk and they light up the cafes, restaurants, streets and homes in Vietnam. It will be a challenge to stop yourself from buying one of these silk lanterns to brighten your home in your country. They make up for a great Diwali gift too! There are many places especially in Hoi An which run workshops to teach tourists to make these lanterns.
Cost range: 70,000 – 90,000 VND for big lanterns and 25,000 – 40,000 for smaller ones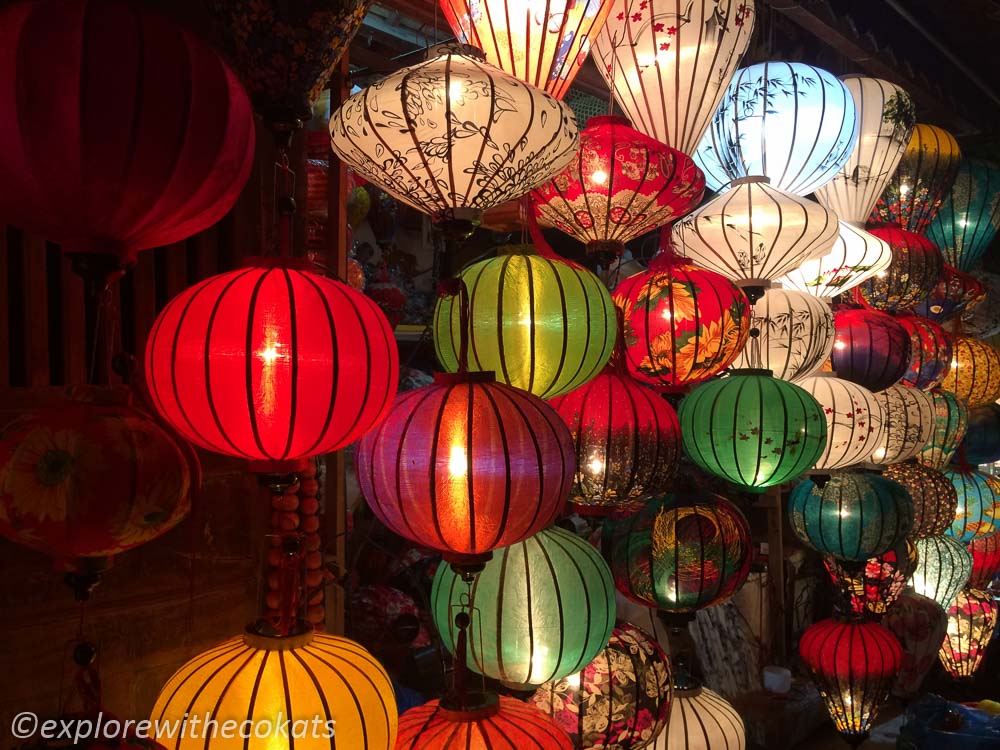 3D Pop Up Greeting Cards
I find this to be one of the most unique yet affordable souvenirs from Vietnam. These 3D pop up cards are sold on the side of street and they have beautiful and intricate designs all reminding you of Vietnam. There is a variety of designs such as birthdays, congratulations, anniversary to choose from. The great thing about these cards is that they're flat and won't take up space in your luggage.
Cost range: 15,000 – 20,000 VND per card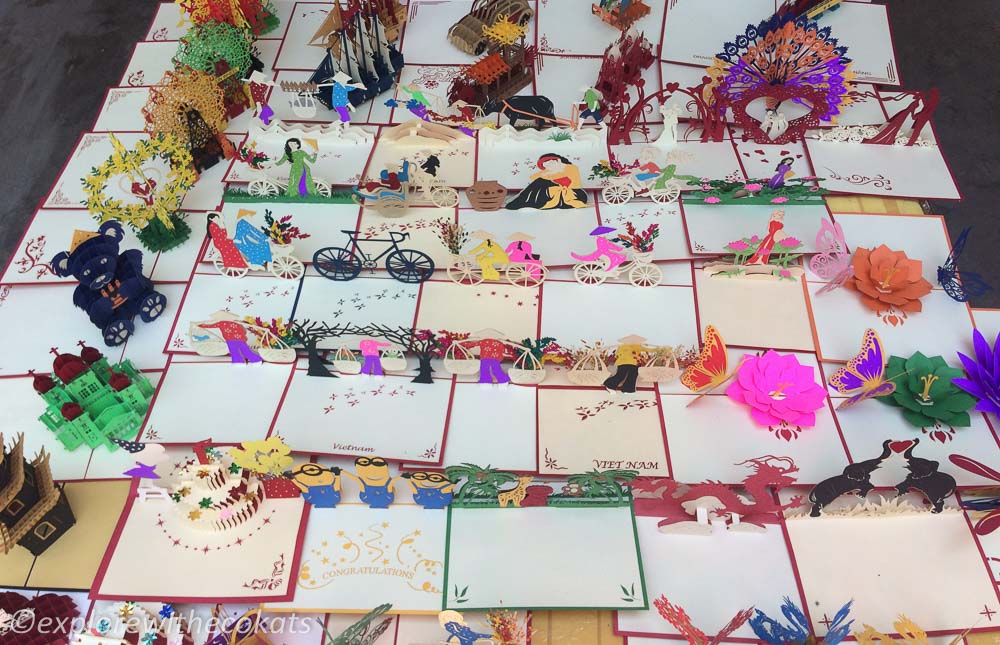 Coconut candy
Although coconut candy is popular along the Mekong Delta, it is on of the best souvenirs from Vietnam that you should not miss out on. The candy is made by with fresh delta coconut at the local facility. Sometime this candy is flavored by adding coconut milk to other fruits such as pandan and durian. The best part is the candy is wrapped in an edible rice wrapper. Ticks the sustainability charts!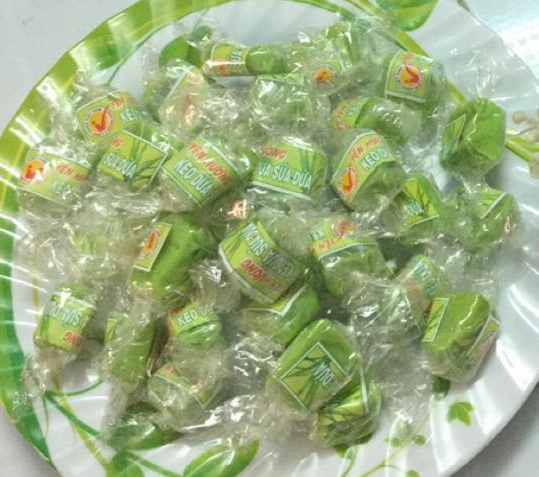 Alcohol
If you are a wine lover, consider purchasing sim wine which is made from the purple fruit from the rose myrtle tree. If you are a bit adventurous you may want to try and buy the snake whiskey of Vietnam. You can read about it here.
Souvenirs from Vietnam: Best places for shopping
Ho Chi Minh City
Ben Thanh Market is the number one choice when it comes to souvenir shopping in Ho Chi Minh city. It is a one stop shop for local handicrafts, branded goods, coffee and other souvenirs. It is one of oldest landmarks of the city offers a great atmosphere that is authentically Vietnamese. Don't forget to bargain hard as it is a tourist's market and the costs are on higher side.
Tip: If you buy in bulk, the cost will be a lot less.
Hanoi
Hanoi's Old Quarter is a paradise with cool souvenirs to bring back home. All the souvenirs mentioned above are available in the markets of old quarter.
Hoi An
Practically, the entire Hoi An old town is a market to buy souvenirs. Since most traditional houses are now converted into cafes and shops, it is easy to be overwhelmed on what to buy and how much.
Like this  post? Pin Souvenirs from Vietnam!