Meghalaya literally means the abode of clouds. Meghalaya is a paradise brimming with picturesque landscape where the nature comes alive, undulating hills inviting you to drown you in their mist, clouds telling you a story of their own, the happily chirping birds swaying to the pleasant wind all tell you a common story of a land unexplored, making you fall in love with.. Nature. Here is list of top 7 places in Meghalaya.
1) Umiam Lake
Also known as Barapani, Umiam Lake is a manmade lake on the Guwahati-Shillong highway. Famous amongst the locals as well tourists for boat rides, it offers a good view from the highway, provided the sky is clear. For its sheer beauty, it is featuring on my list of Places to visit in Meghalaya.
2) Elephant falls
These falls are the hot favorite tourist site in Shillong and hence featuring on my list of places to visit in Meghalaya. Well and they live to the expectation. These are 3 tire falls at a walking distance of few meters and thankfully quite clean. The last tire is the most beautiful one.
3) Shillong peak 
It is the highest point of the city from where you can see the entire Shillong. Very touristy and worth going for a quick 15 minute visit.
4) Cherrapunji – Nohkalikai falls
Nohkalikai Falls is the tallest plunge waterfall in India at a height 1115 feet has to be on the list of places to visit in Meghalaya. The story of the fall having its name is sad but it paints a beautiful landscape. Try climbing down a bit to have a clearer look at the emerald coloured pool formed at the bottom and envy the small kids swimming there.
Tip: Shop for Indian spices like pepper and bay leaves sold here by locals. They are super cheap and of good quality.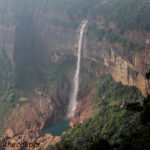 5) Cherrapunji – Wah kba falls
Stumbled upon a small sign which said Wah Kba falls. After 15 minutes of trek through thick vegetation and small waterfalls, I reached here. Believe me when I say there was not a single person here and it was one of the most beautiful sights in the entire trip. It got creepy at a point and so I hurried back up.
6) Cherrapunji – Mawsmai caves
Situated around 6 Kms from Cherrapunji, the Mawsmai Caves are naturally formed limestone caves. The stalactites and stalagmites caves have innumerable forms, shapes and sizes giving you a beautiful experience of climbing, walking through ice cold water and over bridge – all inside a cave!
7) Living root bridges
Yup, living roots of trees made into bridges. The bridges are tangles of massive thick roots, which have been intermingled to form a bridge, an art mastered by local Khasi tribe. The root bridges, some of which are over a hundred feet long, take ten to fifteen years to become fully functional, but they're extraordinary. This place is now announced at UNESCO World Heritage site.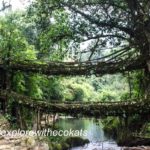 Tips for Sustainable Travel:
Meghalaya being absolutely virgin in terms of development, it is important to respect the same. Eat like a local, stay like a local.