The name Nakhon Phanom, literally means the 'city of mountains'. There are no mountains in Nakhon Phanom but they are across the Mekong river in Laos which paint a beautiful view for the town. Nakhon Phanom is the tranquil and beautiful town located in the North east of Thailand. If you have read my previous post, you know it is perfect for a Digital Detox wherein you can just relax and take it easy. But if you are an enthusiastic traveler and want to explore, then don't loose heart as Nakhon Phanom has equal number of fun activities to do. Here's a 3 days Nakhon Phanom Itinerary and Guide.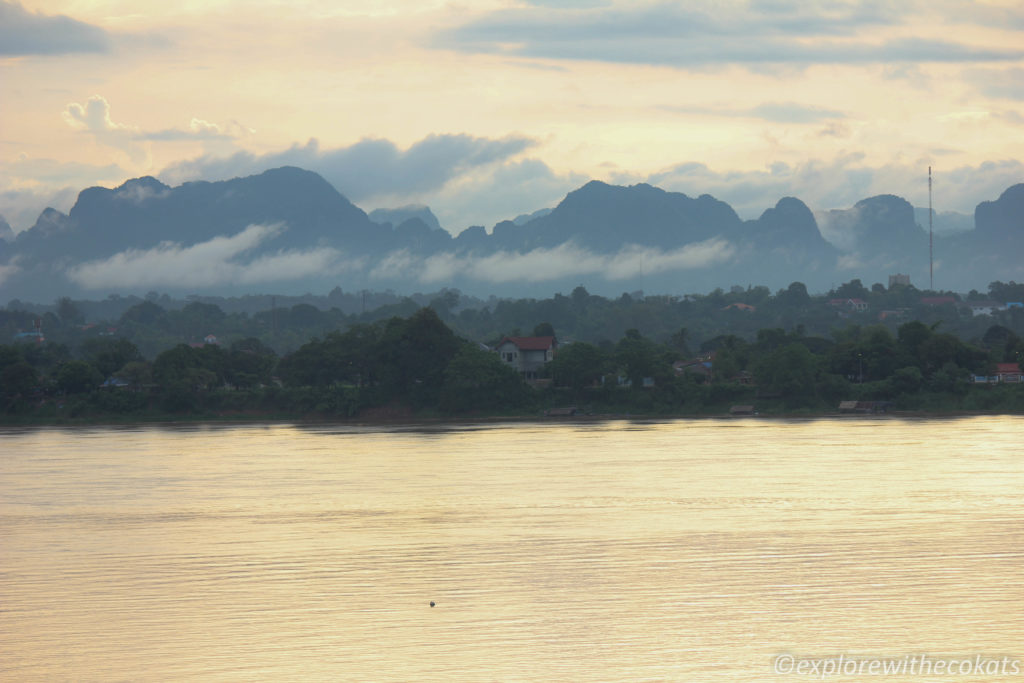 How to Reach?
Flight: It is well connected with Bangkok and there are 4 flights everyday with run time of 1 hour and 20 minutes
Bus or Car: There are 2 buses that run daily from Bangkok Bus Terminal to Nakhon Phanom with run time of 11hours and 30 minutes
Train: There is no direct train but if you choose this option then you have to board at Hua Lamphong to Udon Thani which takes about 9 hours and then a bus to Nakhon Phanom which takes 4 hours.
Best time to visit
Like all Asian countries, best time to visit is in winter months (October to February) when the place is much cooler. I visited in June and it wasn't so bad then. It rained in the afternoon and early mornings.
Weather
The average summer temperature is 24°C-37°C; while the average winter temperature range from 18°C-30°C. It rains quite often around the year.
Food
Sticky rice is a staple of Nakhon Phanom and it accompanies most meals. Isan food is quite prominently available which comprises of glutinous rice and chili peppers. All sorts of meat – pork, chicken, beef is part of the food preparation in various forms.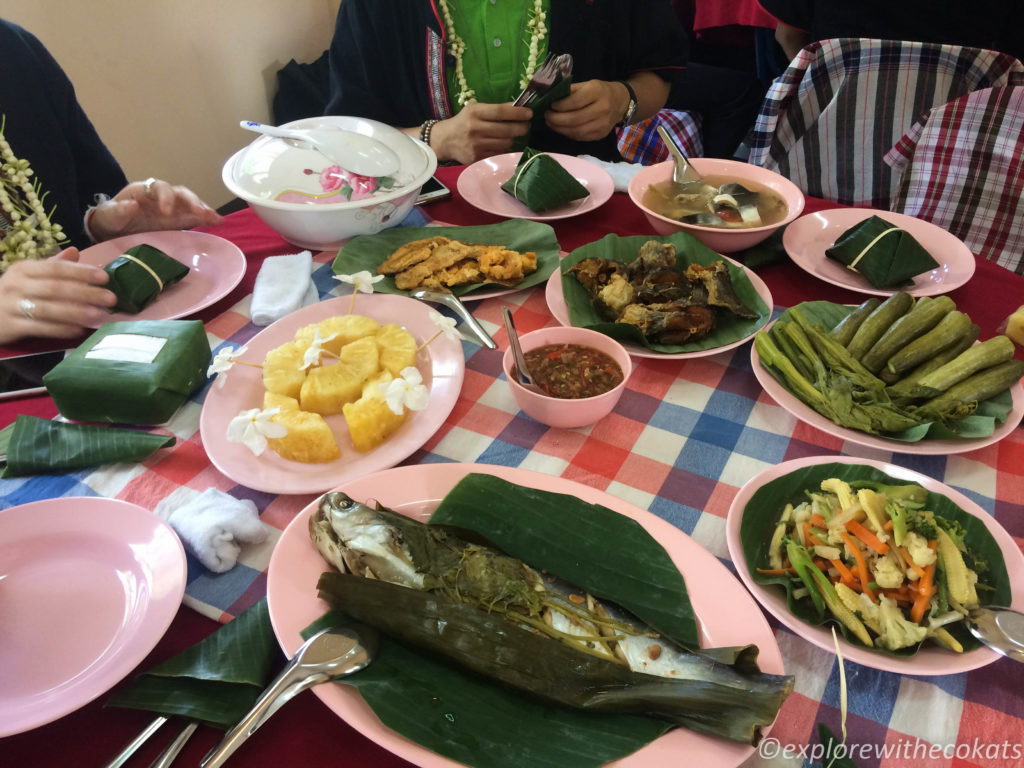 If you are a vegetarian or vegan it is challenging to find something which doesn't even have egg in it. I stuck to the good old friend rice by adding 'jay' to name of dish and I got the rice without meat and egg. Score!
What to wear?
Comfortable clothing like cotton t-shirt and shorts is recommended. Women can choose a knee length dress. Try to cover shoulder and knees while visiting the temples.
Safety
It is an extremely safe town and people are really helpful. Everything closes down early – night market at 9pm and restaurants at 11pm.
Where to Stay
If you are mid-range accommodation, there are a number of hotels for you to choose from – River Hotel, Blu Hotel, Fortune Riverview Hotel and R Photo hotel.
3 days nakhon phanom itinerary
Day 1:
Afternoon: You will probably reach Nakhon Phanom by 12 noon if you take the morning Air Asia flight. Check in to the hotel and grab some lunch. After a bit of rest head towards Sun Tree Art & Culture Organic Market. About to officially start in September 2018, the soft launch happened sometime back. As the name suggests, the market is perfect for immersing in some organic local ginger-turmeric tea, learning to make boi-loy and even petting earthworms from the compost farm. You can also participate in bamboo and banana leaf handicraft workshop.
You can indulge in some shopping by buying hand woven garments, soaps and other souvenirs all made by local community while enjoying a local dance performance.
Must try: Organic coconut icecream (Cost 10 baht)
Late afternoon/Early evening:
Appreciate various architectural marvels in the town which are built along the Mekong river. Wat Phra In Plaeng, Wat Mahathat, Wat Okat, the Saint Anna Church and Governor's Mansion are some of the places not to be missed in Nakhon Phanom.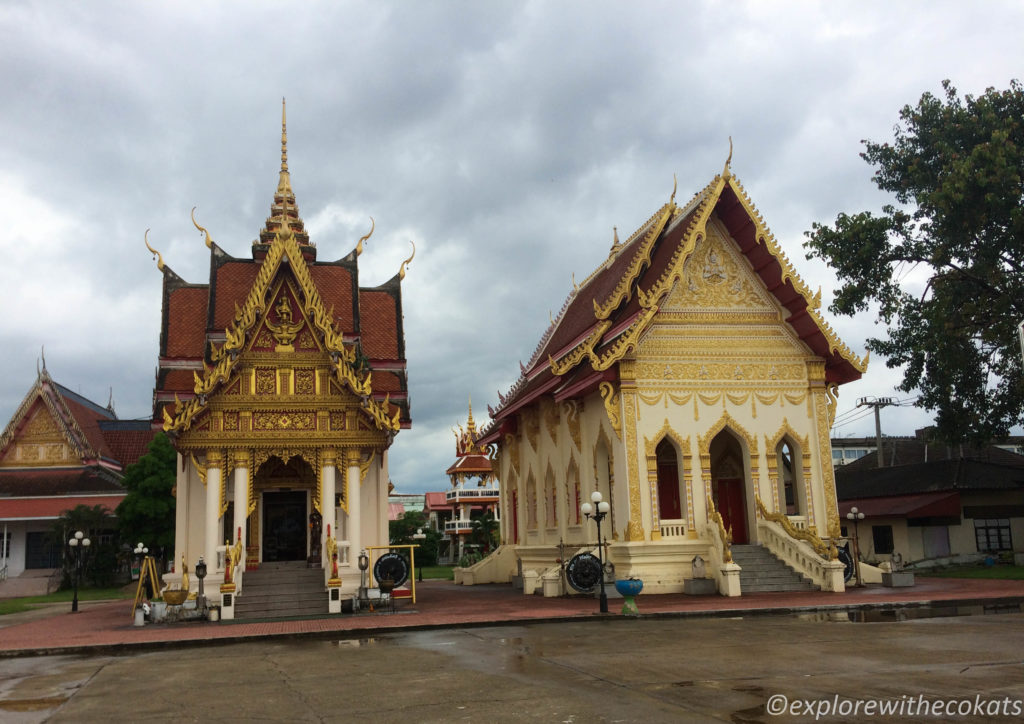 Day 2:
Morning: Experience Community based tourism at Ethnic villages
Move away from the city and immerse yourself culturally around the rural areas of Isan province. Visit the local ethnic villages and experience their culture, food and folk dance. There is also an option of homestay where you can live like a local immerse in the daily activities like the villagers – weaving, farming, knife making, fishing, etc.
I recommend you to book this tour through Thai Ecotourism and Adventure Travel Association (TEATA) so as to have an unparallel experience of the village. They will assist you in deciding which village to visit, depending upon the experience you want and the time of the year. Monsoon is a lean season as all villagers are busy in sowing paddy.
A village tour would you approximately 450 baht per person and includes the entry to the village and 2 meals. It excludes the transfer from Nakhon Phanom to the village and souvenir/product shopping if you indulge.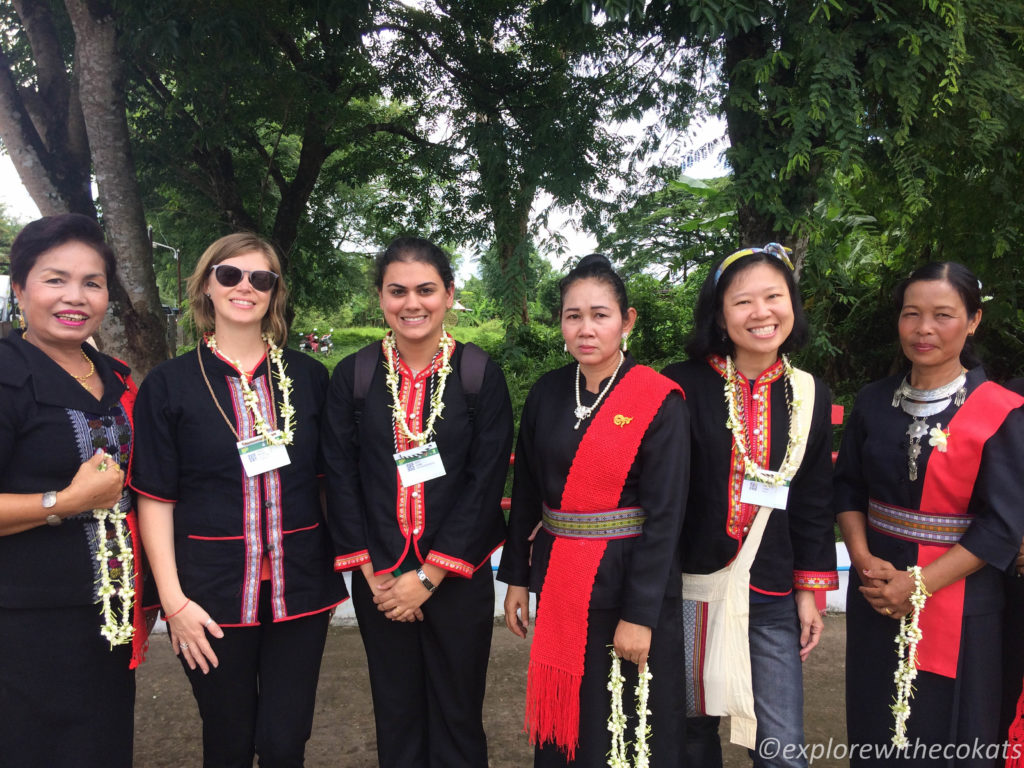 Evening: Feel the charm of the might Mekong by taking a river cruise on it. The cruise starts from the Indochina Market at 5pm and heads northward so that tourists can see the riverside communities and admire the sunset by a Christian church. The cruise goes around the Laos side and you can enjoy the 'Being in 2 places at once' off the bucket list. Charges are 50 baht per person for 1 hour.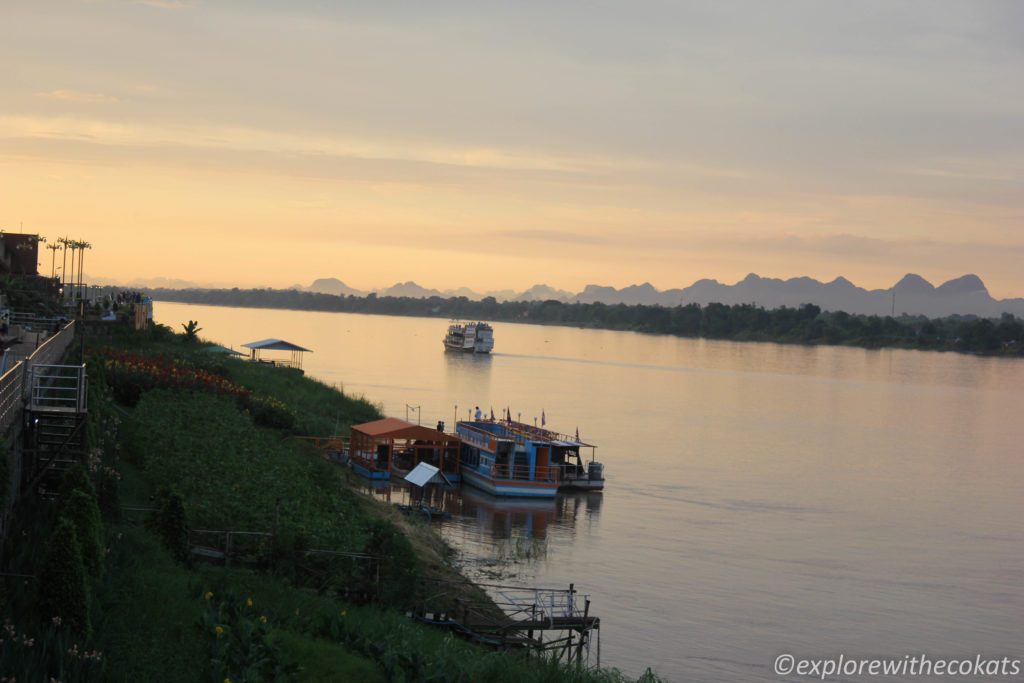 Night: You may go to the many bars near the night market for the perfect Isan dinner with Thai music.
Day 3:
Morning: Rent a bicycle and ride upto the Thai – Laos friendship bridge. Most hotels in Nakhon Phanom have the facility of renting bikes and helmets (a total charge of approx. 40 baht per hour). Wake up early and ride along the 13 km promenade along the Mekong river to reach the iconic bridge. The views along the way will make up for the fatigue if at all.
You will probably be back by 10am. So shower up and have breakfast as it's time to go out of town to Wat Phra That Phanom.
Afternoon: Wat Phra That Phanom is the sacred and religious site which has a 53-meter-tall, square-shaped pagoda. It features the Buddha breast bone relic in the chedi and is known to have 110 kilogram gold spire. The pagoda is known to be rebuilt after its collapse in 1975 but nevertheness makes for the most spectacular site.
I found a lot of local community as well as Thai nationals coming to this pagoda for paying respects.
Evening: Time to catch the flight to go back to Bangkok!
Sustainable Travel Tips:
Most hotels in Nakhon Phanom have refill water station – use it instead of buying PET bottles from 7-eleven stores.
Nakhon Phanom is still developing and opening up to tourism. Try buying food and clothes from a local market/food joint to boost their economy.
It is a clean town so do not add your waste to the streets. Always use a dustbin.
The entire SE Asia is railing in the single use plastic storm. Politely say no to a plastic bag when buying the soup or that beautiful indigo shirt!
Cover your knees and shoulders when visiting a pagoda
Disclosure: I was invited by Mekong Tourism Coordinating Office (MTCO) to attend the Mekong Tourism Forum 2018.
Disclaimer: This post contains affiliate links. It means it adds no extra cost to you if you book through the link but I get a referral bonus which helps me earn a little to keep this website up and running.