The first thing that comes to the mind when someone says Indore is food! The street food scene is so amazing and delicious but there is so much more to Indore than the lip smacking chat. Indore, the financial capital of Madhya Pradesh is one of the largest cities of the state – Madhya Pradesh which boasts of its rich cultural heritage and the grand historic monuments. Indore, also happens to be the financial capital of Madhya Pradesh.
My husband hails from Indore, which has given me ample opportunities to visit. However, only during the recent visit I was able to explore the city other than food (guilty). It would be ideal to stay in Indore for 2 days to explore the city's architectural landmarks, indulge in feasting and some shopping. There are so many day trips possible and you can keep increasing one day for each. In my post I am covering only one. Here are the 5 must visit attractions in and around Indore.
1) Rajwada
The Holkar dynasty of Maratha Empire built the seven storied historical palace of Rajwada in Indore city which is a seven storied structure. Also known as Holkar Palace, it is one of the oldest structures and major historical site in Indore. As beautiful as it looks from outside, try to catch a glimpse from the inside. A part of the palace is now converted into museum on the first floor where the history of dynasty is displayed along with murals, clothes, war equipment, etc. On the ground floor is the original courtyard with temple. It is so peaceful and makes you reminisce the by gone era and a simple yet elegant life led by the Holkars.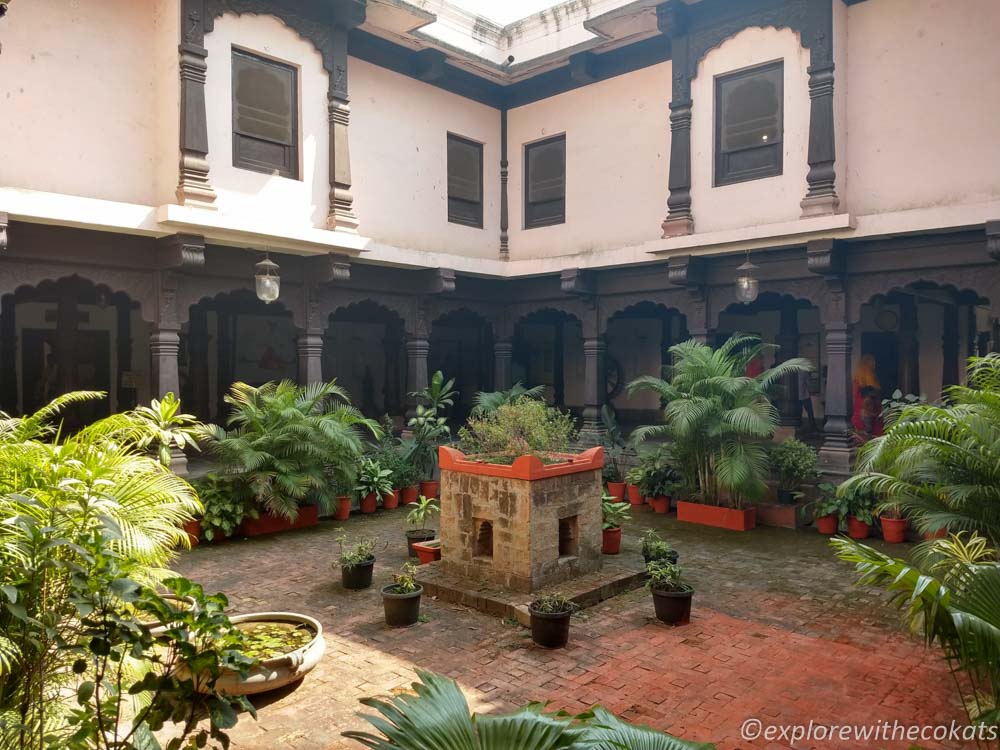 2) Chatris of Indore
Chatris or cenotaphs of Indore are the royal tombs of the erstwhile rulers of the Holkar dynasty. Intricately carved, this cenotaph makes for a beautiful architecture. While Krishnapura is more popular with locals and tourists, the more beautiful and peaceful is Boliya Sarkar ki Chatri which is in the memory of Bolia Sahib. It was constructed after his death near Chatri Baag.
3) Lal Bagh Palace
The architecture of Lal Baag Palace reflects the opulence of the late Holkars which was inhabited till 1978. The palace complex which is spread over 28 acres is now turned into a museum exhibits Indian and Italian paintings and sculptures. There is a lot of similarity in the style of architecture with the Versailles Palace with Italian marble columns, grand chandeliers, rich Persian carpets, nymphs on the ceiling, Belgium stained glass windows, Greek mythological reliefs and Italian style wall paintings.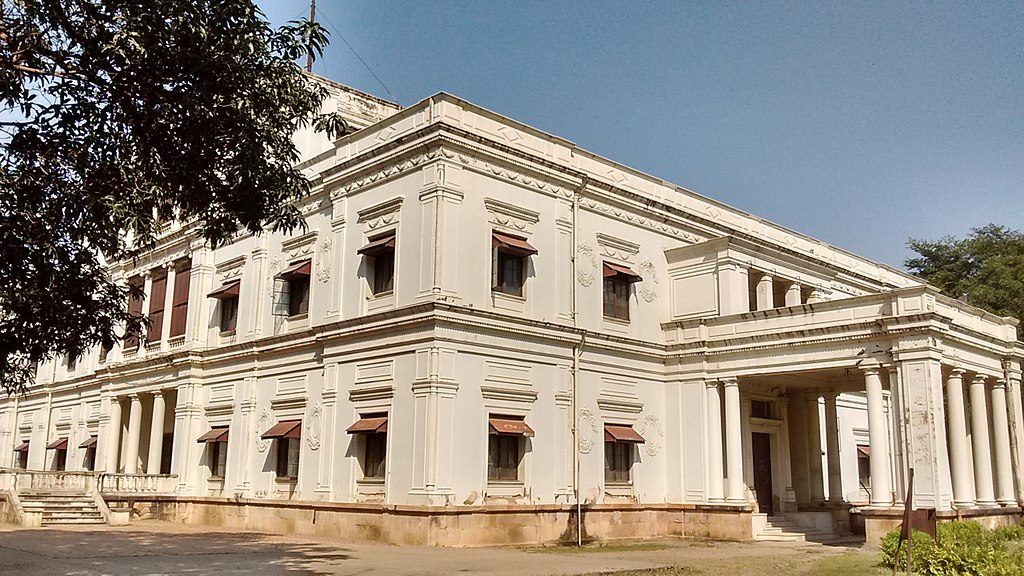 The gate, rooms, ceilings in the hall and walls all have beautiful carvings are sure to give an out of the world experience to visitors.
4) Mandu
Mandu is one of the closest out of city places that must be visited. Being on the top of hills, Mandu provides good panoramic views of the valley around. It is a historical fort city made entirely of stone with incredible architecture. Mandu with it's broken fort walls, gates and palaces, believe it or not, gives a magical look. Standing between two lakes, the iconic Jahaz Mahal offers panoramic view of the entire area. Other attractions include the unique Hindola Mahal, Rani Roopmati mahal and Baaz Bahadur palace. With so much history to soak in at each place, it is best to hire a guide or read up about all the monuments before going.
5) Gulawat
Gulawat, located 25 km from Indore is Lotus valley in a natural pond. It is quaint getaway for a quick picnic or road trip even for bird watching. The pink pond, paints a pretty picture against the backdrop of a bamboo forest. No wonder it is one of the favorite spot for bicycle enthusiasts to cycle to and fro from Indore.
Walk a little further into the bamboo forest to feel peace and calmness. A small temple bell near the bridge will be the only human related sounds you will hear in Gulawat.
The only sad news about Gulawat is that, since it is Lotus valley, it blooms only in winters. The best time to catch the bloom is mid January.
6. Sarafa Bazar (extra point)
Sarafa Bazar of Indore is a buzzing jewelry market during the day. At night it turns into a street-food market, right in front of those shops. I would suggest you to skip lunch, the day you are planning to visit Sarafa as you will spoilt for choice. Some of the must try Indori street food items are: Kopra pattice of Vijay Chat house, Garadu, Dahiwada of Joshi Badewale, Sabudana khichdi of Sawaariya, Makke ka kis, Shikanji, Chhole tikki.. And the list goes on. Do keep some space to eat a fire paan at the end of the meal.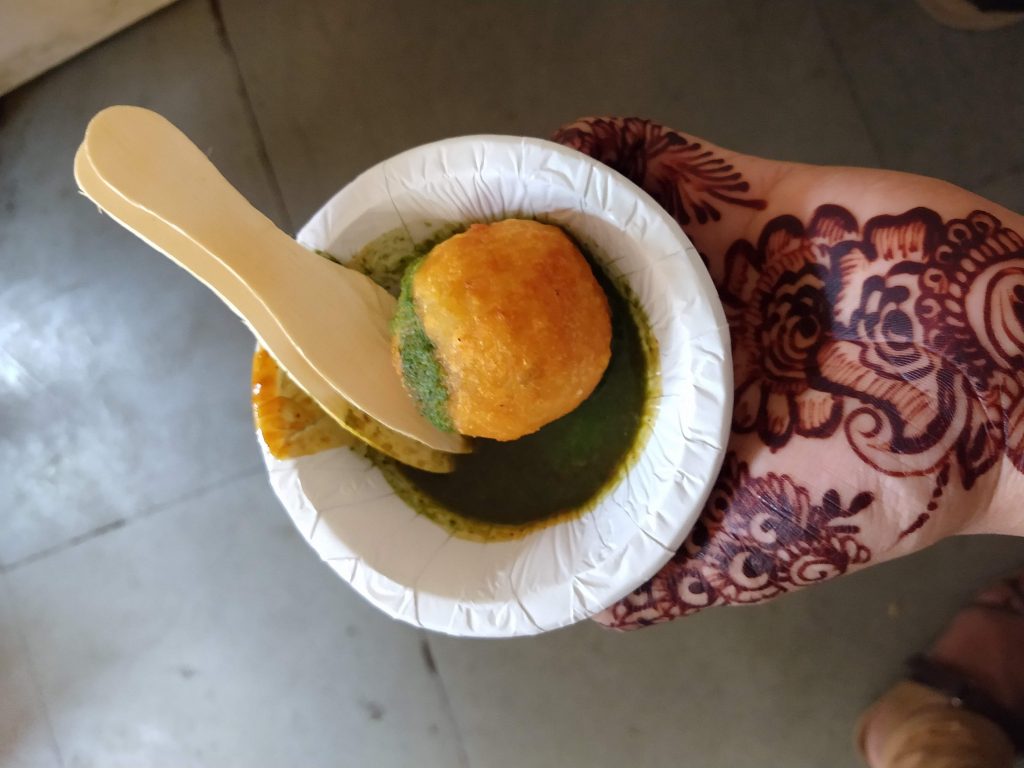 There has been a lot of international fast food appearing in Sarafa lately like momos, hakka noodles, pizza and potato swirls. They have been accepted well and doing good business with traditional snacks.
How to reach Indore?
By Air – Indore has it's own domestic airport and has good connections with Delhi, Raipur, Mumbai and other major cities.
By train – Indore is well connected to different parts of the country and is an important junction.
By Bus – Indore is well connected within and outside the state with AC and non AC buses with sleeper facility.
Where to stay in Indore?
Luxury: Sayaji, Radisson Blu Indore, Indore Marriot
Mid range: Ginger, Avadh Residency, Hotel Ambassador
Budget: Krishna Residency, Malwa Inn, Atithi Niwas
Sustainable tips for Indore trip
Indore ranks first in the waste management and sanitation index (Swachh Sarvekshan survey, 2017). As tourists, we need to maintain the same.
Eat local. Indore has amazing range of lip smacking tangy food items. Ditch those restaurant chains of pizzas and instead indulge in chats and samosas.
The locals around Gulawat sell the lotuses, that you go to watch. Do not encourage them to harvest the lotuses and enjoy them in the natural habitat.
The structures of Mandu and Chatris have stood the test of time. It's good to respect them by not writing names or scratching the surface.