Gujarat has some of India's most accessible wetlands which are avian territories and hotspots for birdwatching. Whether you're a pro bird watching enthusiast, or simply  want to spend sometime amongst the chirping of birds or are a student wanting to know more about them, Gujarat is full of places to experience bird life. There are atleast 5 such birdwatching destinations around Ahmedabad which provide lush terrestrial natural environment for birds to live. Birdwatching is one of most exciting things on the 'to do list' of all tourists and wildlife enthusiasts visiting Ahmedabad.
Come October and the wetlands around Ahmedabad are flocked by the unique species of birds. The diversity includes terrestrial birds, water birds and birds of prey, some resident and some migratory traveling all the way from Europe, Africa or Central Asia. So, time to fire away the camera shutter and grab a pair of binoculars to get going! Let's have a look at these birdwatching destinations around Ahmedabad .
All of these wetlands come under protected areas and hence require you to buy a ticket for entry.
Thol Lake
Thol lake Bird Sanctuary is a shallow freshwater lake surrounded by marshes on the sides. The lake covers about 7 sq. km. area and is completely dependant upon rainwater. A walking trail takes you around the edges of the lake, wherein there are viewing points and pictures of probable birds you may see.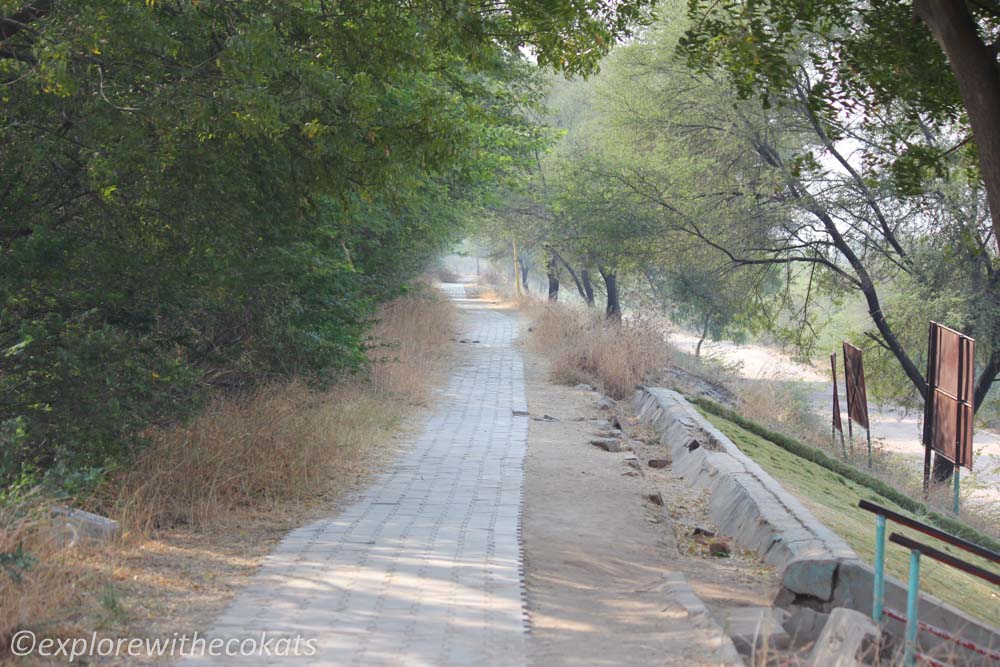 The lake is spectacle in itself at the sunrise as you are greeted by the sounds of cranes, flamingos doing yoga, cormorants basking in the sun's glory and raptors hovering with empty stomachs. The forest area around the lake will leave you mesmerized and remind you of a fairy tale. Look out for Sarus Crane (world's tallest flying bird) on the outskirts of Thol in the nearby fields. You will also spot a lot of terrestrial birds on the opposite of walking trail in the tall trees. Most commonly seen are Brahminy starlings, green bee eater, black rumped flameback, spotted owlets, shikra, etc.
Timings: 6am to 6 pm everyday
Entry fees: Rs. 500 per car (any number of people in car allowed). It includes camera fees. You can park on the lake boundary road and then climb on the walking trail.
Best time to visit: Winter mornings. January and February are the best seasons from a personal experience for maximum bird spotting.
How to reach: It is 25km from Ahmedabad so best to drive by car or vehicle. It is a favorite route amongst cyclists, too.
Also Read: Gir National Park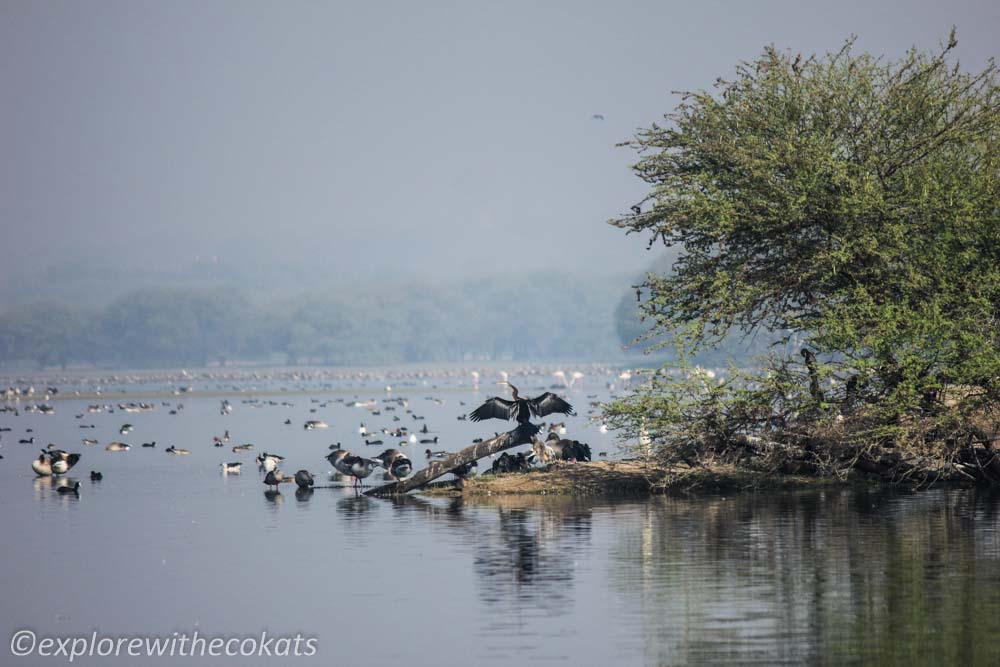 Nalsarovar Lake
The Nalsarovar Lake is one of the largest water bird sanctuary in the country with an area of over 110 sq.km and is one of the most important birdwatching destinations around Ahmedabad. The National Committee on Wetlands for intensive conservation has identified it to be one of the 15 important wetlands of India and is the only Ramsar site in Gujarat. The lake harbours one of the highest populations of waterfowl anywhere in India. Nalsarovar is nothing short of liquid gold in the mornings and the sunsets are equally mesmerizing when the flock of birds take off together against the orange sun.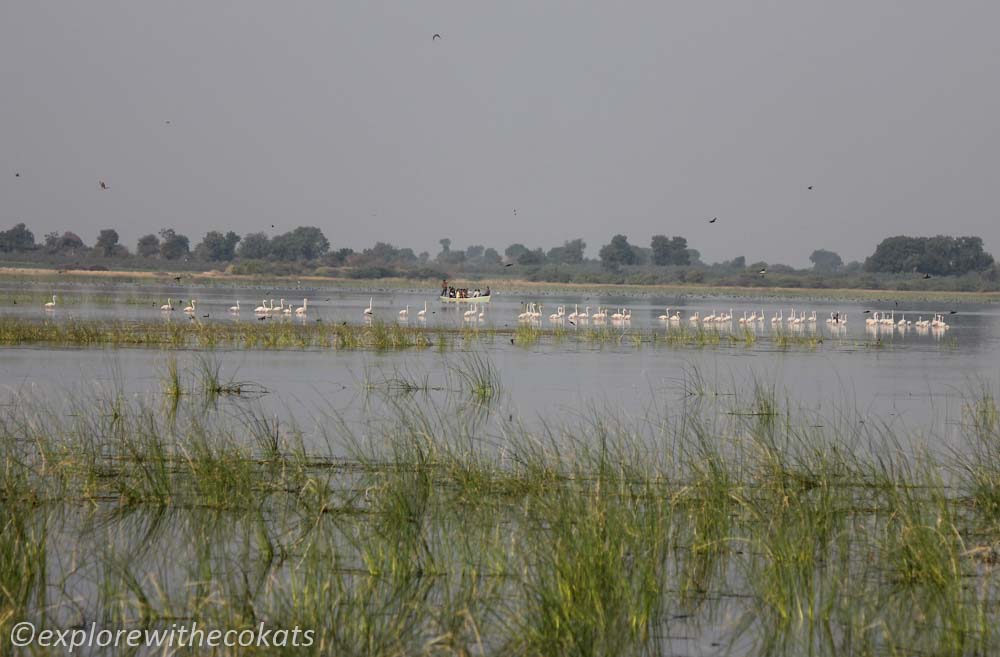 Due to the sheer size of the lake, one has to hire a boat to go in the lake. The locals are boat owners and you will probably have to haggle as they try to extort extravagant amounts especially if you are not a local. The prices are capped by the forest department but still the boat owners will bribe you to take to an exclusive place. If you are a serious photographer then I'll say avoid the boat but if you there just for picnic, I'll suggest otherwise. My recommendation would be not to pay the boat owner unless you have seen the place and you are confident of having a good time.
Timings: 6 am to 5:30 pm everyday
Entry fees: Rs. 60 per person, Rs. 100 per camera, Rs. 220 per person for boat (duration: 2 hours). Car parking is extra. In case you want to spend more time on the boat, the charges are extra.
Best time to visit: Winter mornings. October to February is the ideal time.
How to reach: It is 60km from Ahmedabad and ideal to drive by personal or hired car.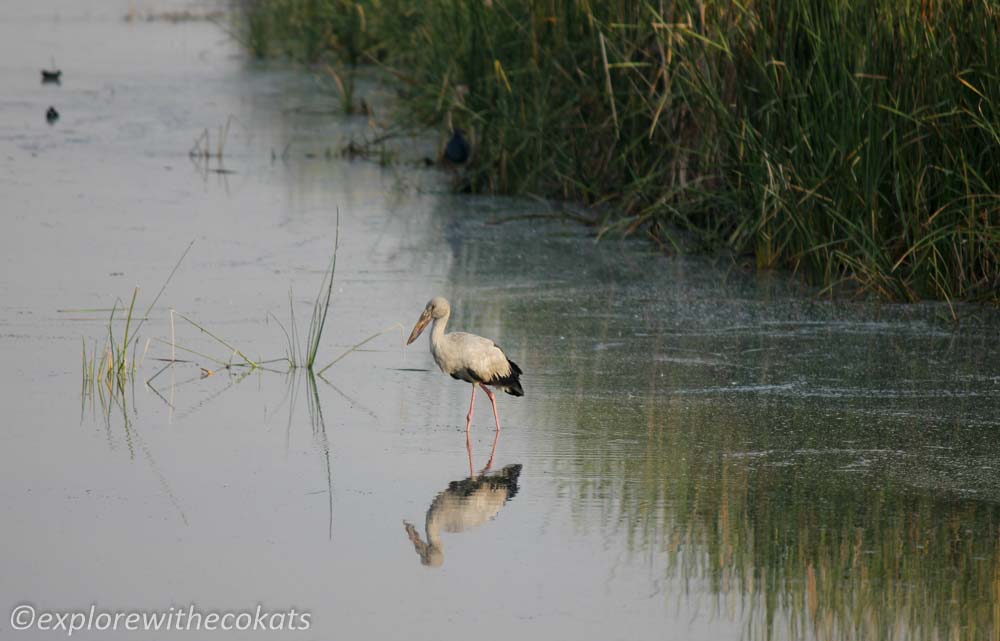 Vadla Lake
If haggling with the boat guy is not in your best interest and you want to enjoy birdwatching at your own pace, Vadla is the right place for you. It is in the close vicinity to Nalsarovar (25 km) and you can walk around the dam water to capture bird photos. Vadla is generally ignored by tourists as their favorite attraction of boating doesn't exist here, which works out best for serious birdwatchers. Vadla generally comes into highlight only when Nalsarovar dries out after a bad monsoon so tourists then flock there.
But for years now, Vadla has seen a steady flock of migratory birds in its waters and that is why it is an important birdwatching destinations around Ahmedabad. The favorite and most in number being – Demoiselle cranes – thousands of them. In early January 2019, when we visited we counted over 3000 of them doing their business of calling, preening, foraging and practicing display. The Demoiselle Cranes are indigenously found in central Eurasia, Mongolia and North Eastern China and spend their winters in Gujarat.
Other commonly seen water birds are also in plenty in Vadla and your camera will have a gala time clicking away.
Timings: 6 am to sunset everyday
Entry fees: None.
Best time to visit: Winter months – October to February.
How to reach: It is 90km from Ahmedabad and ideal to drive by personal or hired car.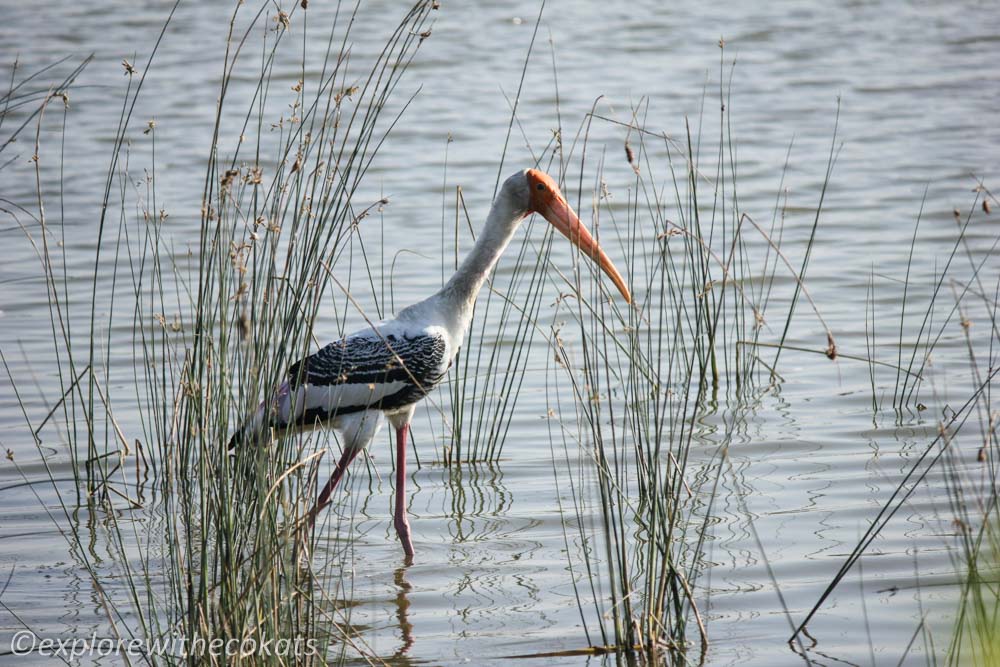 Pariej Lake
Another wetland called Pariej is located in the Kheda district of Gujarat. Because of its location it is closer to 2 cities in Gujarat – Ahmedabad and Vadodara. If you happen to visit Pariej in February, you will be welcomed by the pink blanket of lotuses. A Pheasant tailed jacana will be going around his business and you will notice a lot of moorhens trying to catch their breakfast. Pied kingfishers may dart around and painted storks may just pose pretty for you. That's Pariej for you.
Timings: 6am to 6pm
Entry fees: Free
Best time to visit: Winter mornings
How to reach: It is 60km from Ahmedabad and ideal to drive by personal or hired car.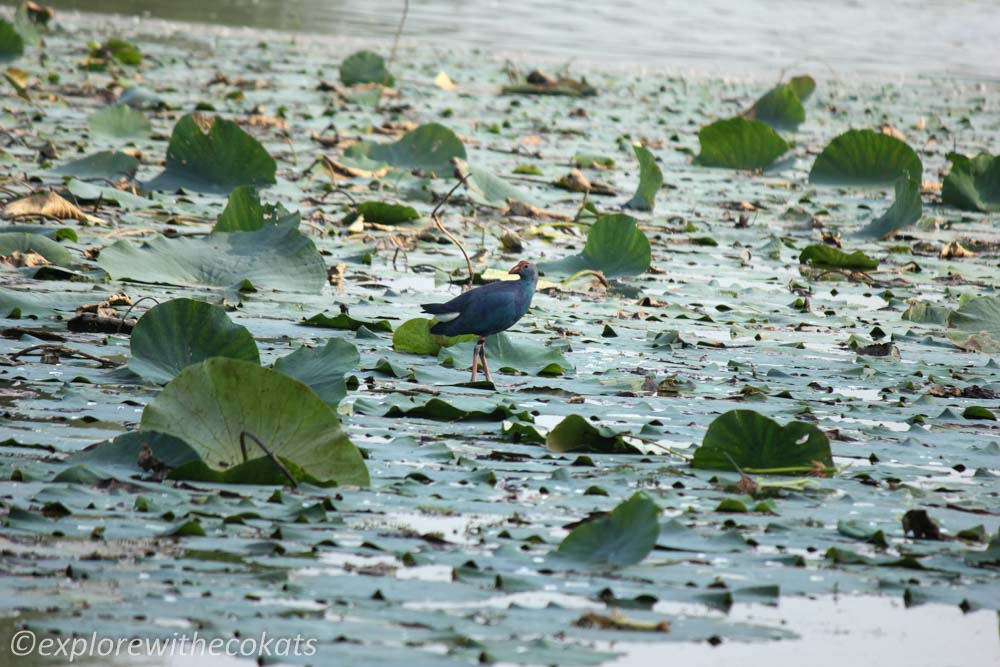 Indroda Park
Indroda Nature park is a game changer for terrestrial birds and a must visit place for birdwatching community. Yes, it has a zoo but the number of birds you see on the trees and the vicinity are phenomenal. Indroda Nature Park (INP) is spread over an area of about 400 hectare in Gandhinagar- and is divided in two parts – the western part is Indroda Nature Park and the eastern part is Wilderness Park.
Most commonly seen birds here are Indian peafowl – hundreds of them dancing, eating, singing, 3 types of kingfishers, Coppersmith barbet, spotted owlet, painted storks, rose ringed parakeet and so many more.
Timings: 8am to 6pm
Entry fees: Rs. 30/person. Parking fees extra depending on type of vehicle.
Best time to visit: All around the year in morning.
How to reach: It is 25km from Ahmedabad and ideal to drive by personal or hired car.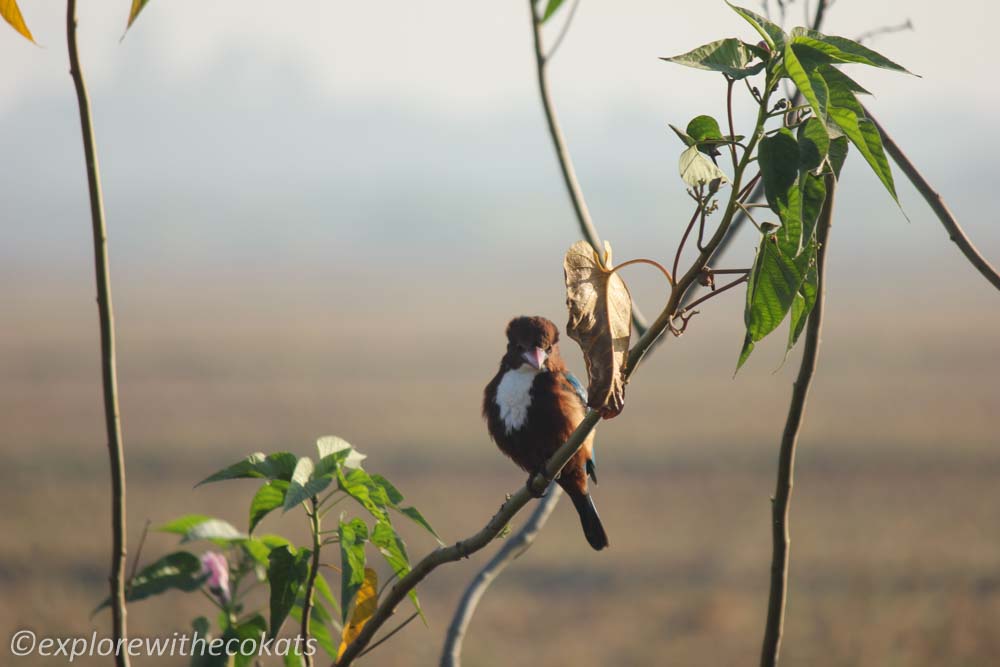 How to have a sustainable trip for Birdwatching destinations around Ahmedabad?
Wear camouflage colours which will easily blend with the surrounding – gree and brown shades work the best around wetlands.
Do not make noises when you spot a bird, it may get distracted and fly.
Do not wear perfumes or body spray in the desert.
You may carry water and food but do not picnic in these areas as most of them are wildlife
If you liked this blog you will probably like The Wildlife Blog Collection which is a new compilation of 70 short stories celebrating some of the most memorable, entrancing and exciting wildlife moments as told by top nature writers from across the globe. From the discovery of a clouded leopard in Borneo's degraded rainforests, to an audience with an African crowned eagle and its unlucky prey in Kenya, to the unexpected wildlife of England after dark, there are incredible moments to uncover. You can secure your copy today here. Avail 38% discount for pre-booking as the book releases on 14th February 2019.
Disclaimer: This post contains affiliate links. It means it adds no extra cost to you if you book through the link but I get a referral bonus which helps me earn a little to keep this website up and running.