While moving from Nubra valley to Leh in our car, the landscape changed a little – from bare, rugged terrain of mountains to something green. A dash of orange colour in those greens caught my eye and I asked the driver what it was. 'Leh berry' was his answer. I was intrigued with the lined up shrubs and how beautiful they looked against those bare mountains and hence went on to ask if they were edible, how they tasted, was anything was made out of them, etc. etc.
The driver stopped the car, disappeared in those green bushes and got some Leh berry for us to taste. It tasted bitter and sour and had only a dash of sweetness which was hardly recognizable. He went on to inform us that the berry supposedly has disease fighting abilities and reduces mountain sickness if consumed my people. It supposedly improves the memory, strength and fitness of the local community. He promised us to take us to the Leh market where we could buy the packed juice called 'Leh Berry juice'.
More questions followed with the driver while we drove towards Leh. Lucky for us we did not have to wait to get back to the city to connect to wifi and then google all this information. Our driven enlightened us that he has seen similar berries in other cold and dry regions in India like Garhwal in Uttarakhand, Spiti and Kinnaur in Himachal Pradesh and parts of Sikkim and Arunachal Pradesh. The fruit is exceptionally resistant to extreme winters as it is a wild shrub and thrives along riverbanks and hill slopes. Some locals have started commercially farming Leh berry or Seabuckthorn and now making a healthy living by making juice and supplying all year round. The juice, which is cited to be extremely healthy, has seen its way in many shopping malls and online stores.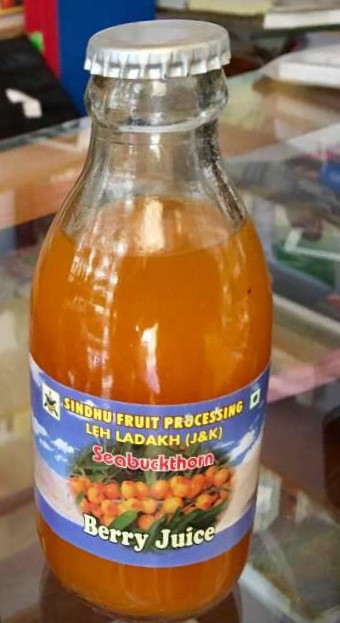 While the name Leh berry made sense, the only thing the driver could not tell us was the origin of the name Seabuckthorn. It has one more name called Hippophae which originates from the Greek words hippo = "horse" and phaos = "to shine" and is due to the ancient Greek use of sea buckthorn leaves as horse fodder to make their coats shine more. The species name rhamnoides means "resembling the Rhamnus", referring to the buckthorn plant. That did not make sense to me so I am just going to call it Leh Berry – also because it sounds so much cooler!