While doing my course in Rotterdam, I had a weekend to myself. I wanted to check out Brussels as it was only 2.5 hours train ride away and i wanted to get out of the Netherlands. While discussing with a friend who tried to convince me not to waste my weekend, I decided to do one day in Brussels instead of two. I googled enough so that my one day in Brussels is fun and fulfilling.
I took a train from Rotterdam Centraal station to Brussels Central Station on a relatively rainy day (ouch!). The rain was quite heavy when I reached and I instantly decided to take the Hop On Hop Off bus as walking on foot with an umbrella and the cold wind (it was 8 degrees that day) was just impossible. The buses leave from outside the Central station and are extremely convenient as there is an audio guide in several languages and tickets are available for 24 or 48 hours. There are 2 lines which you can make the most of Brussels in one day:
Line 1 or blue line– Cathedral, the St Hubertus Galleries, the Casino, the Rue Neuve shopping area, The Royal Palace with the Green Houses, the Atomium with Mini-Europe, the Basilica, the St-Géry quarter and the Grand Place with Manneken Pis. Duration: 90 minutes.
Line 2 or red line – Mont des Arts, the Sablon area, the Louise district, Victor Horta museum, The Cambre Wood and Abbey, Cinquantenaire and the European Institutions. Duration: 60 minutes.
I took the line 2 and decided to get down at European parliament so as to be indoors for a bit and give the rain a miss. The strategy was to complete the highlights from both lines.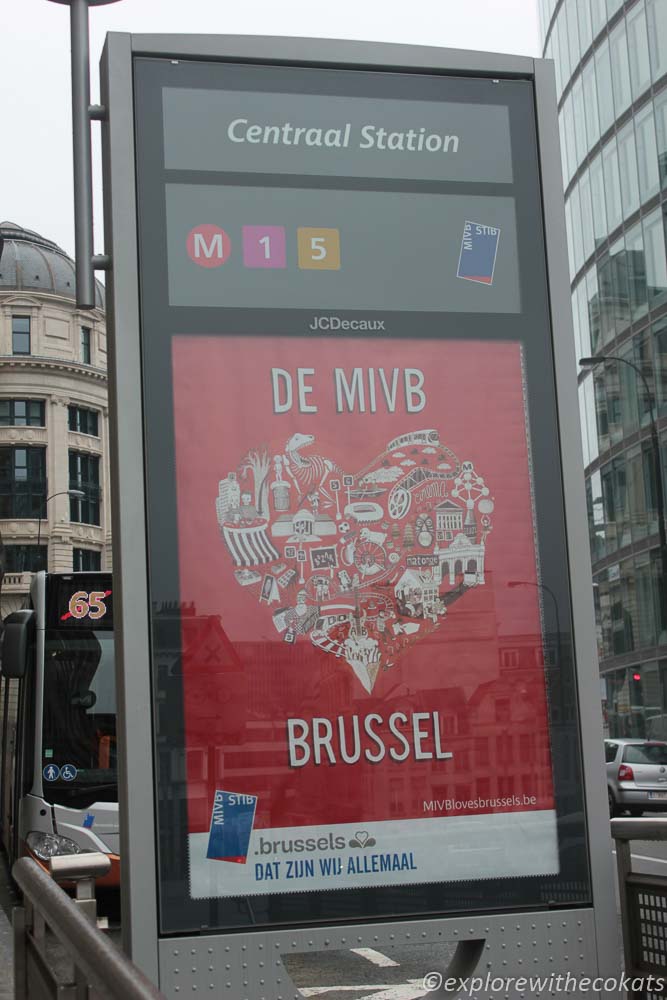 European Parliament
Brussels is referred to as the capital of Europe due to the presence of The European Parliament. There are several of the European institutions in the area like the Parlamentarium, the European Parliament museum, House of European History and Parliament Hemicycle. While tourists are allowed to visit to all, for Parliament Hemicycle allows, only on certain hours of the week after thorough checking of you and your belongings. 
The Parlamentarium lets you learn about the history and functions on the European Parliament and is open daily until 6:00 p.m and is free. An audio guide helps you to wander around and know everything on your pace. The Parlamentarium is fully accessible for visitors with special needs. There are free lockers and toilets, a souvenir shop and a large cafeteria offering drinks and snacks. 
Depending upon the time availability you can spend an hour or half a day here. I spent close to an hour and rushed out to see that the heavy rains had given way to just some drizzle.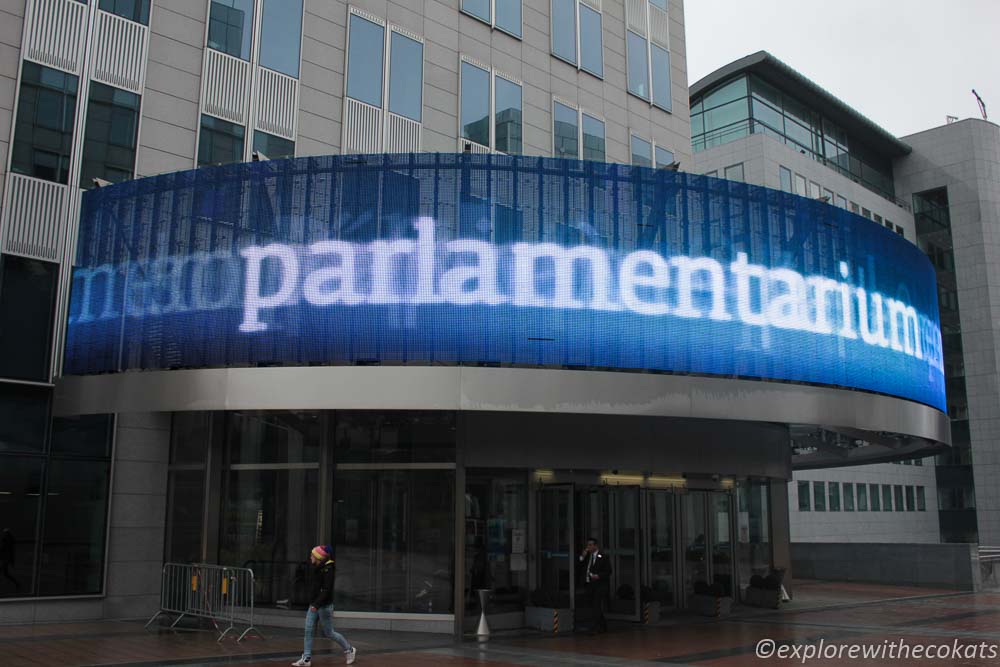 Enjoy the parks and gardens (even if it is just one day in Brussels)
Brussels has over a dozen parks and gardens that need tourist attention to visit. Some are situated near a museum or some in city centre. Each has a unique identity and offers comfort for resting, walking dogs, jogging or picnic for locals and tourists alike. I happened to visit these two:
Mont des Arts: It is an elevated park that offers breathtaking views of the city. From here, you can visibly see the Grand Place and the City Hall. 
Parc du Cinquantenaire: It is spread in the area of 30 hectares and includes not only a garden but various spacious gardens, an arched centerpiece, and 3 museums (Cinquantenaire Museum, vintage car museum, and the Royal Museum of the Armed Forces and of Military History). The garden is free but museums are not. I had to skip the museums as it had very less time.
There are many others such as Serres Royales De Laeken, Bois de la Cambre, Parc de Bruxelles and Place du Petit Sablon.
Enjoy the cartoon walk
Brussels is extremely popular for graffiti and cartoons characters donning the city buildings and you can find them all the Brussels pentagon area. The idea of converting empty walls of buildings into comic walls and large murals depicting characters started in mid nineties. Over 50 comic strip murals adorn the walls in Brussels to this day. There is a Comic Book Route you can follow to explore them all.
If you have time, you may visit Belgian Comic Strip Center and if you are a fan of Snowy and Tintin, the Tintin museum (Hergé Museum) is must visit. Entry is free on every first Sunday of the month otherwise 12 euros per person (as of 2019).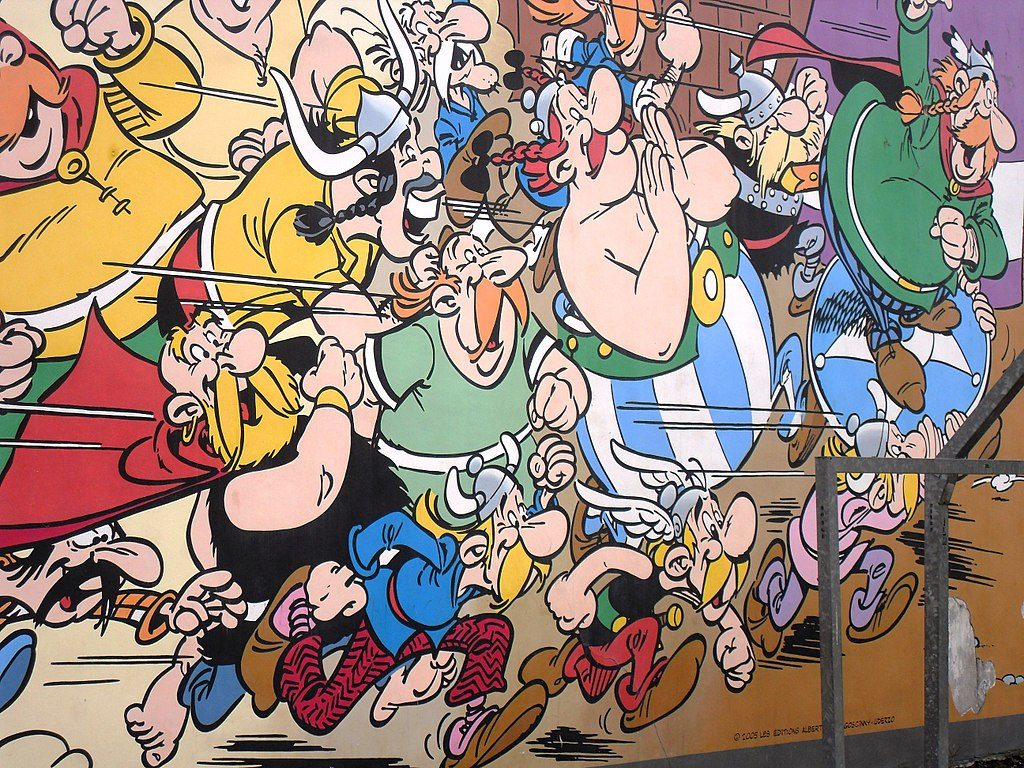 Museums
There are many museums that you can visit during one day in Brussels which have free entry on some days. Royal Museum of the Armed Forces and of Military History, Musical Instruments Museum (MIM), Royal Museums of Fine Arts of Belgium, and Museum of Natural Sciences are free to the public on the first Wednesday of each month. If you time your visit well, you can definitely enjoy these cultural experiences to your heart's content!
Pay respect to the churches
Most of the city's churches are free for visit or ask for a small donation from tourists. It is worth visiting and glancing at the beautifully delicate and intricately-designed facades. Cathedral of St. National Basilica of the Sacred Heart which is inspired by the Basilique du Sacré-Coeur in Paris, is a huge building that holds Church celebrations as well as conferences and exhibitions. It has a restaurant, a theatre, a Catholic radio station, and two museums.
Other churches worth visiting are Michael and St. Gudula and Church of Our Lady of Laeken.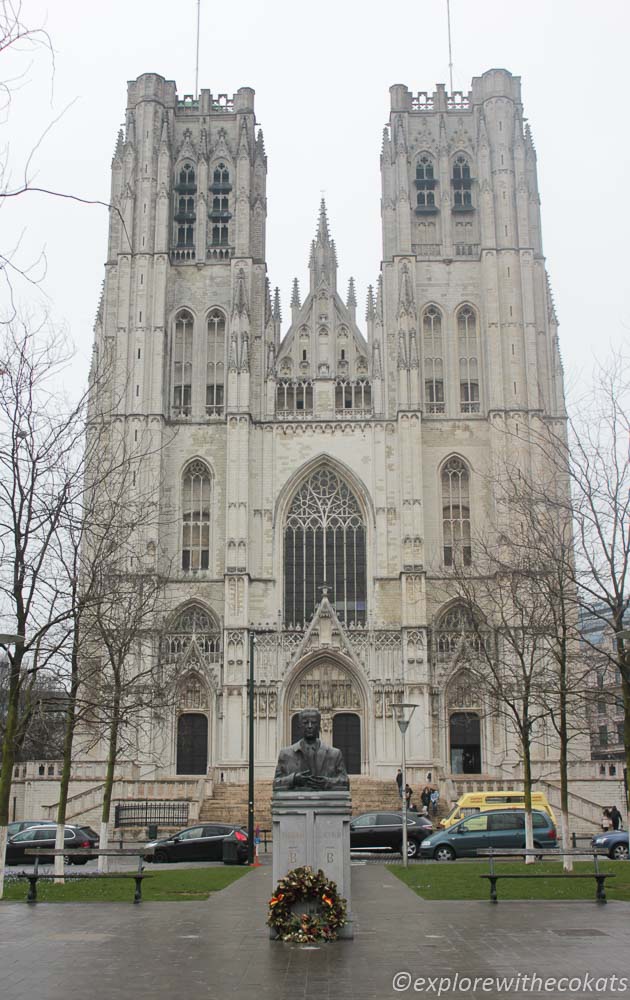 Atomium
Originally built for the Brussels World's Fair (Expo) in 1958, the Atomium was only supposed to last for 6 months, but it became so popular that it wasn't taken apart. The Atomium represents 9 atoms of a unit cell of an iron crystal and in 102 meters tall. It is one of the most important parts of Brussels landscape now. 
You can visit the interior comes with an entrance fee. However, viewing it from the outside is as amazing too and free! I had my home brought a sandwich in the surrounding Heysel Exhibition Park area, till the next bus came in and I hopped into the next spot.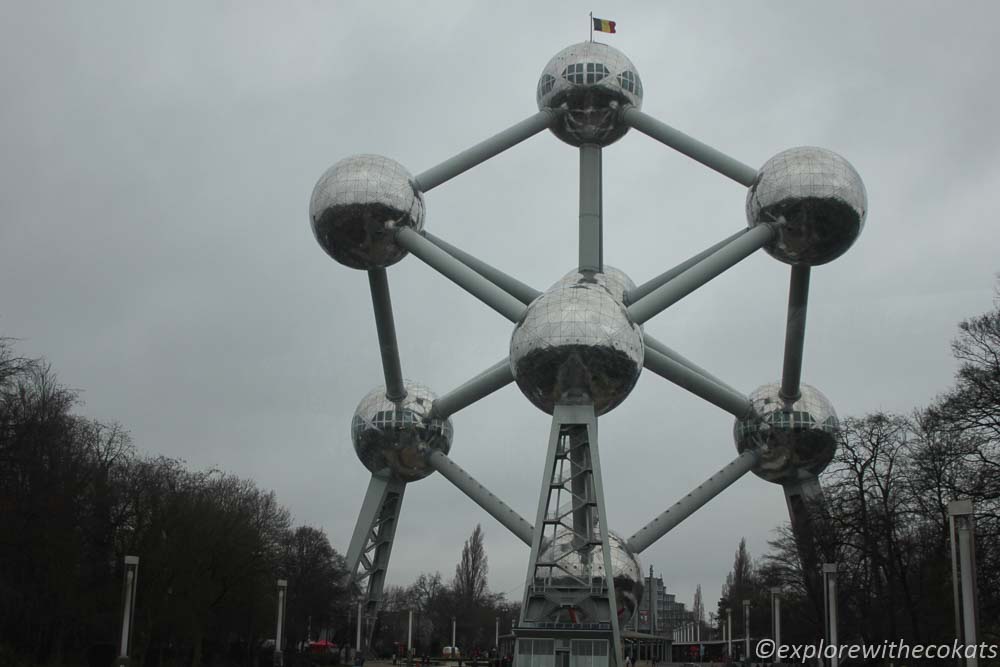 The Grand Palace
The Grand Palace, situated in central square is the most beautiful town squares in Europe and has rightfully got the UNESCO World Heritage site tag in 1998. The beauty and gothic architecture of this square is stunning with the 315 feet tower, City Hall and Church. There are surrounding medieval guildhalls with intricately decorative roofs and statues. Every two years in August, the square is filled with a huge flower carpet in distinct decorative patterns which elevates the beauty of the square.
The square features cafes with outdoor seating, restaurants, live music and just a lot of hustle of people who are soaking in the grandeur.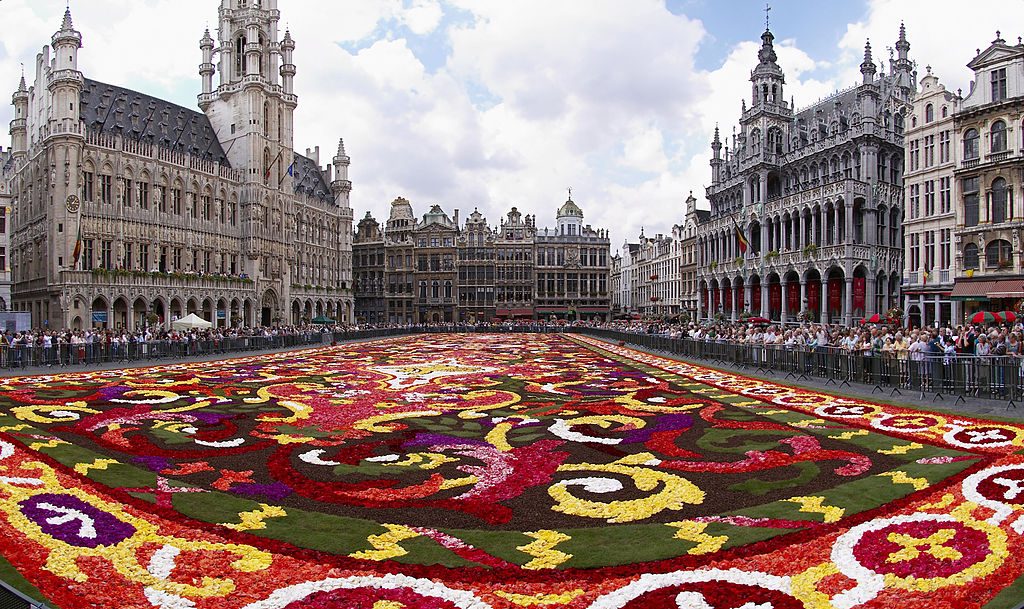 Manneken Pis, Het Zinneke and Jeanneke Pis
Brussels and the souvenirs from Brussels feature a statue of urinating boy which is popularly known as Manneken Pis. A visit to Brussels is incomplete if the statue is missed. Cross the lanes lined with souvenir shops and fight the urge of freshly baked Belgian waffles to reach a small statue of the boy. After going here I kept wondering why did he get so popular. He is so popular that his costumes change with festivities and seasons.
If time permits, the other two statues that are must visit are Zinneke and Jeanneke Pis which depict a girl and a dog urinating on pole respectively. All of these statues are free to visit and are within walking distance of each other in the city center.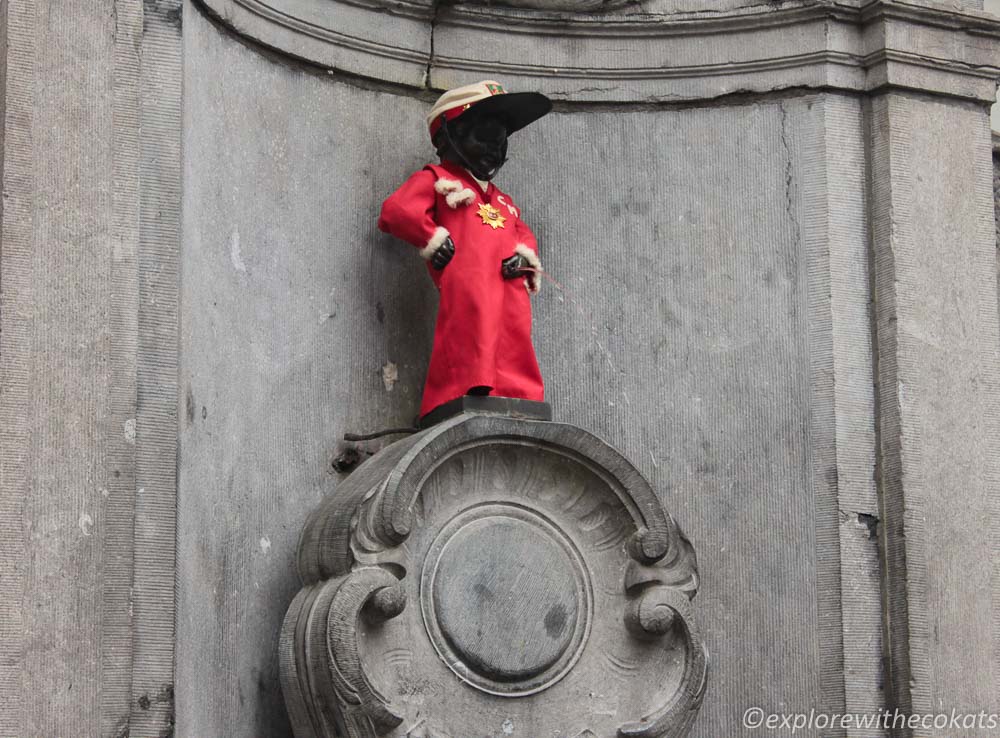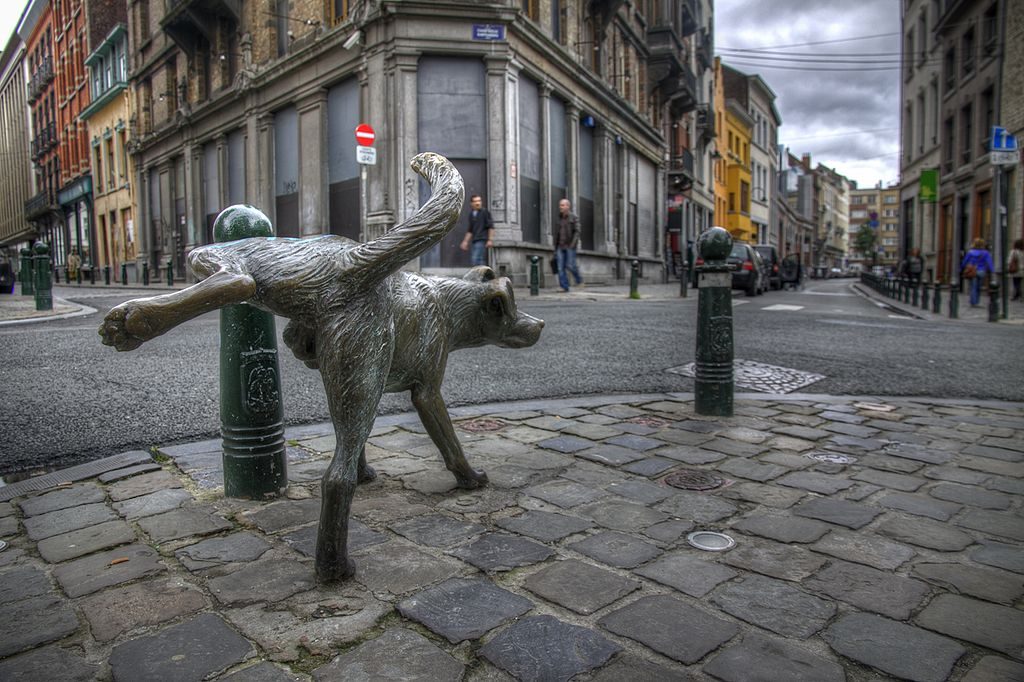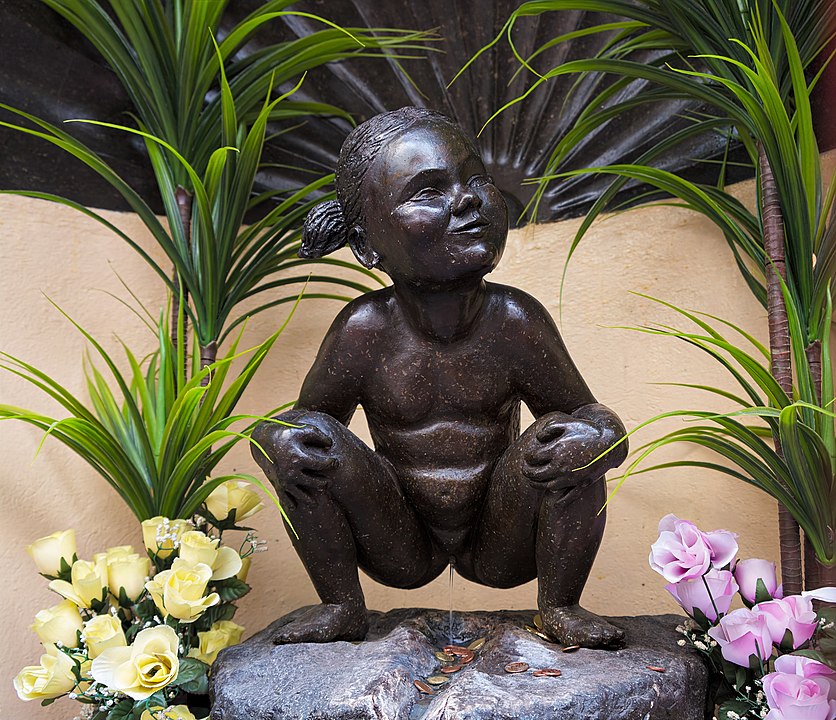 Belgian Waffles and Chocolate
It is a crime if you go to Brussels and do not indulge in Chocolate and waffles. Of Course both come at a price (sometimes even steep for chocolate) but this is the bucket list item that you cannot miss. There are busy cafes and restaurants all over the city serving waffles with a variety of toppings – Nutella, banana, strawberry, whipped cream and so much more. The more toppings you add, the waffles start becoming heavier on the gut and pocket! A standard waffle will cost you around 4-5 euros. They're hot, messy, yummy and totally worth it.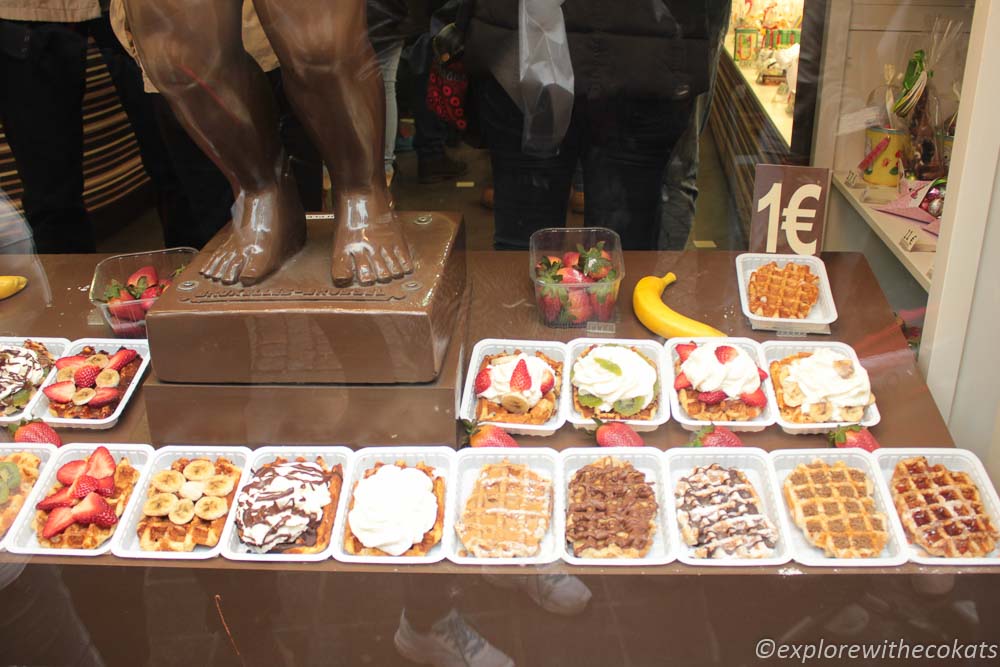 Belgian chocolate is probably the best in the world and there are chocolate shops lined in the city centre. From Godiva to Leonidas, from Côte d'Or to Neuhaus, Brussels has a wide variety of top chocolate brands made by the world's finest chocolatiers. You can try free samples before buying them. I had to find my favorite brand shop – Godiva, since I was in Brussels. 
I was as happy as a kid and couldn't contain my excitement of sampling and buying chocolates from the original shop! The chocolate dipped strawberries were the most exquisite and delicious.If you are in Brussels over the weekend, like me, Planète Chocolat, an atelier conducts demonstrations of chocolate making, at a price of €7 per person. Workshops are held on Saturday at 4pm and Sunday at 3pm.
Belgian Fries and Sauce
Belgian Fries are the third most common sight after chocolates and souvenirs. Locally known as frites, it is an extremely popular snack and locals as well as tourists line up for their cones. So the fries are served in paper cones and covered in sauce. You have the choice to choose your own sauce. However mayonnaise is the most popular option. One cone of fries would cost you around €5.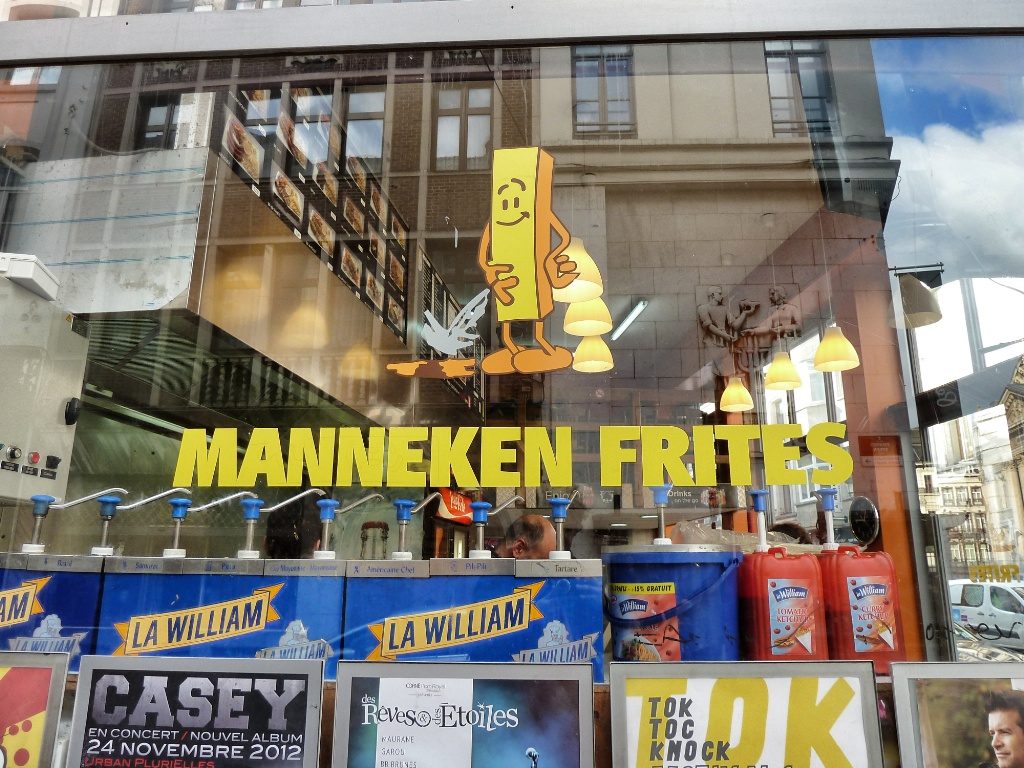 Conclusion? Is one day in Brussels worth the visit?
Brussels has an exciting historical, cultural, artistic and gastronomical side. It is a fun, walkable city welcoming tourists from all across the world. The best part is, it is good to visit all year round. So the conclusion is yes, it is a definite visit and I wish I could spill it over into 2 days so I had more time to spend in some of the museums. 
Sustainable tips for one day in Brussels
Brussels has efficient public transport, so use it instead of calling an Uber. Most places are in walking distance. Or you can opt for the Hop On Hop Off bus as I did.

If you have time you can opt for walking tours which start from the grand palace. It is best to register with them before or you can also join them at the last moment. They last a little over 4 hours so as they tell you the history and walk you through the popular places of the town. All this for a small tip at the end of the tour.

Do tip the walking tour guides, they are generally part time students and that is the only way they earn. Ideally 5 euro per person is the least you should give.

Try the locals items on streets – waffles and fries, rather than going to the chain restaurants. It gives a fair chance of earning for the locals.

Do not litter in market/palace squares. Dispose plastics in the designated waste bins.

Respect the memorials, museums, walls and old architectural buildings by not sitting on them for photo opportunity.
Disclaimer: This post contains affiliate links. It means it adds no extra cost to you if you book through the link but I get a referral bonus which helps me earn a little to keep this website up and running.
Like this post? Pin it!