Udaipur – the city of lakes is always on the list of must visit destinations in Rajasthan. Known as the 'Venice of the East', Udaipur lures every kind of tourist, traveler and backpacker. I have visited Udaipur as a tourist couple of times with my family, as a traveler when I started my Instagram and as a backpacker with my colleague, a total of 5 times.
Each visit has been amazing as I visited different places and ate food in different restaurants. In spite of visiting so many times, I can go back to it any day not only because it is only a few hours drive away from my home city – Ahmedabad but because it can just destress you. You can read more about weekend destinations from Ahmedabad, here.
So I am collating the perfect Udaipur itinerary and guide from all of these visits, which I think could be done in 3 days. Let's travel to Udaipur.
Day 1: Jagdish Temple, City Palace, Pichola lake, Jag Mandir
If you are taking the overnight train/bus to Udaipur you will probably reach early morning. So check into a hotel and relax a bit. I would highly recommend you to stay in a hostel/homestay on the banks of Pichola Lake. Zostel makes for a perfect choice!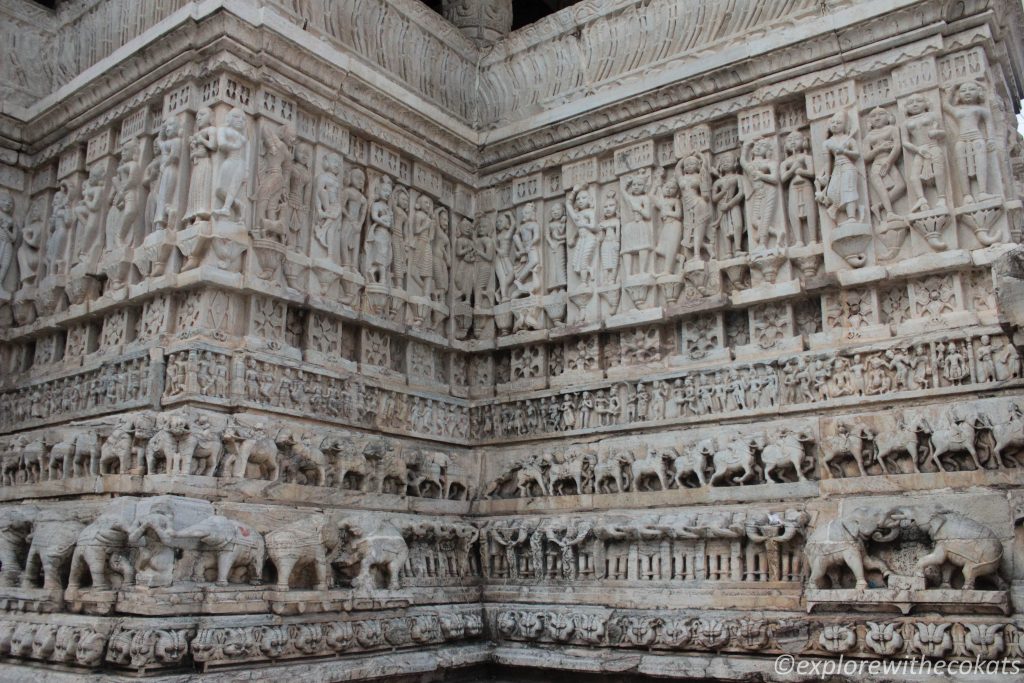 Morning:
Start the day after taking blessings from Lord Vishnu at the Jagdish temple. The carvings will definitely leave you stunned. Walk toward the Palace to start the sightseeing for the most popular spot in Udaipur – The City Palace. But do not forget to gorge on the flaky and yummy Pyaz ki Kachoris (Stuffed onion fritters) before you move in coz trust me you are going to need those calories!
City Palace is one of the largest palace complex in Rajasthan and you will feel every bit of royalty in almost every nook and corner. Located on the banks of Pichola lake with Arvalli hills as backdrop, it's extravagant opulence is noticeable everywhere. The palace is built with white marble and granite and the interiors are beautifully decorated with silver work, mirror work, inlay work, glass paintings and murals. The architecture is a fusion of European, Mughal, Chinese and Rajasthani work and the rulers then built it over 400 years!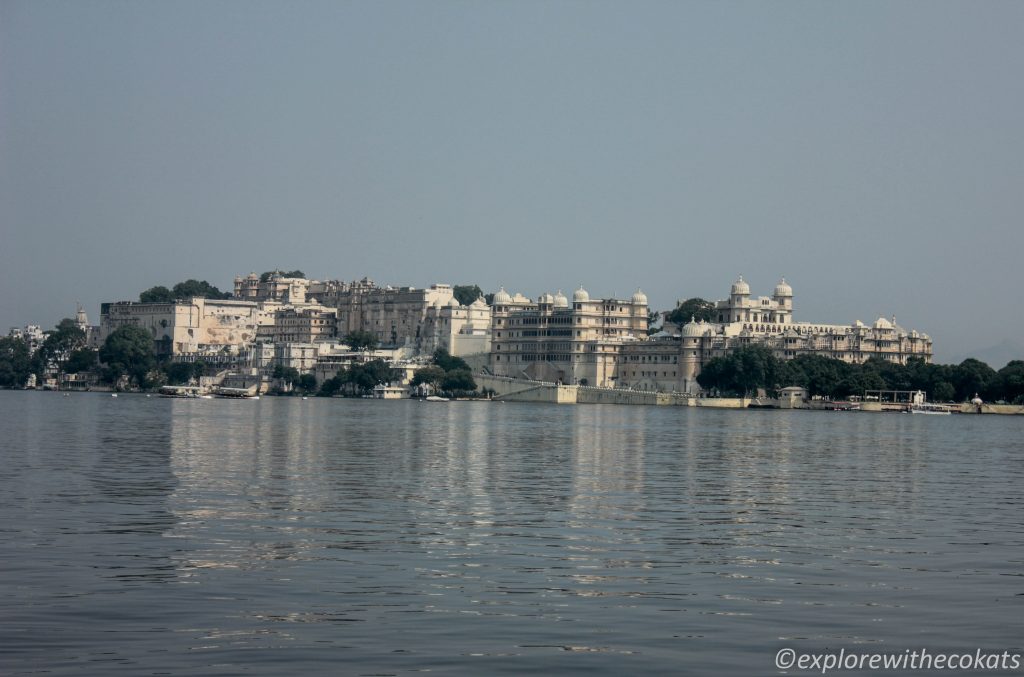 Places not to be missed within the complex are Sheesh Mahal, Mor Chowk, Surya Chopar, Krishna Vilas, Dilkhush Mahal and Suraj Gokhda.
City Palace timings: 7am to 11pm (includes entry to restaurants)
City Palace museum timings: 9am to 5pm
Entry fees: Rs. 250 for an adult and Rs. 100 for a child. Foreigners have to pay a higher fee.
Camera fees is extra but highly recommend to carry coz loads of Instagram spots!
The Udaipur city palace inside out  will easily consume over 3 hours and it would be time for lunch. You may choose to have food at the inhouse  Fatehprakash Palace and restaurant. Although expensive the views are amazing and the food is delicious.
Late Afternoon:
Post lunch, head down to the  City Palace jetty for a boat tour to see the Jag Mandir Palace riding on Pichola lake. The view of City Palace while going to Jag Mandir is worth the boat fees. Wander around Jag Mandir Palace gardens and fountains or just chill till sunset at the cafe's for a chilled beer overlooking Pichola lake and city palace.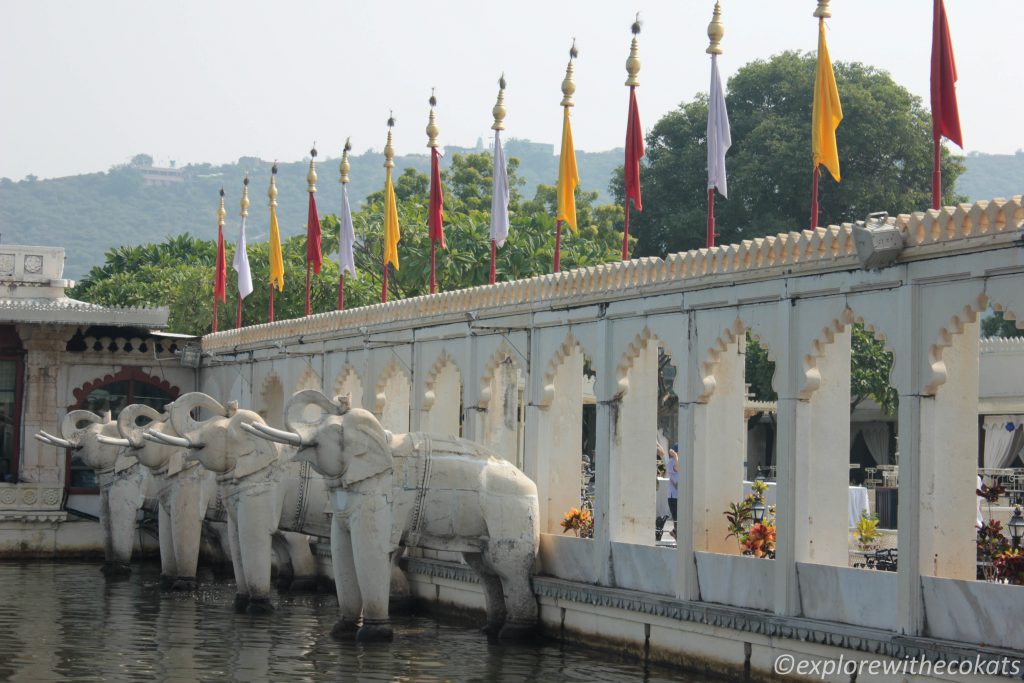 Evening:
Since this is the day of city palace, immerse yourself a bit more into the history. Watch the Mewar sound and light show 'The Legacy of Honor, which takes place at the Manek Chowk inside the palace complex between 7 – 8pm. It is an amazing way to know the history of Rajasthan. The entry fees of this separate.
Dinner:
Reserve a table at Ambrai for dinner and enjoy delectable Rajasthani treats with a gorgeous view.
Day 2: Badi lake, Shilpgram, Sajjangarh Palace, Bagore ki Haveli
Morning:
Head a little bit away from the city and towards nature. Situated 13km away from the city centre is Badi Lake also known as Jiyan Sagar. The area around lake is peaceful and tranquil which captivates you with beautiful scenery of blue waters and green hills. If you have enough time in hand you can even trek to the top of one of the hills to get amazing panoramic views of Badi lake.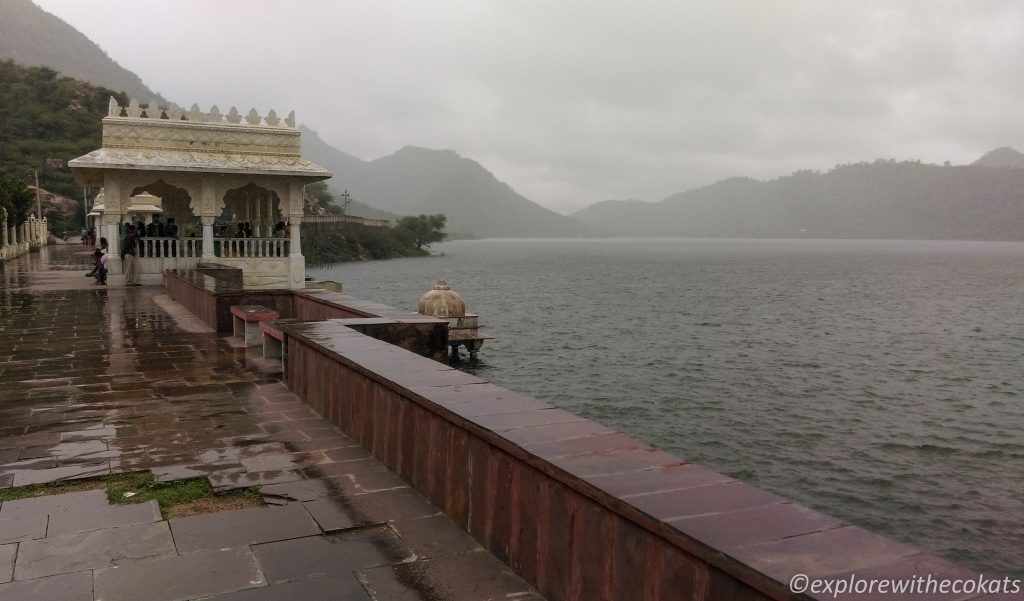 Once you leave from Badi lake and are towards the city, make a stop at Shilpgram, a living museum of traditional Rajasthani arts and crafts. It has plethora of things to see and do if you have the time. If it's quick visit, you can shop for souvenirs right here and learn a little bit about the state culture. Possible things to shop include paintings, ceramics, wooden handicrafts, clothes, etc. There are live performances in amphi theatre and you can check the timings of the same at entrance gate.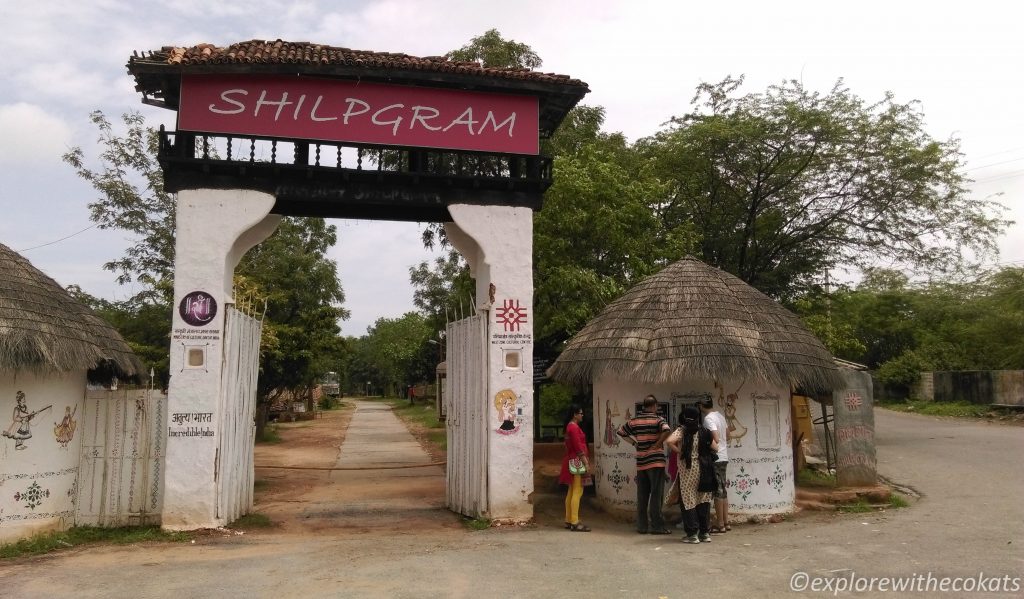 Drive across Fatehsagar Lake and take in the views of Blue waters and have lunch at one of the restaurants with lake view.
Afternoon:
After lunch, you may rest a bit at your hotel and start around 3:30pm towards Sajjangarh Palace or Monsoon Palace. It is a hilltop palatial residence, overlooking the Fateh Sagar Lake. The palace offers a panoramic view of the city's lakes, palaces and surrounding countryside. It was built chiefly to watch the monsoon clouds.
You will easily spend an hour climbing the top, soaking in the views of clouds across the Aravalli hills. Spend the late afternoon till evening around 5:30pm.
If you fancy some adventure, then you can choose to go on a ropeway to Machhala hilltop and pay respects to Karni Mata temple. You can read more about Mansapurna Karni Mata Ropeway and other Udaipur attractions here.
Evening:
Drive back to city centre to Bagore ki Haveli situated at the Gangaur Ghat. It's important to reach here early as it closes at 6:30pm. Bagore ki Haveli is a must visit gem when in Udaipur. The Haveli meaning a mansion is decorated with mirrors. It showcases paintings, murals, clothes from yesteryear's as well as intricate artworks. Prepare to be awed.
At 7pm, the haveli turns into a dance showcase with the cultural folk dance show 'Dhanohar dance'. You can buy tickets for Haveli entrance as well as this show together. This one hour of folk dance show will enthrall you with 4 types of traditional Rajasthani dance forms – Ghumar, Chari, Kalbelia and Bhavai.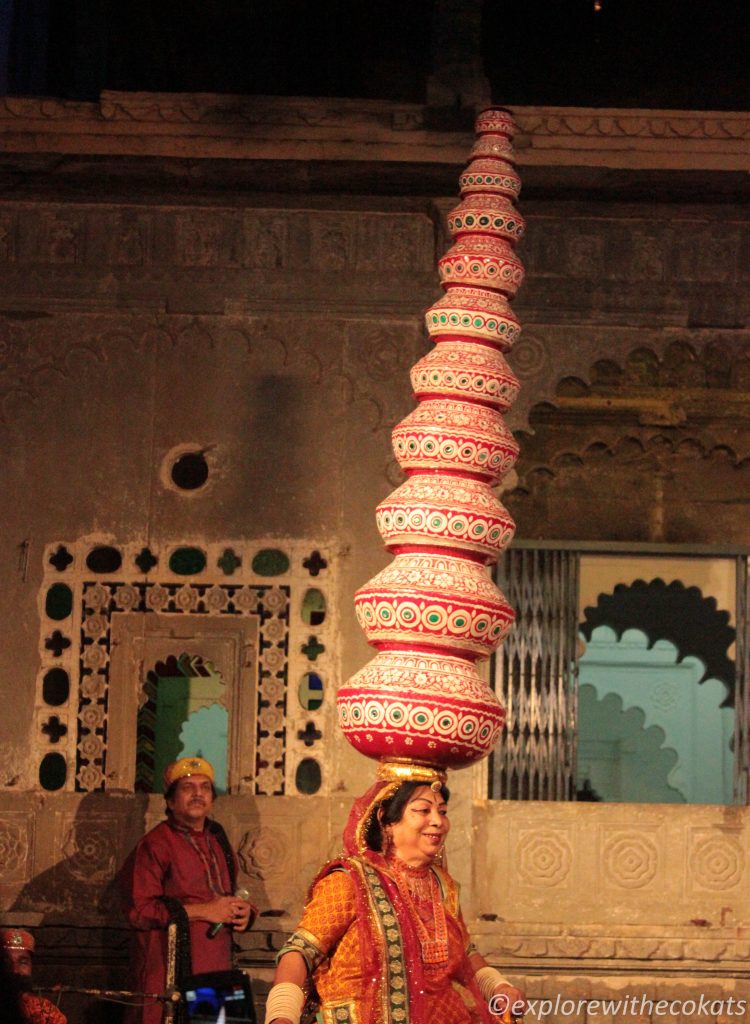 Day 3: Saheliyon ki Bari, Vintage car museum, Hathi Pol
Morning:
Saheliyon ki Bari translated as Garden for friends is a sprawling garden having marble elephants, fountains, manicured rose bushes and many trees.
The yesteryear king, Maharana Sangram Singh built this garden as a gift for his wife and the queen's 48 accompanists who came with her as dowry. The garden was build so that the queen and her friends could relax and retreat.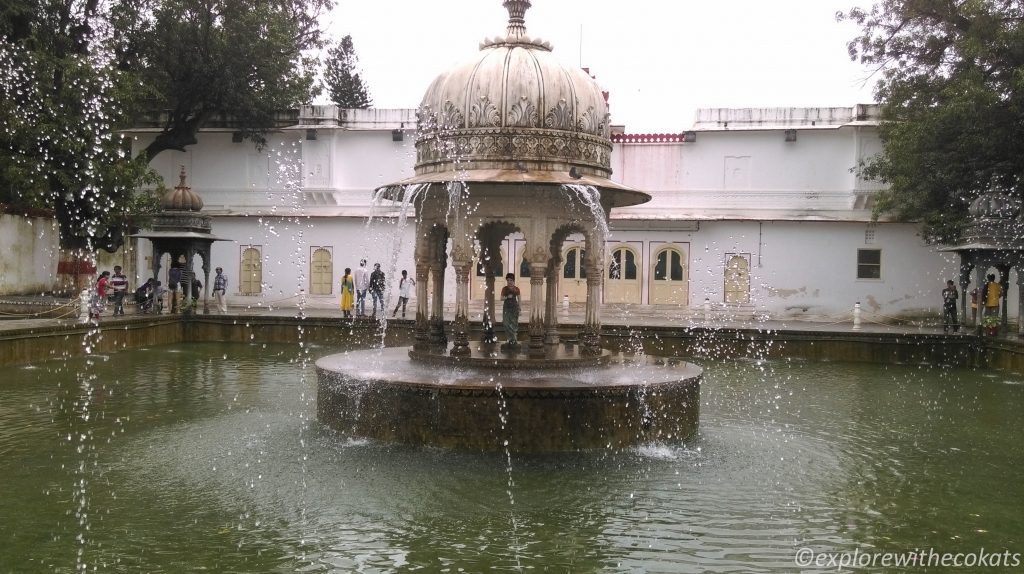 Know what it felt like royalty by visiting the Vintage and Classic Car museum. The cars showcased here were used by the Kings of Mewar in Udaipur, back then. They are so properly maintained that all of the cars are in perfect condition.
Afternoon:
No trip is complete without some retail therapy. Udaipur is as much a shopping destination as it is for visiting lakes and palaces. Wander around the colorful streets of Hathi Pol for silver jewelry, batik and bandhani clothing as well as camel leather goods. Get in the bargaining shoes, bring a big shopping bag and start shopping.
Evening:
Time to catch the train/flight back home.
Sustainable travel tips for Udaipur trip:
Cars not allowed in major portion of city centre. So think before packing that huge airbag without wheels. You can get a auto rickshaw (tuk-tuk) for hotel drop from many of the parking spaces available and allotted for tourist parking.
Blend in the culture by wearing the right clothes. Skirt and pants till knee level are good. Avoid spaghetti and tank tops. Cover your shoulders with a scarf if necessary.
Choose local food wherever possible
Do not litter tourist places. Always use a dustbin.
Do not harm the ancient palace and temple structures by carving or writing on it
Do not enter places which are closed off, there's a reason why they are closed.