Periyar National Park paints a pretty picture with Periyar waters meandering through thick green forests with picturesque mountains in the backdrop. Started mainly as tiger and elephant reserve, the 900 sq km area is centered around an artificial lake formed after the building of the Mullaperiyar Dam across Periyar and Mullayar Rivers in 1895.
How to reach
By Road – Thekaddy is the closest town and can be easily reached by road from any major cities of Kerala and Tamil Nadu.
By Train – The nearest railway station is Kottayam, at a distance of 97 km. Hire a car to reach here.
By Air – Kochi International Airport, and Madurai Airport are two of the closest airports located at the distance of 150 km and 159 km respectively. Hire a cab from airport to directly reach here.
If you have more time in hand, check my last post about detailed Kerala road trip itinerary.
Flora of Periyar National Park
The park is covered with moist deciduous forest, tropical evergreen forest with more than 150 species of grasses and over 100 species of orchids. Trees commonly spotted here are mangoes, rosewood, teak, jacarandas, Indian conifer, plum, tamarind, royal ponciana, bamboos, fig, sandalwood, etc.
Fauna of Periyar National Park
Periyar has abundant fauna biodiversity which includes tigers, elephants, malabar flying squirrel, wild boar, sambar, Indian bison, nilgai, sloth bear, jungle cat and others. With the thick forest cover, over 250 species of birds can be spotted in this park. Famous for the Malabar grey hornbill other birds that can be spotted are white bellied blue flycatcher, frogmouth, black necked stork, darter, steppe eagle, brahminy kite, etc.
Over 40 species of reptiles and 150 species of butterflies are also found in the Periyar National park.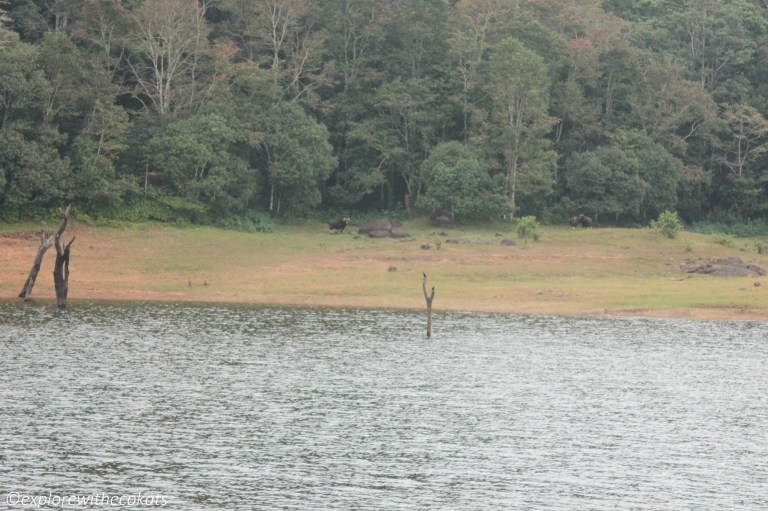 Best time to visit and weather of Periyar National Park
The temperature ranges from 15 ºC to 34 ºC and the best time to visit is in winters – November to January. The park is closed during monsoon – June to October.
Wildlife Safari in Periyar National Park
The most common thing people do at Periyar Tiger Reserve is take a boat ride on the lake. The boat has a two tire and you are allotted seats in the boat. Top tire is the best for better viewing options. Its duration is 1.5 hours.  We did the same and being a cloudy day saw only a couple of common water birds – Cormorant and Darter and a herd of wild elephants and Indian bison. We got a ticket on the spot after 30 minutes waiting. Online booking is also available on the Kerala tourism website. The boat ride timings are 7:30 am to 9:00 am, 9:30 am to 11:00 am, 11:15 am- 12:45 pm, 1:45 pm to 3:15 pm and 3:30 pm to 5:00 pm and it is ideal to reach there one hour before the ride begins.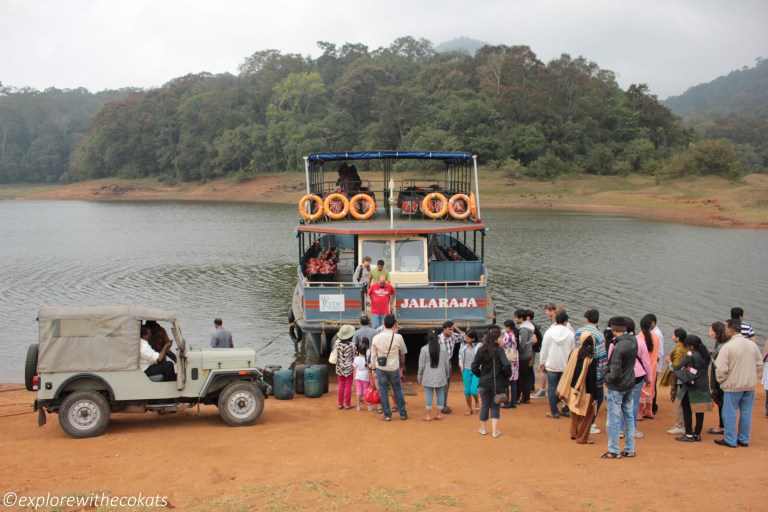 We actually wanted to do bamboo rafting which is a full day activity from 8 am to 5pm which includes a three hour bamboo rafting and a three hour nature walk.  There are more chances of spotting birds and other mammals when you are actually doing the jungle trail but it was closed on that particular day for some reason. We did not have a spare day so had to settle for the boat ride.
There are a lot of other ways to spend time in Periyar National Park. Some of them are listed below so you can plan properly.
You have to pay entry fees of Rs. 35 per person to enter the main park. As per the activity chosen, the value will be different.
Jungle Patrol – This is a guide night activity in the park.  You can get its information and updated fee structure here.
Bamboo Rafting – 8am to 5pm full day activity for Rs. 1500 per person
Boat ride – Rs. 240 per person
Jeep safari – between 5:30 am to 4:40 pm and costs Rs. 4000
Tiger Trail – It is a trekking and camping programme for 2 night and 3 nights. The trail covers an area of 20 to 35 km. The accommodation is in the middle of resort and costs Rs. 6000 per person.
Nature walk – A guide day trek for wildlife enthusiast costs Rs. 220 per person
Jungle camp – This is a tented accommodation programme and is the real jungle deal wherein you stay in the middle of jungle. Its costs Rs. 12000 for an overnight camp and min. 4 people need to book this.
Guided nature walks– 7:00 am to 10:00 pm and 2:00 pm to 5:00 pm. Costs Rs. 750 per person.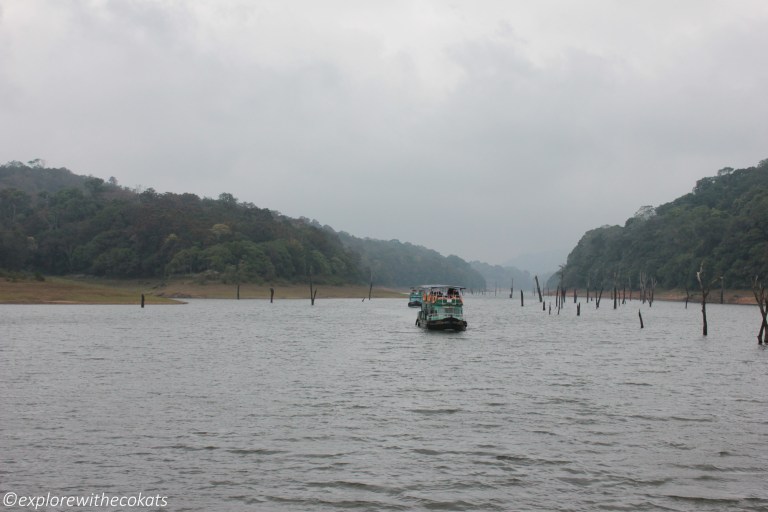 Tips for sustainable Periyar National Park trip:
Do not under any circumstances get down from your jeep ride.
Wear camouflage colours which will easily blend with the jungle – shades of green, brown and grey.
It is totally understandable to get excited when you spot a wild animal in jungle. But do not make noises – whisper if necessary.
Do not wear perfumes or body spray in the jungle.
You will get super thirsty and hungry during the safari/rafting. Carry water and food but do not dispose plastic or leftover food in jungle. Keep it in your bag and dispose safely once you return to hotel.
Do not feed anything to wild animals.
Try not to point out at birds. There have been instances where raptors take notice of pointing towards small, weak exotic birds and hunt them down.
And last and not the least, respect the guide. If you do not spot a wild animal do not blame them, remember you're in a jungle and not a zoo to have surety of spotting animals.