Very few people have heard about Phnom Penh let alone know that it is the capital of Cambodia. Tourists generally fly in and out of Siem Reap and Phnom Penh losses out on visitors. Little do people know that it is definitely a city worth visiting and adding on their travel list. I have made a 2 day itinerary for a quick visit to all important places in Phnom Penh based on how we traveled. You can also check Cambodia detailed travel guide.
It is important to know before you plan a trip here is, everything closes at 5pm – even tourists places, hence best is to start early and end early. So choose flying into the Phnom Penh late evening or night so you can relax that day and start sightseeing the next day.
Day 1: Morning:
Independence Monument of Phnom Penh
Start with a quick visit to the independence monument which was built in the centre of the city to pay respect to Cambodia's independence from France in 1953. The monument is inspired from Khmer temple at Angkor Wat and is shaped as lotus stupa.
Ideal Duration of visit: 10-15 minutes, Entry fees: Free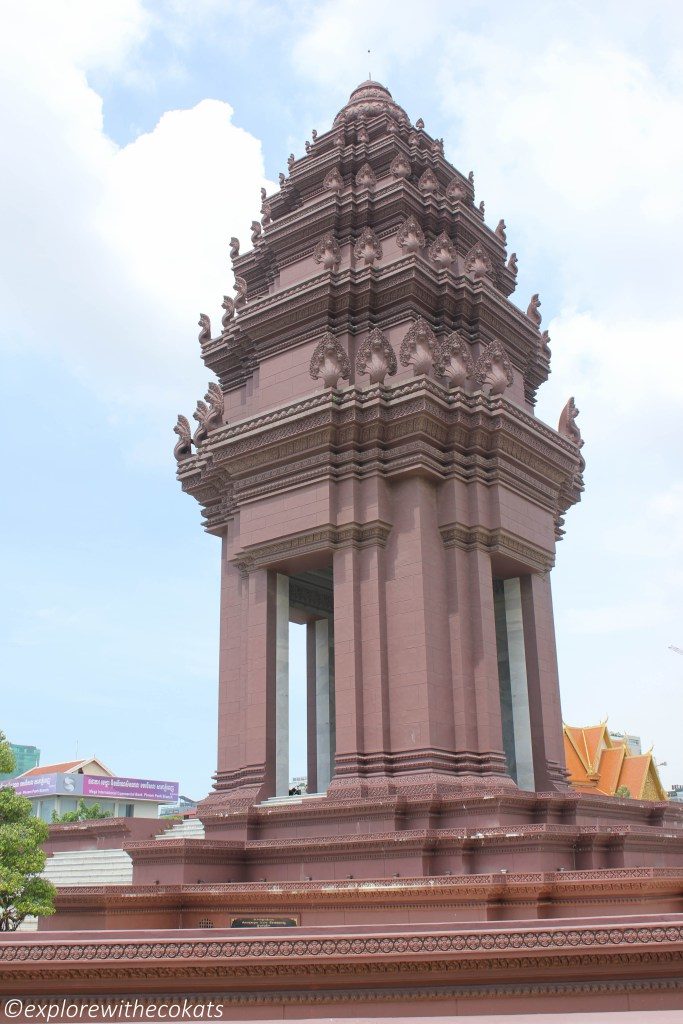 Wat Phnom temple
Phnom Penh means Hill of Penh was earlier known as Krong Chaktomok. According to a legend, a lady found statues of the Buddha inside a tree floating in the River. With the help of villagers she built a temple by increasing the height of a hill which is now known as Wat Phnom.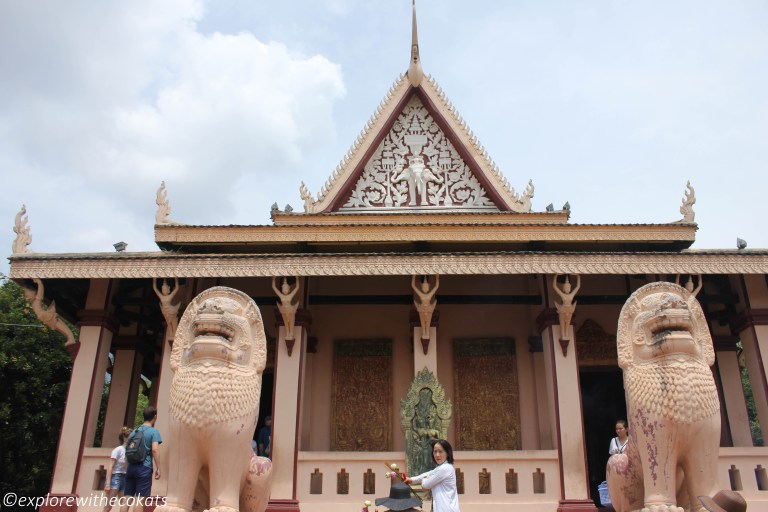 After climbing a few flights of stairs you'll across a man releasing sparrows if paid money. This is Buddhist belief of saving all beings from suffering while gaining personal merits. It was heart wrenching to see these birds being forced out of cage, just to be caught back again to put in the cage.
The interior of temple has a central altar complex with a large bronze seated Buddha surrounded by other statues, flowers, fruits, candles and other items of devotion. The walls and ceiling is covered with murals, especially of Buddha's earlier reincarnations.
Ideal duration of visit: 1 – 1.5 hours, Entry fees: US$1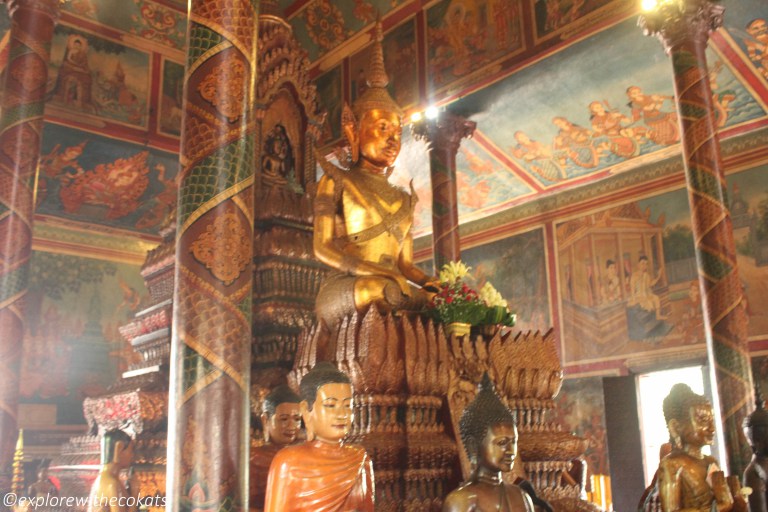 Midday
National Museum of Phnom Penh
If you are interested in archeology, then National Museum is a dream stop for you. The structure of the museum is gorgeous and the insides are also maintained nicely with proper interpretation of each artifact. Take some rest around one of the benches in the central courtyard which has variety of fishes floating in ponds.
Ideal duration of visit: 2 – 2.5 hours, Entry fees: US$10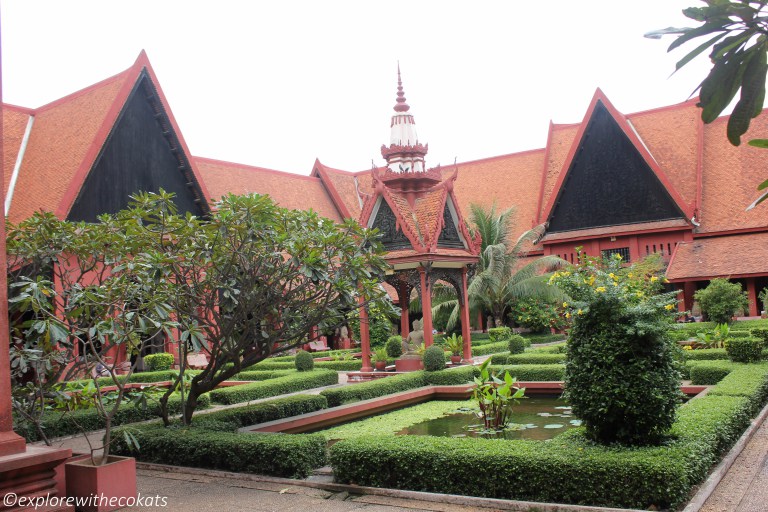 Afternoon
Royal Palace and Silver Pagoda
Have a relaxed lunch as the Palace opens at 2pm. It is closed from 11am to 2pm. Royal Palace has a stunning architecture that awes all the locals and tourists alike. It was the official residence of the King of Cambodia.  The palace occupies several acres of land in the city center with several buildings inside the complex.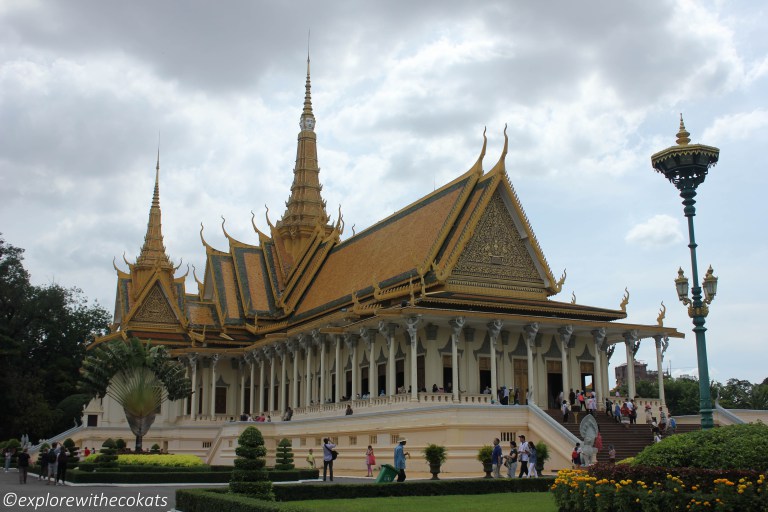 Check out the most impressive Throne Hall and sink in to see the royal and majestic interiors. You can observe the hall from doors and windows and not allowed to go inside. Don't even try as there are guards.
Aside from the Throne Hall, the other important building is the Silver Pagoda. The pagoda is named so as it is made of 5329 silver tiles covering the pagoda floor weighing almost five tones. You will not see it as it covered by tiles except a small portion near the entrance is exposed. You will know this only if you get a guide (we didn't but we overheard one of them).
Get awed with 2 statues of Buddha – a large one referred to as the Emerald Buddha and a small solid-gold Buddha encrusted with 2,086 diamonds. The gem above the forehead weighs 25 carats and another on the chest is a hefty 20 carats.
Ideal duration of visit: 1.5 hours, Entry fees: US$10
Evening
If you want to relax by the riverfront head over to Sisowath Quay. Watch the sun go down with some ice coffee or food. Or if you are feeling adventurous head over to the Nagaworld Casino to try your luck in any of the 100 games spread to 3 floors. There is live dance performance every 30 minutes which you can enjoy while enjoying a drink or pastry from their shop. The food options are amazing as well. Nagaworld has its own duty free shopping in the basement in case you want to shop.
Ideal duration of visit: 1 – 12 hours (depends), Entry fees: Free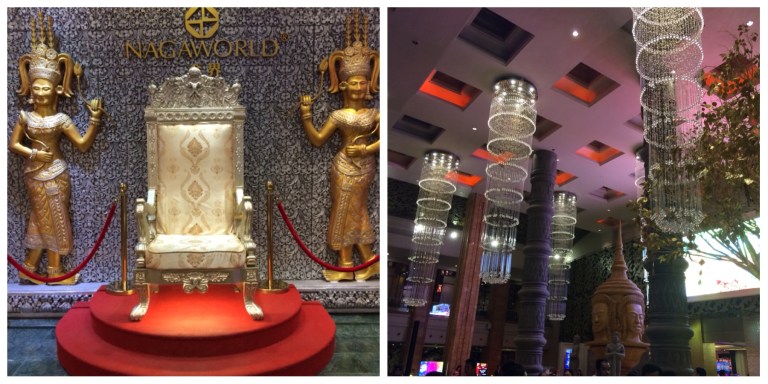 Day 2
Morning: The Killing Fields – Choeung Ek Genocidal Center
The Killing Fields are located 15 kilometers from Phnom Penh and will require a lot of time in commuting and in the field so dedicating an entire morning is best. Hire a tuk-tuk for the day (US$25) and it will cover everything.
The country underwent horrifying genocide that was carried out by the Khmer Rouge regime (led by Pol Pot) between 1975 and 1979. Out of the 7 million population then, over 1.7 million died of starvation, execution, disease or overwork. Some estimates place the death toll even higher. The Khmer Rouge apparently arrested and killed all people from previous regime – including soldiers, politicians and bureaucrats, educated, capitalist and city people to grow rice and other agricultural products as Pol Pot wanted to develop Cambodia into a agrarian economy like the Angkor Empire in earlier days. When people complained they were tortured and killed, including women and children. You can read in detail about the history of Cambodia from any of these books.
An audio tour around the field gave us an idea of what happened here. You still see bones and scraps of clothes on the ground. The Khmer Rouge utilized barbaric methods for killing – farm tools, bamboo, axes, and sharp sugar cane branches. One stop on the audio tour included "the killing tree" where children were held by their legs, swung against the tree and then discarded into the mass graves. It's impossible to imagine such inhumane activities done not even 50 years ago!
Ideal duration of visit: 2-3 hours, Entry fees: US$15 (includes audio tour)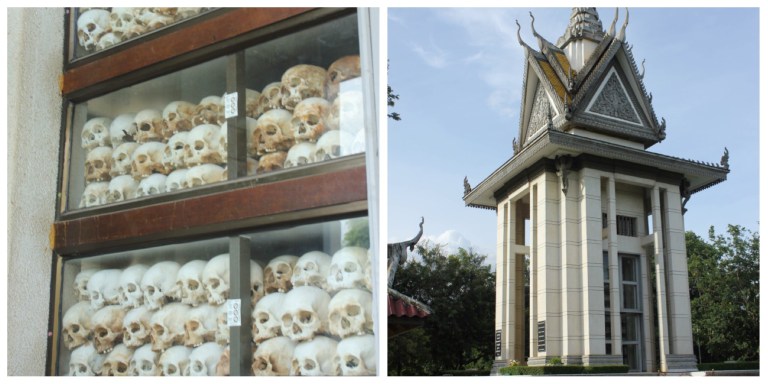 Afternoon in Phnom Penh
We were too moved to go to Tuol Sleng Genocide Museum and see some more crazy stuff so we passed on it. Instead we went to parent's home for lunch and relaxed a bit before going to Central market.
Central market is quite popular with locals and tourists alike in Phnom Penh and has cheap deals on almost everything – clothes, souvenirs, jewellery, duplicate designer bags, shoes, etc. even though it is cheap, bargain atleast 30-40% or more.
Ideal duration of visit: 2-3 hours, Entry fees: Free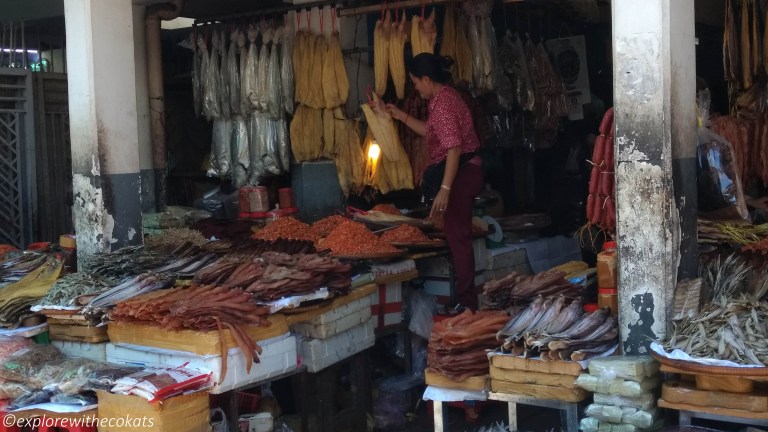 Fun fact: There are streets named after Charles De Gaulle and Jawaharlal Nehru.
Sustainable Travel Tips for Phnom Penh
Cambodia is still a developing country and has lot of poverty. Try buying food and clothes from a local market/food joint to boost their economy rather walking into a mall/food chain.
There is a lot of waste lying on the streets. But as ethical tourists do not add to it. If you do not find a bin, keep the waste with you, till you find one.
Cover your knees and shoulders at all times. It's a hot and conservative country – protect your body with clothes rather than sunscreen.
Hire local guides and tuk-tuk drivers – they will get a day's meal for their family
Drinking water – try and refill water bottles instead of buying them everytime. Hotels and restaurants have refilling facility and don't shy away from asking. You'll save money and environment.
Do not pay the beggars – at times you'll almost want to give into the grim looking expressions. They may be part of gang and your money may fund it and lead to more beggars on streets. Best is to avoid eye contact.