The question of Angkor wat worth visiting never popped for me. When I mentioned I was visiting Cambodia to my friends and social media community, everyone got super excited and started giving me enthusiastic must-do's and must visit place lists which were mostly for Angkor Wat, and went somewhat like these:
"You must take the 3 day pass, 1 day is not enough"
"There's much more to other temples than the main Angkor Temple"
"You must must must not miss the sunrise at Angkor"
"Take the hot air balloon ride, you'll regret if you don't"
I started my research about Angkor, once we booked our tickets to Phnom Penh because, well, we had to! From history of the temple, to the interpretation of each figurine, from which temple to visit to what to wear in Angkor, my Pinterest got completely loaded with Angkor pins. My ideas and expectations about Angkor went sky high and I did not know what to expect, while continuously thinking about what new will I write for my blog, which new photos will I post on Instagram that aren't there already.
I decided to ditch the research and decided to get surprised.
And surprise I did..
Reaching Siem Reap and decoding – Angkor wat worth visiting?
After spending 2 days in Phnom Penh we took an overnight bus to Siem Reap. We chose to ride with Giant Ibis bus which was a sleeper coach and so comfortable – mobile charging points, bathroom, blanket, water bottle. Slept through the night to reach at sunrise. And now I knew why people said Angkor sunrise is awesome. I could not visit the temple during sunrise, and honestly I have no regrets.
Bus charge: US$15 one way per person
After freshening up and heavy breakfast in our accommodation – we fixed up a tuk-tuk driver for the day – US$25. We reached the Angkor Wat ticket reservation centre. At 10am the crowd was heavy and lines were long. I was certainly feeling the excitement – so many people means the place ought be amazing, right? Reminded me on the long queues I stood to visit the Indian counterparts Tirumala Balaji temple, Sai Baba temple, Shirdi, Kamakhya temple, etc.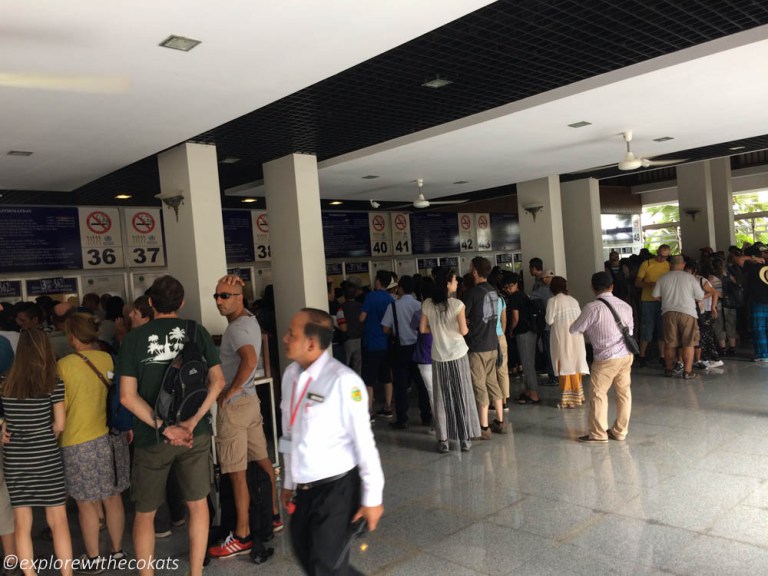 Types of passes:
1 Day: US$37
3 Day: US$62
7 Day: US$72
We only had 2 days in our hand so we stood in the 3 day pass line to get our photo clicked and printed on our entry ticket. After 30 minutes we got it done and headed off to 'Long tour' for the day. The tuk-tuk driver dropped us off to the entrance and we were surrounded by guides who promised us informative history tour. After a lot of bargaining we sealed the deal for US$20.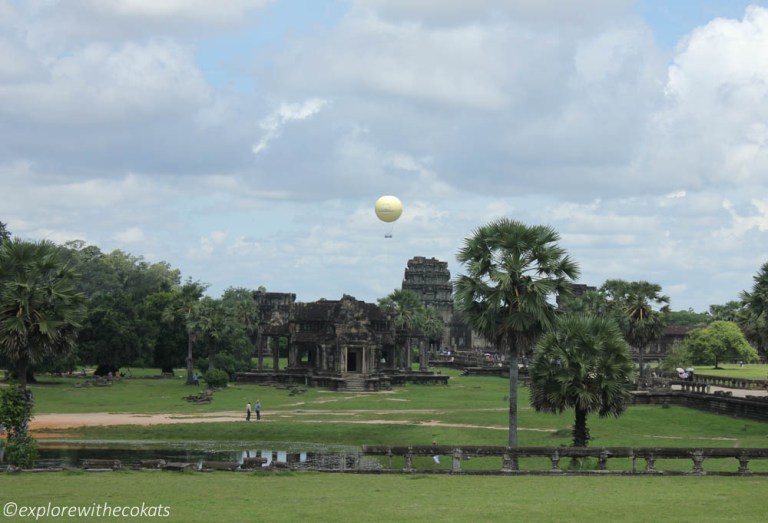 Disappointment no.1: The guide's accent made it really difficult for us to understand some important facts. Also he was hurrying up to show everything which gave us very few opportunities to photograph some really interesting structures.
For Indians like me, temple means an idol of god or goddess, adorned in beautiful clothes and jewellery which is generally in the middle of the complex. We thought we will reach there soon as we started seeing some monks/priest perform some ritual. And this is the Buddha idol we came across way before the actual complex. There were very few people around the idol. Had it been India, there wouldn't be space to breathe.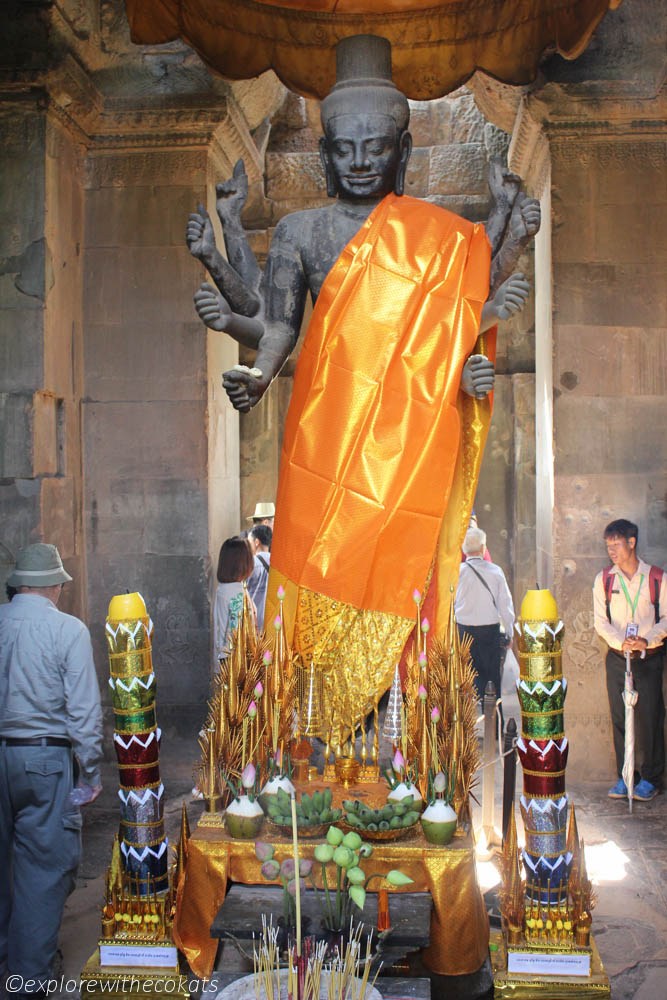 After going through the doors which were actually big rocks, we could see the Angkor temple towers and got super excited. Marveling at the many snake headed figures on the side of the walkaway we came across the 'famous' puddle of water from where tourists capture the sunrise shots.
Disappointment no.2: turn around the puddle and you will see atleast 3 dozen shops selling 3 times expensive authentic souvenirs, artifacts, paintings and clothes. Walk a little further and be ready to dodge coconut water sellers and photographers wanting to print your photo with the temple within 5 minutes.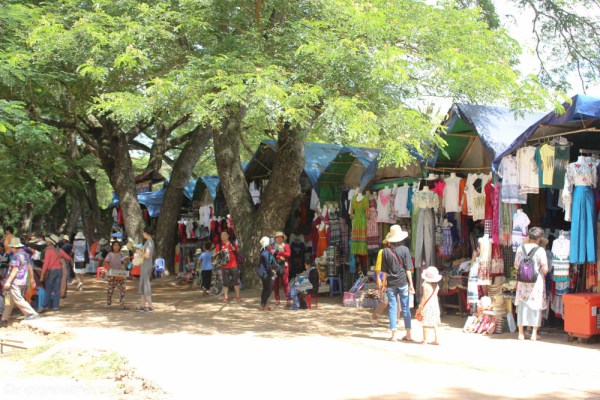 We thought, well, every famous place has its share of sellers and these were all local people trying to make a living. So we pushed forward to the main temple still trying to make sense of the history which our guide was telling us, climbing through doors of big rocks. We reached the centre of universe as denoted by a stone located in the highest tower that symbolizes the mythical mountain, Meru.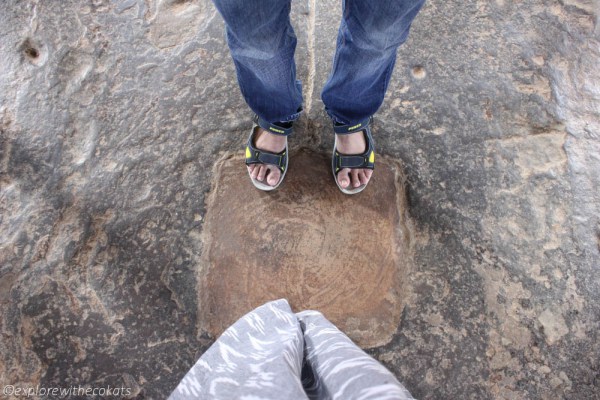 Disappointment number 3: It took us almost 2 hours to know everything and reach the main temple. There was no information/interpretation of any of the sculptures, wall carvings or towers. We had to trust our guide and keep going.
We reached the other towers wherein Cambodian kings believed that gods reside at the top of the temple. The staircase supposedly could make human go to heaven if climbed. We grabbed on to the opportunity to climb the really steep steps. By this time our guide had left us in heaven and left. We soaked in the beautiful view of Angkor from the 'heaven' and decided to climb down back to human settlement.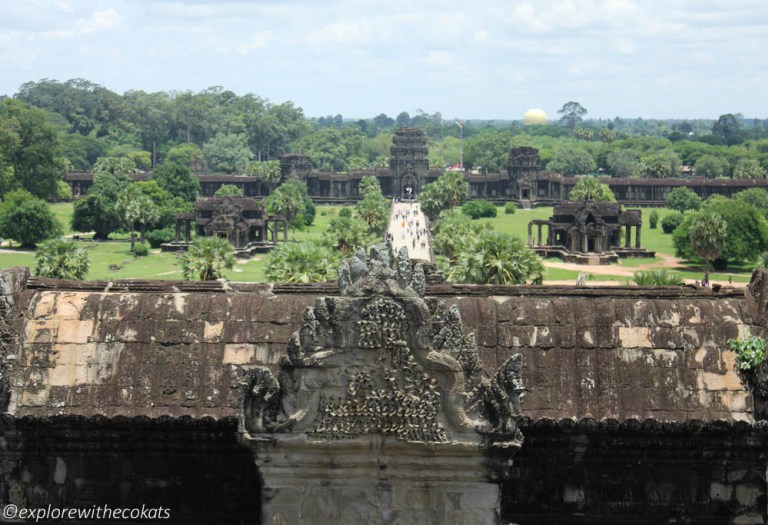 We walked back to our tuk-tuk contemplating and trying to digest all the information that our guide gave us. Yes, we were in awe – it was amazing how the Khmer king managed to built this structure but disappointed. Although I had seen few photos photos of Angkor architecture I had assumed and expected a bigger grandeur rather than a dull, decomposing, fading, eroding ancient structure forgotten in time.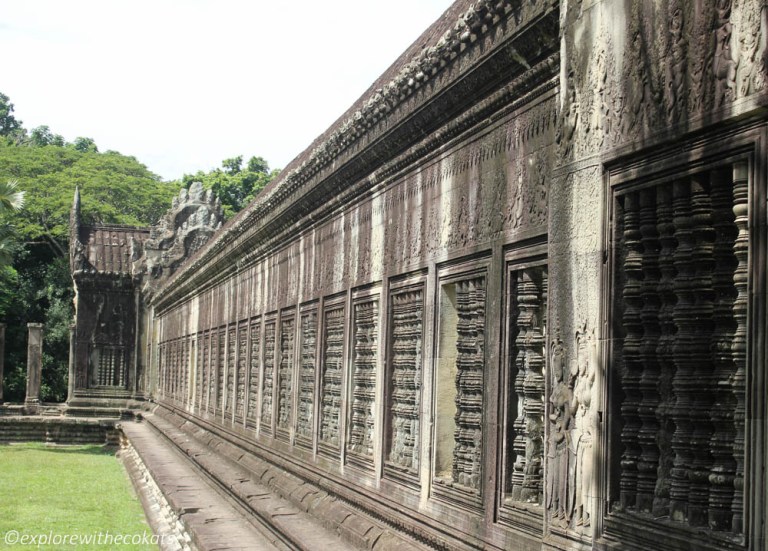 Final thoughts: Angkor Wat worth visiting?
Yes, if
1) you read its history well in advance and are able to put each structure and carving in the unending puzzle of temple complex.
2) you do not let your expectations go sky high expecting fancy stuff. Yes, it is a world heritage site but an ancient one.
3) you love ancient architecture.
4) you love visiting and ticking off must visit places listed in some list!
5) you love photography.
No, if
1) ancient history doesn't interest/baffle you (guilty)
2) you do not want to walk around with a guide at his pace.
3) you have company of elderly people. Trust me my parents had issues walking over those big rocks for such a long duration in the heat. Also there is no provision or possibility to get a wheelchair. So if you are physically challenged, avoid visiting Angkor.
4) you are expecting some interpretation in form of a placard/mural. You have to figure it all out yourself. I was particularly disappointed with this because since the restoration is going on, why not put up information in important places? If I am paying US$62 for 3 days, the least I should expect is some information somewhere instead of spending more dollars on a guide.
And finally, sustainable travel tips:
Being an ancient world heritage site which is already dwindling with age, respect the structures by not sitting on them. Sit outside the temple in the garden.
Do not harm the structures by carving or writing on it
Do not enter places which are closed off, there's a reason why they are closed.
Throw your garbage in the dustbins located at the entrance of each temple.
Choose sustainable local transport – bicycles, electric mopeds are available on rent. Even diesel tuk-tuks are available which give boost to local economy. I discourage riding elephants (yes, some tourists were using them as transport)
Planning a trip to Cambodia? Here's a travel guide for all your questions.