Luang Prabang is known for its French colonial architecture, Mekong river and grand temples. But there's something bigger to look forward to: the pristine limestone waterfalls – Kuang Si waterfalls. The aqua coloured paradise called Kuangi Si is naturally formed and you can hike to the top of the fall or decide to cool off in the pools. Whatever you decide to do, Kuang Si Waterfalls are a must visit when you are in Luang Prabang or in Laos.
How to reach Kuang Si Waterfalls
The Kuang Si Waterfalls are located 23km south of Luang Prabang and it takes about 45-60 minutes to reach from the centre of town. Reaching the waterfalls is easy and accessible, with plenty of transport options available – Tuk tuks (private or shared), public van, private car, motorbike and boat. If you are feeling a bit adventurous you can even bike to waterfalls from Luang Prabang.
Visiting hours: 8:00 to 17:30
Entrance fees: 20,000 kip per person including camera fees and entry to bear rescue centre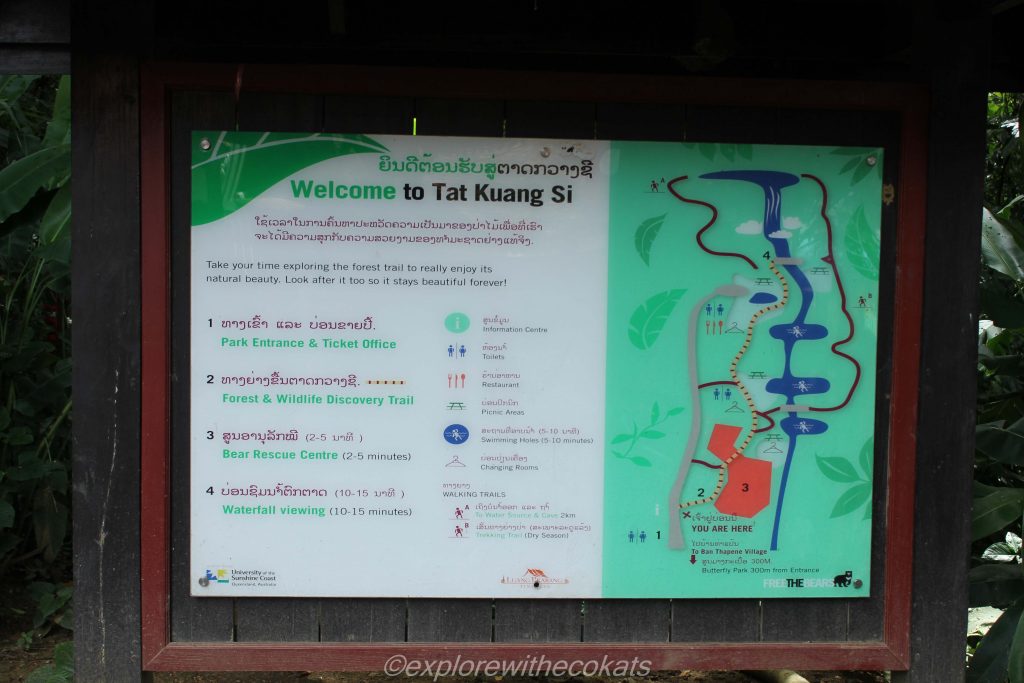 About Kuang Si Waterfalls
 When you arrive, walk along a marked trail to reach the first set of pools. You will probably see a lot of people swimming and it will most certainly tempt you to dive in. But before you do, it is best to check out the entire area, decide on the right pool and then swim in the best! Continue on the trail uphill and notice how the pools get bigger with cleaner waters. Do notice small waterfalls cascading over limestone rocks, thick trees engulfing the entire area overhead and small fishes at your feet – like a fish spa.
Once you pass the smaller pools, you'll come up to the largest fall, the gorgeous Kuang Si Waterfalls. Its time to set up the camera and click some gorgeous photos of the cascading waterfalls overlooking the jungle.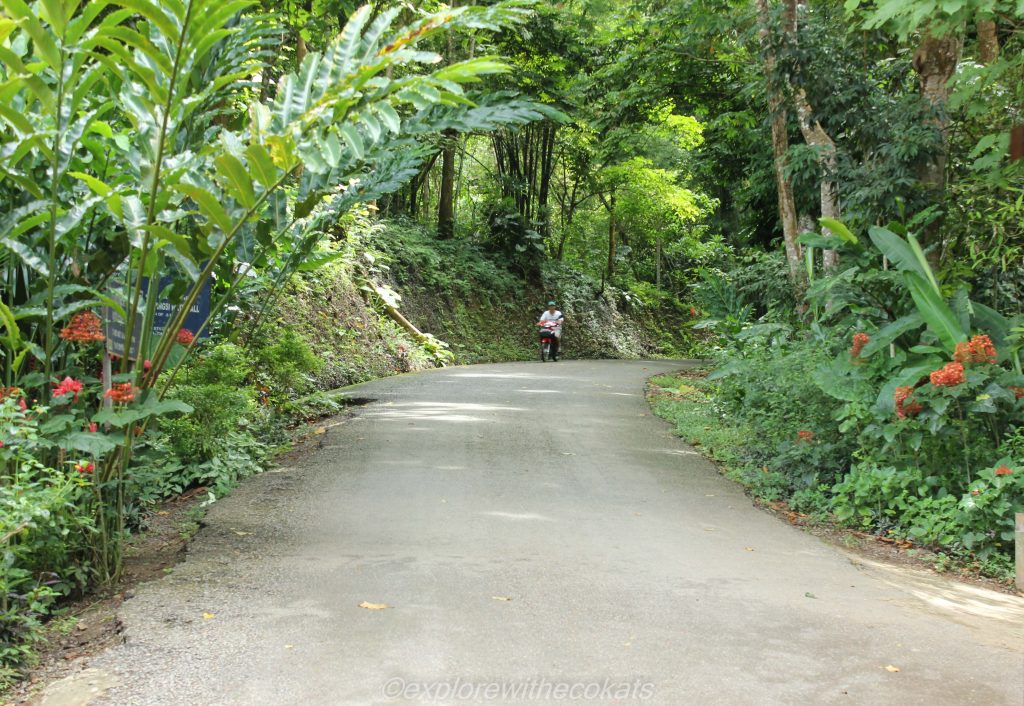 Activities that can be done at Kuang Si Waterfalls
 Trekking to the top of falls
From the biggest waterfall, on its either sides, you will find muddy steps which can take you to the top of the waterfalls. A steep yet short hike of 20 minutes will take you into the untouched and surreal world. The top is the kind of location where movies are shot and one can get amazing Instagram photos.
A steady stream of water flows a the top, before it hits the 50m drop to form the stunning waterfall. You can take a canoe ride on this stream. A small shop owner who sells water can help you go on this ride.
If you have more time in hand, trek for 3 km to reach a Secret cave near a spring and have the entire area to yourself.
Like trekking? Check a guide on Nong Khiaw not far from Kuang Si Waterfalls.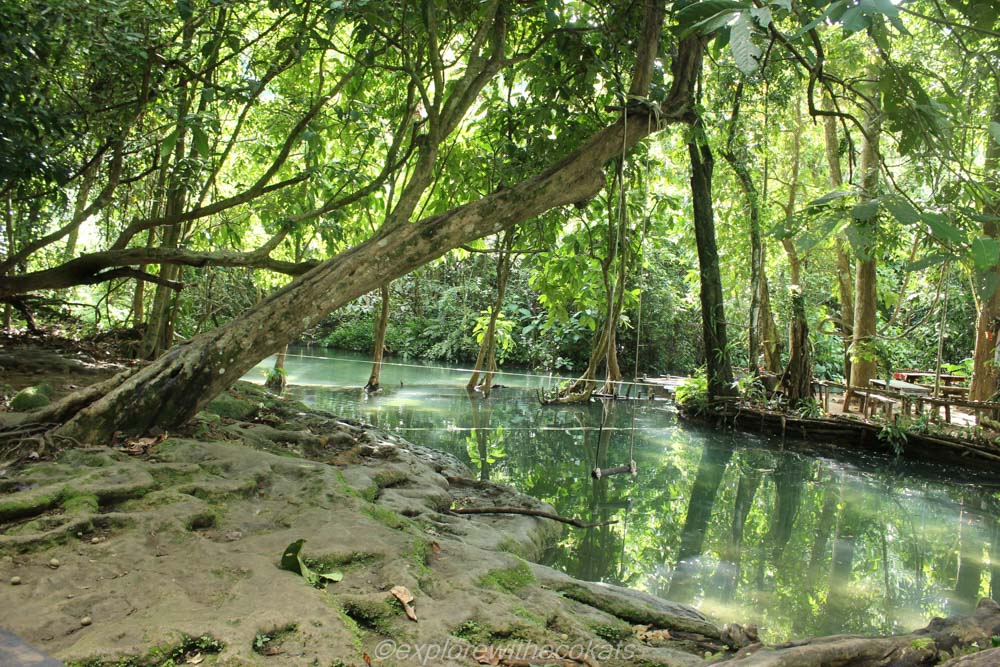 Enjoy the pristine nature
Sit down on the wooden benches set up near most pools.  Enjoy the sight of aqua colored water. Or sit down near the pool and dip your feet in the cold water for a free fish spa! Just soak in the unspoilt nature. May be having a snack here is good idea too.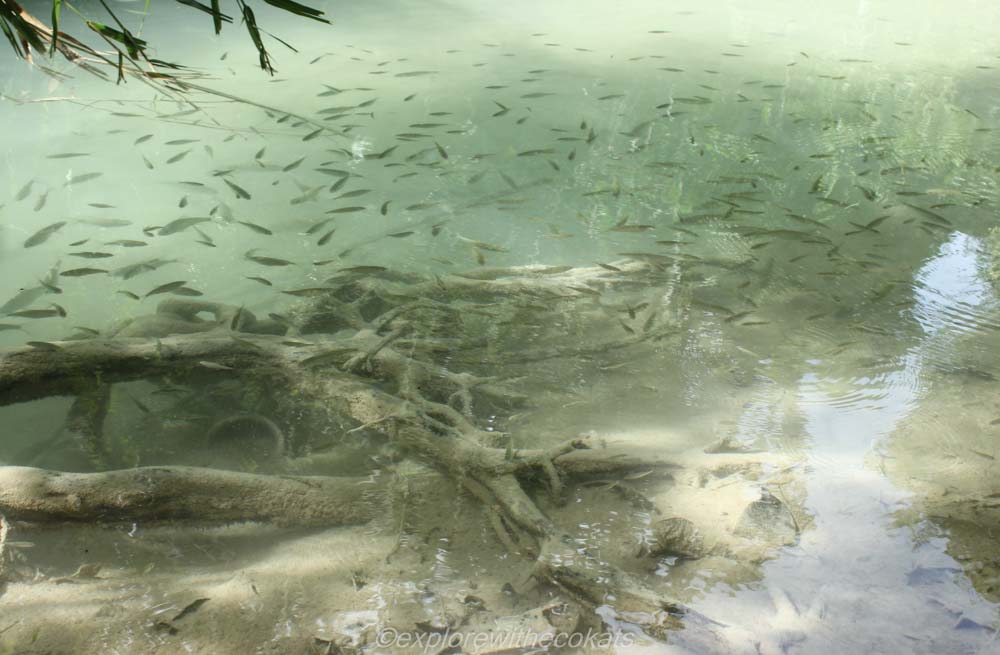 Swim in the pools
Yes, swimming in the pools is allowed unless specified in certain areas. However, diving is strictly prohibited. You need to be careful in these pool as there are deep waters in certain areas and no lifeguard on duty!
Tip: There are changing rooms for men and women before and after you take the dip.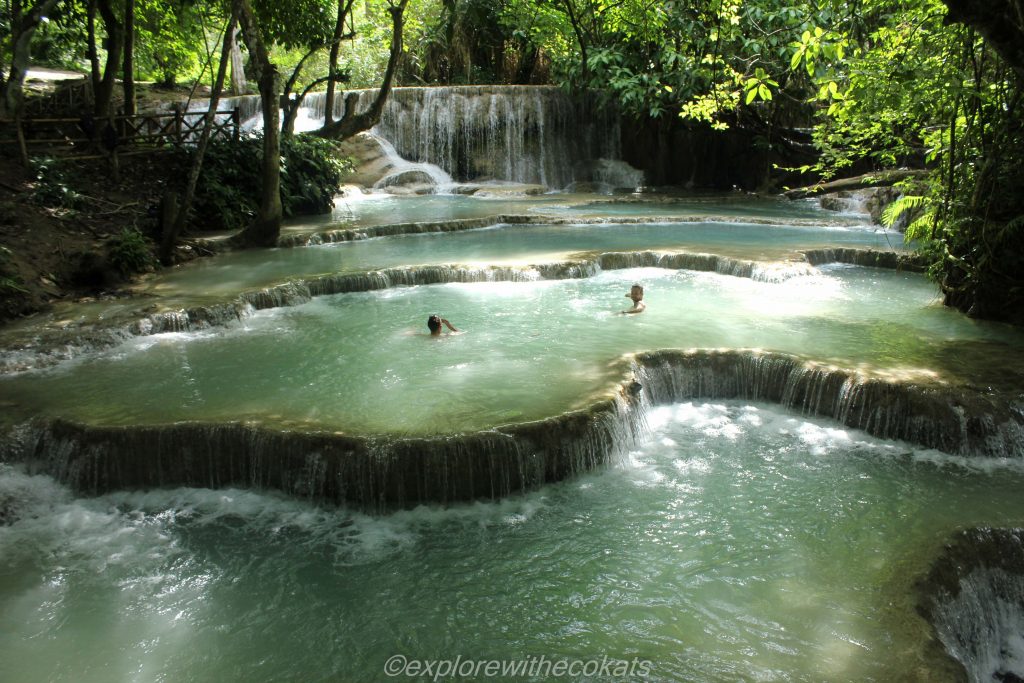 Visit the Tat Kuang Si Bear Rescue Centre
When you entre through the entrance gate, you will come across Tat Kuang Si Bear Rescue Centre even before you hike towards the waterfalls. The centre is operated by Free the Bears organization who have helped rescue and relocate more than 20 Asiatic Black Bears. See them in a playful mood or just taking a nap before you move on to the falls.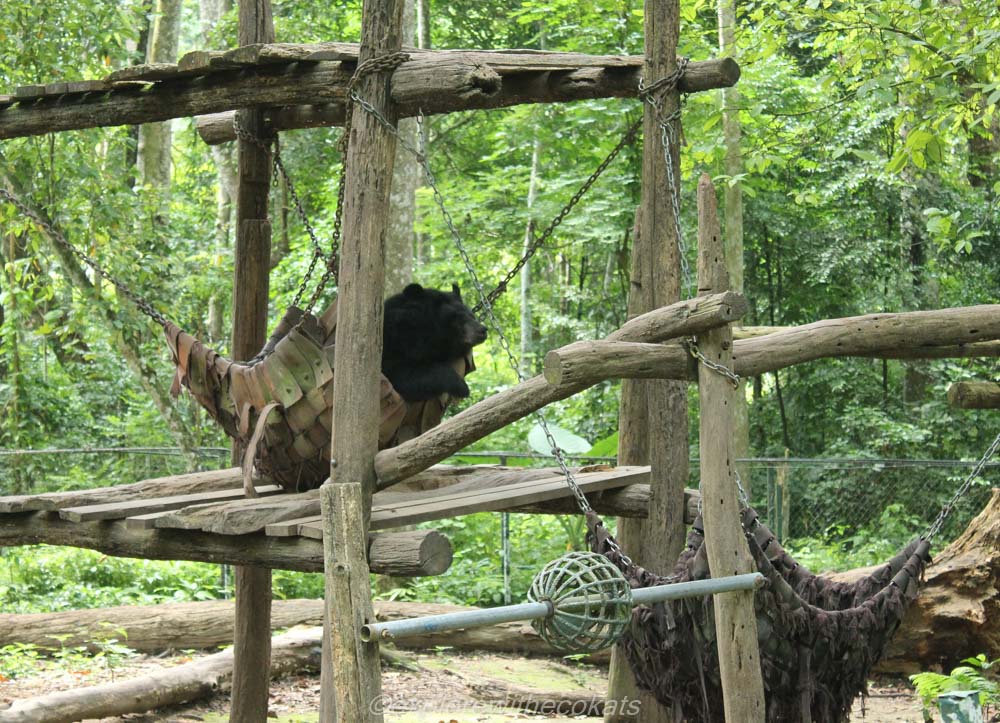 Best time to visit Kuang Si Waterfalls
The best time to visit Kuang Si Waterfalls is from November to April. The weather is pleasant and the water in the pools are settled post monsoon. However, if you happen to visit the waterfalls between May to October, the falls would have a totally different look and swimming would not be possible.
General Tips before visiting the waterfalls
Shoes – Proper walking/hiking shoes are highly recommended if you trek to the top.
Comfortable clothing – Shorts and t-shirts are ideal for this place with a change of swimming costume.
Drinking water and some snacks – Even in winter months, the jungle can get a bit humid. It is best to carry your own water and you will need a snack after the hike. There are 2 shops – one at the bottom near the pools and one at the top but they are extremely expensive.
Mosquito repellent – Thanks to the lush green forest and waterfalls, there are way too many mosquitoes for comfort. It's best to carry a mosquito repellent.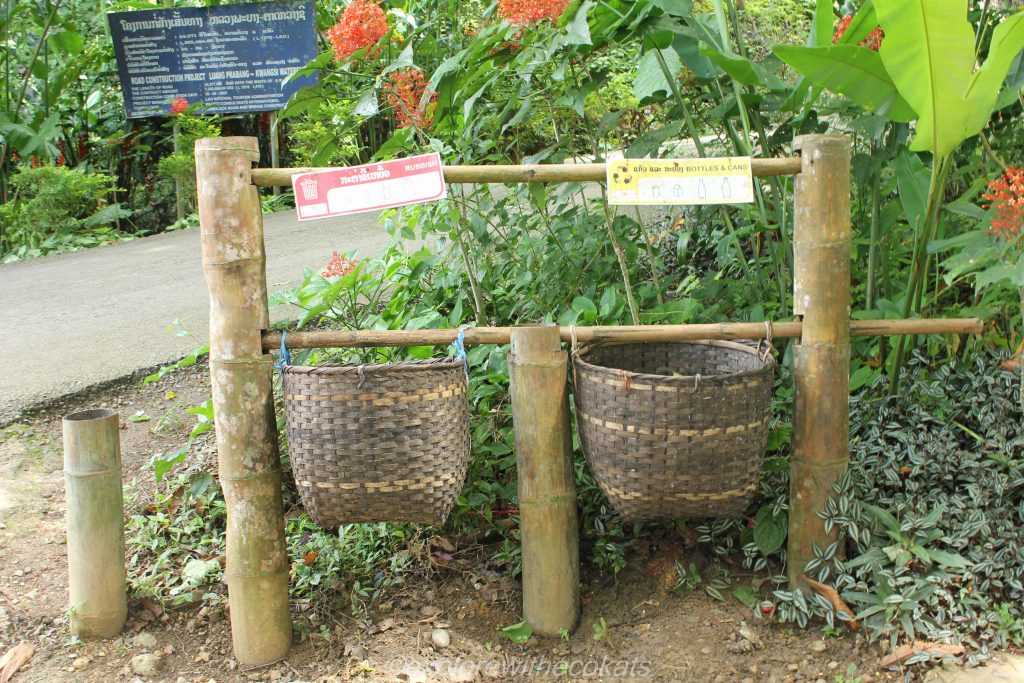 Sustainable tips for Kuang Si Waterfalls visit
Reusable water bottle – Though it is important to carry drinking water, carry in reusable and refillable bottle.
Do not litter – It is perfectly okay to snack near the waterfall, but do not litter the pristine areas. Use a trash bin to dispose snack pouches or pet bottles. Or even better, take it back to the hotel.
Do not go in the water applying sunscreen lotion/mosquito repellent creams – Cosmetic products use many known and unknown chemicals. They may or may not react with the natural flora and fauna of the area. Why take the chance? Best is to avoid it. For mosquitoes, apply an organic roll on, on clothes.
Respect the nature – Though you may get the most perfect shot and a thousand likes for the photo, do not in any way harm the natural formations of the waterfalls or trees for a vantage point.
Do not feed the bears – After reading their sad stories, you may be tempted to give them a snack, but don't. Buy a souvenir instead so that the organization taking care of them can feed them.
Disclosure: I was invited by Mekong Tourism Coordinating Office (MTCO) and Luang Prabang Tourism Board on a FAM trip. However all opinions are unbiased and of my own.
 Disclaimer: This post contains affiliate links. It means it adds no extra cost to you if you book through the link but I get a referral bonus which helps me earn a little to keep this website up and running.