Little Rann situated in the Indian state of Gujarat, translates to 'Small Desert' and the first thing that comes to the mind with the word Desert is arid wasteland or undulating sand dunes. With the vast expanse of cracked mudflats extending to as long as the naked eye can see in the heat mirage, it would be hard to believe that there exists any form of life in the flat emptiness of the salt terrain.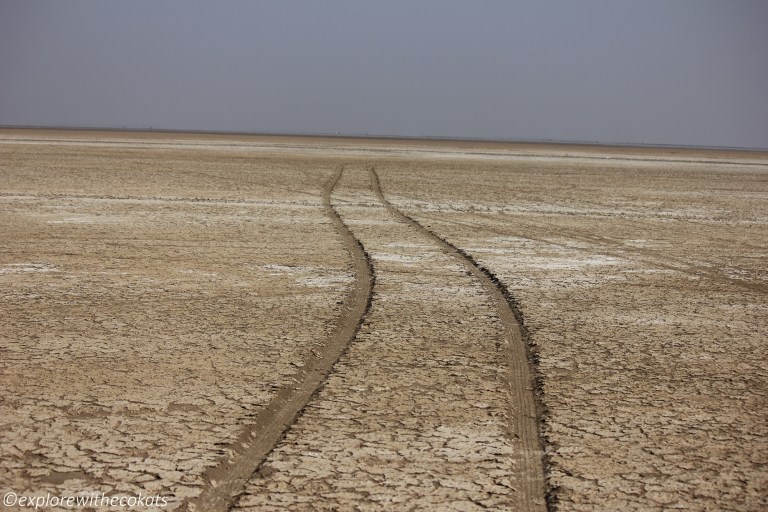 Even though called the Little Rann of Kutch or popularly known as LRK, it is certainly not little. This seasonal dry salt marsh occupies almost 5000 square kilometers much lesser than the Greater Rann of Kutch which covers 7500 square kilometers. With no stones or trees to perch in the vast barreness, LRK is quite popular amongst wildlife enthusiast for its bird diversity; birds which migrate from distant places to nest and rest. LRK, is the last remaining home of the Asiatic wild ass.
A weekend in Little Rann of Kutch, Gujarat
Me and a bunch of like minded friends started our 170 kilometer journey from Ahmedabad towards Jogad by road. After a quick pit spot for food we headed towards Eco Camp which arranged accommodation, food and jeep safari.
We couldn't resist the urge to stop at these beautifully luscious yellow fields of mustard swaying happily in the winter wind.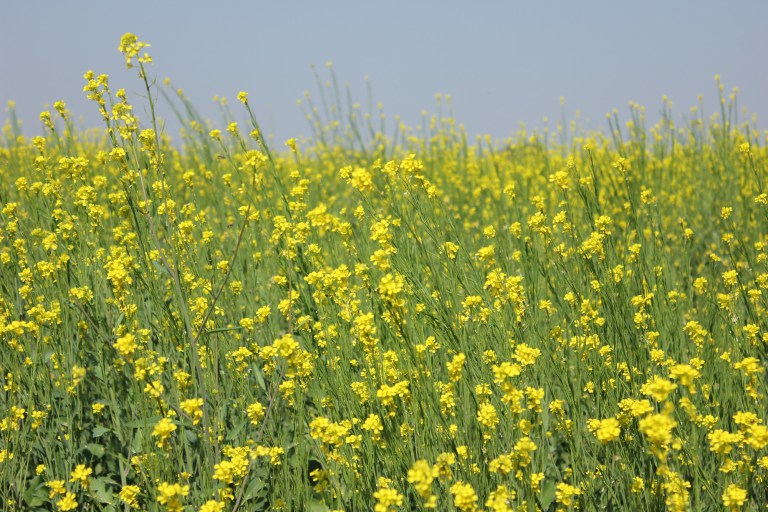 After reaching the Eco camps to find cute little huts made from mud and brick, an age old combination which offers relief from heat in summers and protection from extreme cold in winters. Painted in beautiful colors they were extremely inviting and comfortable. A quick fresh up and lunch later, we were into our jeeps excited for the afternoon safari. Eco-camps arranged safari permission so we did not have to wait in long lines to do so. Since this is a desert safari there are no entry and exit gates. However tourists need a proper car and guide to take you in so as not to get lost in the Little Rann.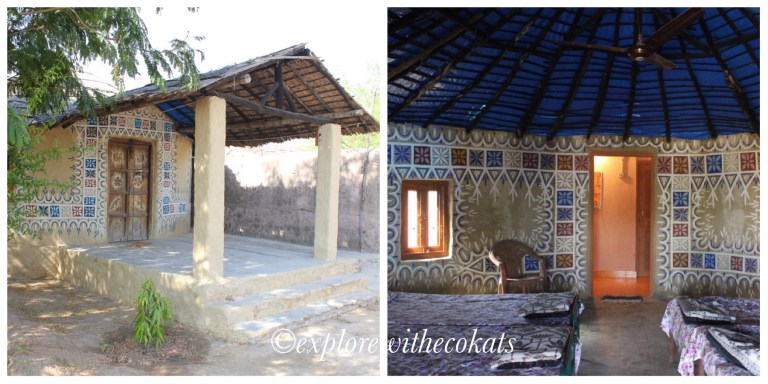 100 meters into the safari – which started right across the Eco camps, we sighted a Common Kestrel perched on a small rock which signifies the start of sanctuary boundary.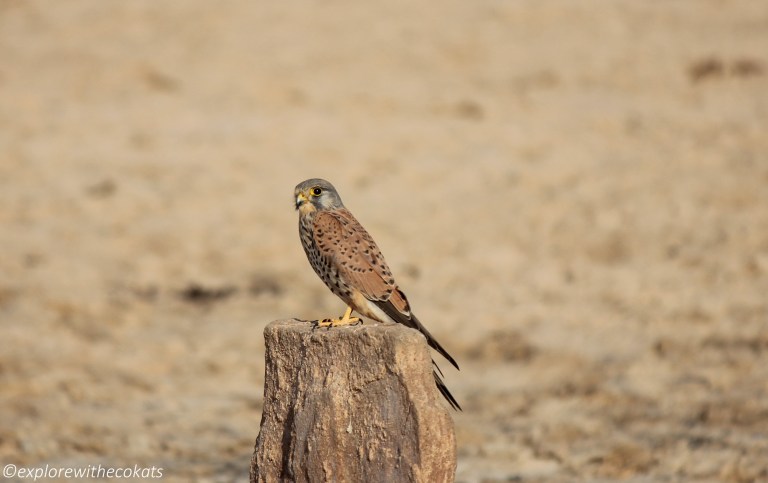 The pale yet beautiful Asiatic Wild Ass posed for our camera.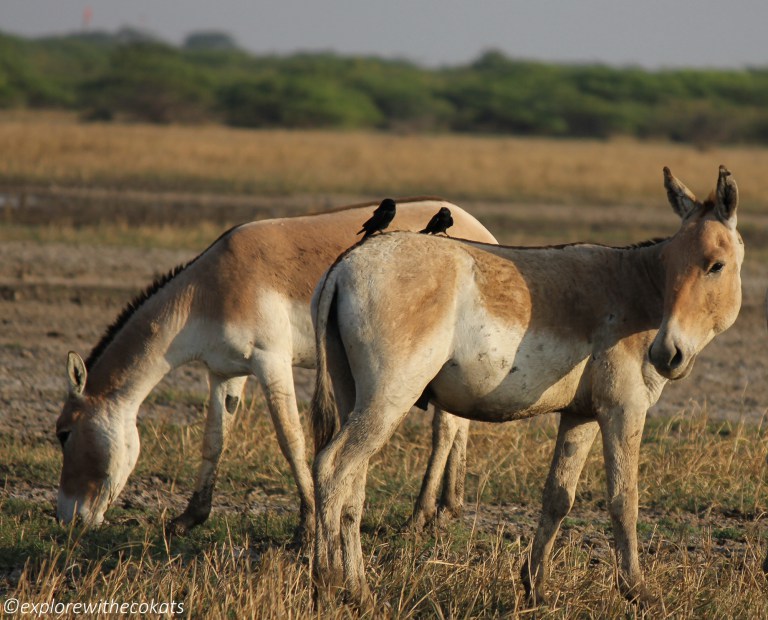 With binoculars and cameras in hand, we were ready to catch a glimpse of the famous Short eared owl, known to reside in the dried grass of Little Rann. Short eared owls are difficult to spot as they don't perch. A quick flutter, inches away on the right side of the jeep and we saw him fly away far away. He turned to us to give us this record shot.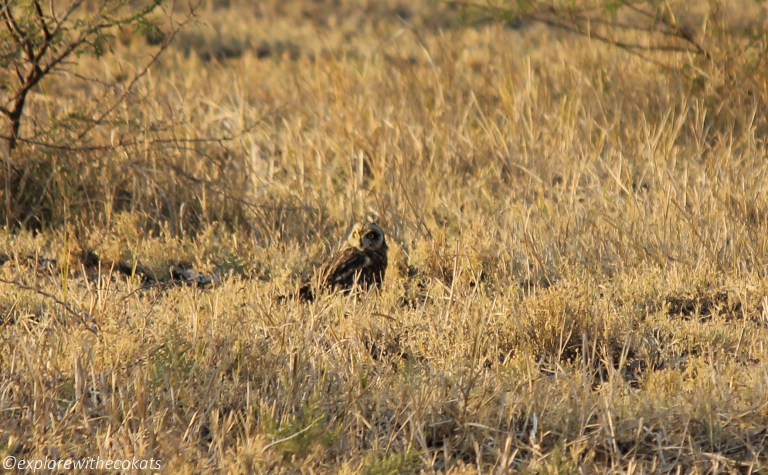 After a couple of small birds here and there and herds of wild asses, it was almost time for sunset. Our guide told us that it is perfect time to spot a hyena or fox and our eyes started straining to spot something. With almost dark evening, we gave up spotting anything. And in the light of jeep's headlight, a movement – an Indian fox.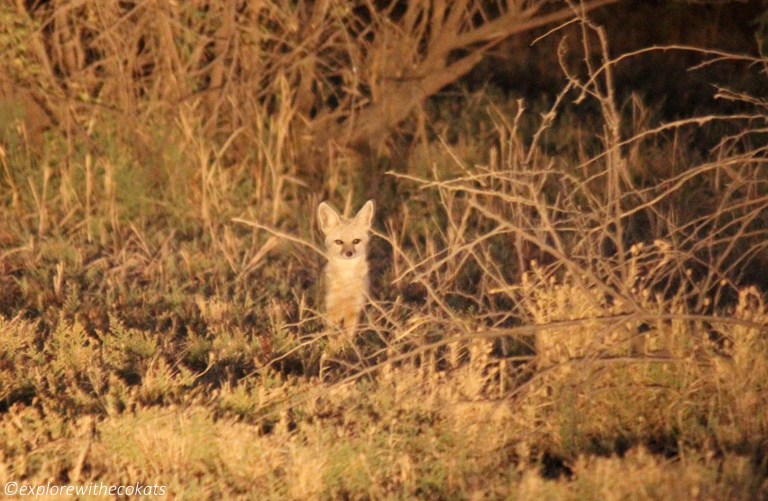 Tired, we came back to the cozy rooms for dinner and sleep before being awakened at 4am by jackal calls. We tried to go back to sleep to wake up for 7am safari. This Black Redstart was right outside the room to wish us a good morning.
A flock of Greylag goose welcomed us to western part of Little Rann of Kutch and our only aim for the day was to catch a glimpse of the ultimate predator – The Peregrine Falcon! But before that we came across the Blue bull or Nilgai.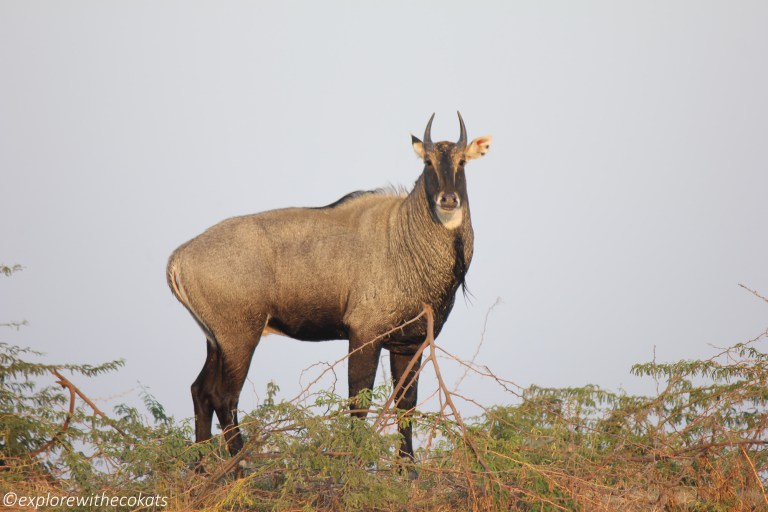 The beautiful Isabelline Wheatear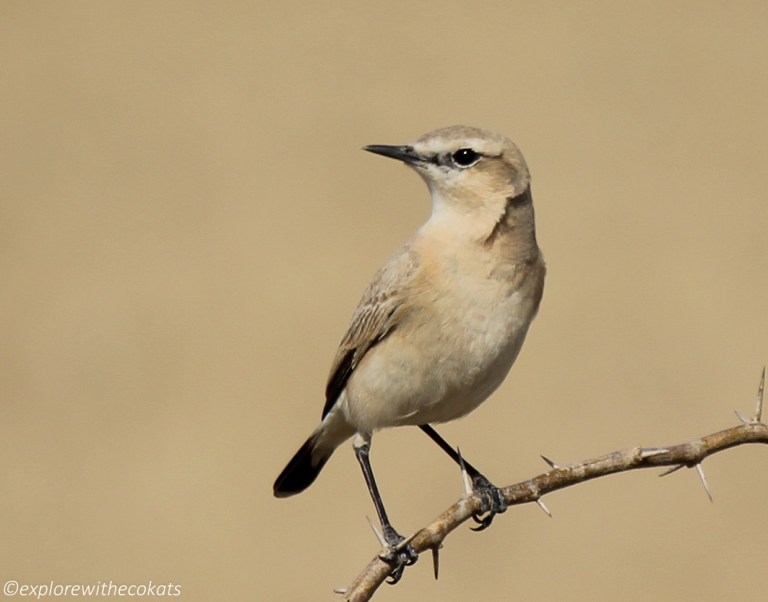 And the super agile Crested Lark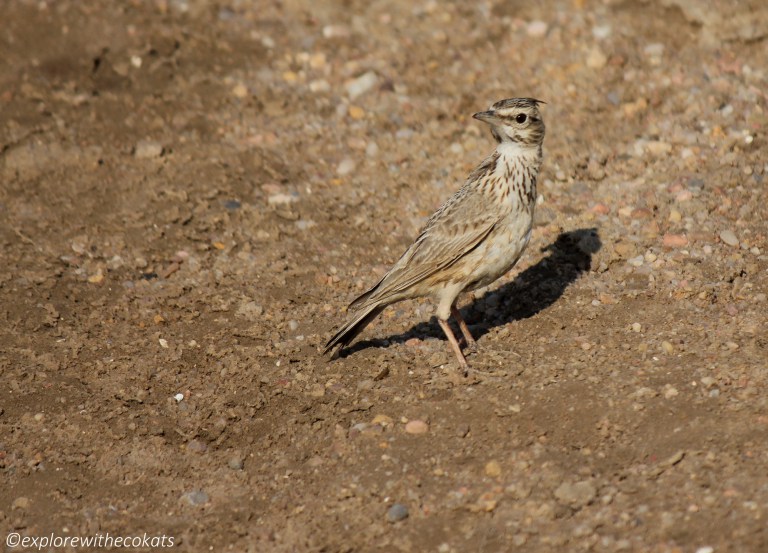 Our guide finally spotted the Peregrine almost 600-700 meters away on ground, resting in a shade of acacia tree. He flew away when we got a bit close to him. Once he settled a bit, we followed him to his next perch and to the next but never got close enough for a good shot. Had to finally give up the chase to go in the interior of Rann. The heat mirage of Rann was stunningly unbelievable.
We were left mesmerized with the amazing beauty of the barren land and could not help but imagine how amazing the nature is!
Our tour dates: 6-7 Jan 2018
Total birds sighted: 85
Total mammals sighted: 7
Tips for a sustainable trip to Little Rann of Kutch
Wear camouflage colours which will easily blend with the desert – pale colours like beige, cream, light brown.
Do not make noises when you spot a bird, it may get distracted and fly.
Do not wear perfumes or body spray in the desert.
Carry water and food for the long 3 hour safari. But do not dispose plastic or leftover food in desert. Keep it in your bag or jeep and dispose safely once you return to hotel.
Do not feed anything to wild animals.
Try not to point out at birds. There have been instances where raptors take notice of pointing towards small, weak exotic birds and hunt them down.
And last and not the least, respect the desert guide. If you do not spot a wild animal do not blame him, remember you're in a natural ecosystem and not a zoo.
Did you know Gujarat conserves the Asiatic lions in a National Park called Gir? Read about it here.