Bhuj is a city in the state of Gujarat. It is always used as a place for transit to reach The Rann Utsav or The Great Rann of Kutch. What people don't realize is that, Bhuj is much more than a transit place and you should stopover for atleast 2 days before going to the Rann Utsav. Bhuj is a surprise package in the real sense of the term. With over half a dozen places in the city itself, and a dozen villages nearby offering engaging activities, it is a must visit place.
Bhuj, a city in the district of Kutch, was an old walled city in the past. Bhuj came in limelight on the global map, when the Earthquake in 2001, tore down most of the city. But even now, you can spend hours in the intricate streets and alleys which has the historical glory standing strong. There are walls within walls, old palaces, temples, intricately carved stepwells, lakes and the most popular – The Great Rann (Salt desert).
Here's what to expect from 2 days in Bhuj:
1) Soak in the glorious bygone era at Bhuj palaces
Two palaces ( or the remains of palaces) stand adjacent to each other – The Prag Mahal and Aina Mahal. You can see the impact of the devastating earthquake on the exterior structures of both these palaces.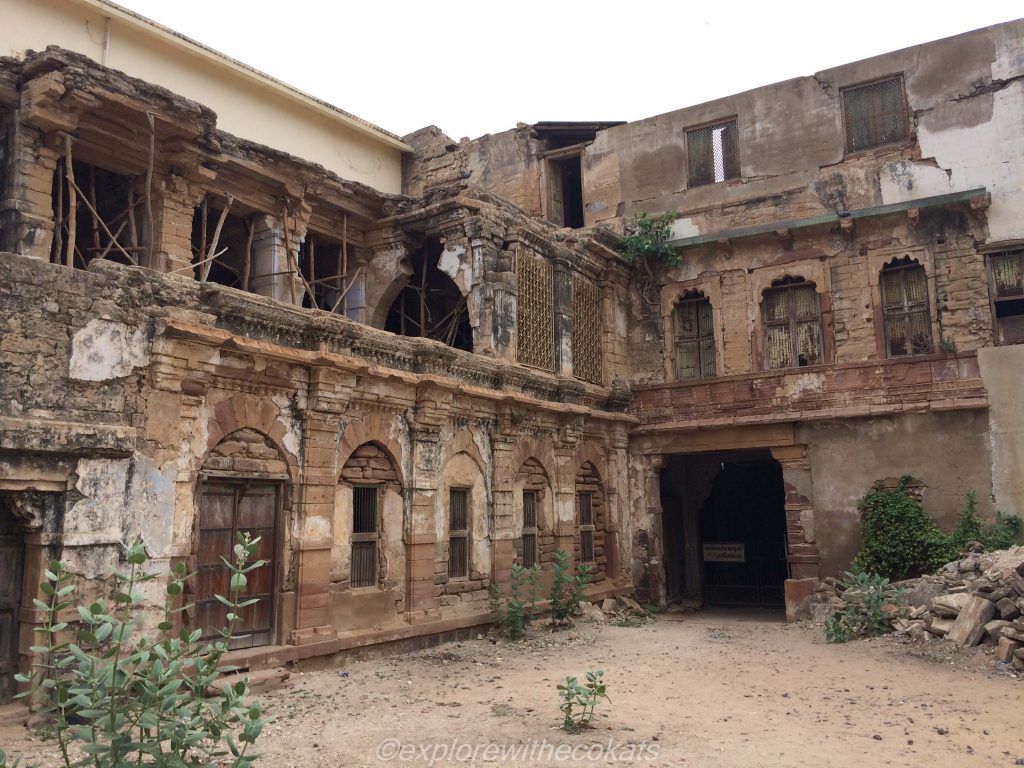 Prag Mahal has survived the impact, which was earlier built in a lavish Italian gothic style. The palace has a lavish Durbar hall, with large pillars, huge chandeliers and classic marble statues, all defining the opulence of bygone era. Other important parts of the palace include Corinthian pillars, carved doorways, broad window boxes and Jali work representing European flora and fauna. Do climb the stairs to reach the bell tower for an exhilarating view of the city and Bhujia Hills.
Aina Mahal (Mirror palace): Be a part of  pompous pleasure of past by visiting the Aina Mahal made in marble and adorned with mirrors.
2) Know the history of Kutch in Kutch Museum
Kutch also written as Kachchh has a city museum, houses some very rare idols and artifacts. It is one of the oldest museums in the state of Gujarat and collections of coins and tribal art and craft which includes embroidery, mirror work, thread work and metalwork. It also has collections of inscriptions and information about tribal people of Gujarat.
All the labels and information in the museum is bilingual – English and the regional language Gujarati for ease of understanding.

3) Watch migratory birds land on the Hamirsar Lake
Come out of the Kutch museum to witness the glory of migratory birds in the Hamirsar lake which are walking distance from each other. The lake is a manmade lake built and derives its name from the yesteryear ruler – Hamir Rao. The lake was built in order to cater to the domestic needs of Bhuj city and adorned with cenotaphs. Unfortunately the cenotaphs haven't survived the earthquake impacts but can still see some remains and the Greater Cormorants basking in the sun's glory.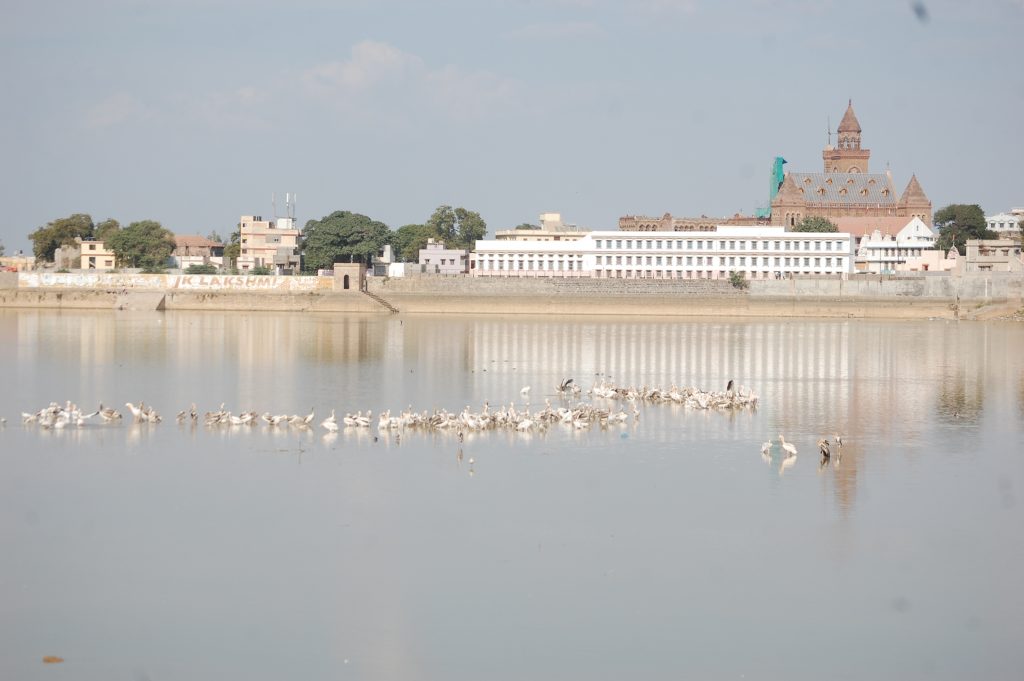 Hamirsar lake is good place for a walk in the evening and you can find some local vendors selling snacks. On a winter morning, you can spot local as well as migratory birds like Greater flamingos, Pelicans, Black winged stilt, etc.
4) Take Instagram worthy photos at Chattardi
Chattardi is a cenotaph's complex made in red stone. It is one of the rarest monuments existing in India as all of  the tombs here made out of Red stones. Each tomb is different in sizes, shapes and design with intricately carved walls and roof.
Although many movies have been shot here and Chattardi has shot to fame, visiting this place will transform you to a different world altogether. Unlike other tourists, I visited this place with a guide and got amazing information about each structure's significance. This is a definite must visit place when in Bhuj (also because really cool Instagram opportunities).
5) Pay respects to Lord Ram at the Ram Dhun temple and Ram Kund
Ram Kund is a step well, designed like a small reservoir in which rainwater used to be collected for drinking purposes in the past. Ram Kund is located near the Prag Mahal while on the way to Kutch museum, just behind the Ram Dhun Temple.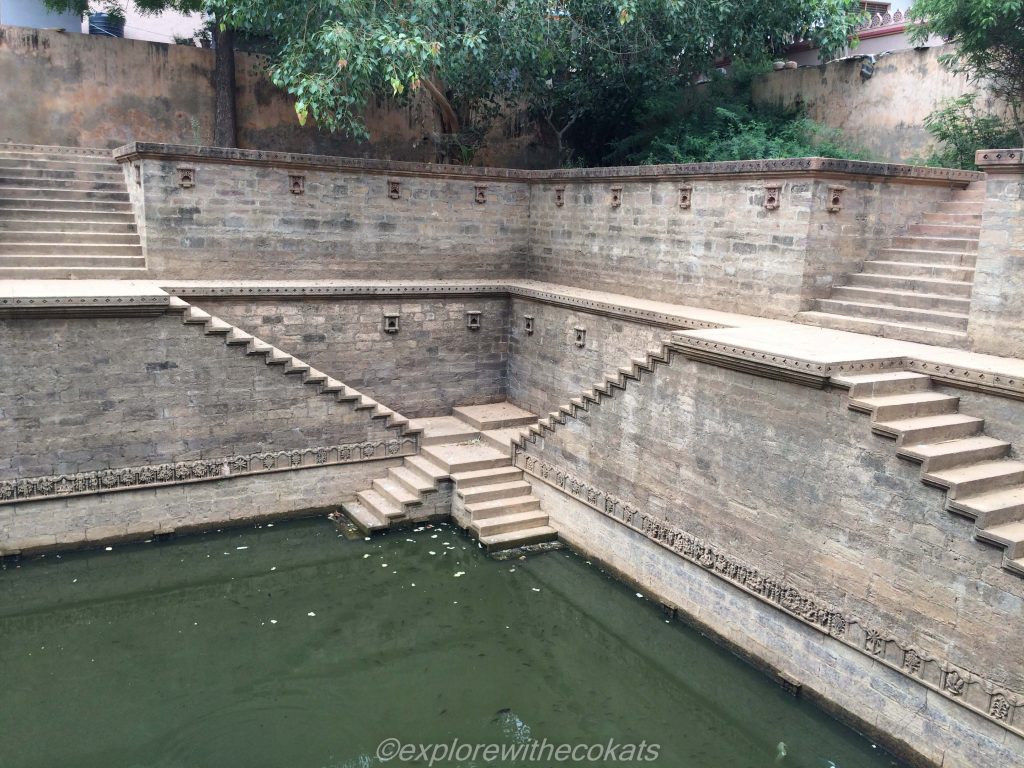 After walking along the water, pray your respects to the carvings of characters from the Ramayana, such as Ram, Sita, Lakshman and Hanuman, along with the ten incarnations of Lord Vishnu over the walls in Ram Dhun temple
6) Take a panoramic shot of Bhuj from Bhujia Hills
The Bhujia Hill Fort lies on the outskirts of Bhuj. Originally built as a safe house and to store defence during battle, the fort was later used by the Indian Army to store ammunition. It is now barren with only a temple at the top and a proposed memorial park at the foothills of the hill.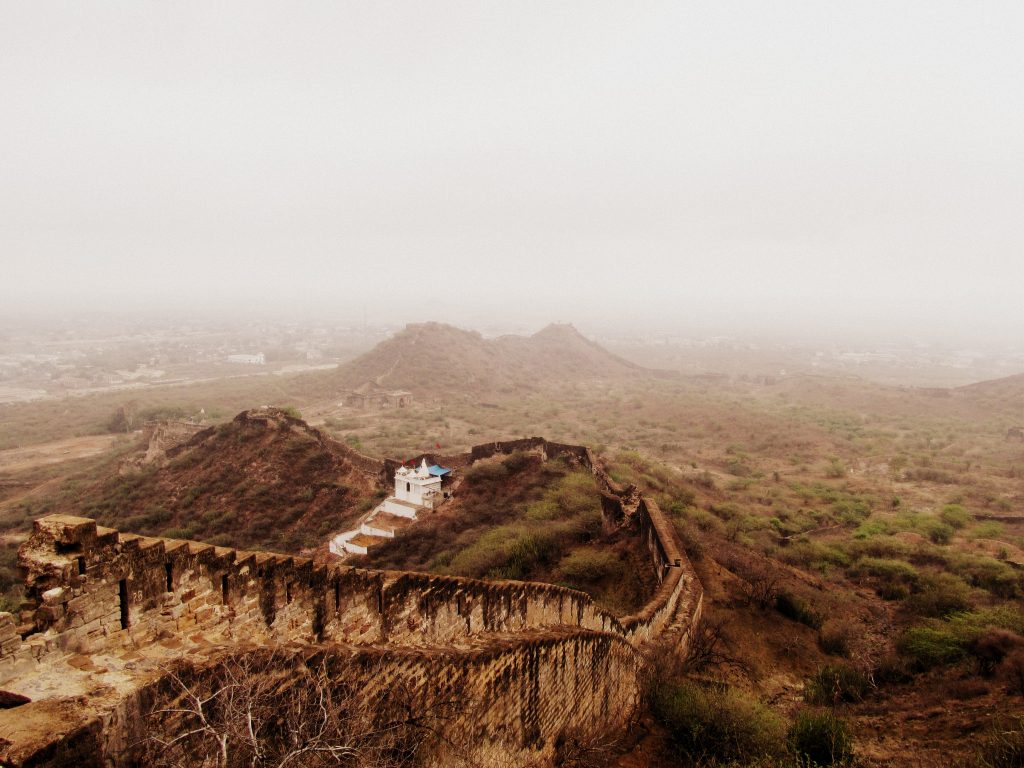 In winters you can trek to the top of the hills for a breathtaking, panoramic views of  Bhuj city.
There are some steep steps on a set trail from the parking to the fort. If you are fit and want to sweat it out, Bhujia hills could be included in your list.
7) Shop till you drop at Bhujodi village
Going to Bhuj and not shopping is like committing a crime. Bhujodi is a traditional crafts village which is situated about 12 kms from Bhuj. the village is over 500 years old and is popular as the weaver village as the 1200 families residing here have looms in their house.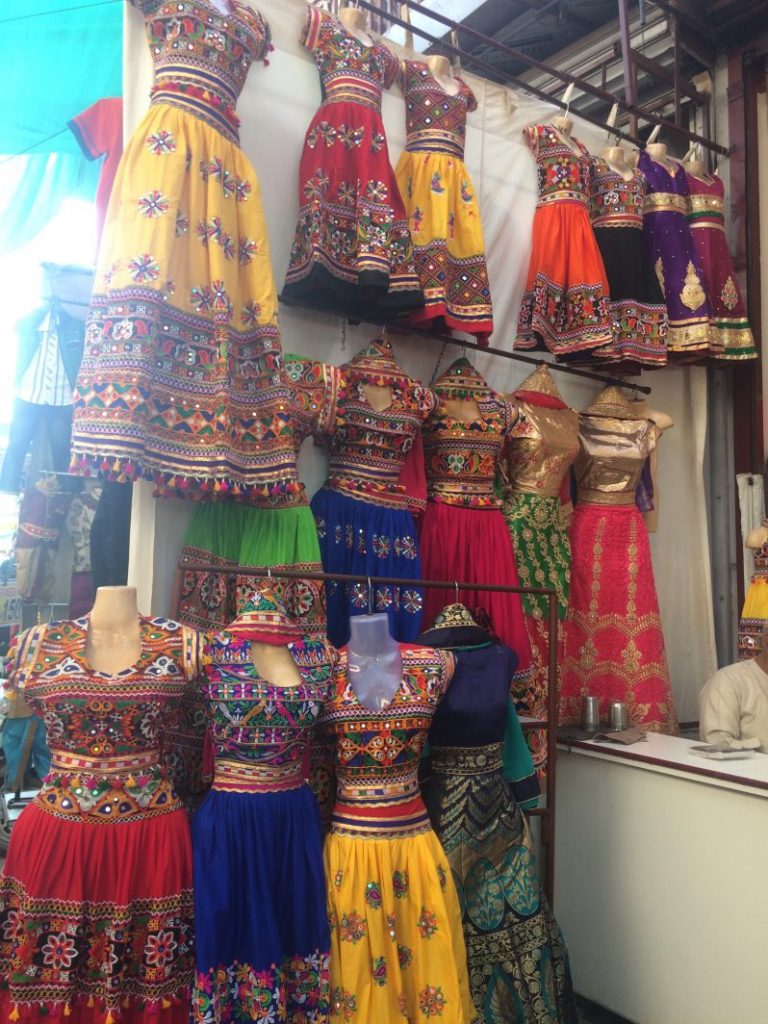 Brightly coloured stoles, kurtas, shawls adorned on the walls of each house welcome everyone in Bhujodi. These are handwoven and hand embroidered and beautified with silk threads and mirror work in intricate designs. Other commonly seen textile products consist of bed sheets, the regional outfits called chaniya choli and dupatta.
If you have more days in hand, you could explore nearby places like Mandvi, Kala Dungar, White Rann and many nearby villages which offer art and craft tourism.
How to Reach Bhuj:
By Air: 2 flights fly to Bhuj from and to Mumbai everyday. It is a domestic airport. The next nearest airport is in Ahmedabad which is also an international airport.

By Train: Bhuj is well connected to all major cities like Mumbai, Delhi, and Ahmedabad by train.

By Bus: Bhuj is well connected by bus. Busses are available to and from all neighboring cities in the state of Gujarat to Bhuj.
Best time to visit Bhuj:
Bhuj in Kutch district is basically a desert and gets super hot in summer. The best time to visit Bhuj is between the months of December to March. It is also the same time when Rann Utsav is organized.
Weather: Winter temperatures are 25 ℃ during the day and 8-10℃ at night with chilly winds. The summer temperatures hover around 50 ℃.
Accomodation:
There is a range of budget and mid range hotels, as well as luxurious resorts in Bhuj.
Budget Hotel: Go Desert Homestay, Oasis Hotel, Click Hotel, 
Mid Range: Mangalam Hotel, Hotel Tulsi
Luxurious: Regenta resort, The Fern Residency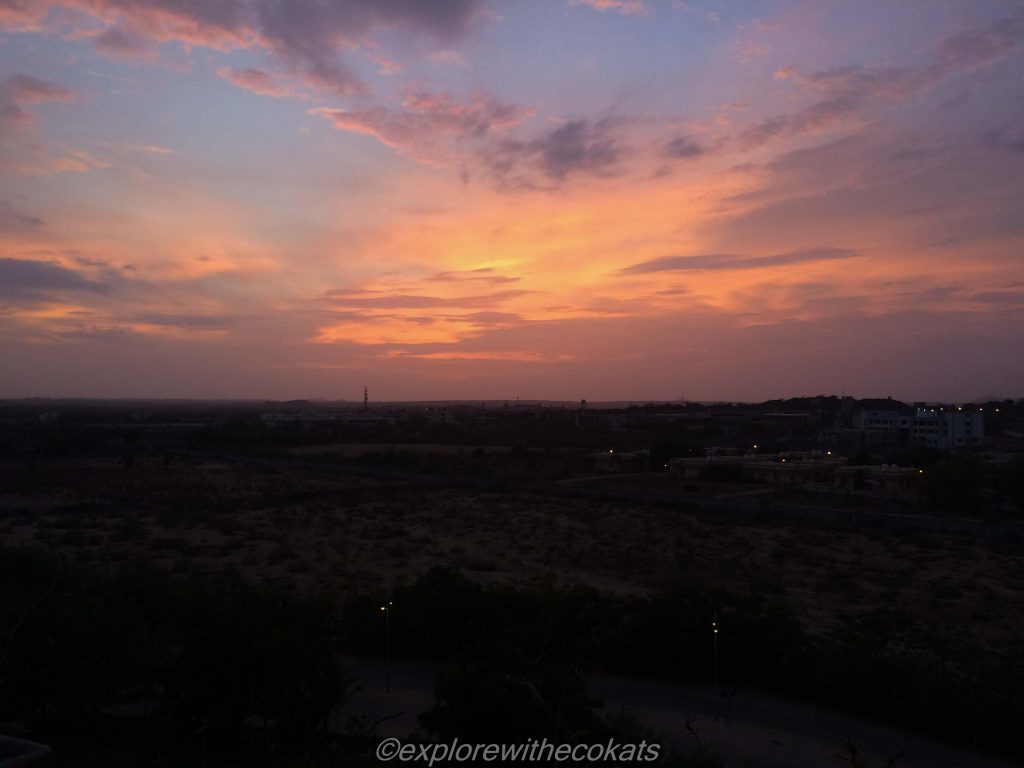 Food:
Bhuj is a paradise for street food and has many options to choose from.
Kutchi dabeli is a must try food. It has a sweet, hot and tangy masala and is served in Bun bread.

Other Gujarati snacks that should be tried are Sev Khamni, Puri Shak, Dhokla, Khaman, etc. which are easily available on street or restaurants.

If you want to indulge in a vegetarian thali (assortment of dishes arranged as a platter for lunch or dinner) I would highly recommend Umiyaji Dining Hall or Ashapura dining hall.

Most hotels in Bhuj, also have a restaurant so that is also a good option to wind up the day with.
Shopping:
If you do not feel upto driving out of town to Bhujodi village, there is street in the middle of city on station road, where you can shop for artefacts, textiles and even customize a name plate for yourself in mirror and mud work. There is no particular name to the street but it is the one near Rajgulab shopping centre.
Sustainable tips:
Do not litter the roads, palaces, shopping areas in Bhuj.

Do not write or carve on the palace walls and make it unaesthetic.

Do not climb on broken palace structures.

Respect the local people and ask for permission before clicking photos.

You are in a desert city so respect the natural resources like water. Use a bucket and mug for bathing than a shower or bath tub.