Gir National Park situated in Indian state of Gujarat is the only place in the world where you can spot Asiatic lions roaming free in the wild. Currently the national park and wildlife sanctuary covers a total area of 1412 square kilometers. From a population of approximately 20 lions in 1913 where the Asiatic Lion numbers were dwindling by alarming rate due to hunting activities, they have now risen to a comfortable 523 according to 2015 census with major efforts from Department of Forest Officials, NGOs and local tribes.
With many infrastructure projects such as railways and high-speed road corridors, as well as port and mining activities nearby, it is certainly affecting the only habitat of the Asiatic lion and is a major cause of concern for their future. However the King of Jungle and his many associates are adapting and surviving the ever changing habitat like a boss!
The Park also gives shelter to more than 200 species of birds and is also blessed with more than 40 species of reptiles and amphibians. A large reservoir in the middle of the park – Kamleshwar is the spot where Marsh Crocodile can be seen.
Gir National Park: Weekend trip
After taking online permits weeks in advance (online permits are compulsory and can be availed 90 days in advance for safari on www.girlion.in and costs Rs. 800 per person). We drove from Ahmedabad to Gir – a comfortable 350 km ride by road. Stopping at Limdi for a quick breakfast, we continued on Rajkot highway to reach Gir also known as Sasan-Gir by 2pm just in time to have lunch and catch the 3pm safari.
Safari timings: 6am – 9am, 9am – 12 noon, 3pm – 6pm
After a super yummy lunch we went to the vehicle desk and after showing our online permit we got out open gypsy (which can accommodate 6 people) and allotted guide. A gypsy costs Rs. 1500 for the safari and the guide cost in Rs 500 – all fixed rates. Hence including the permit charges, each safari costs approximately Rs 3500 (for 2 persons).
Day 1: Route 2 here we come:
10 minutes in to the safari, we saw a family of Eurasian Thick-knee also known as Eurasian stone curlew or simply stone-curlew. Beautifully camouflaged with the leaf litter  this species prefers dry open habitats to dwell. It is largely nocturnal and its food consists of insects, frogs and rodents.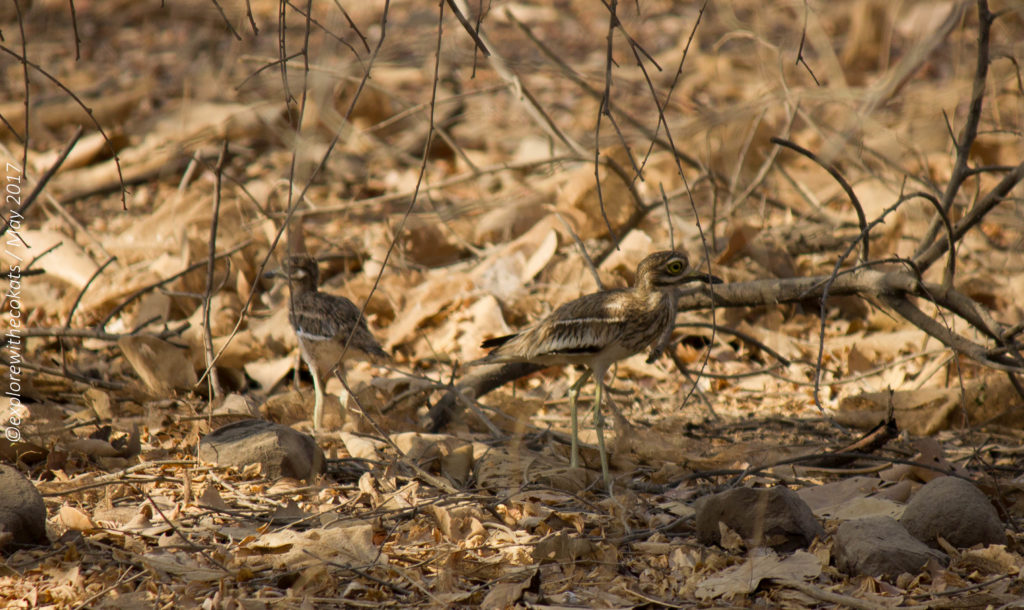 The second species we spotted was Mottled Wood Owl. It was difficult to spot him in all those tree branches but owls are generally known to have their fixed tree branches where they dwell. Our guide knew it and so could show it to us. He seemed to be resting so we headed off next.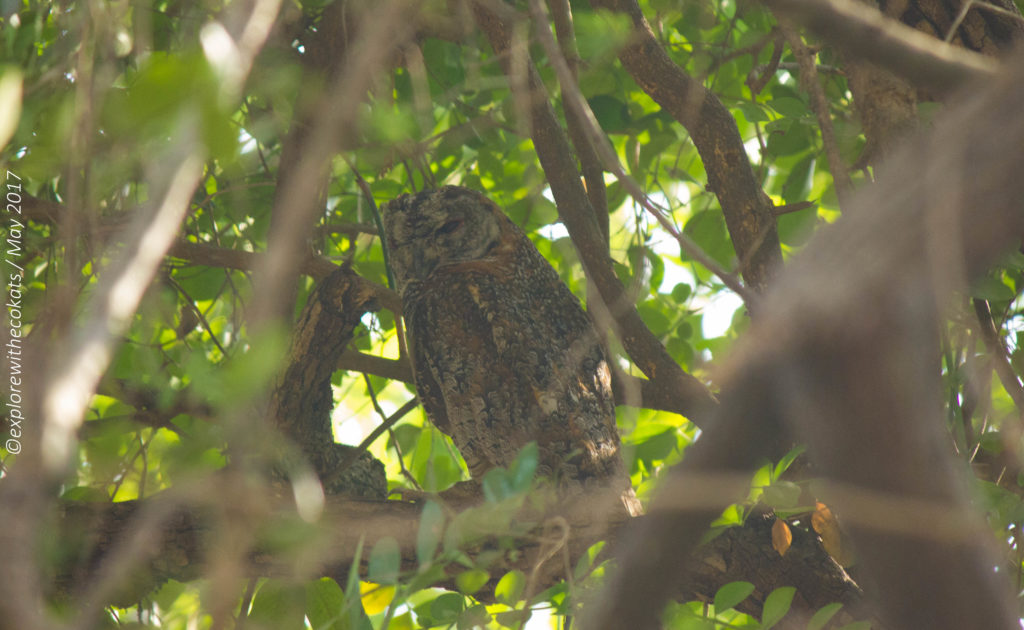 Another bird. This was our afternoon! We easily spotted this large wader – the Red wattled Lapwing or the did-he-do-it bird? Yep that's exactly how he sounds as if he was saying it loud and clear.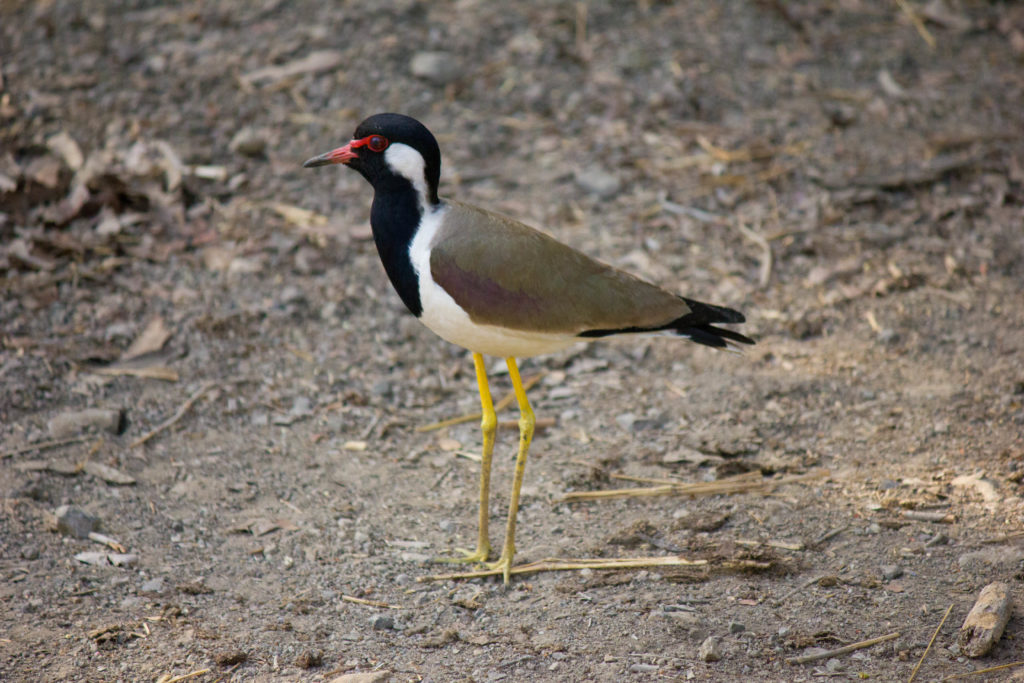 Finally a mammal in sight! One of the hundreds of Spotted Deer we saw. See what i did there? So our guide said there are over 40,000 deers in the park. No wonder, the lion population is increasing. Enough food for them right?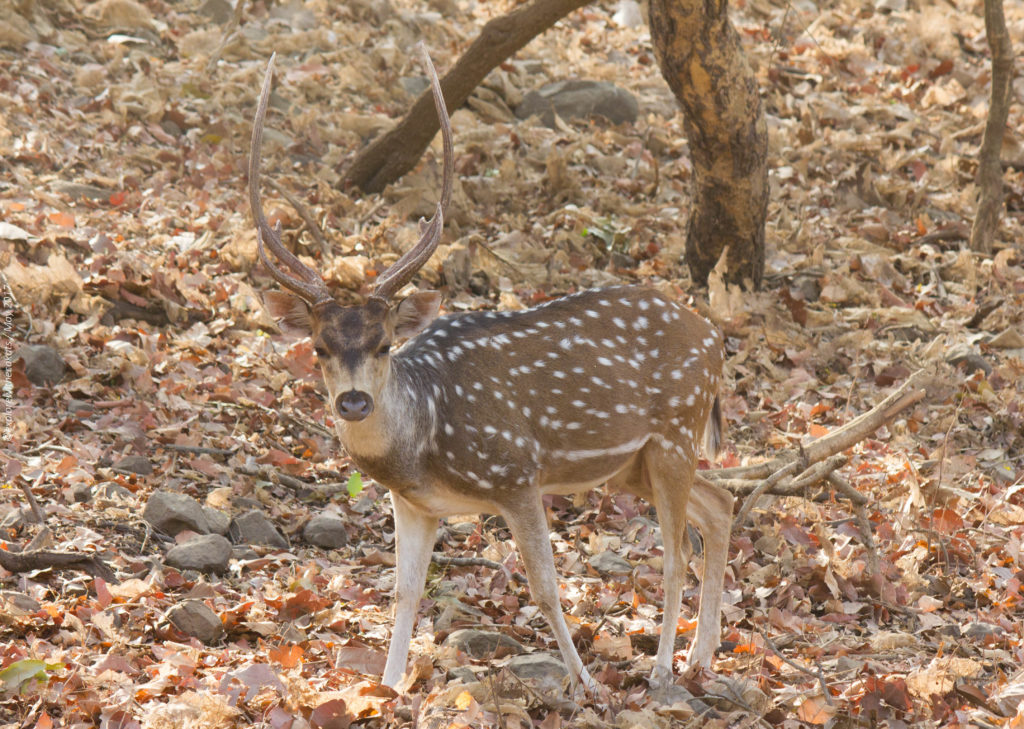 I really love the name of this bird – Tickell's blue flycatcher. The name commemorates the British ornithologist Samuel Tickell. Such a bright metallic sheen!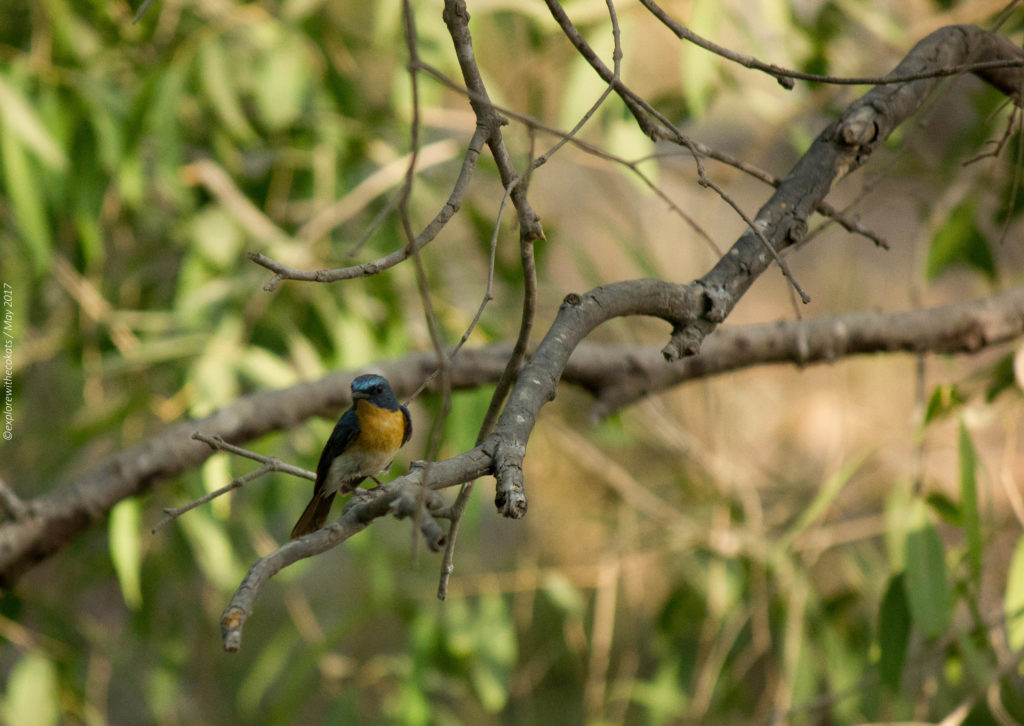 And there he was – an handsome lion of Gir National Park. He seemed to have injured himself in a territorial fight. He had an amazing aura that defied and justified that age is just a number and he's still young at heart.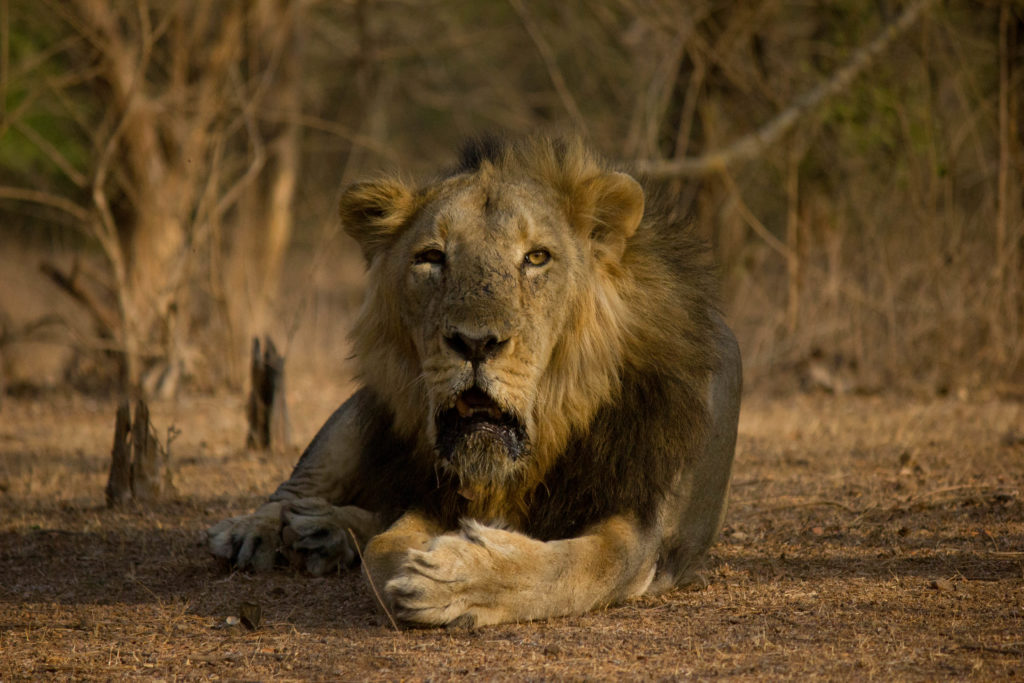 Later we came across a pride of 3 sub adult lion, 1 sub adult lioness and 2 lioness. This sub-adult lioness was just too cute and i had to photograph her. I would like to call her the Princess of Gir National Park.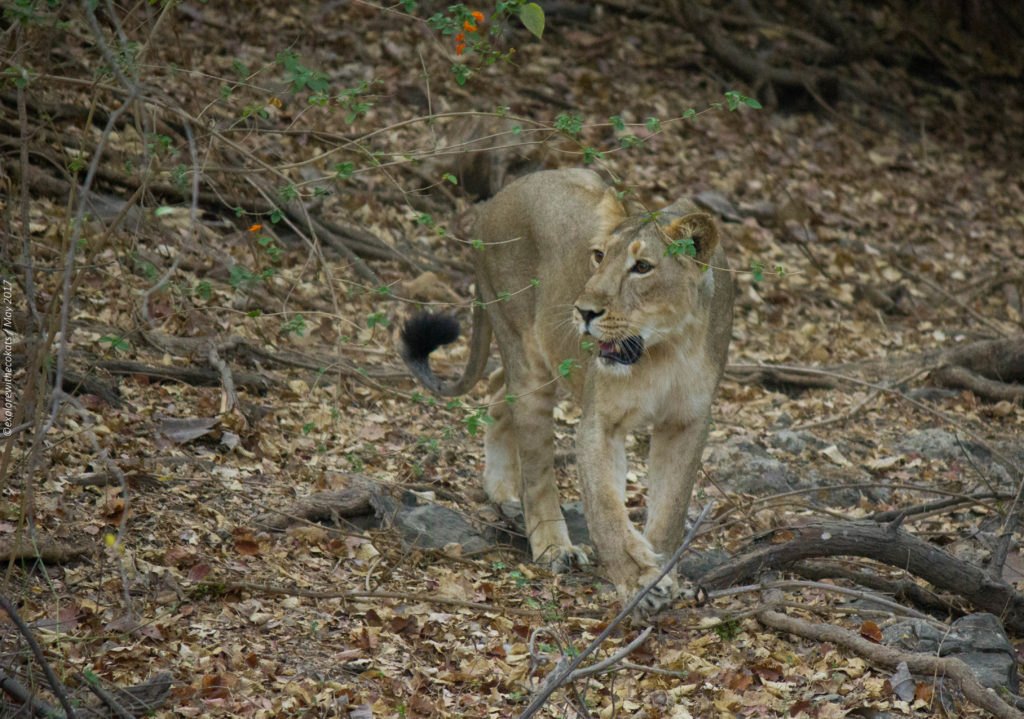 We came across 2 more prides in varying numbers and genders and were all in happy, relaxing or playful mood. Some were thirsty as well.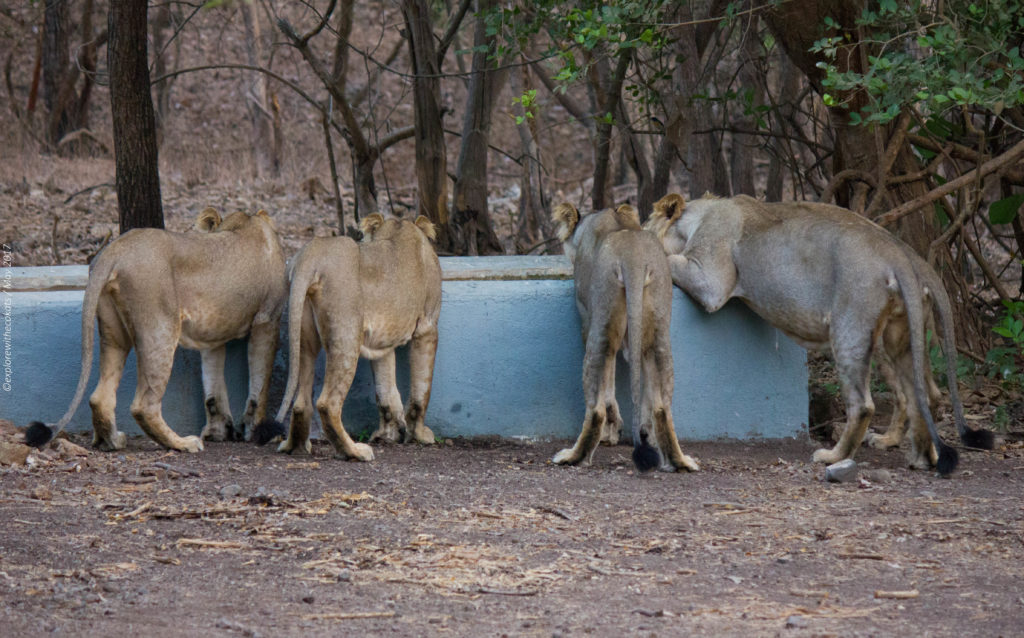 At 6:30 pm it was time to bid adieu to Gir National Park, when a gypsy ahead of us suddenly stopped near a water stream. The guide pointed to something in left direction and it took a while to spot a leopard who had come downstream to quench his thirst. Now that was an ultimate highlight of Day 1 and sad coz my camera memory card was full and i could not click his picture!!
Day 2: Route 4
We started our day 2 of Gir National Park with an early 6am safari to get some shots of morning activity (probably a hunt) of the lions. Lions tend to hunt super early in the morning and relax/sleep for rest of the day. They tend to sleep for almost 20-21 hours a day. No wonder they are called King of Jungle.  We spotted fresh pugmarks which indicated a very recent passing by of a lioness.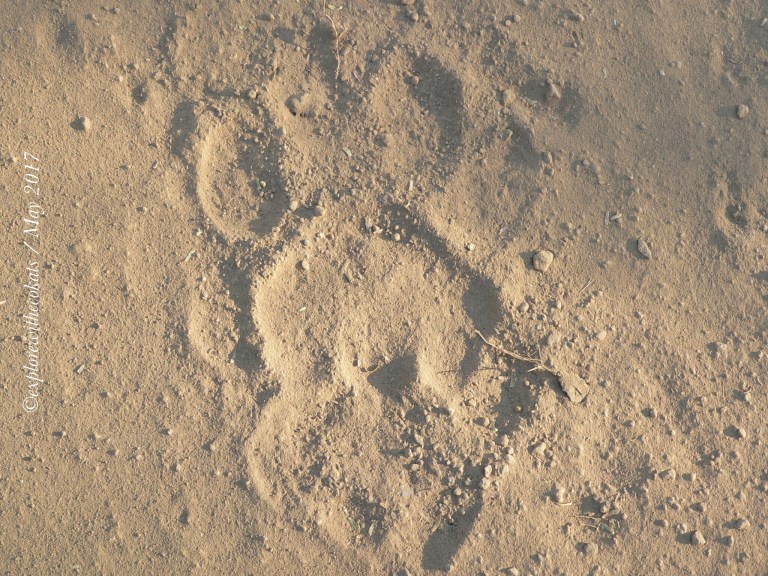 We went ahead with the hope of catching something interesting when our guide spotted this Shikra. A small raptor with sharp red eyes was on his morning prowl looking down for a rodent.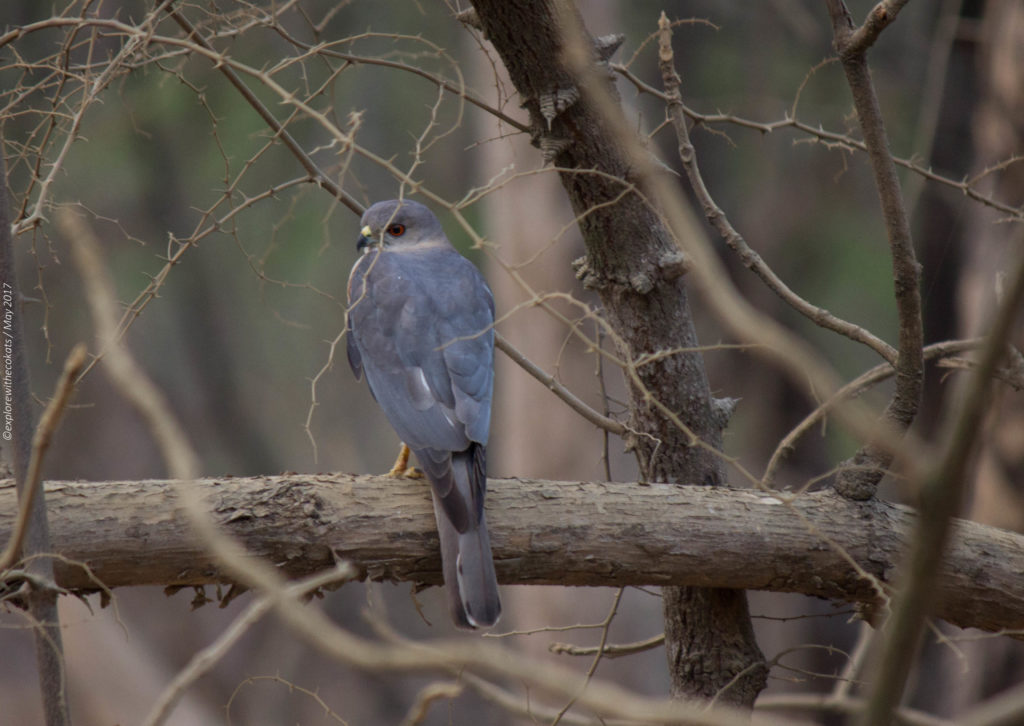 I seriously do not know these jungle guides can spot the most amazingly minute things. He spotted a pair of Yellow- crowned woodpecker making holes in the tree to get their morning breakfast of termites. And then an Indian Nightjar. Mistaken as owl, our guide spotted this highly camouflaged bird on a tree branch. Such a beauty!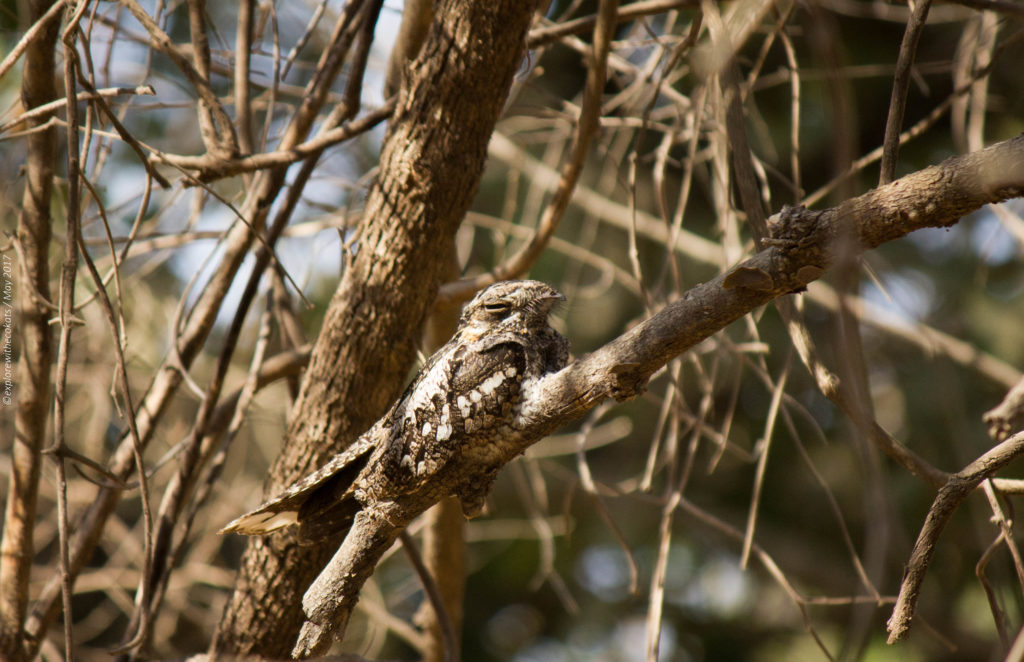 The highlight of Day 2! A young male walking besides a railway track. He eventually crossed the track. I did get some amazing shots.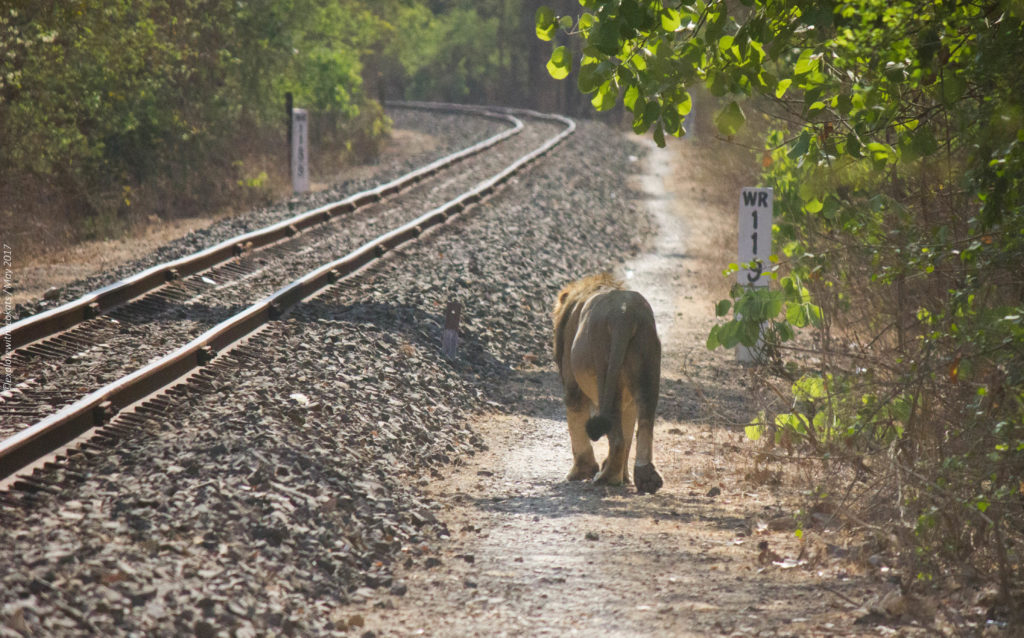 A tree hugging monitor lizard at Gir National Park.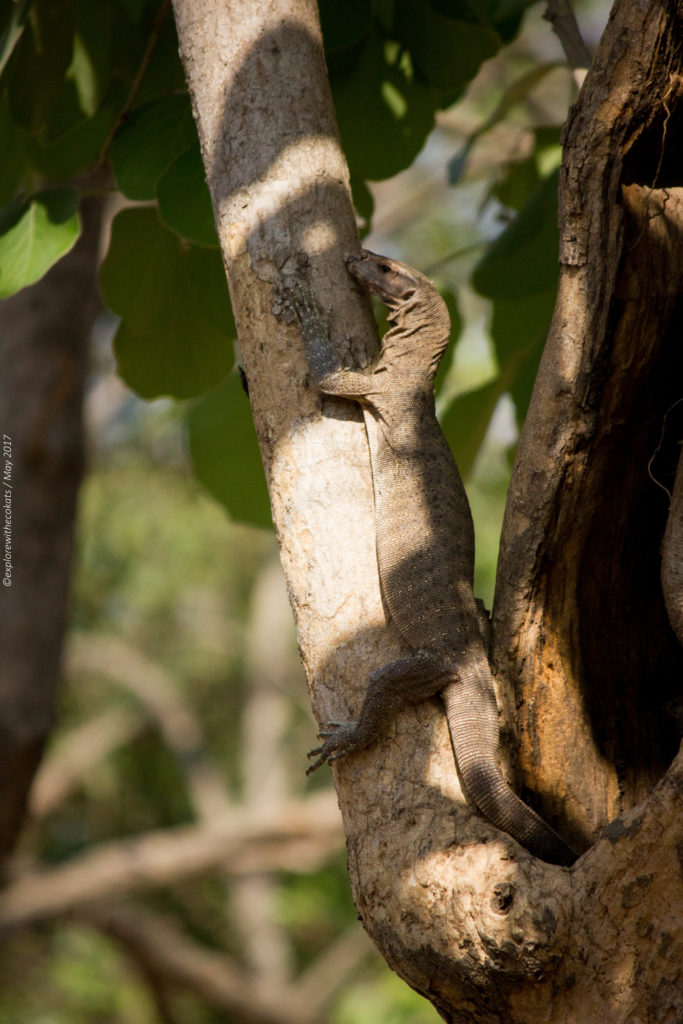 The Kamleshwar Dam, officially known as the Hiran-I Dam, is a reservoir on the Hiran river and is located within the Gir National Park. If you are lucky you may spot some Marsh crocodiles here (we didn't).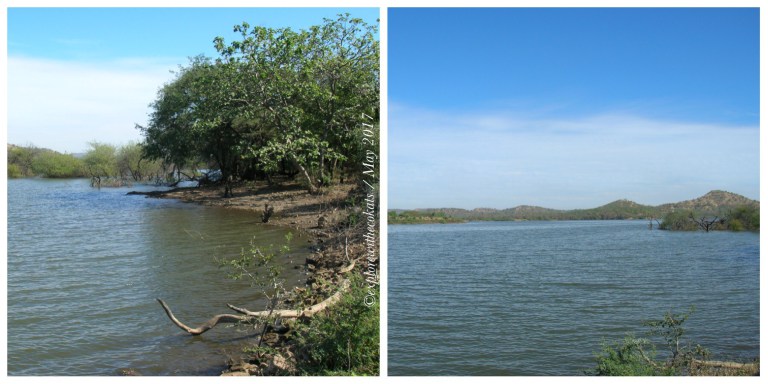 In the Gir National Park you will come across people on foot with a group of cattle grazing around.These people live among the lions and milk their cattle for a living! Known as "Maldharis", they live in scattered settlements inside the Gir National Park and have contributed for their protection and well being since many years. Ask them if they fear the predators and they simply smile and head off!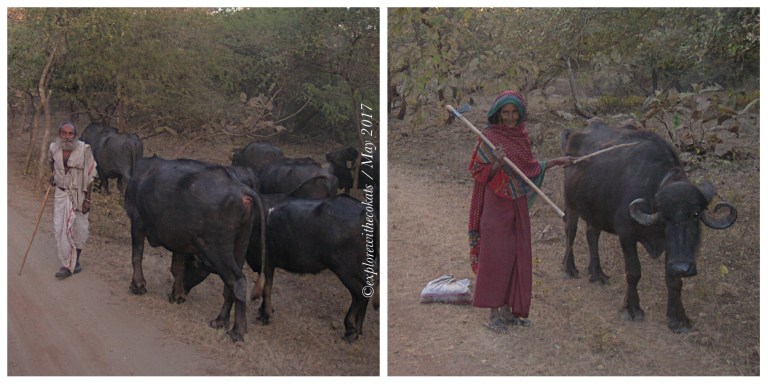 In total we saw 25 Asiatic lions and 1 leopard, a few hundred spotted deers, few sambars, 2 nilgai, 1 jackal, 1 wild boar and many birds in 2 days.
We drove back to Ahmedabad with a smile on our faces 
Tips for sustainable Gir National Park trip
Do not under any circumstances get down from your gypsy. Even if your vehicle breaks down, the guide and driver will make sure to arrange another vehicle so do not panic.
Wear camouflage colours which will easily blend with the jungle – shades of green, brown and grey.
It is totally understandable to get excited when you spot a wild animal in jungle. But do not make noises – whisper if necessary.
Do not wear perfumes or body spray in the jungle.
You will get super thirsty and hungry during a 3 hour safari. Carry water and food but do not dispose plastic or leftover food in jungle. Keep it in your bag or gypsy and dispose safely once you return to hotel.
Do not feed anything to wild animals. Spotted deer commonly venture outside of national park boundary but you should not feed them anything.
Try not to point out at birds. There have been instances where raptors take notice of pointing towards small, weak exotic birds and hunt them down.
And last and not the least, respect the gypsy driver and guide. If you do not spot a wild animal do not blame them, remember you're in a jungle and not a zoo to have surety of spotting animals.