Imagine a big farm where you can take selfie with buffaloes and bathe them, can pet pigs and bunnies and play with chicken and ducks. With the technology gripping our lives, these small pleasures in life sound inviting. At the Laos Buffalo Dairy Farm, you can do all that and even eat sustainable cheese. What is sustainable cheese and how can you do all of that?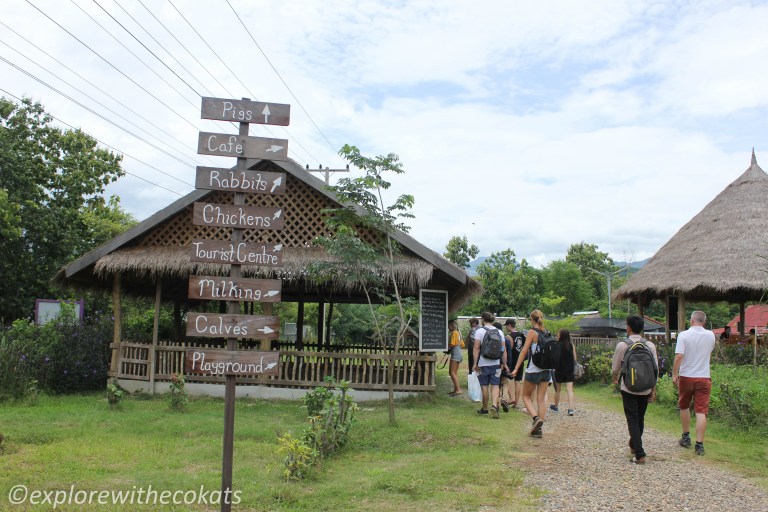 *Also read Ultimate digital detox in Thailand
Everything about Laos Buffalo Dairy Farm
Laos Buffalo dairy farm was started as a social enterprise and on the concept of sustainability. During a half day visit to the farm organized by Laos Tourism, we were taken on a personal tour by the owners and explained everything about the animals, shown how they were taken care of and we even had a chance to pet them.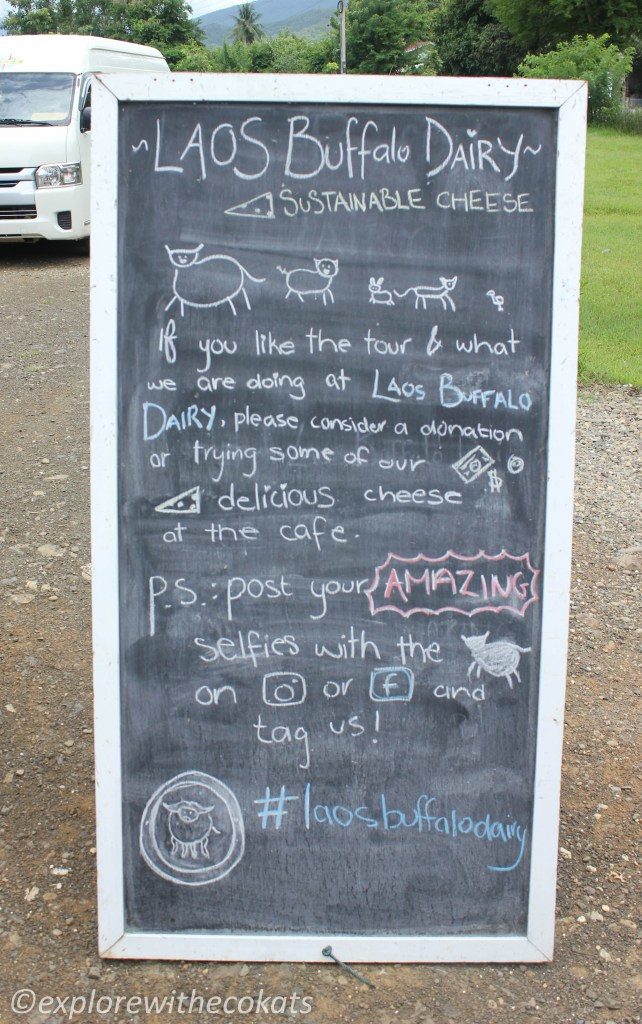 The owners of the Laos Buffalo Dairy farm collaborate with local villagers who rent their buffalo. Buffaloes are traditionally bred for their meat so rearing them is an additional expenditure for the villagers if not sold early. Laos Buffalo dairy farm welcome buffaloes when they are 8 months pregnant and they go through the following process for the next 8-9 months:
Quarantine and disease check for buffalo
Feeding them nutritious diet
Utmost care during calf birth
Vaccination of calf after birth
Calves stay with their mothers for one month and their milk is exclusive for the calf
Milking happens for 6 months on the main farm by machine. After the buffalo moves to the mini-farm they milk, just once a day by hand for one month
Calf goes to farmers with buffalo
The farmers retain ownership of the buffalo at all times. Laos Buffalo Dairy also rent the buffalo from the farmers. Farmers don't do the milking.
After the 6 months cycle, it is upto the farmer to decide if he wants to keep the buffalo at the farm or go home with him. Most buffalo go home to the farmer. Staying at the farm is ofcourse beneficial to him as the owners pay him money, take medical care of the cow and feed them which leads to more chances of survival. In return the owners milk the cow and make organic dairy products which are sold to hotels and restaurants in Luang Prabang. If not, the buffalo goes back with the villager and returns to farm when she is 8 months pregnant again.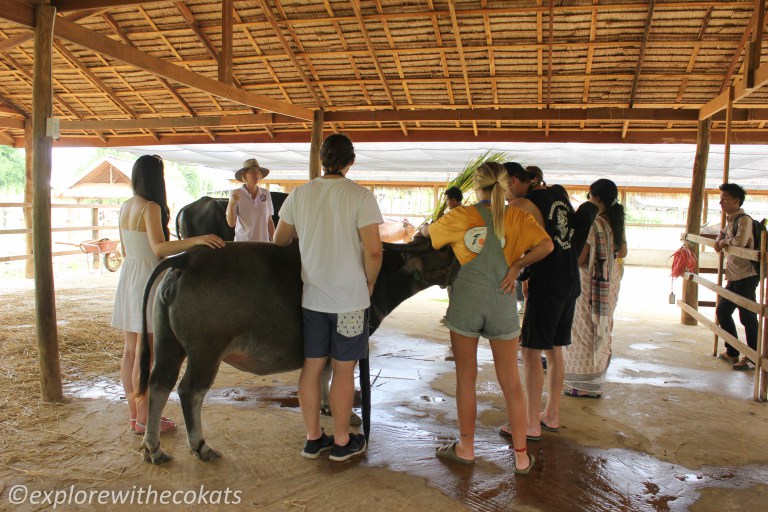 Being an Indian, we prefer cow's milk over buffalo and I was intrigued to know the owner's perspective and inquired about the quantity produced. I was informed that a regular buffalo generates 10 litres of milk every day. However, all the buffaloes at Laos Buffalo dairy farm are Water buffaloes which generate only 2-3 litres milk per day, so it is challenging to sustain the business. Milk from water buffalo is beneficial as it has less fat content and less lactose which can be consumed even by a lactose sensitive person.
Products made from the buffalo milk
Ricotta and mozzarella cheese, ice cream, cake and milk shake are prepared at Laos Buffalo Dairy farm – which you can taste or choose to have over lunch – all of which is fresh, organic, ethical and sustainable.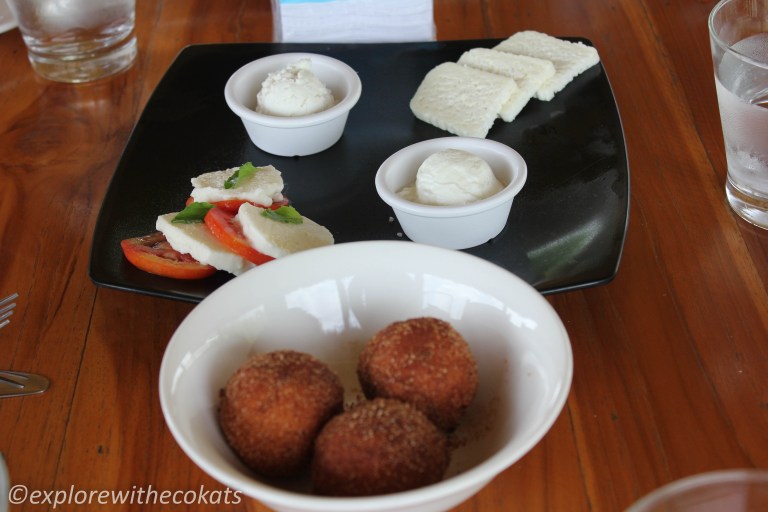 Apart from buffaloes you can spend time around the farm with bunnies, pigs, chickens, ducks and even calves. All these animals are kept in extremely healthy environment. We came across the nicest pig shed wherein the pigs have learnt to use the water tap and drink clean water.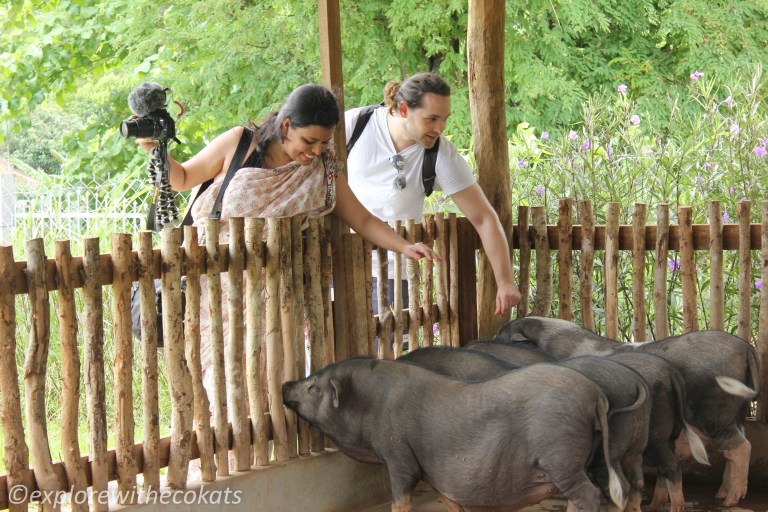 Rice husk is kept in pig and bunny shed to keep the moisture away. The droppings and husk is later used after 6 months as organic fertilizer for growing vegetables on farm. There is sustainability in each aspect!
All in all the visit to Buffalo Dairy farm was enjoyable, educational and different! If you are visiting Luang Prabang, then do visit the farm which is only 40 km from the city.
Address: Ban Muang Khay, Luang Prabang, Laos Phone : +856 30 96 90 487
Disclosure: I was invited by Laos Tourism Board and Mekong Tourism Coordinating Office (MTCO) to Luang Prabang. Special thanks to Laos Buffalo Dairy Farm for taking us around the farm and the amazing lunch and ice-cream! All opinions are unbiased and of my own.