Hotels are looked upon as one of the biggest contributors for pollution by utilizing immense energy and water as well as generating a lot of waste. But sustainability is creeping in to the hospitality sector – for all good reasons! Amari Residences, are the luxury serviced residences in Bangkok with the aim to care for the environment. For those who think luxury and sustainability cannot go hand in hand, you have to take lessons from Amari!
Location
Amari Residences is located on Sukhumvit Soi 2/4, besides the vibrant and newly emerging party destination – New Petchburi road. It is a 7 minutes taxi ride away from Phloenchit BTS station which in turn is connected with Suvarnabhumi airport, shopping areas and temples of Bangkok. It is also adjacent to Bangkok Hospital.
A Sneak Peek into Amari Residence's One bedroom Suite Apartment
Amari offers different categories of apartments, catering to various requirements and taste. The property features 129 serviced apartments which include studios, one bedroom suites and two bedroom suites, each with city views of downtown Bangkok. The property includes luxurious amenities including a fully equipped fitness gym, spa, library and an infinity swimming pool. There is also a restaurant, in room dining and cafe facilities at the property.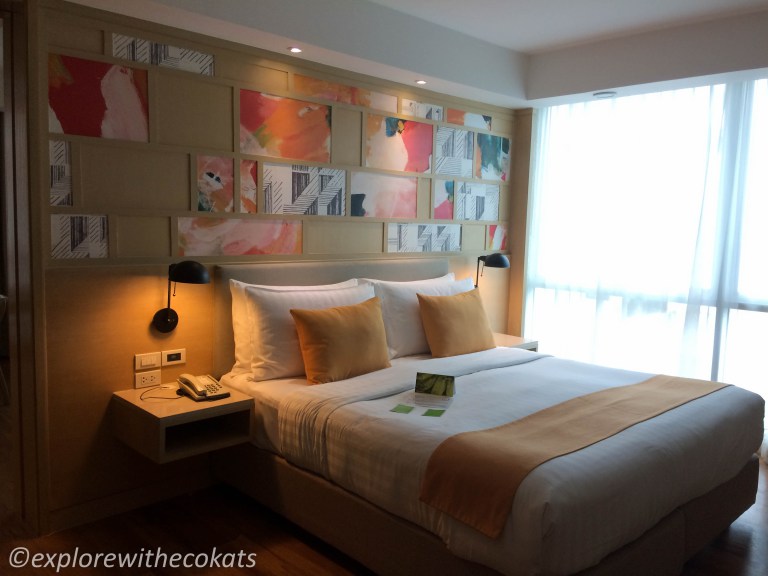 The residences have furnished bedrooms, kitchenette, attached bath and living room.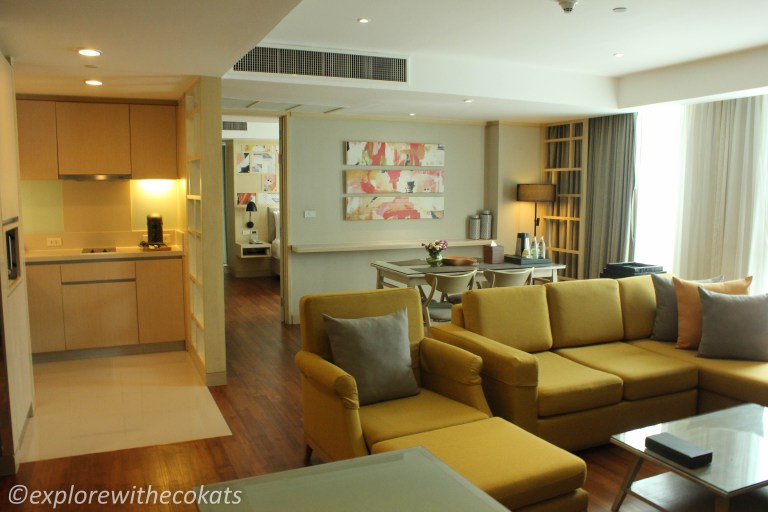 Modern, stylish and sustainable apartments
All the apartments are tastefully designed and are ideal for any kind of traveler – family, couple, leisure, business and even medical. Each room has its own air con, which means you can use it only when you are in that room. There are signages which motivate travelers to use the bed linen and towels for more than once (just like one does at home).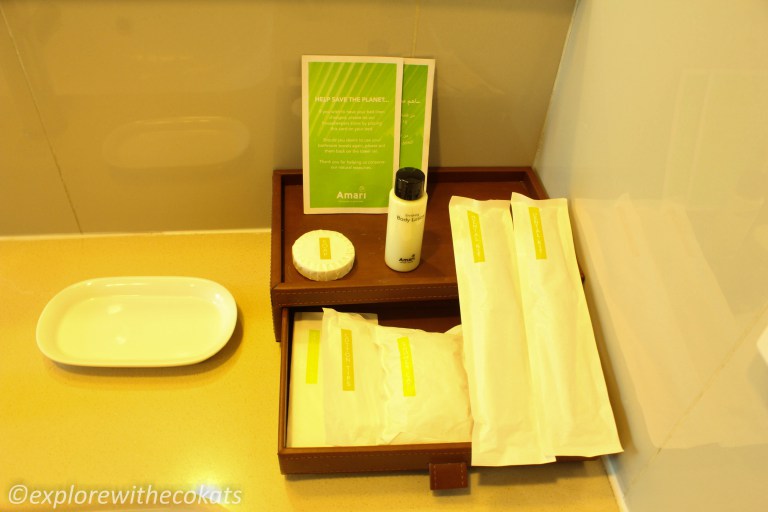 Fully equipped kitchenette
Every thing you probably need in a service apartment is included – refrigerator, hot plate, utensils, microwave, coffee maker, etc. Being a sustainable property, all utensils and water bottles are of glass. Bottles are sent back to the manufacturer where they are cleaned and refilled with potable water (like old times for cola bottles).
Dining Options
Soma Restaurant offers breakfast and meal options with variety of international cuisines. Cafe Buttercup offers pastries, home-made ice cream and coffee during the day. I only had time to try the breakfast which had many varieties of fruits, vegetarian options as well as meat options.
Sustainability and eco-consciousness initiatives
The entire Amari group, takes sustainability seriously. Amari Residences has 1 Green leaf certificate while it's parent hotel – Amari Watergate has 4 Green leaf certificate. These certificates are based on 11 criteria such as policy and standards of environmental practice, waste management, efficient use of water and energy, purchasing, in-door air quality, air pollution, noise pollution, quality of water storage and management of fuel, gas, and toxic waste, impact on eco-system and cooperation with community & local organizations. Both properties are trying their level best to reach and receive the next level of certification.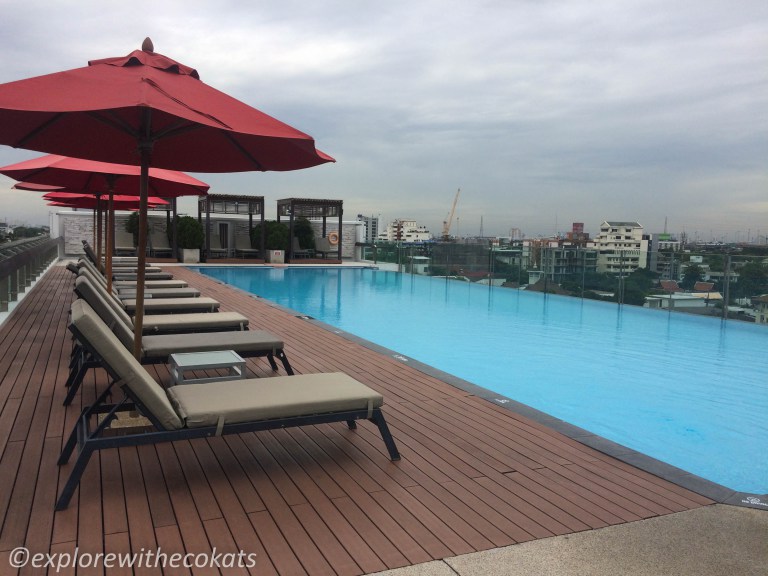 Some other sustainable initiatives at Amari Residences
Staff training for energy-saving strategies
Celebration of Earth hour and World Environment day wherein Amari staff takes up social responsibility in nearby villages for waste management. Tourists can also get involved in these intiatives.
Use of locally produced and seasonal food items
Use of eco-friendly and biodegradable ingredients across all utilities
Donation of leftover food
Maintenance and use of in house herb garden for food preparation
Segregation of waste and recycling
The rooms are designed in such a way that there is maximum natural light which in turn will save energy usage.
A big garden in the center of property with water fountain keeps the open areas in the middle of the property cool, thus reducing air con usage.
Usage of large refillable soap and shampoo bottles
According to Thailand's Pollution Control Department (PCD) data, Thailand generates 4.4 billion PET drinking water bottles per year. As per my discussion with the Manager at Amari Residences, the management is trying their level best so as not to add to the environment load from their property. They also plan to phase out plastic straws with reusable ones in coming future.
I was completely blown over by the efforts of Amari Residences and Amari Watergate for sustainability. Stay with them and contribute a small footprint to the environment.
Contact & Bookings: Amari Residences, Bangkok
Address: 36 Soi Soonvijai, New Petchburi Road Bangkapi, Huay Kwang Bangkok 10310
Contact no.: +66 2308 5900
Website: https://www.amari.com/residences-bangkok/
Email: residencesbangkok@amari.com
Instagram: @amariresidencesbkk
Twitter: @ARB_BKK
Facebook: https://www.facebook.com/AmariResidencesBangkok/
Click here to book a suite for yourself!
Disclosure – I was a guest at Amari Residences, Bangkok. All opinions in this post are unbiased and of my own.
Disclaimer – This post contains affiliate links. It means it adds no extra cost to you if you book through the link but I get a referral bonus which helps me earn a little to keep this website up and running.