On my way to Luang Prabang from Bangkok after Mekong Tourism Forum, I was wondering where would I be put up? What would be the amenities? Will I get vegetarian food? Would the hotel have sustainable practices? Invited on a FAM trip by Luang Prabang tourism board, accommodation details were not shared with us and we had to keep guessing till we landed at the airport. On arrival at the Luang Prabang airport and getting the Gratis visa stamped on my passport, the staff handed out our cards, kits and announced the names of hotels each of us would be put up at. My name was written in front of The Luang Say Residence. I was excited to reach there and find out what it had to offer.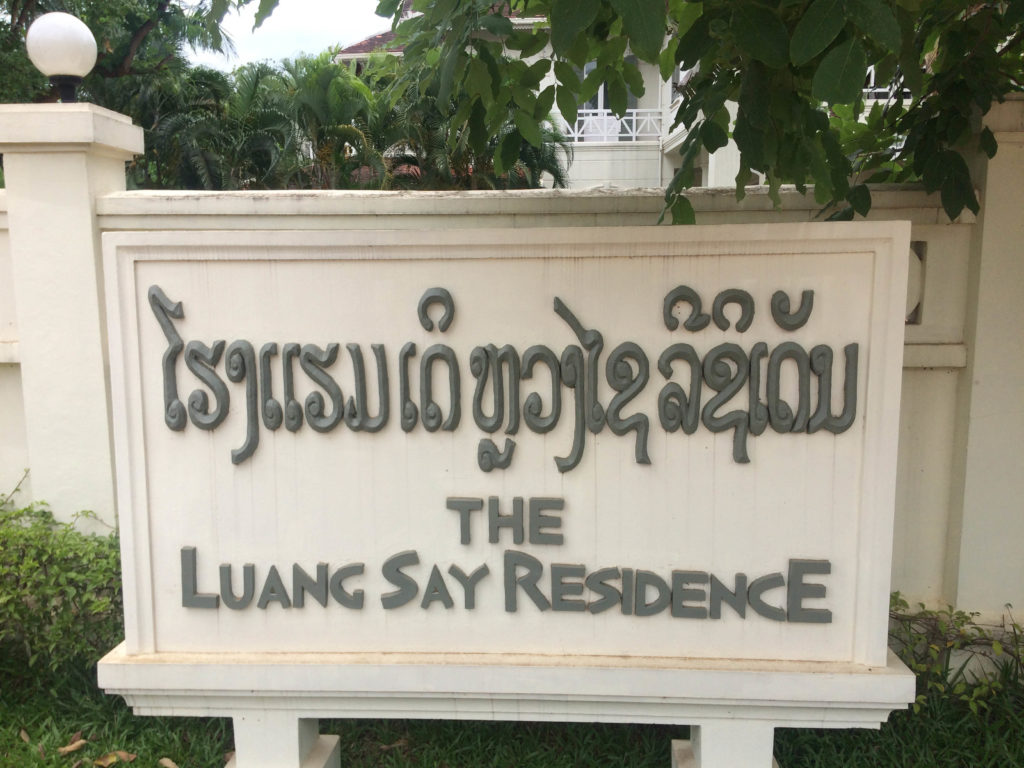 Location
Me and another couple got in the car after loading our luggage and within 10 minutes we were at the gate of The Luang Say Residence.
We entered the French colonial pavilion and were welcomed at the reception. The pavilion has a checkered floor and a wooden staircase leading up which seemed to have some rooms. We were later informed that those were Explorator Suites up the lobby.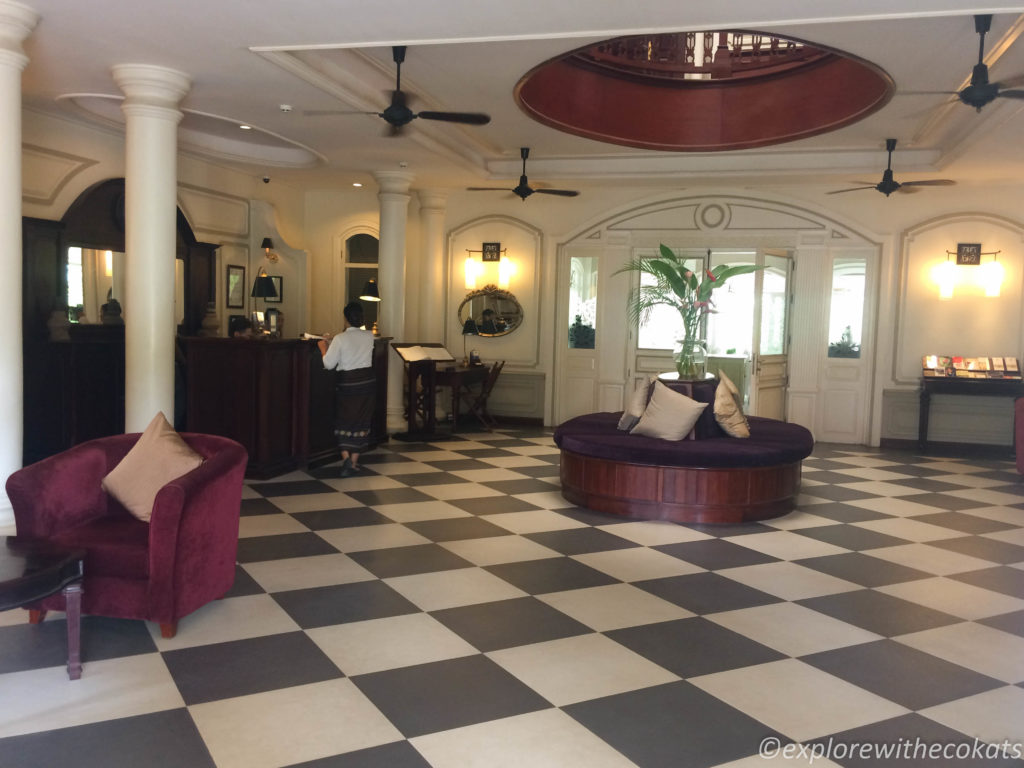 While waiting for the formalities to complete, I noticed photos, old maps, and artifacts from yesteryears, and some gorgeous Laotian craft and jewelry for sale around the reception area. Trying hard to fight the urge for some retail therapy, I got distracted as the staff at the reception handed back our passports and explained about the property, the breakfast timings and various amenities available for us. Welcome to The Luang Say Residence, he smiled and offered us Lemon juice and the Mango sticky rice.
Property at The Luang Say Residence
Conjuring the colonial-era of Luang Prabang, The Luang Say Residence is a beautiful five star luxury boutique resort spread in a sprawling 14,000 square meter area. With lush, tropical gardens and mountain views from every room, it provides a refreshing yet vintage charm as though you are in a town back in France. With eight sophisticated, French-accented pavilions set amid perfectly manicured gardens are 28 pioneer suites and 04 Explorator suites. In the manicured gardens one can find statues of the old French explorers along side small ponds with fish. Talk about attention to detail!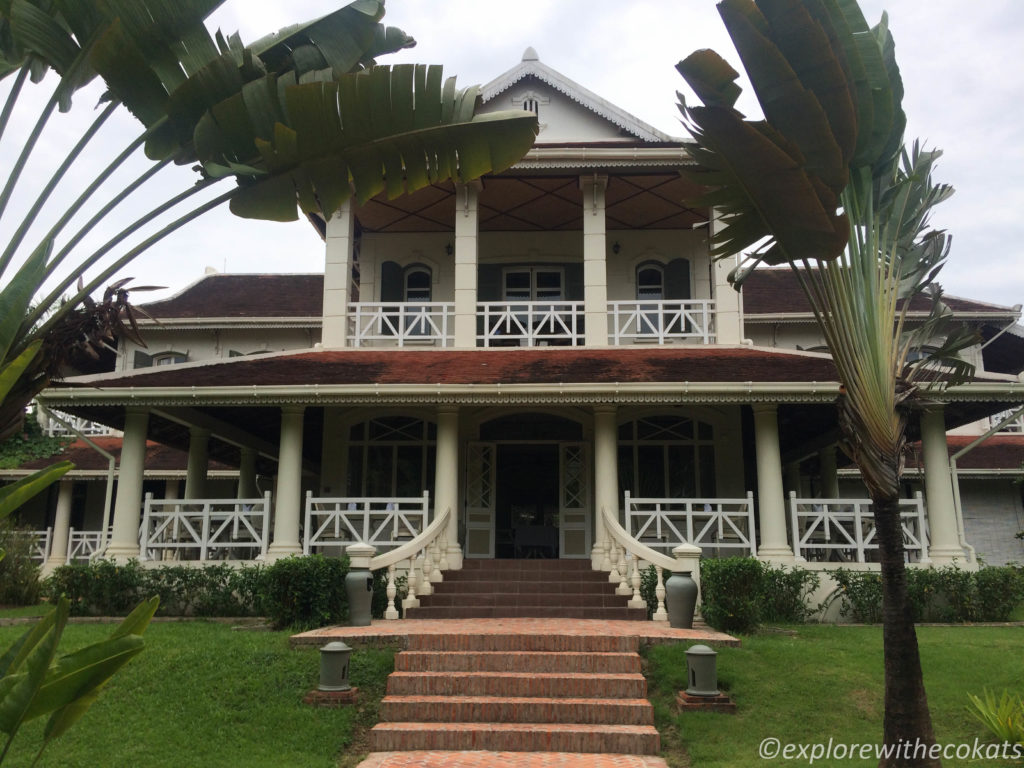 Pioneer Suite at The Luang Say Residence
My home for 4 nights was one of the pioneer suites overlooking the inviting swimming pool. Entering the suite was like a blast for the senses. It had everything a modern suite has – Fast wi-fi, Air con, a flat screen TV, fully stocked mini bar, fresh fruits, gourmet style coffee/tea maker, et cetra as the list can go on; at the same time it had the elegant and vintage style colonial furniture with Laotian wood flooring, poster bed (Diwan) with billowing mosquito net and wooden writing desk. Paintings and art objects decorated the rooms giving it a classy and charming finish.
On opening the sliding window, there was a sit out balcony to relax, overlooking the gardens where you can listen to the chirping of birds and read a book or take a nap.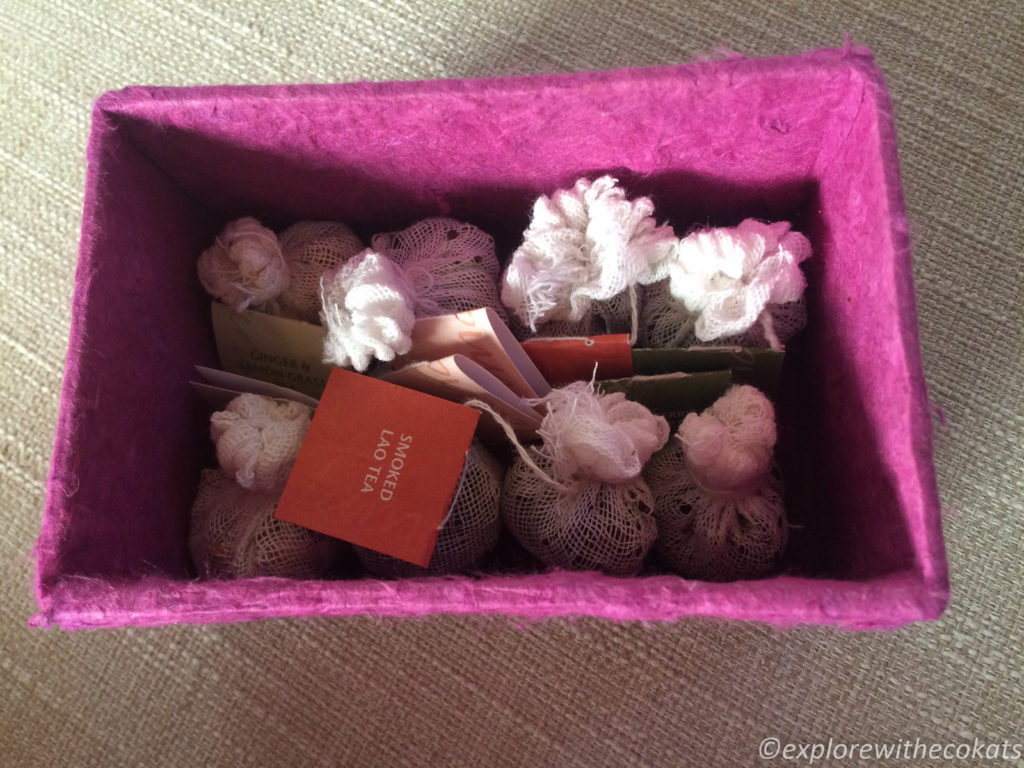 The bathroom at The Luang Say Residence was so spacious, it was like a room in itself. Spotlessly clean and white with checkered flooring, the bathroom had rainfall shower, two wash basins and quality toiletries. The shampoo and soap were in big ceramic refillable bottles. Rest of the toiletries like toothbrush, shaving razor, comb, etc. were near the wash basin and neatly packed in ecofriendly packing into a kit. This bathroom could definitely fit for a lifestyle feature!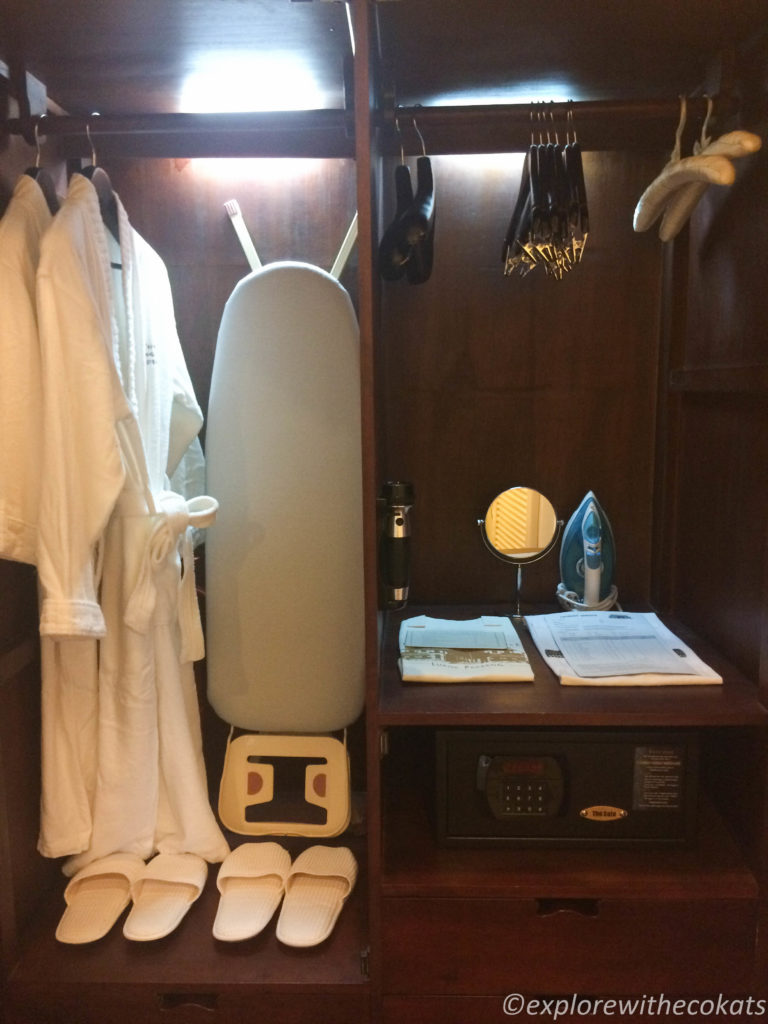 Restaurant at The Luang Say Residence
La Belle Epoque is a classy restaurant serving French-inspired and Laotian cuisine. The breakfast is included in the room tariff and you enjoy it in an indoor or outdoor seating area with leisure. As soon as I was seated I was presented with a fruit plate with coconut milk, freshly baked bread basket with butter and 2 types of jam and coffee. Then I had a choice to choose another main dish from an ala carte menu. I chose a different one on all 4 days of my stay and they had enough vegetarian varieties – pancakes, oatmeal, cereal bowl and fruit salad. The other couple staying with me swore that they had the best egg benedict ever.
All the herbs used in the hotel are grown in the organic garden in hotel premises. You can see the staff caring for them while you enjoy your meal in the outdoor seating area of the restaurant.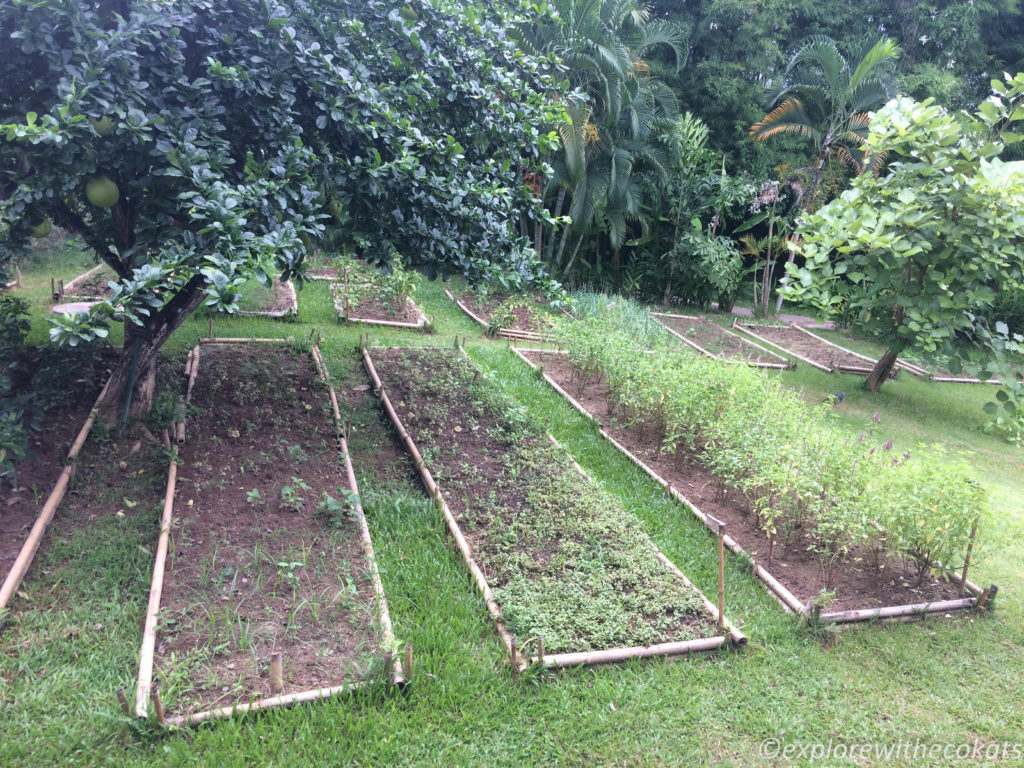 Swimming pool at The Luang Say Residence
The La Bella Epoque restaurant opens to the inviting swimming pool which also has another adjacent outdoor restaurant called Terrasse des Colonies. This infinity swimming pool overlooking a mini forest, is a 20 metre free form pool. Take a refreshing lap or two after a tiring day roaming around the town and wind up the day under starry night with their signature cocktails and fine dining chef's special dish of the day.
If you do not fancy taking a dip, simply relax on the deck in one of the comfortable loungers with a beer.
Bar at The Luang Say Residence
Near the reception foyer is 1861 Bar, fitting in with the overall colonial theme. It is absolutely classy with plush and comfortable armchairs, hunting weapons and a fireplace giving it a very vintage feel of the French explorers who came to Luang Prabang in 18th Century.
Sustainable practices at The Luang Say Residence
Most hotels in Luang Prabang follow sustainable practices wherever possible and The Luang Say Residence is not far behind on same. My interaction with the Hotel Manager, Mr. Francis Fernandes led to a discovery of how The Luang Say Residence believes in the ethics of sustainability: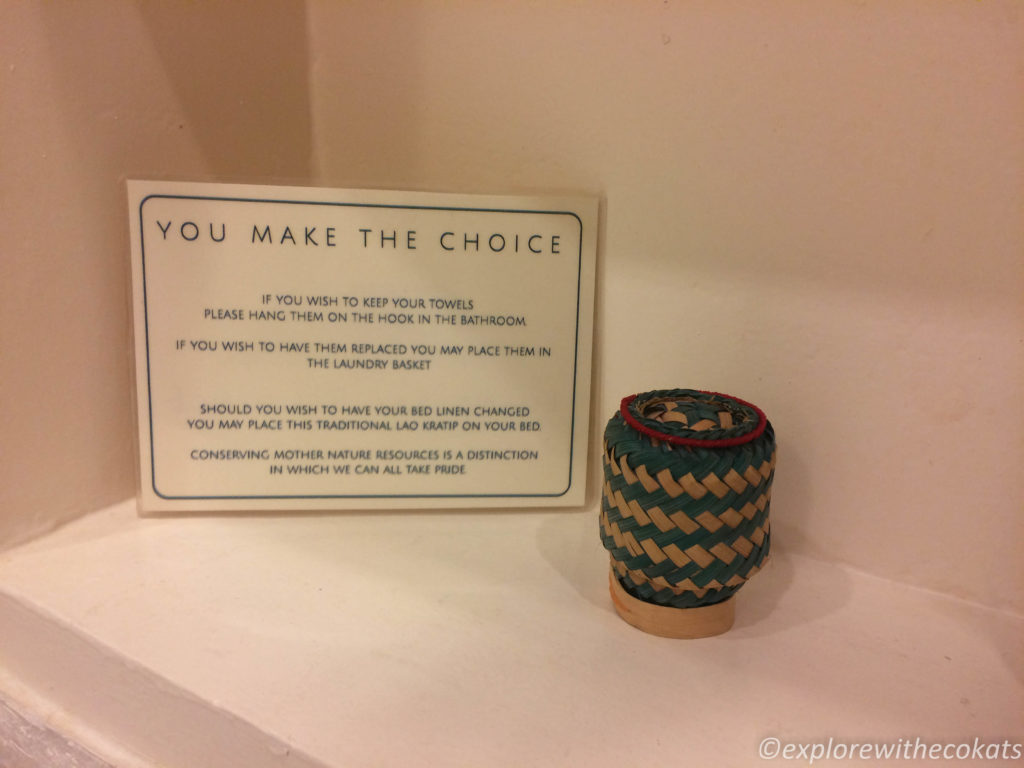 The hotel is a member of Pack for a Purpose, which is a charitable organization. The hotel accepts donations from guests on behalf of Pack for a Purpose. The donations could be food, utility or clothes which are later donated to the lesser privilege society of Lao.
The hotel is a part of CSR programme in Luang Prabang wherein the staff participates in sustainability workshops conducted by GIZ (Deutsche Gesellschaft für Internationale Zusammenarbeit GmbH, a German development agency). The workshop helps hotels to formulate their environment policy and maintain data of water and electricity consumption and how to reduce it. The programme capacity builds local community members in the hospitality sector.
Waste segregation is religiously practiced. The food waste is sent for composting and recyclables are sent for recycling.
Use of ceramic bottles in bathroom to store toiletries – shampoo and soap bottles to reduce small size plastic bottle usage.
Use of in house grown organic herbs. Many a times fruits and veggies are also grown in the property which used in kitchen and served to the guests.
Negligible use of tissue paper. There are jet sprays in the toilets and cotton handkerchiefs near wash basin to wipe hands which are washed and reused.
Plastic packaging is negligible – there is a lot of use natural and biodegradable materials.
Mr. Francis shared that they are underway of phasing out the use of drinking water PET bottles and join the water refill station campaigns. And I am sure they will be able to achieve it soon!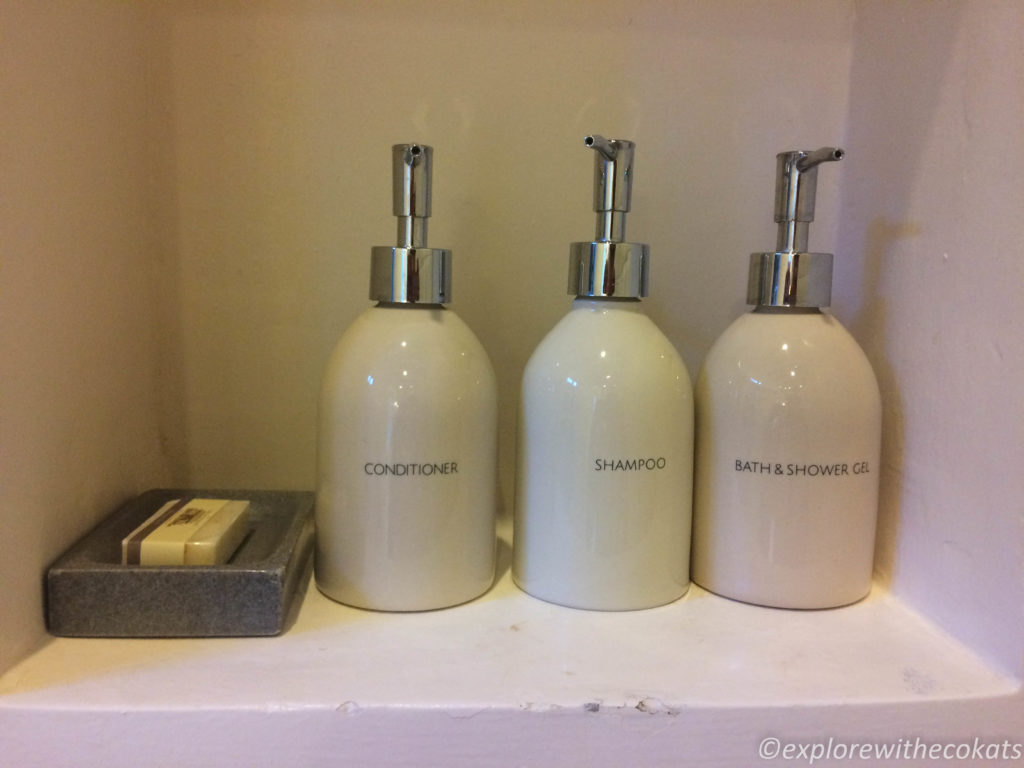 Other services at The Luang Say Residence
The management knows hospitality and they have not left any stone unturned to give guests the ultimate relaxation and five-star services. Here are some of them
In room spa
Free shuttle on fixed timing to the city (however, they dropped and picked us up even before or after time)
A concierge for planning and booking excursions in and around Luang Prabang
Special Mention: I loved the gifts the staff left on my bedside table everyday. These gifts (elephant, hand-made soap, a bamboo dish) were accompanied with the photo and name of the maker and an explanation of how it was made. I am so glad the hotel is supporting the local community in more ways than one.
Conclusion
I had the most amazing stay at The Luang Say Residence for its tranquil yet elegant style. With comfortable suites, an alluring swimming pool and lip smacking food, the Luang Say Residence is a great choice for families looking for a classy, peaceful yet modern hotel in Luang Prabang. The attention to detail has made the entire experience unforgettable for my Laos journey.
Contact and Bookings
The Luang Say Residence
Address: 4-5 Ban Phonepheng, Luang Prabang, Laos
Contact: +856 71 260 891
Website: http://www.luangsayresidence.com/
Email: info@luangsayresidence.com
Instagram: https://www.instagram.com/luang_say_residence/
Facebook: https://www.facebook.com/TheLuangSayResidence
Click here to book a suite for yourself!
Disclosure – I was a guest at Luang Say Residence as a part of FAM trip sponsored by Luang Prabang Tourism, Destination Mekong and Mekong Tourism Coordinating Office (MTCO). However, all opinions in this post are unbiased and of my own.
Disclaimer – This post contains affiliate links. It means it adds no extra cost to you if you book through the link but I get a referral bonus which helps me earn a little to keep this website up and running.