My visit to Cambodia was unexpected and happened because my parents who recently shifted to Phnom Penh from India for dad's small term project. It took us a lot of time to actually finalize whether to travel, as tickets were expensive at last moment. Talking to fellow bloggers and friends when I mentioned Cambodia all they had to guide me was about Angkot Wat. But then we decided to travel anyway thinking 'we will figure it out'. Now that we are back, this is our Cambodia Travel Guide.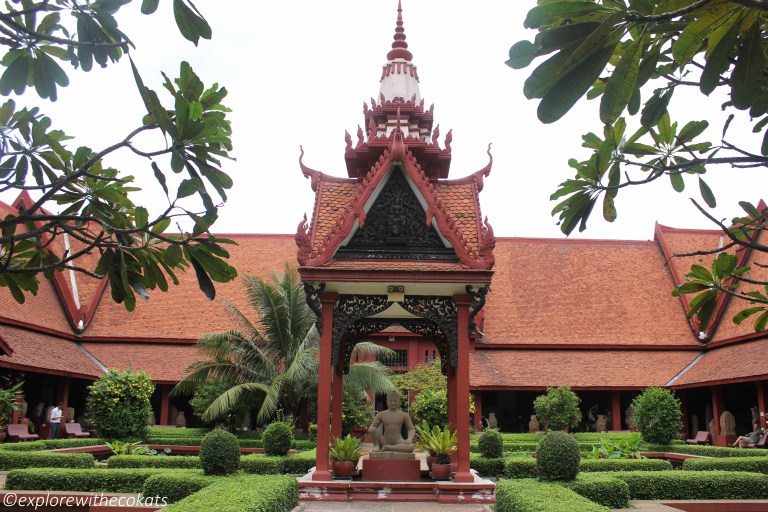 Cambodia has had a volatile history. The country underwent horrifying genocide that was carried out by the Khmer Rouge regime (led by Pol Pot) between 1975 and 1979. Out of the 7 million population then, over 1.7 million died of starvation, execution, disease or overwork. Some estimates place the death toll even higher. The Khmer Rouge apparently arrested and killed all people from previous regime – including soldiers, politicians and bureaucrats, educated, capitalist and city people to grow rice and other agricultural products as Pol Pot wanted to develop Cambodia into a agrarian economy like the Angkor Empire in earlier days. When people complained they were tortured and killed, including women and children.
Fast forward to 2017, the country has good tourist's spots, delicious food, the friendliest people, beautiful coastlines, and a lively nightlife. Still at a developing stage, the country which does not have any manufacturing units of its own is trying to spring back with better governance.
Cambodia travel flights
For Indians, Cambodia travel is quite easy and these are some of the options:
From Mumbai, Bangalore and Delhi you will get connecting flights to Bangkok, Kaula Lampur or Singapore. Flights from these destinations are available to Phnom Penh (the capital) and Siem Reap and are of 1- 3 hours duration. Air Asia has many economy deals from Delhi and Bangalore to reach Phnom Penh so keep checking. My brother who traveled with us got a return flight from Bangalore – KL – Phnom Penh at INR 28,000 (US$430).
Visa 
For Indian travelers, Visa on Arrival can be obtained at Cambodia International Airports in Phnom Penh and Siem Reap. The validity is 30 days. You will need:
A completed visa application form (generally given to you on flight)
A Passport with at least 6 months validity
One recent photograph (4 x 6 cm)
Visa fee in cash (US$25)
Pro tip: Download the visa application form from their embassy website and fill it in advance to save time and faster immigration
I was not asked a single question during immigration process, nor was I asked to show any proof of accommodation or onward booking. It was too easy and I felt amused; wouldn't you want to know the purpose .
Currency 
Cambodia has its own currency called Cambodian Riels (KHR). 1INR = 63KHR and US$1 = 4050KHR. However the country also uses USD officially so there is no real need to carry the local currency. Even street vendors and local drivers accept USD. However small change may be given back in KHR which can be easily utilized in purchasing water bottles or small souvenirs.
Cambodia travel and local Transportation 
Tuk-tuk is the local way of getting anywhere in the city, even from airport. It is like an Indian auto rickshaw, a 3 wheeled automobile but bigger which can accommodate 4 people comfortably. If you have big bags from airport, it can even accommodate that with 2 passengers. Be sure to negotiate a price in advance (usually not more than US$5-10 depending on the distance). If you are renting a driver for an entire day in any of the cities, it will cost you around US$25 (excluding tip).
For getting around to other cities, flights as well as buses are available. Buses are clean, cheap yet comfortable. If you opt for night journey, air conditioned sleeping coaches are available. They will give you a polythene to store your footwear (so the bus doesn't get dirty), water bottle and a blanket. The cost ranges from US$8 -15 one way per person. We traveled from Phnom Penh to Siem Reap in an overnight Gaint Ibis bus which took 6 hours.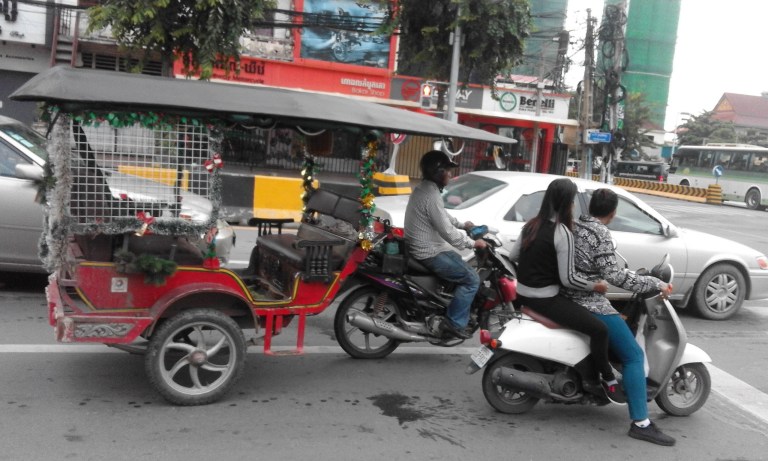 Accommodation
Hotels, guest houses and hostels are easily available across all tourist destinations and the capital. The range starts around US$5-8 per night per person for hostels, midrange hotels around US$20-30 (including breakfast) and luxurious hotels around US$60-80 (including breakfast). At times they may offer pick up and drop services to airport in that rate. WiFi is available in all accommodation as well as tourists' spots and restaurants.
Food
The local street food as well as in restaurants is quiet cheap in Cambodia which includes a lot of sea food, crickets, spiders, ants and chicken. A meal on street can cost you US$2-3 and US$8-10 in restaurants. However this is bland for Indian taste and us being vegetarians we had a tough time fighting the odor of the local dishes even on streets. Luckily we found vegetarian Indian restaurants in Phnom Penh as well as Siem Reap wherein a South Indian thali costed $8 per person and a la carte about $15-18 between 2 of us. There are also tons of fruit and dry fruit options which we relished all days – banana, jack fruit, lychee, dragon fruit, passion fruit, mangoes, the infamous durian, almonds, cashew nuts, etc. They are fresh and yummy.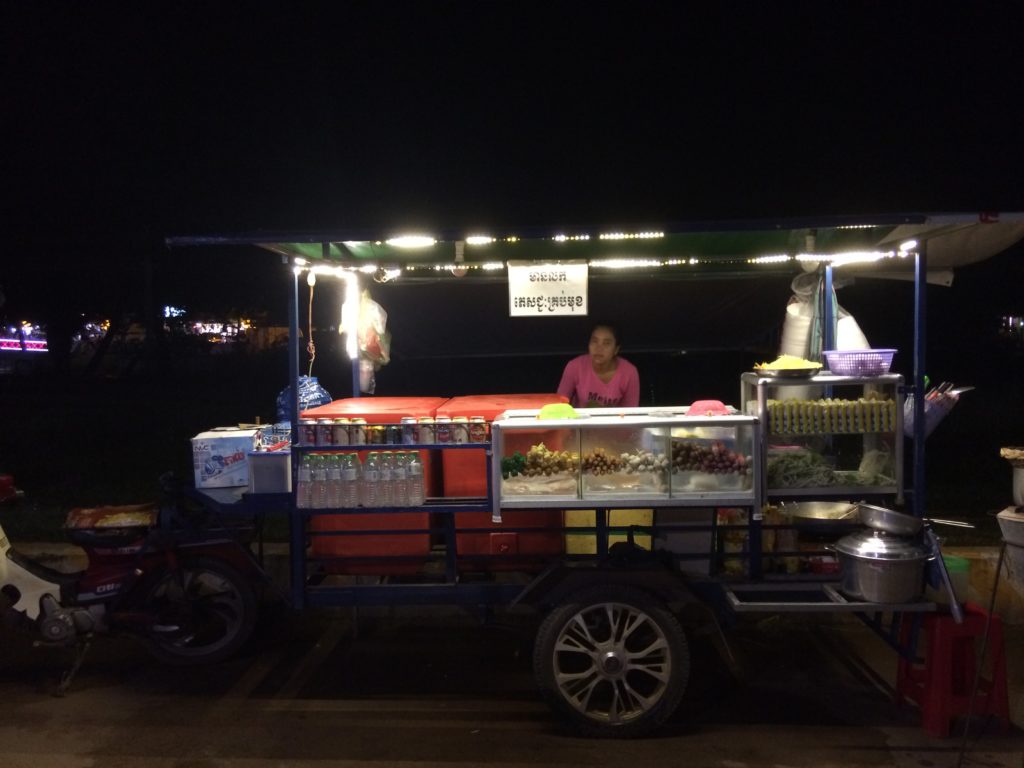 Language, Culture, Tradition 
Cambodians traditionally greet with a Sampeah, it is like Indian 'Namaste', which involves pressing the palms together before the chest with a slight bow and greeting with a polite 'Chumreap Suor' and smile.
Khmer is the official language of Cambodia.
90% of Cambodians follow Buddhism.
Things to do/see 
Other than Angkor Wat, places of interest include
Sihanoukvill,
Koh Kong,
Battambang,
Koh Tonsay,
Kampot,
Koh Ker, etc.
Safety 
Cambodia is pretty safe for seasoned travelers, solo women travelers, backpackers and family in the city, buses or accommodation. Keep in mind the country wakes up super early – shops open at as early as 6:30am and close at 5:00pm – even the markets and retail stores. Only restaurants would be open past 6:00pm. So when you go for dinner to a restaurant with a tuk tuk driver, engage him for a ride back and pay him while sitting in the tuk-tuk. There have been instances of snatching while paying drivers or while carrying bags on isolated roads but very few incidents of mugging. But that is present in any city or tourist attraction in the world so you just have to be careful and alert.
This is funny yet serious but there is danger of landmines in Cambodia. Not so much in the cities but watch out for them in woods, dry paddy fields or open areas. There is no estimate of how many are there but could range from few thousands to a few million. It is not uncommon for someone to be injured in this way. Infact there are many amputees in the country.
Best time to visit and plan Cambodia travel
The weather is generally hot and humid throughout the year. However, the 'tourist' season is from November to March as weather is a bit pleasant but it comes at a cost as the flight rates as well as hotel prices go up, even if you book a year in advance. For Indians it really doesn't make a difference as we have the same weather here.
Cambodia travel – Our hack for dates
We utilized 3 weekends of August 2017 and took advantage of Indian festivals like Rakshabandhan, Janmashtami and Independence Day. We left on 5th August night (Saturday – packing day) and came back on 19th August night (Saturday) as we need 1 day to relax, do laundry and get into the head space to start working the next day. If you are adventurous you may leave on Friday night and be back on Sunday night giving you 2 more days. The month of August generally has long weekends with these festivals every year. If planned well in advance you can easily get 2 weeks. In 2016 we traveled to Ladakh on similar dates.
Shopping 
Traditionally arts and crafts include lacquerware, silk weaving, silver work, stone carving, wood carving and basket making. They are available in stores as well as local markets. Be careful as wooden artifacts are sold as fake plastic ones with higher price. Textile market is also booming in Cambodia. I have no idea where it comes from but it is super cheap. T-shirts and pants are as cheap as $2 and can be lesser if bought in bulk. There are night markets in all major cities – open till 11pm.
Pro tip: Decide what you want to buy and head straight there otherwise you will end up spending much more on so many attractive things that are actually of no use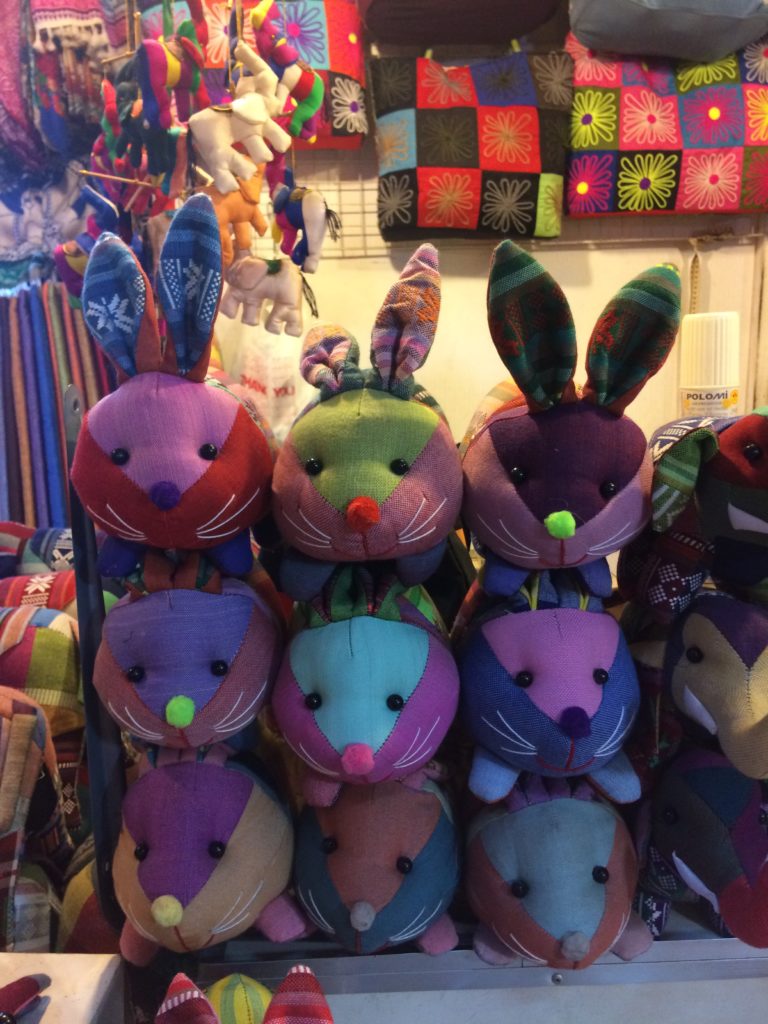 What to wear 
Since it is hot and humid country, anything which is comfortable to you should be worn – preferably cotton t-shirts and shorts which will give ample protection to your skin. The country is liberal in terms of what you prefer to wear however you will be required to cover your shoulders (scarf is not allowed) and knees while visiting temples.
What to pack for Cambodia travel
Pack light. You will find everything from tea, branded toiletries to clothes in case you forget something. Other things:
Comfortable footwear – you will be walking a lot in temples and museums. Although sport shoes will give you that comfort, you may be required to removes them while visiting temples way too many times that it will get annoying. Also with the hot and humid weather, the shoes get super sweaty. Try floaters, kittos, flip flops instead.
Sunscreen – you will thank me for this. Trust me it is required everywhere.
Water/fluids/snack – pack this for all your local sightseeing.
Travel insurance – it's a hot country, there are mosquitoes. You do not want to have malaria, dengue or even a viral throat infection. But in case you do, insurance is always handy. Buy one, which will cover your luggage loss or delay (saying from personal experience).
All others things which you feel are important