The timing of my visit to Vietnam was not so good and so I was warned by a lot of friends that Hanoi may not be a good option due to rains. But i was determined to go and hoped that my 2 days in Hanoi would give a sneak peak into the cultural side of Vietnam. After 3 days each in Ho Chi Minh city and Hoi An which was nothing less than amazing, I had high expectations from 2 days in Hanoi.
We reached Hanoi from Da Nang airport just before lunch and hopped on into the car towards old quarter to our hotel – Queen Light Hotel. We did not have a fixed itinerary but wanted to have a package for city tour and Halong Bay. So after a nice vegetarian Indian meal (Blessings to the Pakistani who made it) we started exploring the area for tour operators who could give a good package. We finalized it and when we got out to explore the neighbourhood, it started pouring. And it kept on pouring till wee hours of night so much so that we had to buy umbrellas and yet skip dinner and survive on some snacks!
The next day it was cloudy but no rain which was sigh of relief as we waited for our tour bus to arrive. Here are the favorite tourist attractions in Hanoi.
Ho Chi Minh's Mausoleum
We started with Ho Chi Minh's Mausoleum as it tends to get crowded in later hours. Popularly known as Uncle Ho, Ho Chi Minh was the first respected president of Vietnam. Ho Chi Minh mausoleum was inaugurated in August of in 1975 which houses perfectly preserved remains in tight security.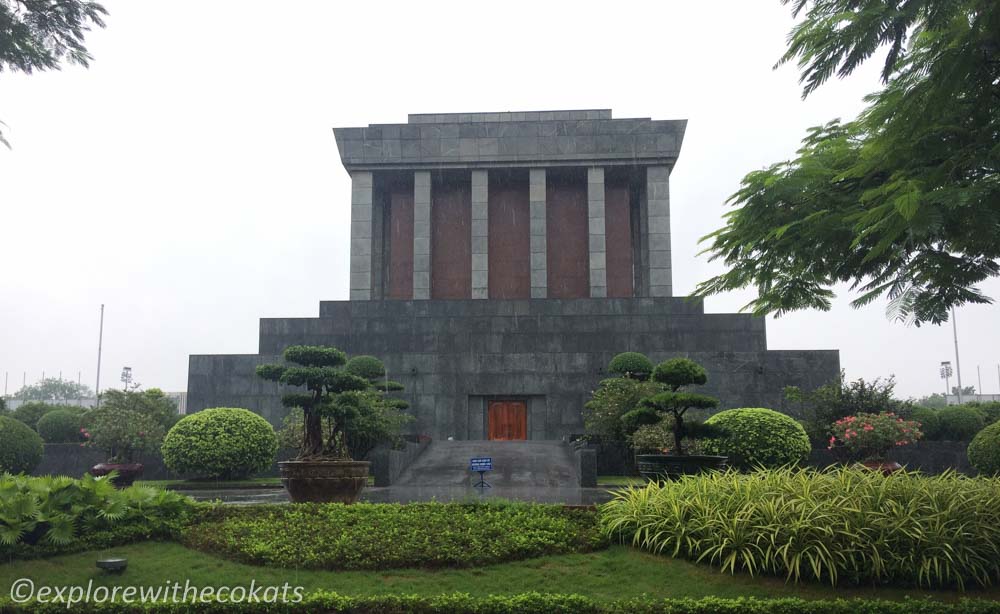 There is clear pathway which leads visitors to the Mausoleum. Once you reach there visitors are expected to be very disciplinary and walk in a steady pace. You can only whisper if you must and are not allowed to smile, or put your hands in your pockets. Food, water bottles, jewellery and electronics items including mobile phones are prohibited. All these belongings must be handed to the guard before entering the mausoleum and you can have it after you are to leave from the complex.
Tip: children under three years are not allowed to go inside the mausoleum.
Once you enter the mausoleum in a never ending puzzle pattern, you reach the Ho Chi Minh's preserved body neatly resting in glass casket. The room is dimly lit, and visitors have only a short time to look at it (just like Indian temples, haha).
The entire complex is quite big, and there are many other things to see other than Mausoleum like Ba Dinh Square, The Presidential Palace (which you can see only from a distance), Ho Chi Minh Stilt House, Ho Chi Minh Museum and One Pillar Pagoda. The entire visit will easily cost you about 2 – 2.5 hours but it is totally worth it.
Entry fee: 40,000 VND/person
Timings: Tuesday – Thursday 07:30 – 10:30, Saturday & Sunday 07:30 – 11:00
Dress Code: Anything that covers your entire body. Shorts, skirts, tank tops, and hats are not allowed.
Tran Quoc Pagoda
As soon as we left from the Mausoleum, it started drizzling and it continued to do so till be reached Tran Quoc Pagoda. It just seemed these 2 days in Hanoi would be full of rains! Tran Quoc Pagoda is a symbol of Vietnamese Buddhism which is built in an intricate way. It is a masterpiece of Vietnamese sculptural art, with a tranquil backdrop. The temple is spread over 3,000 square metres and the main pagoda of the temple is 15 metres tall and has eleven levels. A gemstone lotus sits proudly symbolising the Buddha at the top of the tower and there are many carved statues on the walls.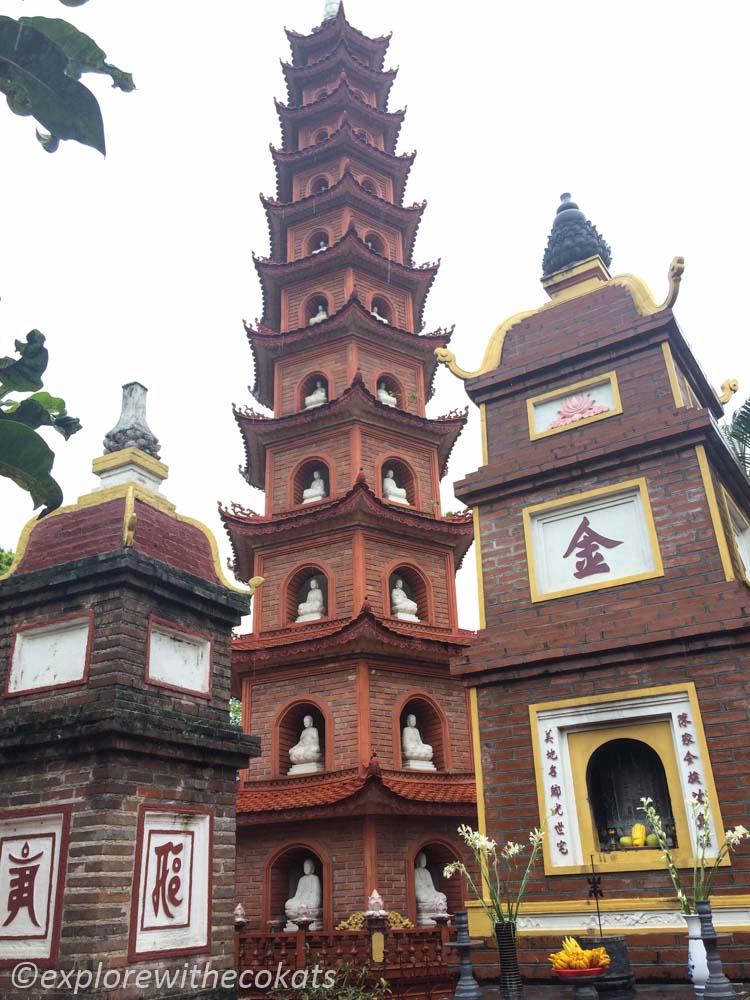 In the pagoda's garden stands a Bodhi tree, which is attached to a past story that in 1959, Indian President Rajendra Prasad offered the Pagoda a bodhi tree as a gift. The plant was grafted from the holy bodhi tree where Sakyamuni sat in meditation and achieved enlightenment in India 25 centuries ago. Today, the tree green and luxuriant, shading over part of the pagoda's yard.
Hoan Kiem Lake
Hoan Kiem lake is an idyllic destination for tourists and locals in Hanoi. Watch the locals go about their daily activities . Some locals do exercise near the lake, others commune to work and prepare for the coming busy day. You can just sit by the lake and take in the city's vibe.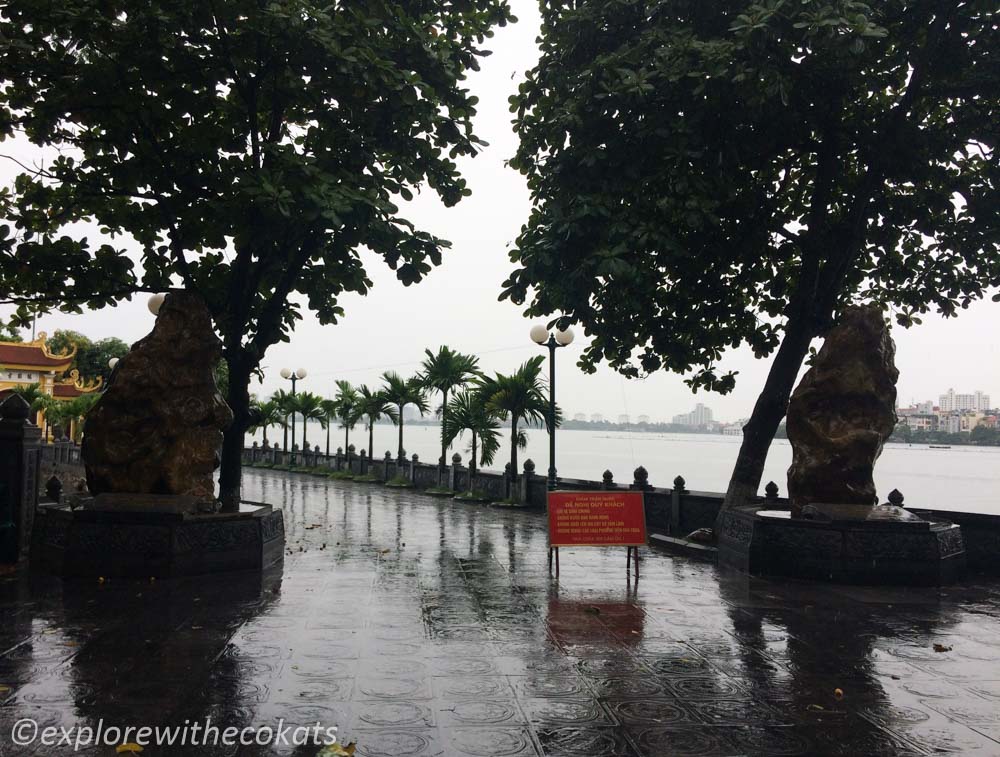 Temple of Literature
The Temple of Literature was built as a place of learning and is known as Vietnam's first national university. In earlier times, students at this university studied literature, poetry, and philosophy. The university closed in 1779 and is now used a quiet retreat to read, walk in the courtyard or spend time in meditating by the locals and tourists alike.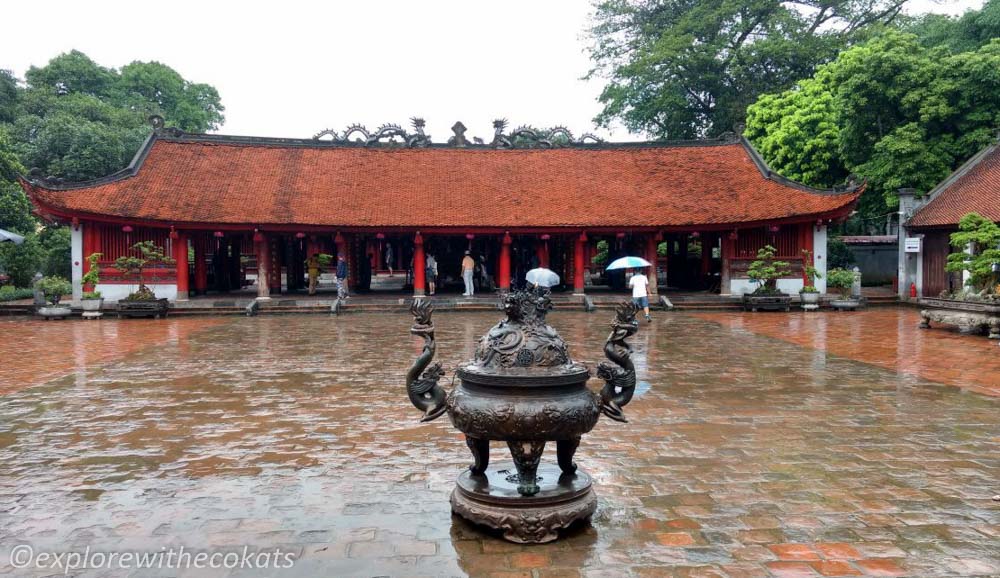 The Temple of Literature has five different courtyards, which has gardens, ancient trees, topiary animal sculptures, and ponds.
Entry fee: 10,000 VND
Timings: 8:30 – 11:30 and 13:30 – 16:30 everyday except Mondays

We spent the evening at Hanoi's Old Quarter having coffee, dinner and shopping for souvenirs and looking at the traffic go by.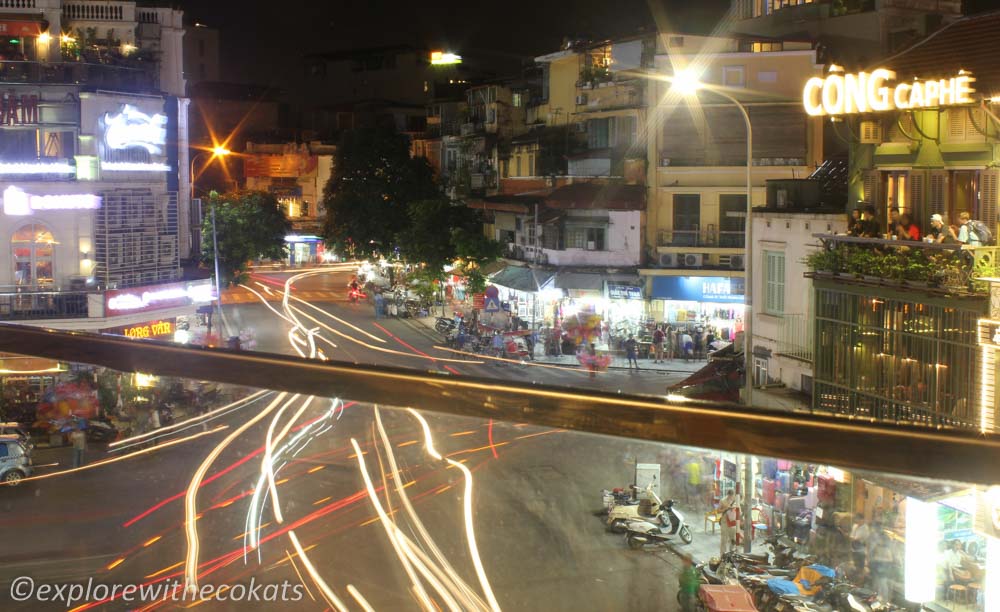 Second day of 2 days in Hanoi
It was about Halong Bay! It was really difficult to pick a boat tour for the day as there are a zillion options giving 3 to 5 star rating services and 2,3,4 night stays. We were low on days so had to choose a day tour. We started pretty early at 8am from the hotel wherein we were picked up from our hotel doorstep. Thank god there was no rain but it was extremely humid.
After a couple of more stops to pick more tourists from their hotel, we started out in van and  stopped half way to visit crafts workshops, where you can buy marble stone sculptures, plaque paintings, and hand-embroidered items. They are extremely overpriced. However it acts as a good loo stop. We started again and reached Halong pier at around 12:00 PM.
We waited in the lounge till our tour operator got us our tickets. We were lead to our boat after crossing through a long street of shops selling souvenirs. Few minutes into the boat, lunch was served. Being a vegetarian we did not have many options but they did manage to get us some noodles and peanuts. We enjoyed the food with breathtaking scenes of the limestones in the bay.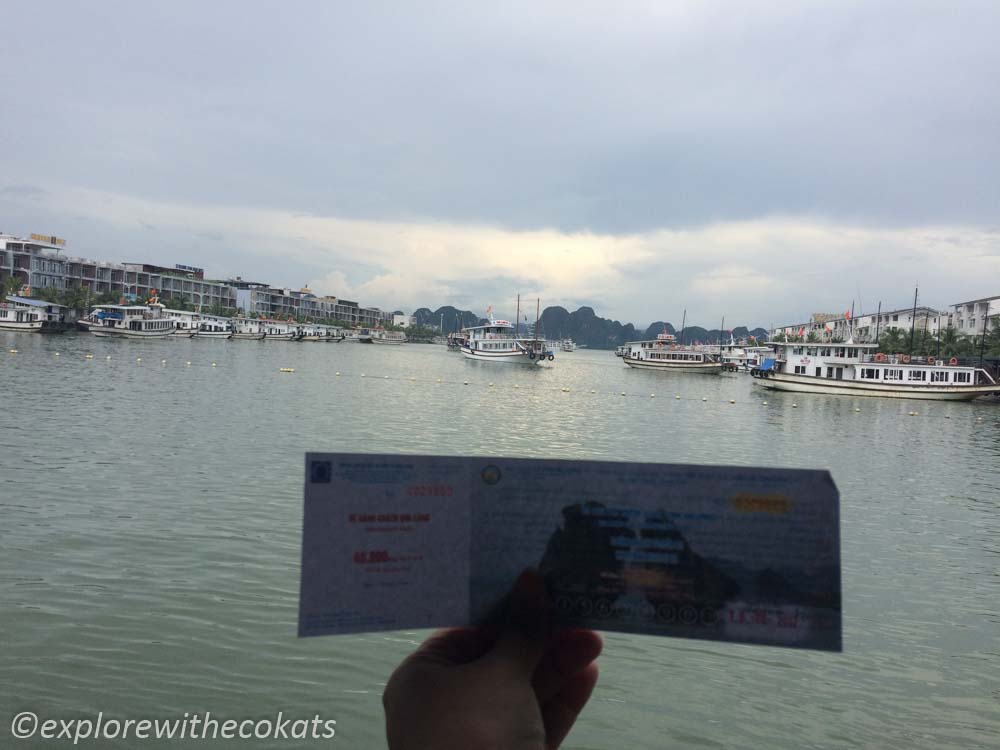 We stopped at Thien Cung cave. It is hard to tell what it would contain looking for its exterior but the beauty of stalactites and stalagmites formation inside the cave is mesmerizing. Our tour guide showed us possible formation of shapes like those of animals and gods and it was an amazing session.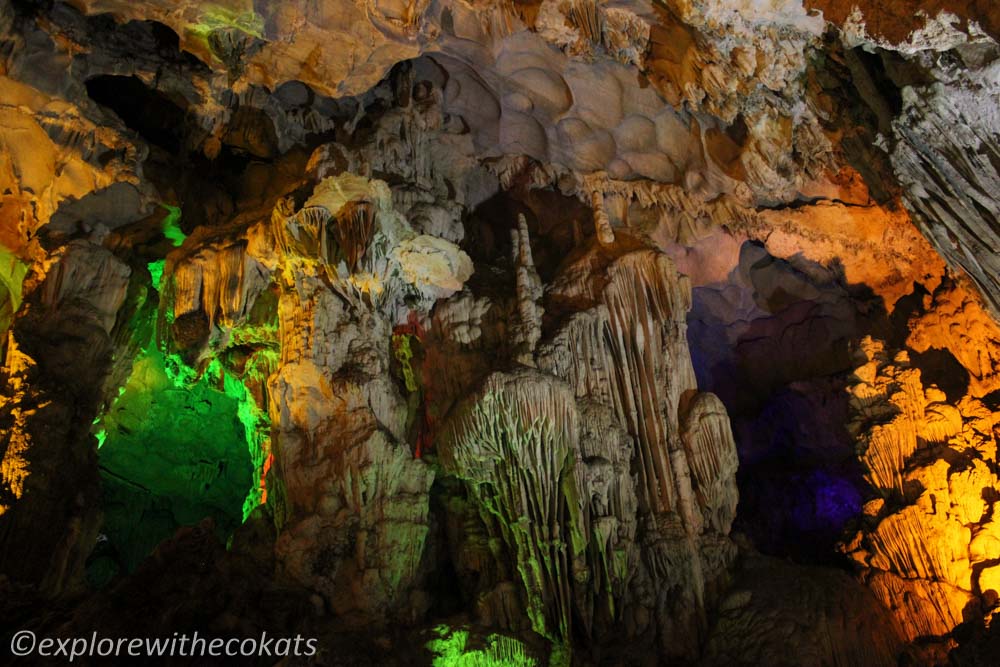 We got into the boat and made another stop after a while. Here there were options of 45-minutes of kayaking or a bamboo boat around the islands and water tunnels. We chose the bamboo boat wherein the boatwoman paddled us into this tranquil portion of Halong Bay. It was so peaceful and untouched. It was here that I thought we could have stayed in Halong for probably one more day. The emerald water and the huge cliffs just kept us in awe!
We came to our boat and it was time to head back to the pier. We returned to the Halong pier at 5:00 pm and boarded the bus and reached Hanoi at 8:30 pm.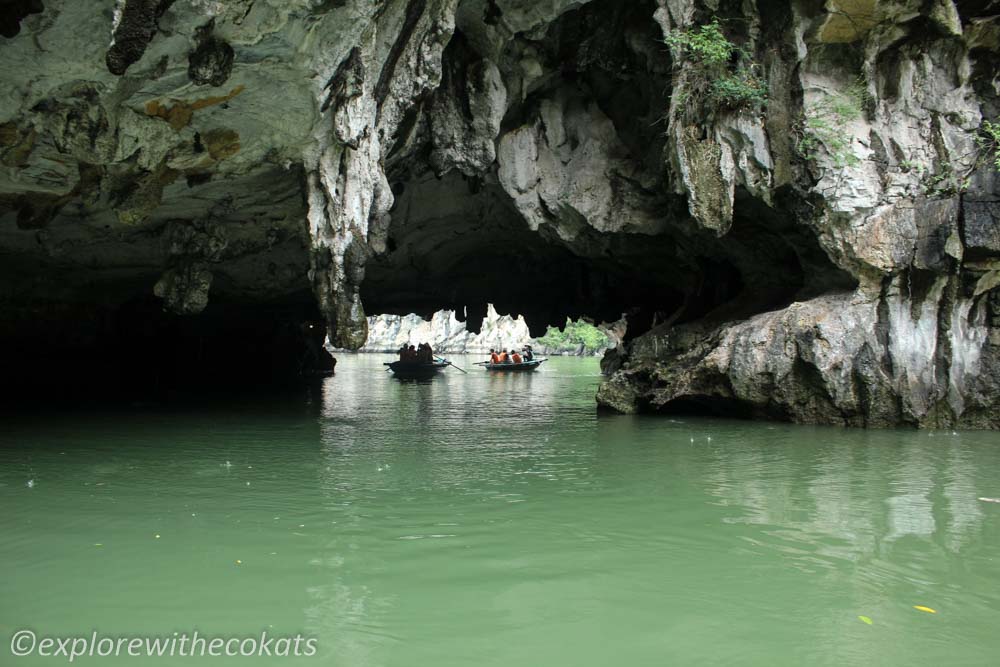 Enjoyed reading about 2 days in Hanoi? Here's some more information:
Shopping
Like Hoi An, all cities in Vietnam are popular for their clothes and how quickly they are custom made. There are many shops selling ready made Vietnamese garments too in Old Quarter. Since I get my clothes stitched in India and the dress are similar, i did not want to indulge in shopping. If shopping is still on your mind, check the guide on Where to Buy Local, Handmade & Authentic Souvenirs and Gifts in Hanoi.
Food
Vietman is super popular for its food and coffee. Must try is the Pho (beef soup), spring rolls, Bun Cha, Banh Mi and green papaya salad all available as street food and in fancy restaurants. However if you are a vegetarian like me, there are a lot of options in the same restaurants too. Just tell your tour guide and he will make sure you get good vegetarian option. There are many Indian restaurants too. Just keep an eye open and you will find authentic thali meals. For more authentic food, check out a food guide by Girl Unspotted.
Final Verdict for 2 Days in Hanoi
Overall, our visit to Hanoi was good, though I wish we had given it more time and also had travelled in non rainy season. Hanoi city needs atleast 2 days in total and I would highly recommend 1N2D Halong Bay tour so that you do not regret later. Plan your trip accordingly. Wondering what else can you do in Hanoi? Check out a guide on 25 things to do in Hanoi by a fellow blogger. 
Sustainable tips for 2 Day in Hanoi:
Try the local food – it is cheap and helps the local economy.

Do not throw your waste at heritage sights and in the Halong Bay waters. There is enough plastic in it which is an eye sore for the locals and tourists who come to enjoy the nature..

Use public transportation is not a great option so best is to take the group tour option. It is economical and who knows you may make some friends on the bus.
Disclaimer: This post contains affiliate link, meaning that if you make a booking using this link I get some bonus at no additional cost to you which keeps my website up and running.