Berlin was never on my Europe list but I happened to visit it in April 2015 (whoa 3 years already!) when I was pursuing a course in Rotterdam. Berlin had to be on the list, thanks to the best friend living there, who promised to host me (yaay!). I was on a tight schedule of 3 days and shoe string budget as it was the last city of my European travel. I had exhausted most of my Euros and wanted to make most of the free things to do in Berlin like a budget traveler.
After reaching Berlin I realized that there are so many free things to do, it's hard to choose. Here are some of the top free things to do in Berlin you should certainly not miss whether you are a budget traveler or not. If you are short on time, here's 2 days Berlin itinerary.
FREE WALKING TOUR
Not a place but a volunteer based group which will take a group of 15-20 people to most of the popular Berlin places for free! Of course it is decent to tip the volunteer as they do this tour for free. There are a number of free walking tours, with different timings and starting points. Google it and you can decide what's best for you. The duration is 2.5-3 hours. Places visited with walking tour and otherwise for free:
1. Brandenburg Gate
Visiting and clicking the Brandenburg Gate is obligatory for anyone visiting Berlin. Posed as the landmark during the destruction of the Second World War, this gate was erected in 1790s. Since 1989, it stands for the reunification of Germany.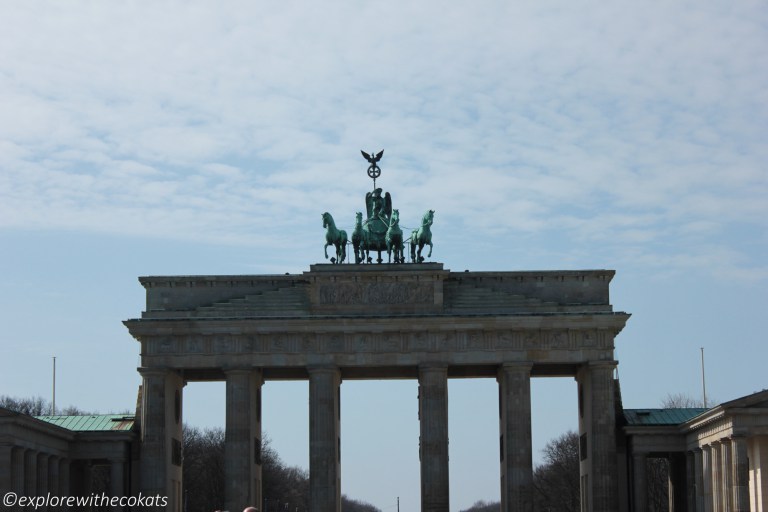 2. Site of Hitler's bunker
The walking tour group will take you to a parking lot which does have any path or signs. Under the parking lot was one entrance to Hitler's former bunker, the so-called "Führerbunker" ("Leader's bunker"). It is of course inaccessible but makes for a great story. There was really nothing to click a photo.
3. Holocaust Memorial
A memorial build to commemorate the six million Jewish victims of the Holocaust is created near the Brandenburg Gate. It is 2711 concrete slabs of varying heights. There is also an underground gallery which offers background on Jewish victims of the holocaust, with biographies, letters and personal effects of some of the victims. You need to visit it separately if you are brave enough to!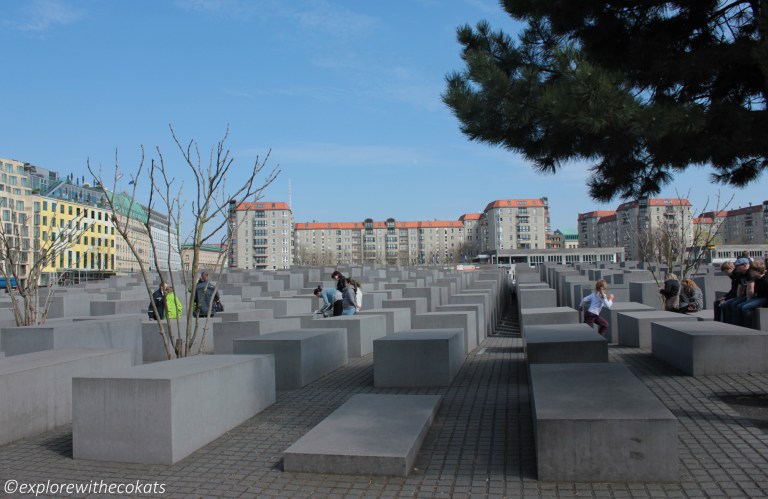 4. Checkpoint Charlie
This checkpoint acted as the official crossing between East and West Berlin during the Cold War mainly for diplomats. Now it is a big photography attraction.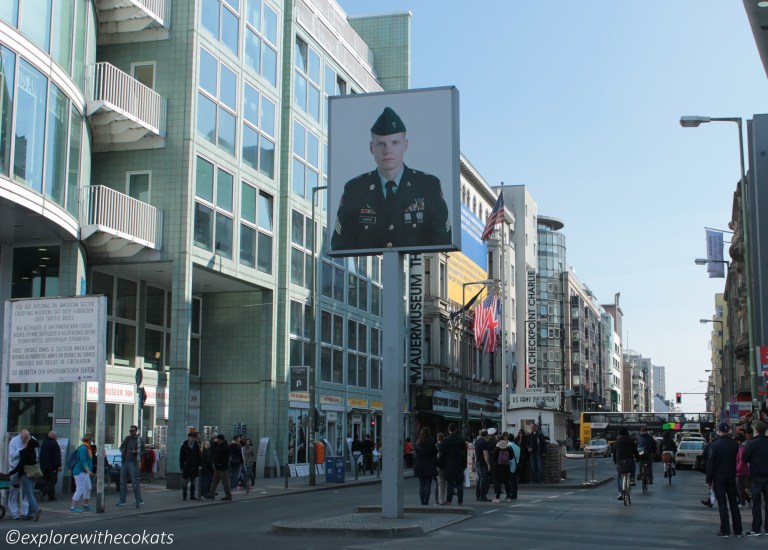 5. The Berlin Wall
I don't think I need to write anything about this iconic structure.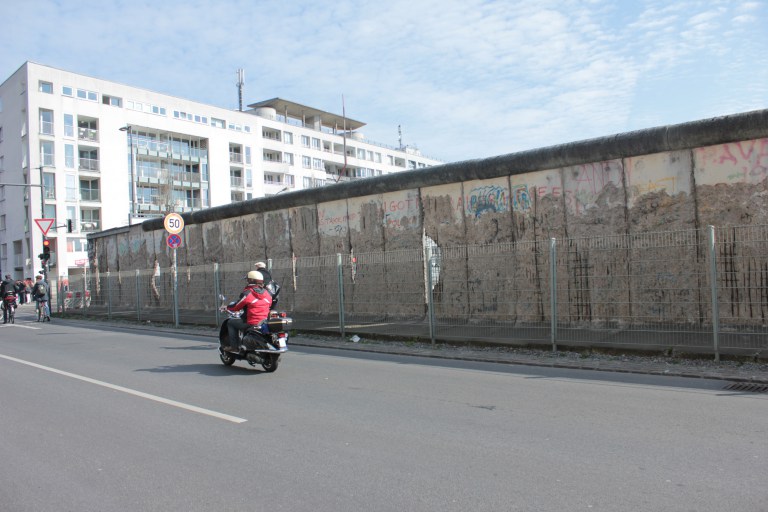 6. Topography of Terror
Right behind the Berlin wall is an exhibition of documents.  It highlights the changes in life of local people after the Nazi took over. You need to visit this later if you want to read all about it. The walking tour does not have enough time to accommodate.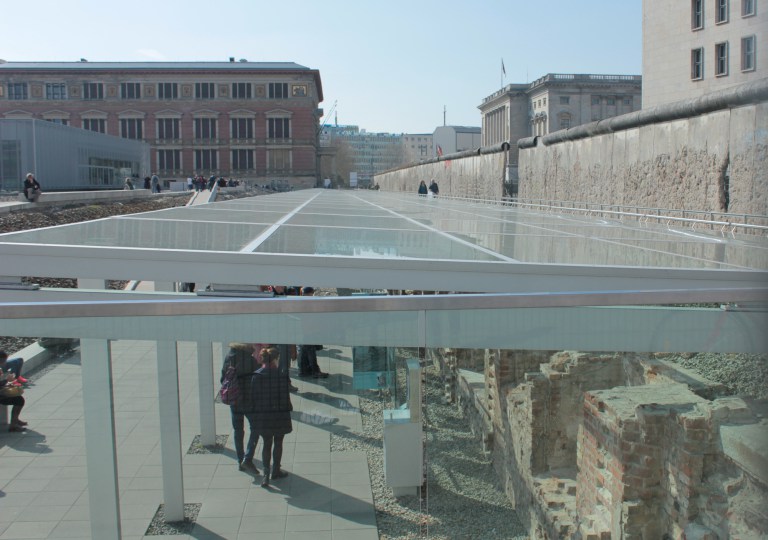 7. Book burning memorial
Located in the middle of the square, next to Humboldt University, is a tiny see-through hole in the ground. This is the square where the Nazi's burned all the books written by Jewish authors in 1933.
8. Fernsehturm (TV Tower)
Next to Alexanderplatz is the Fernsehturm (Television Tower) is the highest building in entire Europe. No matter where you are in Berlin, you can see the TV tower from literally anywhere and makes for an amazing view. You can climb up the tower to get a view of the city but be warned it comes with a fee!
9. Alexanderplatz
It is the largest and most happening squares of Berlin. It was a former parade ground which has now completely transformed into Berlin's happening shopping and art display. I had fun recounting the number of movie shootings conducted here!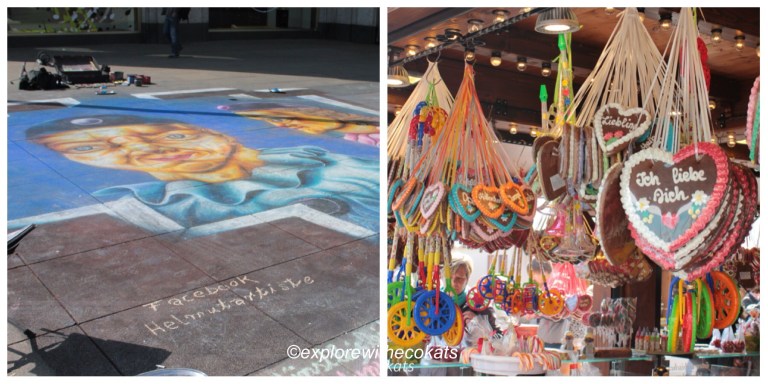 10. East side gallery
The famous graffiti wall (unfortunately much more famous than the actual Berlin wall) is the world's longest open air gallery. It has over 100 colorful paintings and is the most photographed place in Berlin.
11. Reichstag building (Parliament)
The Reichstag houses the German parliament. You can actually watch German politicians from a glass dome which is at the top of the building. Be ready to wait in a long line to do it or just laze in the garden. If you really want to go, book ahead online.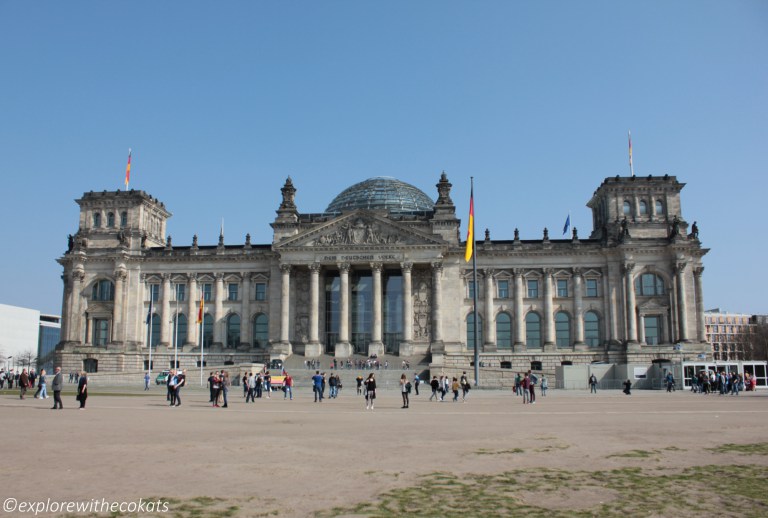 12. Visit the Berlin Cathedral
Known as the Berliner Dom, it is the largest church in Berlin. Admire the details of the exterior which was a former royal court.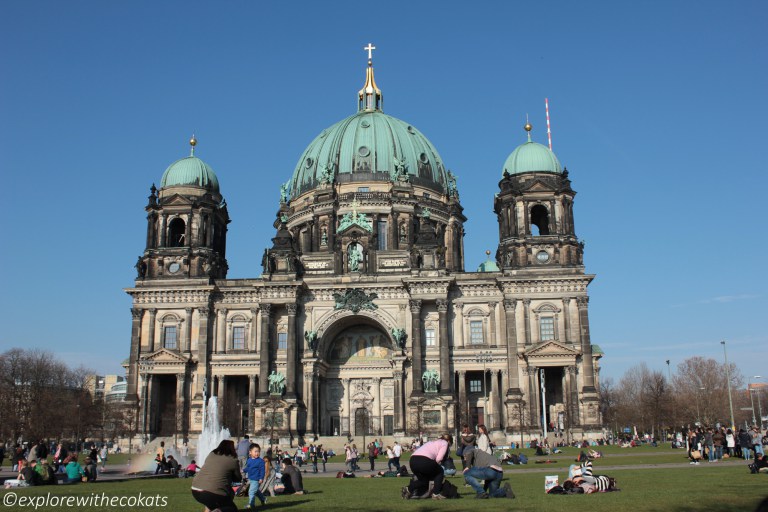 13. Volksbühne
Volksbühne is one of the oldest and iconic theaters of Berlin. Started as Free people's theater before World War, it now hosts amazing shows and plays, ofcourse at a cost. The architecture is however worth a visit.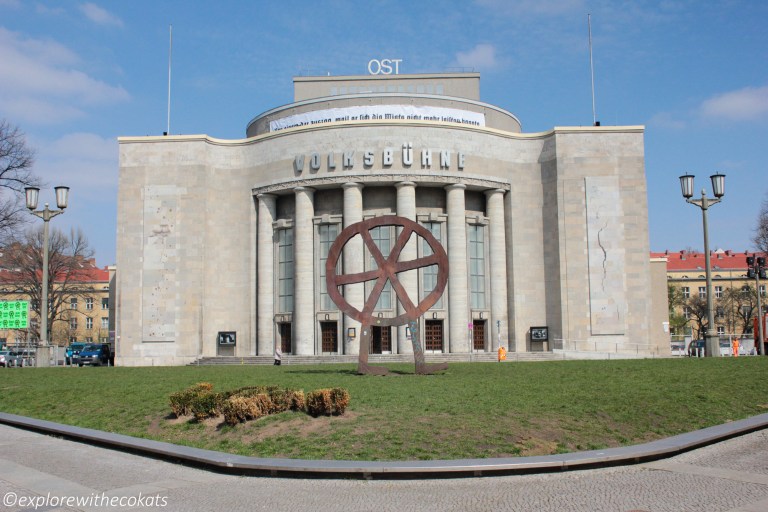 14. Konzerthaus
The Konzerthaus is a concert hall situated at the Gendarmenmarkt square.Do not forget to feel like a superstar by stepping on the red carpet!
Sustainable tips:
Germany is known for its cars! But try avoiding them by using the extremely efficient public transport – metro and bus.
Walking tours are amazing – they tell you the history and walk you through popular places. All this for a small tip! Also you loose some calories off currywurst and beer.
Do tip the walking tour guides, they are generally part time students and that is the only way they earn. Ideally 5 euro per person is the least you should give.
Respect the memorials and walls by not sitting on them for photo opportunity or having a picnic. Remember what happened there.