Krakow is known as the party capital of Poland and i was excited to visit it for a few hours while i was to attend COP24 in Katowice. Poland was never really on my European countries to visit list but only when i read about its rich culture and history I came to know how unique and charming Krakow really was. I was especially hooked to Krakow old town and was looking forward to visit it in December, thanks to the Christmas markets and participate in the festivities around it. Winter in Poland means the daytime lasts only a few hours – 7:30 am to 3:30pm which means you have less time to explore the city. You can also read Why you should spend Christmas in Poland. 
Me and my colleague, took a flexibus from Dabrowa Gornicza at 10am and reached Krakow old town in little over an hour through the national highway. We got down at Kraków Glówny underground transportation centre and walked through the Galeria Krakowska mall to get to the old quarter of Krakow. Just follow the signs inside the mall and you wouldn't get lost.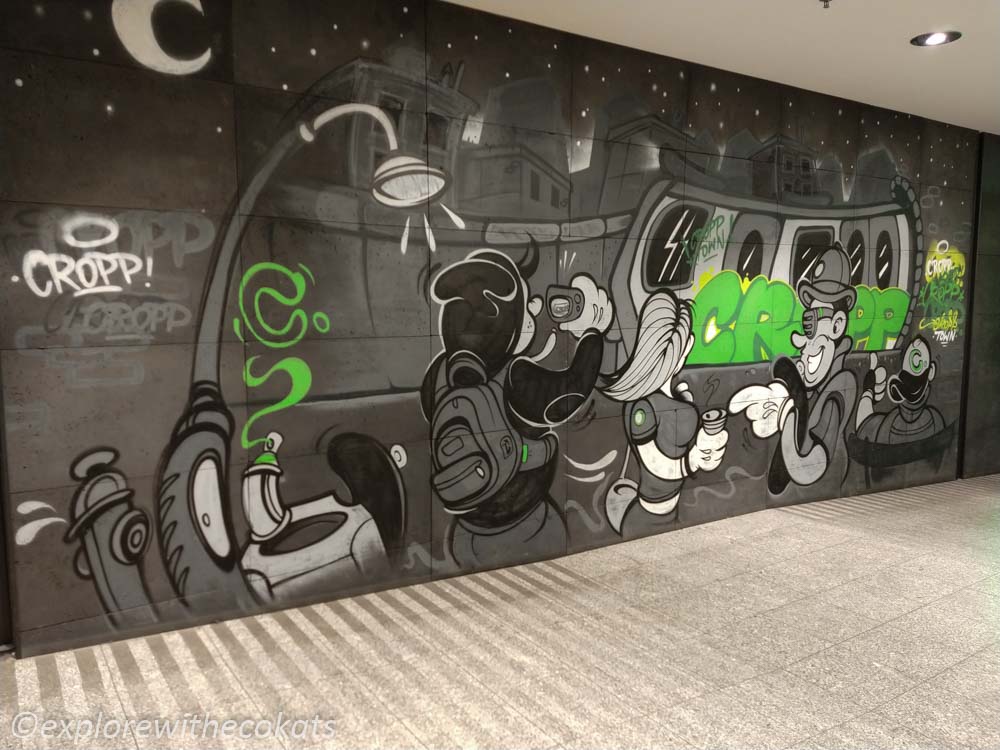 Krakow Old Town looks like a vintage postcard, with its cobbled streets, beautiful architecture, horse carts around the church in old quarter and Christmas festivities. Here's my experience of a winter afternoon in Krakow and the places I visited and maybe you should too if you plan to go.
Grunwald Monument and Plac Matejki
We walked through the Plac Matejki square and paid respects to the Grunwald monument to reach the Barbican in south of street. Dominated by the Grunwald Monument, Plac Matejki is one of the visually striking squares in the city especially because of the lack of large crowds. The Grunwald Memorial, commemorating the Battle of Grunwald, fought between the joint armies of Poland and Lithuania against the Teutonic Knights is considered to be one of the greatest battles in medieval Europe. A defining moment in Polish history, the battle was immortalised in Krakow with the unveiling of this weighty monument.
The Barbican in Krakow Old Town
Built in Gothic style, the Barbican was built at the end of the 15th century to protect Krakow's main entrance and was connected to the Floriańska Gate. Kraków Barbican is topped by seven turrets and includes 130 defensive slots used by archers and riflemen. In the present day, the Barbican hosts special events and can be visited as an outdoor museum from April until the end of October.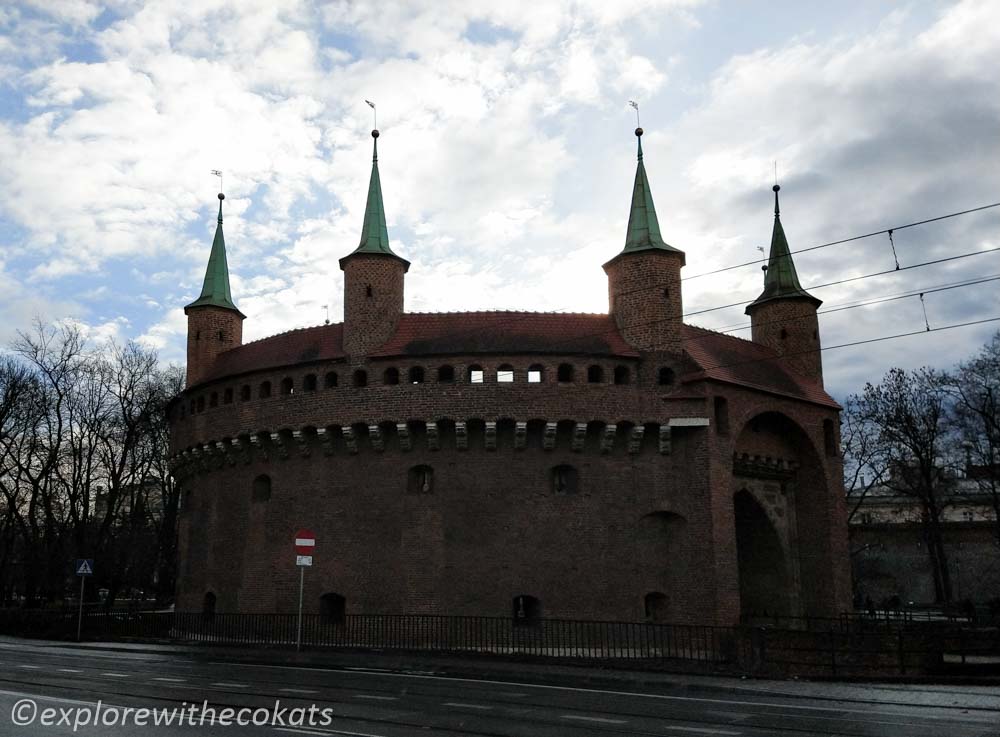 Floriańska Gate – Entrace on Krakow Old Town
Across the Barbican, stands the iconic Floriańska Gate. This is one of the old city gates that has survived till date. In the olden times, the gate marked as the entry point for royal processions into the city. You cannot miss the open art gallery just past the gate wherein local artists showcase and sell the beautiful paintings.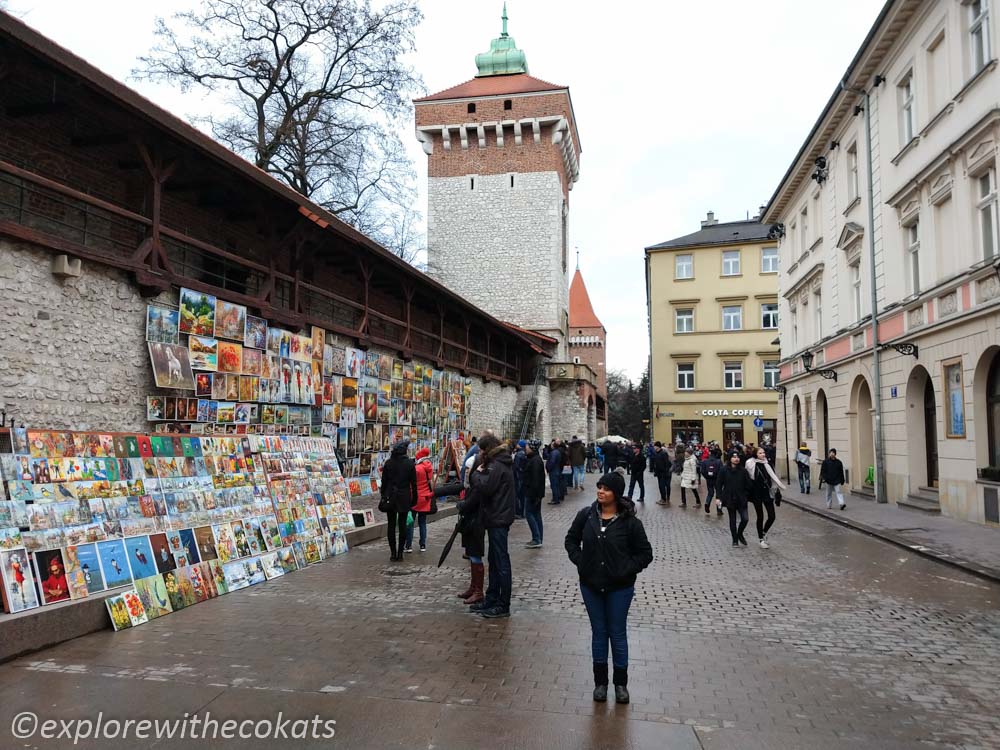 The Main Square in Old quarter
The main square in Krakow old town is huge and is known to be one of the largest medieval town squares in Europe. You can actually spend a full day just wandering this square and neighbouring areas. Locally known as Rynek Główny (Polish name) it dates back to 13th Century. There was so much happening in the square due to the Christmas markets that i kept wondering how would it look without any shops and food stalls. There are lot of cafes and restaurants selling the traditional Polish delicacies overlooking the square. You can also catch a live street show in one of the corners with artists performing on various costumes.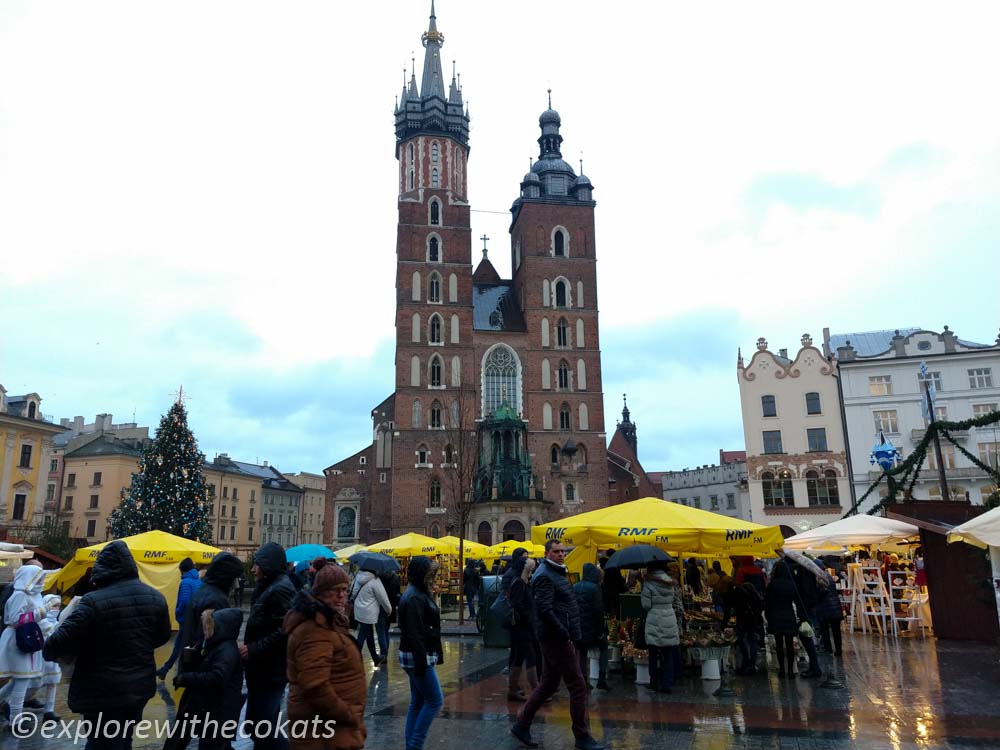 St. Mary's Basilica – The jewel of Krakow Old Town
The most iconic architecture of Krakow old town in the main square is St Mary's church with two towers with an interior that's simply stunning, full of colour and intricate details and decorations. The church has separate entrance from south for tourists and a main entrance for devotees to pray. The tourist ticket costs 10 Polish złoty. I entered around the Sunday mass and there was a huge crowd so no one was on the counter to sell tickets.
Get blown away with beautiful and intricately painted glass windows and the wooden Veit Stoss Altar. The craftsmanship and the details of everything in the interior of the church is outstanding and you can't help but wonder 'How' it was done with so much skill in those days.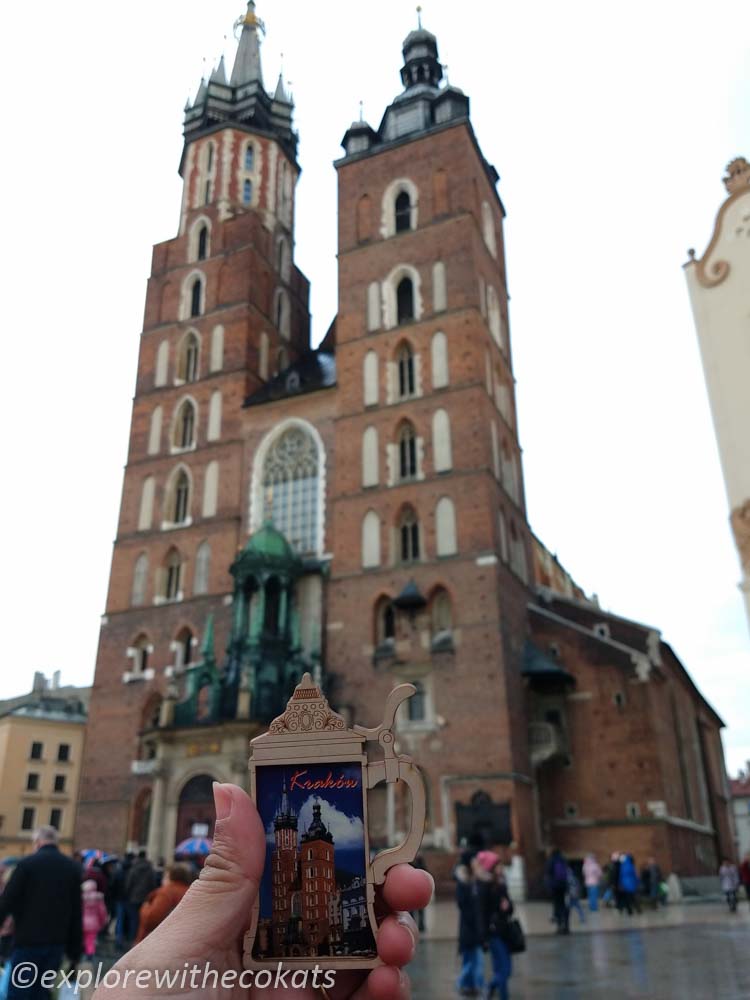 The Cloth Hall
This is a shopping centre in Krakow's main square which dates back to the 13th century, when Krakow was a trade centre and the Cloth Hall was used by traders in textiles. Now it is converted into a jewelry and souvenir market with plush cafes giving you undivided view of the square, overlooking the St Mary's church.
The Underground Art Museum
It is an underground museum which showcases findings of the excavations that took place a decade ago. This hi-tech museum takes visitors under the surface of the market square to experience the city's entire history. The museum has a cap of 300 people at a time, so it is best to book a ticket in advance, especially if you are visiting on the weekend.. This can be done either <a "no follow" href="https://bilety.podziemiarynku.com/">online or from the information office, opposite side of the Cloth Hall from the museum entrance.

The Head
Among Krakow's most well known landmarks, this sculpture titled ' Eros Bendato' affectionately known as the Head, is a popular meeting place and it also serves as a photographic backdrop for every tourist who visits Krakow for the first time.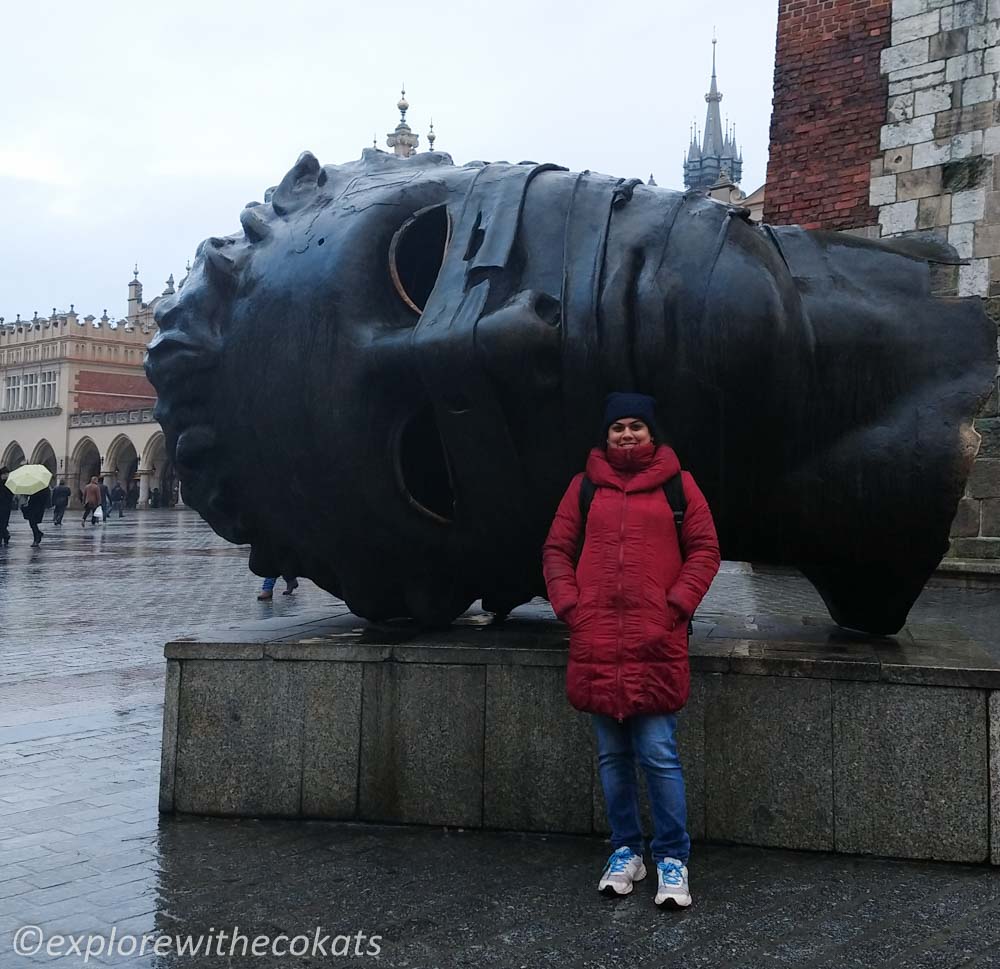 I had exhausted my time in Krakow by visiting all the above mentioned places and could not visit 2 more popular attractions – Wawel castle and the Jewish quarter. But as they say, there is always a next time. But let me do a quick guide and tips for Krakow:
Local transportation
The easiest way to get around Krakow is by walking. However the public transport has many options and very convenient. Tourists can buy the the Krakow Tourist Card, which is a 2/3/5 days museum and transport pass and can allow you entry in all public transport and most museums. If you choose to buy bus tickets, you can buy them in the bus/tram itself.
Must eat food in Krakow Christmas market
Obwarzanek: Known as Polish pretzel, they are circular in shape and eaten daily,  and that is why features as Krakow's staple street foods. You'll find stands all over the city and offer a quick bite to fill your stomach while strolling around the city. The most common ones are available with sesame, plain, poppy seed or cheese.

Zapiekanka is a Polish open sandwich made of half of a baguette topped with mushrooms, cheese. It is available in various toppings.

Mulled wine: Locally known as Grzaniec Galicyjski is a spiced warm wine. A comforting drink in the cold weather it can definitely go well with Obwarzanek.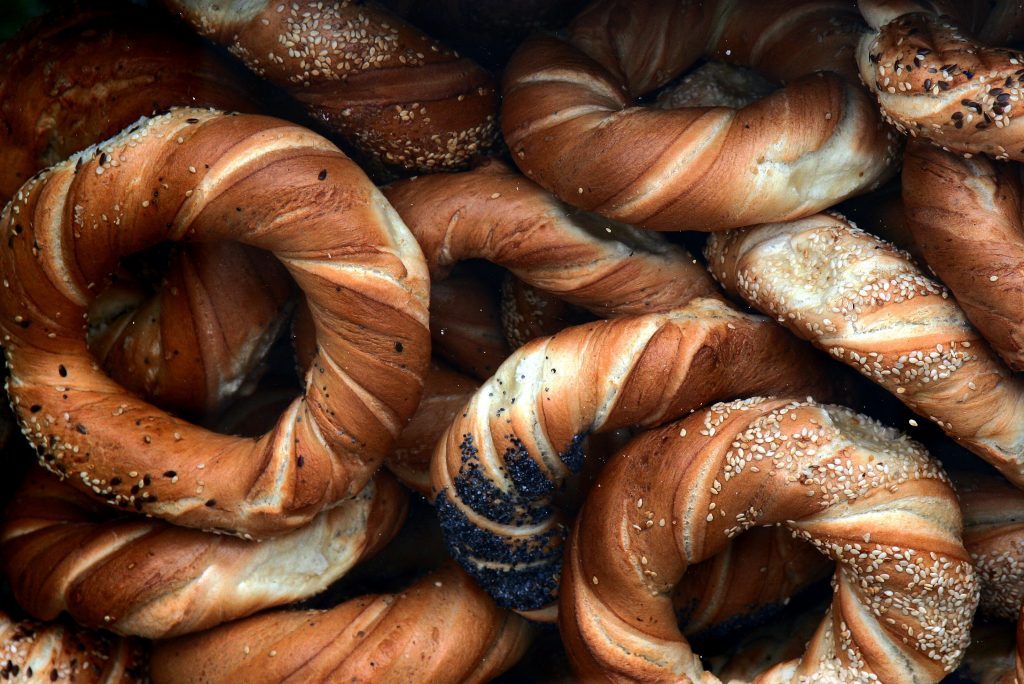 Where to stay in Krakow
I did not stay in Krakow as I only spent an afternoon but based on my research and recommendations from friends these are the following options. The Old Town or Jewish Quarter are the best places to stay in Krakow as most places would be walking distance. Good hostels in Krakow are Bubble Hostel  and Green Hostel.
Krakow is perfect for a weekend visit however if you wish to travel slow then 4-5 days is a good time to explore all parts of the city without rushing.
Sustainable tips:
Krakow has efficient public transport – tram and bus, so use it instead of calling an Uber. Most places are in walking distance. Time to burn the Christmas calories, i say!

There are many companies who offer walking tours which start from the old square. It is best to register with before or you can also join them at last moment. They last a little over 4 hours so come with a lot of time in hand. They tell you the history and walk you through the popular places of the town. All this for a small tip at the end of the tour.

Do tip the walking tour guides, they are generally part time students and that is the only way they earn. Ideally 5 euro per person is the least you should give.

Respect the memorials, museums, walls and old architectural buildings by not sitting on them for photo opportunity.

Enjoy the local food. Everywhere is Poland, I did not face a problem finding vegetarian food. There are lot of vegetarian as well as vegan food cafes in Krakow.