With offbeat destinations becoming main stream, Nakhom Phanom has to be on the list. A peaceful yet charming town located in the north east of Thailand needs limelight so that travelers can get their ultimate digital detox. Bordering Laos and being separated by the tranquil brown waters of Mekong River, Nakhon Phanom has everything a traveler would want and expect.
I had the opportunity to visit Nakhon Phanom as it was chosen as a venue for Mekong Tourism Forum (MTF), 2018. I was extremely pleased with the choice of the venue as it gave a different perspective of Thailand which in so uncommon. You can read what MTF offered to participants and media here.
How to reach Nakhon Phanom?
Flight: It is well connected with Bangkok and there are 4 flights everyday with run time of 1 hour and 20 minutes
Bus or Car: There are 2 buses that run daily from Bangkok Bus Terminal to Nakhon Phanom with run time of 11hours and 30 minutes
Train: There is no direct train but if you choose this option then you have to board at Hua Lamphong to Udon Thani which takes about 9 hours and then a bus to Nakhon Phanom which takes 4 hours.
Top 7 things to do (or not) for the ultimate digital detox at Nakhon Phanom
1. Chill along the banks of Mekong River
Since the entire town is situated at the Mekong river bank, you cannot miss Mekong no matter where you are. Stay in one of the hotels situated at the river bank or take a walk at the riverfront. The only sounds you will listen to are the bird calls, cricket sounds and the occasional motor boats to catch fresh fish. The ever changing cloud formations and the colour of the sky will keep you around the river bank for sure. I stayed at The River Hotel and it had the best views in town, period!
2. River Cruise on Mekong River
If you are bored by doing nothing, hop on to the boat for evening cruise on the river to watch the beautiful sunset. It generally rains in the afternoon and the sky colours in evening are one of the most gorgeous that I have seen so far! Grab a snack and beer and watch the sun go down, the water splash on your face and people going about their business in Laos! Yup, time to tick off 'Being in 2 places at once' from your bucket-list.
3. Coffee and desserts
Nakhon Phanom has a lot of influence from Vietnam because a lot of people migrated here during the Vietnam war after crossing Laos. And that is the reason you will find the Vietnam coffee here. Some desserts won't hurt either! Cute European style cafes are lined up along the main road overlooking the Mekong river.
4. Street Photography
The riverfront comes alive in the evening as the entire town comes down, to have a good time, catch up with friends, walk or snack. You will not get tired of photographing street art, installations, boats on the river, sunsets, cute children playing  on the riverfront and the Multiheaded Naga (Paya Sri Satta Nakara) which is the landmark of Nakhon Phanom.
5. Night Market
Some retail therapy and local gastronomic indulgence is always good for relaxation, right? I found the night market at Nakhon Phanom to be cheaper than Bangkok (for clothes) with almost similar varieties if not more. Do indulge in some local lip smacking starters, mains and desserts. The market timings are 5pm – 9pm.
6. Massage/Spa
Thailand is known for its amazing massage parlors and Thai spa. In Nakhon Phanom you can detoxify yourself with a local massage. Forget about expensive lotions and designer scrubs. Let the local community ladies rejuvenate you with freshly ground coffee and turmeric, with a pinch of salt. Don't worry it does not have odour and the scrub is amazing and not to forget organic and sustainable! Way to go, you ladies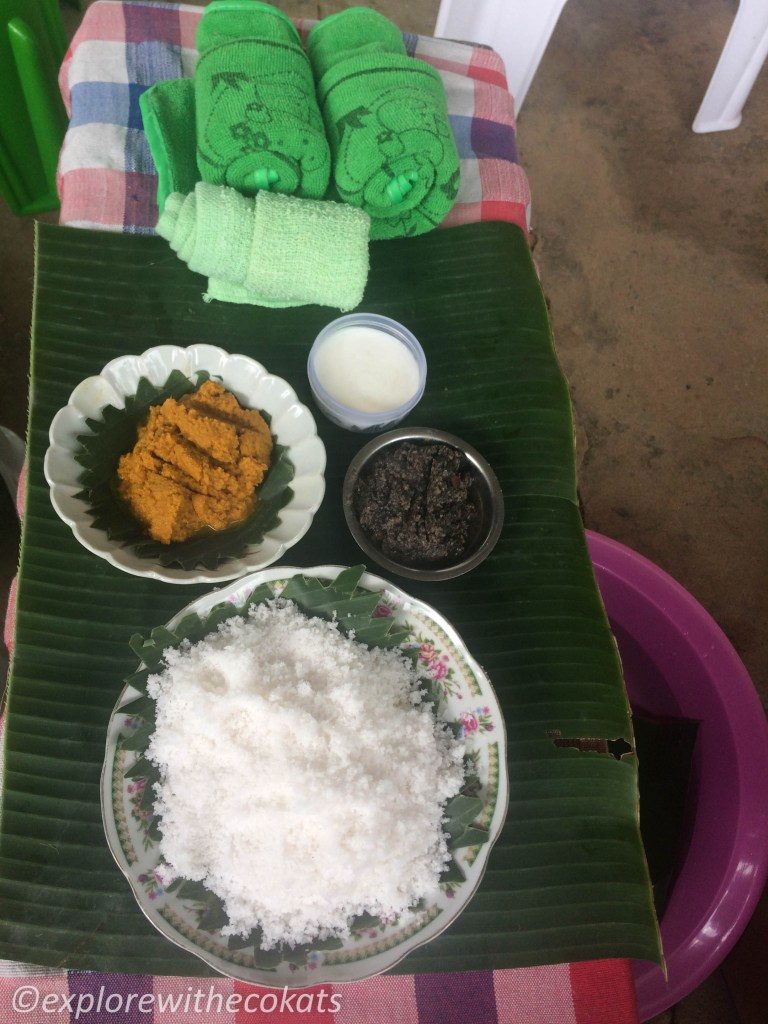 7. Ride a Skylab!
Tuktuk is locally called a skylab! The name is derived from its structure which when seen from a distance and going at higher speed looks like a tuktuk is flying – hence a skylab. Take a ride around the town or outside by riding one of these. Do not forget to hold on to the railings!
Sustainable Travel Tips:
Most hotels in Nakhon Phanom have refill water station – use it instead of buying PET bottles from 7-eleven stores.
Nakhon Phanom is still  developing and opening up to tourism. Try buying food and clothes from a local market/food joint to boost their economy.
It is a clean town so do not add your waste to the streets. Always use a dustbin.
The entire SE Asia is railing in the single use plastic storm. Politely say no to a plastic bag when buying the soup or that beautiful indigo shirt!
Cover your knees and shoulders when visiting a pagoda
MTF gave a huge boost to travel start ups with sustainable businesses and provided a showcase platform. You can read more about it here.
Wondering where to stay in Bangkok? Click here to know the sustainable hotel option.
Disclosure: I was invited by Mekong Tourism Coordinating Office (MTCO) to attend the Mekong Tourism Forum. Special thanks to Tourism Authority of Thailand, Destination Mekong and Office of Nakhon Phanom province for organizing this event.
 Disclaimer: This post contains affiliate links. It means it adds no extra cost to you if you book through the link but I get a referral bonus which helps me earn a little to keep this website up and running.